White-water rafting, canoeing, kayaking, SUP, and much more—Tokyo is a mecca for water sports
Water sporting enthusiasts will find great pleasure in Tokyo, whether on its many rivers and canals weaving through the heart of the city or at the Tokyo Bay area with the Rainbow Bridge and Tokyo Tower in the distance. Or, if you would like to see a different side of the capital, take a day trip out to Okutama in the west, or spend a few days in the Tokyo Islands to the south where pristine beaches and azure-blue waters await you.
Tips
Seeing Okutama through one of the many sporting activities on the Tama River
Doing SUP (stand-up paddle surfing) on the calm waters beneath the Tokyo Skytree or in Tokyo Bay
Whale or dolphin watching off the cobalt-blue waters of the Tokyo Islands
Okutama, a joy for water sports enthusiasts
Discover Tokyo's nature oasis at Okutama, an easy day trip just two hours to the west of the city center. The water-sports buff within you will love the adrenaline rush as you go white-water rafting down the Tama River. Be enthralled by activities such as kayaking on Lake Shiromaru, SUP (stand-up paddle surfing), hydrospeeding, and canyoning—which involves walking along majestic canyons climbing up waterfalls, zip-lining down gorges and rappelling down cliffs. Keep in mind that many of these activities are only available from late spring to early autumn. You'll want to reserve in advance with a tour group/outdoor adventure company. Also, be absolutely sure to follow any safety instructions or guidelines you receive from your guide.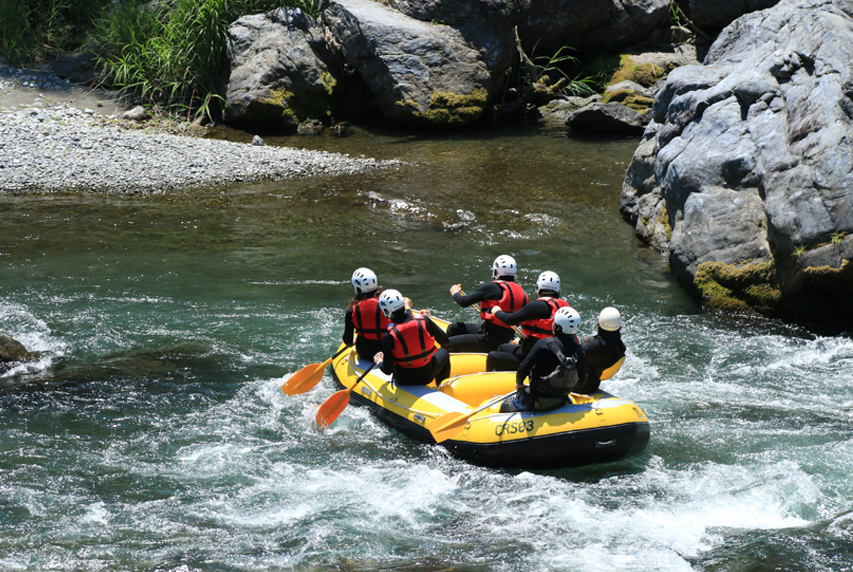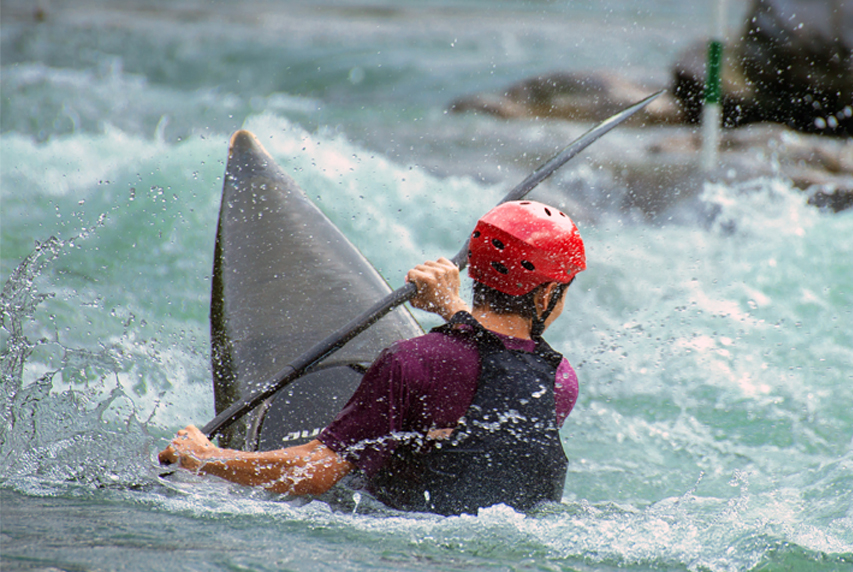 If relaxation is what you're looking for, Okutama has several streams where you can go fishing. The Hikawa International Fishing Spot is just a 7-minute walk from Okutama Station. Catch some trout and then grill it up, enjoying a relaxing barbecue in this beautiful part of Tokyo!
Another great way to relax is by having a soak at one of the many onsen (hot spring) spots dotted around Okutama. One example is Moegi-no-Yu, which uses 100% natural water. It has a communal foot bath, an indoor bath, and even an outdoor bath, which offers wonderful views of the Okutama River.
As a final note, before you embark on your outdoor water adventure, drop by the Okutama Visitor Center to get your bearings and check if there have been any recent bear sightings in the area.
Paddling under Japan's tallest manmade structure
The iconic Tokyo Skytree towers over Japan's capital at 634 meters tall and is the highest man-made structure in all of Japan. Located to the northeast of the heart of the city center, it is a stone's throw from the historic district of Asakusa. If you crave a break from shopping or eating, get active on the Sumida River at the foot of the Tokyo Skytree by indulging in water activities like a kayaking tour or a SUP class. Both sports are offered day and night.
Calm waters beneath the Rainbow Bridge
The relatively calm waters in Tokyo Bay make Odaiba perfect, even if you are a beginner in marine sports. Join a class and pick up SUP, which has been trendy among locals of late, or feel the breeze against your face as you go windsurfing, kayaking, or canoeing. Your experience will be all the more memorable with Tokyo Tower and Rainbow Bridge in the distance. But if you do not wish to sweat it out, you could also ride one of the water buses or boat cruises around Odaiba.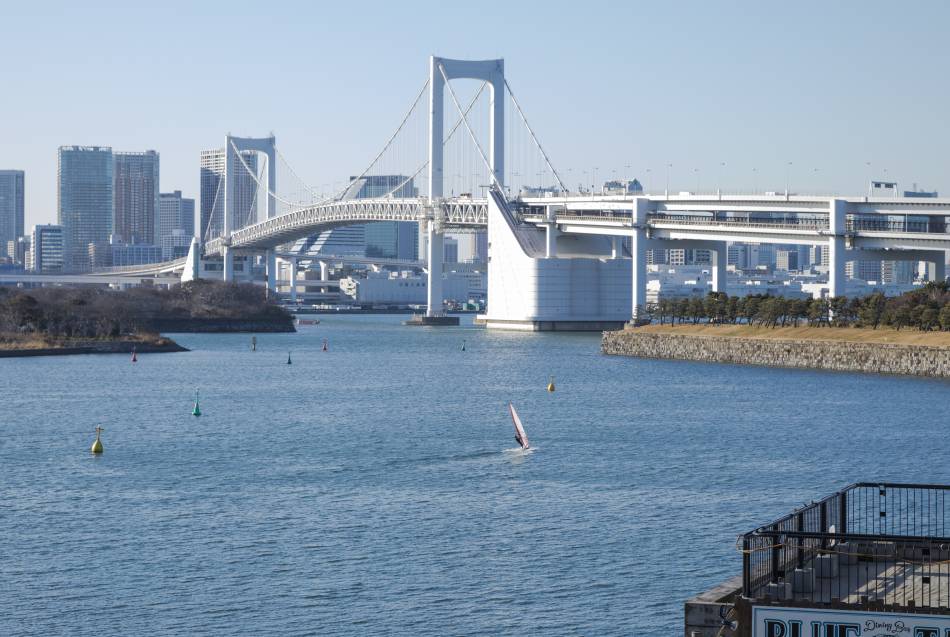 Spellbinding waters and island adventures off Tokyo
Not many realize that the Tokyo government also oversees the islands in waters stretching as far as 1,000 kilometers to the south of the capital. These cannot be explored via a simple day trip, but the spellbinding waters and pristine beaches on these sparsely-populated islands will surely delight. Go whale or dolphin watching, or surf, snorke, and scuba-dive in cobalt blue waters before ending your day with a bath in the hot springs. The southernmost islands are the Ogasawara—a unsullied World Heritage Site where myriad sporting activities abound.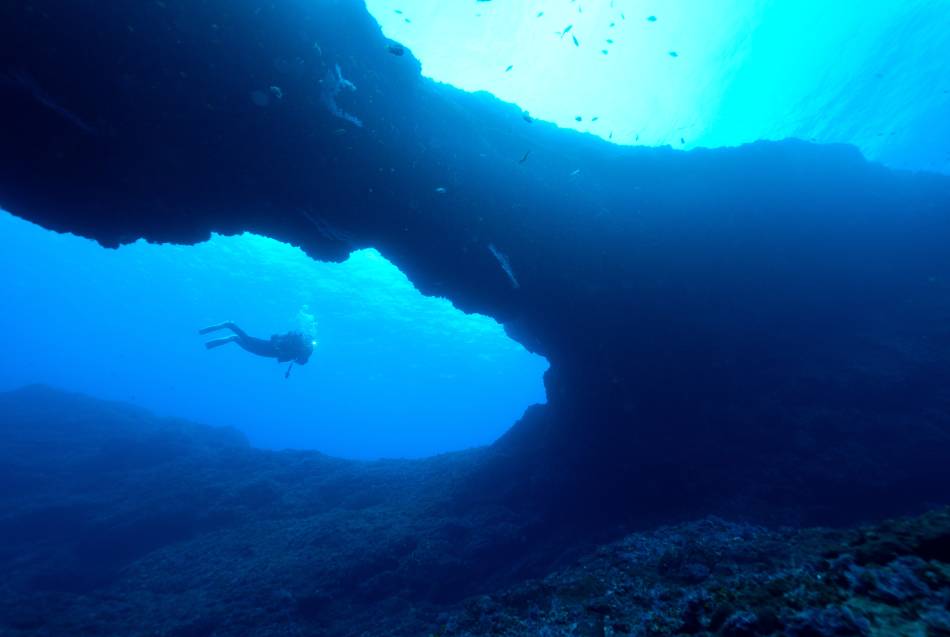 More adventures in the city
And then there are ever more options in the heart of Tokyo, which has, for centuries, made great use of its waters for business and leisure. See areas such as the Akihabara Electric Town or Ochanomizu, which you would otherwise go by foot, as you explore the city's many canals via a self-driven electric canoe on a five-hour tour. You can also do SUP on rivers like the Edogawa, or see how the city dramatically changes from day to night on board a river cruise through waters meandering through the city's major waterways. There is something for everyone and you will probably find what you're looking for with some quick research.