Relaxation and inspiration in this Tokyo suburb
Numerous museums, art installations, and parks abound in the Mitaka and Musashino area—a short trip outside Tokyo. Try a stay at the unique and inspiring Reversible Destiny Lofts Mitaka, make a reservation and head to the Ghibli Museum, or relax at one of the many beautiful parks such as Inokashira or Koganei.
Tips
Be inspired by a unique stay and green spaces or dive into the history of Ghibli
View sunspots from the National Astronomical Observatory
How to Get There
Access Mitaka and the surrounding areas is Mitaka Station, on the Chuo and Sobu lines.
From Narita Airport: Around two hours by train.
From Haneda Airport: Around one hour fifteen minutes by train.
From Shinjuku Station: Around fifteen minutes on the Chuo Line Special Rapid.
From Tokyo Station: Around thirty-five minutes on the Chuo Line Special Rapid.
Inokashira Park and The Ghibli Museum
A twenty-minute walk (or short cab ride) from Mitaka Station is Inokashira Park. This oasis of green offers a variety of attractions including a small zoo, temple, coffee shops, and a beautiful pond. Enjoy the park during different seasons by renting a row boat, paddle boat, or swan boat. Grab some refreshments from a shop and go for a stroll or just have a seat and enjoy the scenery.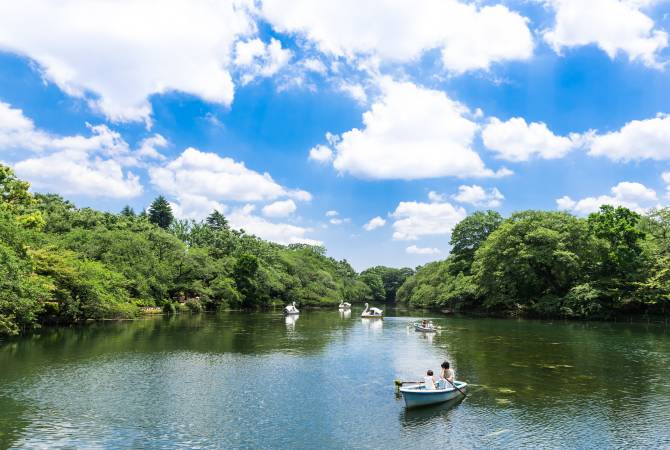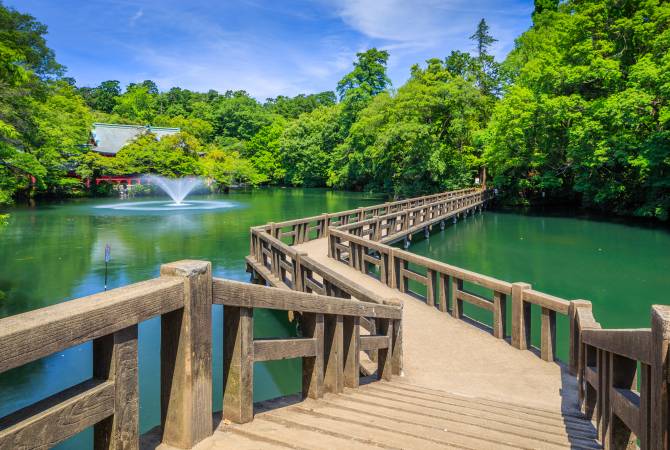 At the end of Inokashira Park, Studio Ghibli, the animation studio co-founded by the esteemed Hayao Miyazaki, has their official museum. View a life-sized robot from "Castle in the Sky" in the rooftop garden, short animations by Studio Ghibli, and special annual temporary exhibits. The museum building itself was designed under Miyazaki's vision and is part of the experience. After exploring, sit down at the Straw Hat Cafe and enjoy some home-style cooking, and take out an original "Valley of the Wind" beer. Book your tickets ahead of time. Tickets go fast so make sure to check when sales open. See details on the website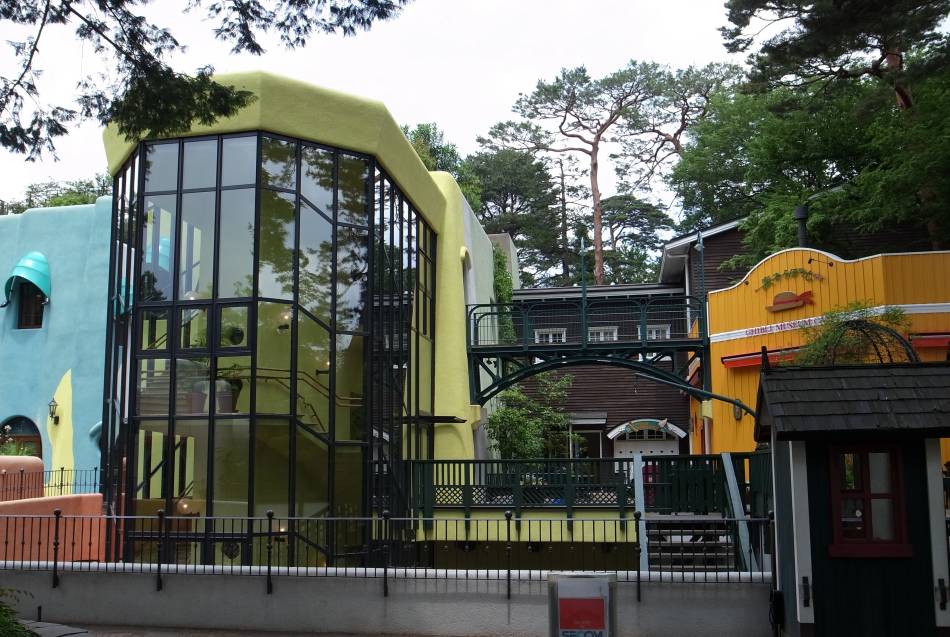 Reversible Destiny Lofts Mitaka and the National Astronomical Observatory Campus
If you're looking for a one-of-a-kind photogenic architecture, take a look at Reversible Destiny Lofts Mitaka-In Memory of Helen Keller. These colorful buildings are part apartment, part art complex. They were designed by Shusaku Arakawa and Madeline Gins, and are meant to challenge the way people live and interact with their environs. To experience the Reversible Destiny Lofts Mitaka, you can join architectural tours in English with reservations.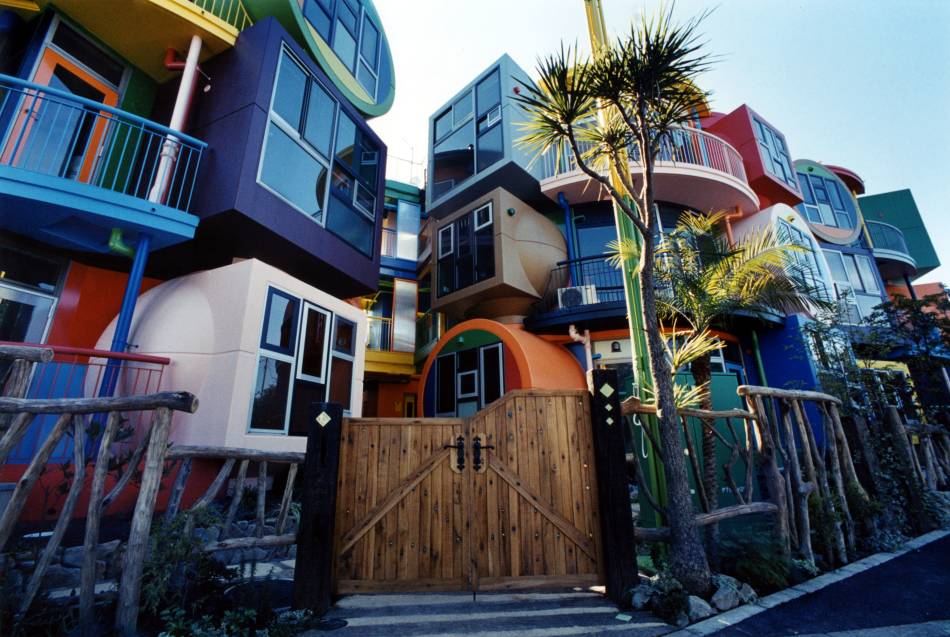 Nearby, stop by the National Astronomical Observatory Campus—a great place for any astronomy enthusiast or hobbyist. Stroll through the campus and enjoy the greenery. Learn about the history of astronomy in Japan. And on weekends from 10:00 am to 2:30 pm you can check out the 20cm Telescope Dome and observe sunspots on the surface of the sun. No reservations are necessary for this rare experience; the only requirement is a sunny day.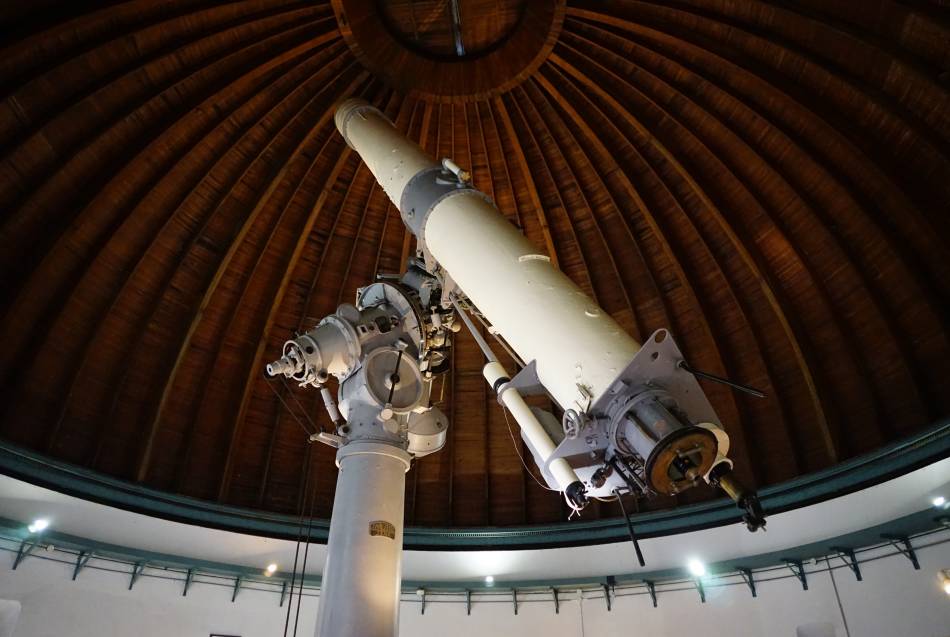 Koganei Park and the Edo-Tokyo Open Air Architectural Museum
A lovely garden stroll through Japanese architecture awaits as you head through this outdoor museum. View various styles of classic and contemporary architecture. English tours and guidebooks are available for anyone wishing to hear more about the history of the buildings while visiting. Wear shoes that are convenient to slip on and off, as every house you enter you'll have to remove your shoes. Koganei park, which houses the museum, is the second largest park in the metro area. It has many plum and cherry blossom trees to enjoy in the spring. It also has a sports complex, cycling course, and bird sanctuary.