Escape the summer heat at one of Tokyo's oceanside parks
Located within a well-protected bay, Tokyo and the neighboring city of Yokohama are major shipping destinations. While much of the waterfront has been developed for industrial use, numerous parks offer you convenient seaside recreation.
Tips
Enjoy a hassle-free barbecue at Kasai Rinkai Park
Relax at Daiba Park, which is surrounded by convenient shopping and attractions
View ships coming into Tokyo Bay from Jonanjima Seaside Park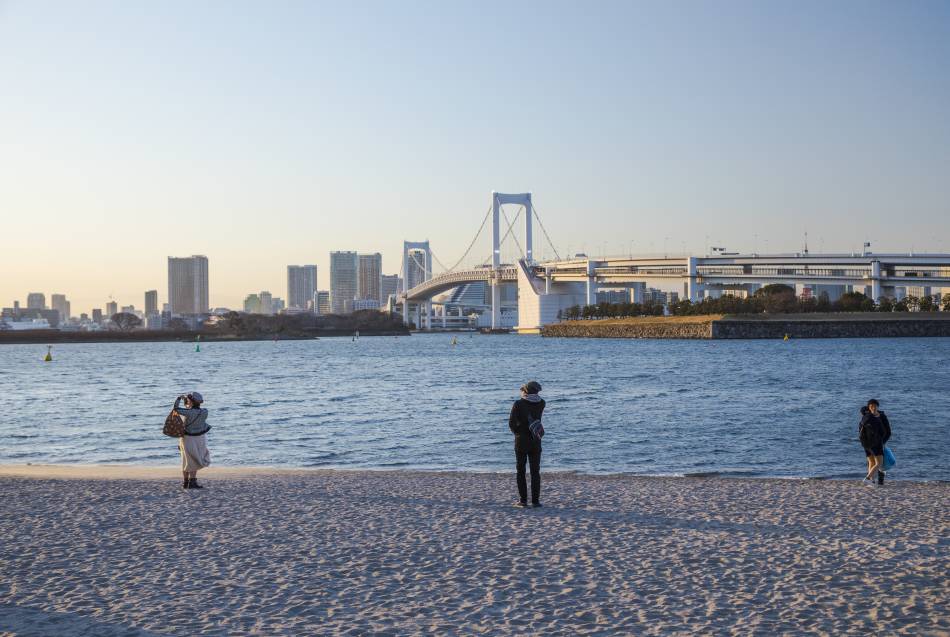 Life's a beach on Tokyo Bay
Though many of the region's most pristine beaches are an hour or two away in Chiba and Kamakura, Tokyo Bay also offers several recreational beach areas, including Kasai Rinkai Park, Shiokaze Park, Odaiba Seaside Park, and Jonanjima Seaside Park. Take a day off and journey to any of these destinations to enjoy barbecuing, birdwatching, swimming, and other recreational activities. During the hot and humid summer months, these parks abound with local residents looking to enjoy the cool sea breeze and pleasant views.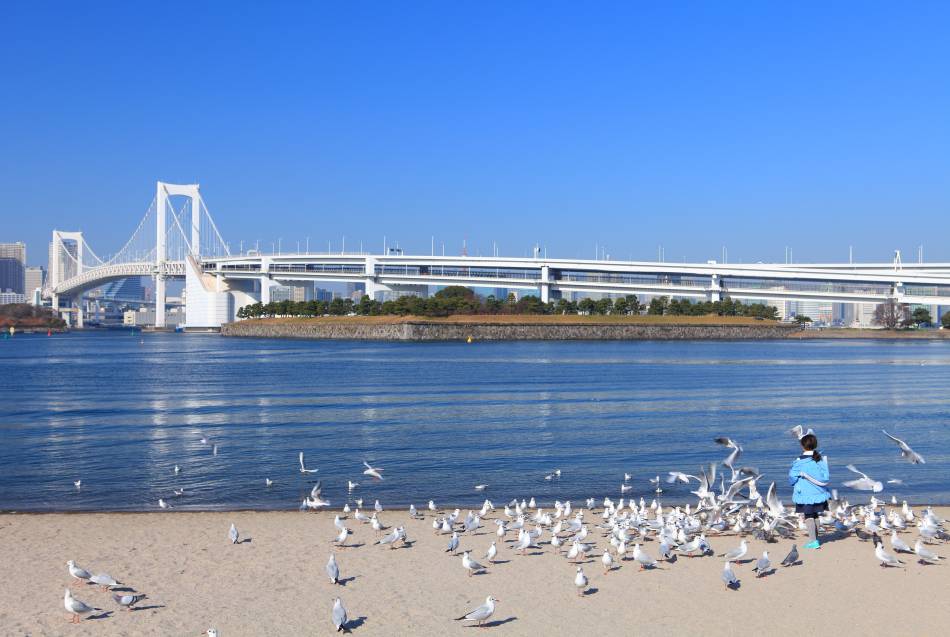 Grilling beachside
Grill up your favorite meats and veggies without any prep by renting a spot at the SONA Area Tokyo BBQ Garden in Kasai Rinkai Park. Reserve for a party of four or more, receive all the necessary food, equipment, and cookware on site. Closer to central Tokyo is Dejikyu BBQ Café in Odaiba, where you can barbecue on a comfortable wooden deck overlooking Rainbow Bridge.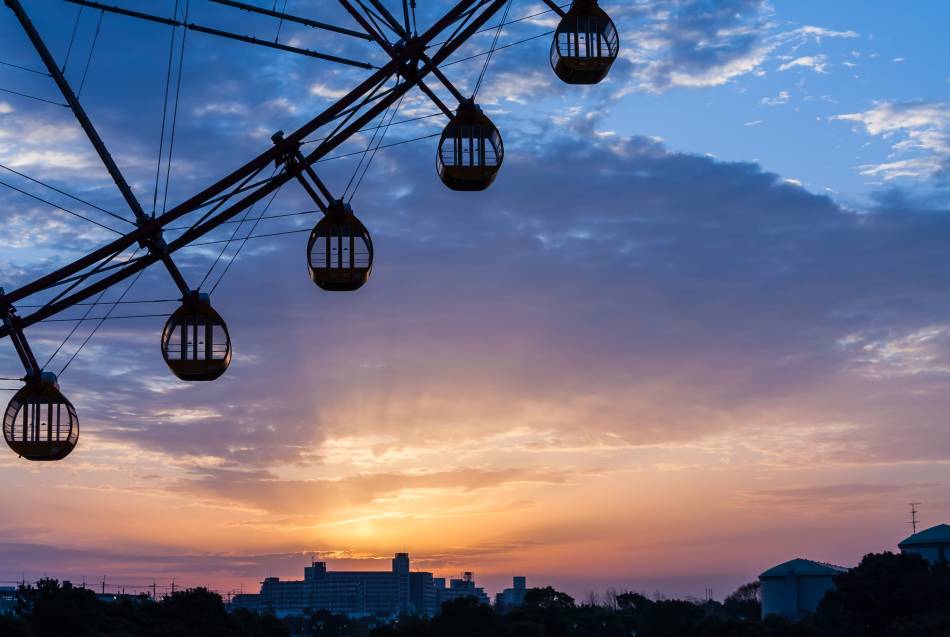 A quick dip with a city view
As Tokyo Bay's water quality is not as pristine as that of the nearby Shonan Coast and Miura Peninsula, swimming within the bay is generally off-limits, with the exception of Kasai Kaihin Park Beach (within Kasai Rinkai Park). Located near Tokyo Disney Resort, this beach allows summer swimming depending on the water quality. For additional swimming and surfing, consider a trip to the beaches of Kamakura, Enoshima, Zushi, or Morito, located within an hour or two of central Tokyo.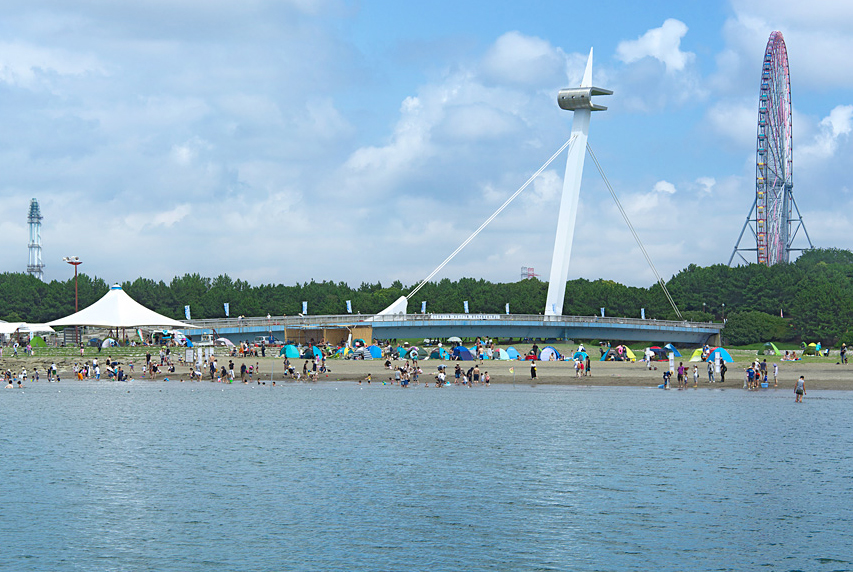 Useful facilities
Both Odaiba Beach and Kasai Kaihin Park Beach offer toilets and showers to freshen up after a day in the sand. Kasai Kaihin Park Beach also provides changing rooms. Be aware that the facilities and attractions around the beach areas are highly seasonal, so don't expect there to be the full range available outside of summer. However, the beaches are a great place to wander around in any season and offer great views of the Tokyo cityscape from across the bay—a good choice, especially if you are traveling with children.
Additional attractions
In addition to beachside barbecues and recreation, each park boasts its own unique appeal and attractions. The expansive grounds of Kasai Rinkai Park include an enormous Ferris wheel, aquarium, and numerous bird watching areas. Jonanjima Seaside Park is located near Haneda Airport, providing vantage points of planes taking off and landing. Odaiba Seaside Park is conveniently located adjacent to the numerous restaurants, shops, and attractions of Odaiba, so you can enjoy all the metropolitan amenities of Tokyo along with outdoor recreation. From Odaiba to Asakusa, you can also depart on several different pleasure cruises taking you through the channels of Tokyo Bay.