The red-brick façade of the beautifully restored Tokyo Station Marunouchi Station building is one of the city's most striking pieces of architecture, especially distinctive against the glass and steel of neighboring skyscrapers. Behind it lies one of the city's key transport hubs, connecting the country through bullet trains that run to Hakodate in the far north and to Fukuoka in the far south. Not only does the station contain a wealth of shopping and eating opportunities, but the surrounding areas also offer some of the city's best sights, from the impressive Marunouchi financial district to Nihonbashi, the downtown center of Edo, the Tokyo of the past.

Hop off a train, and head to the Marunouchi exit for west, where you'll find yourself just a stone's throw from the Imperial Palace. Or take Yaesu exit for east, where you're just a few minutes' walk from the commercial districts of Ginza and Nihonbashi.
The central station that every traveler passes through
It's not an exaggeration to say that every traveler probably passes through Tokyo Station at some point. It boasts the accolade of being Japan's busiest stations by number of trains, and connects the entire length of the country through its bullet train network, with regular departures for major destinations like Kyoto. It also offers great access to both Narita Airport and Haneda Airport, and lies only 15 minutes from Tokyo's major transit hub to the west, Shinjuku.

Take a look at this map for more details.
Train lines coming into Tokyo station
As a transit hub, Tokyo is one of the best-connected stations in the city. It's a major stop on the JR Yamanote Line, which circles Tokyo and passes through several of the busiest and most interesting commercial districts. It also lies on the Marunouchi Line, allowing direct access to Ginza, Shinjuku and Ikebukuro. For those wanting to get out of town, hop on a bullet train – known as a shinkansen – and travel as far as the northern island of Hokkaido or the southern island of Kyushu. Tokyo Station is a gateway to both Tokyo and the rest of Japan.
Bus
Exit Tokyo Station on the Yaesu side and you'll find yourself with direct bus access to major cities across the country, as well as the two main Tokyo airports.

For Narita, coaches such as the Airport Limousine and TYO-NRT run several times an hour, with a reduced timetable early morning/late night. The journey takes roughly one hour and 20 minutes.

For Haneda, coaches such as the Airport Limousine or Keihin Kyuko Bus run several times an hour, with a reduced timetable early morning/late evening. and takes 30-55 minutes depending on the bus service and the terminal.

Fares are generally steeper for early morning/late night services. Reservations can be made online or tickets can be bought on the day.
A maze of shopping streets
Tokyo Station is truly a place to shop until you drop – and you don't have to walk far to carry it back on a train! The station is crammed with shopping areas both inside and outside the ticket gates. Browse around GRANSTA, full of edible goodies, souvenirs and even fashion items; explore First Avenue Tokyo Station, home to Tokyo Character Street; stroll Yaesu Chikagai, an underground mall of 180 outlets; or pop into upmarket department store Daimaru Tokyo branch, one of the biggest in central Tokyo.

For concentrated retail therapy, head to the Marunouchi Building, Shin Marunouchi Building, KITTE or Marunouchi Brick Square, all clustered around Tokyo Station.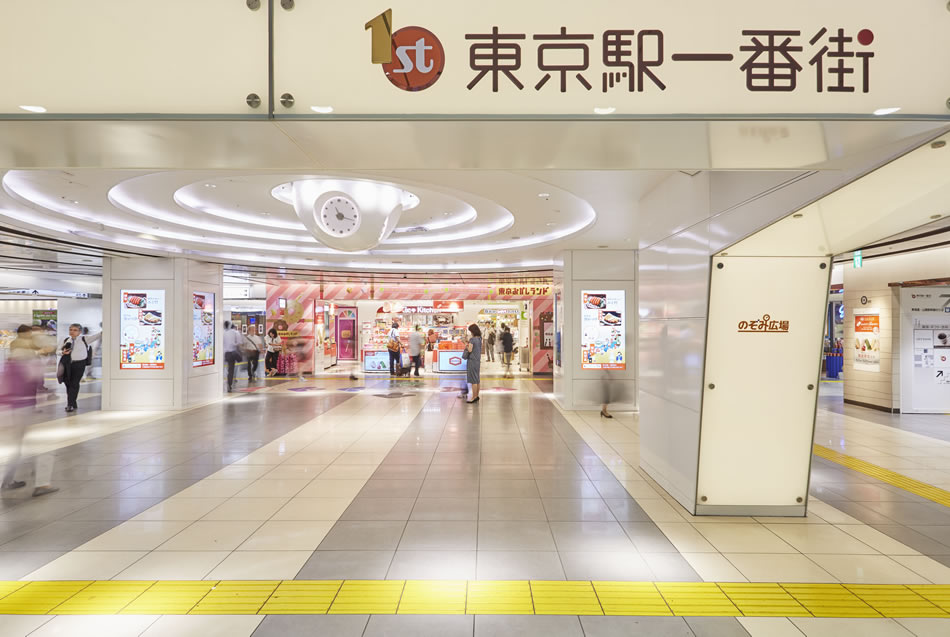 Tokyo station underground mall(Yaesu Chikagai)
Yaesu Chikagai is one of the largest underground malls in Japan boasting 180 shops – 60 of which are different restaurants and cafes to keep you fed and fueled on your retail quest! When it comes to fashion, you can find everything from everyday wear and sporting goods to glasses and custom shoes. There are also household goods, drugs stores and unique Japanese souvenirs.
GRANSTA
An underground labyrinth of shopping and dining, GRANSTA is one of the largest in-station shopping and dining areas in Tokyo. Stretching both inside and outside of the ticket gate, it doesn't matter which direction you're coming from or where you're heading - you can easily purchase gifts, souvenirs, cosmetics, clothes, and meals on your way to your next destination.

If you're travelling by bullet train or on the Narita Express, pick up a station lunch boxes known as "ekiben" which feature different local delights from all over Japan. There are also countless souvenir sweets on sale, and you'll even find stores from a couple of international chocolate brands.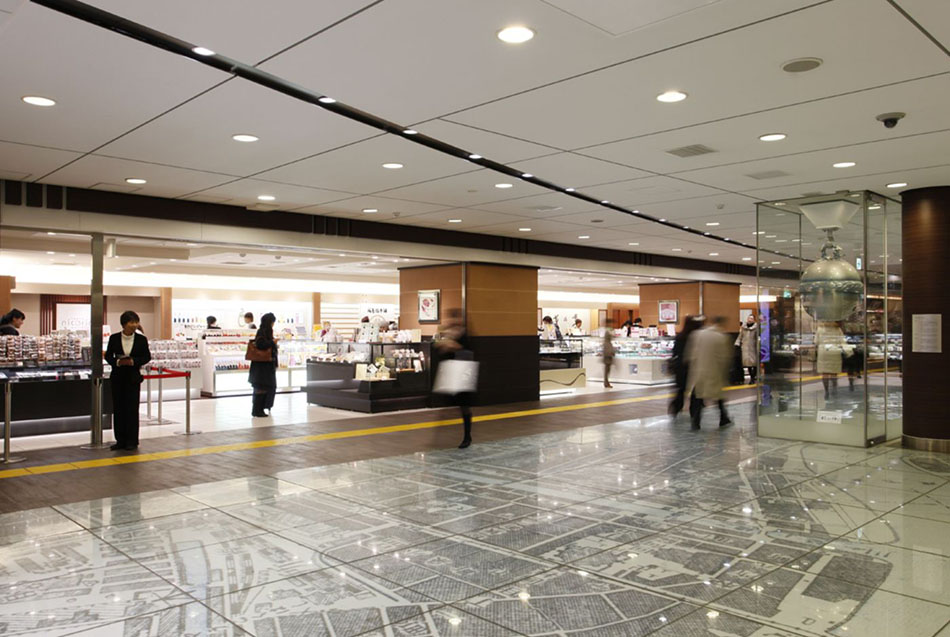 Tokyo Character Street
Known for manga, anime and its "kawaii" cute culture, characters are everywhere in Japan. There's no better place to buy merchandise than Tokyo Character Street, located inside First Avenue Tokyo Station. Here you can find the world-famous Pokémon, peeking out from among Hello Kitty, Rilakkuma and more. It's a great chance to pick up character goods only available in Japan.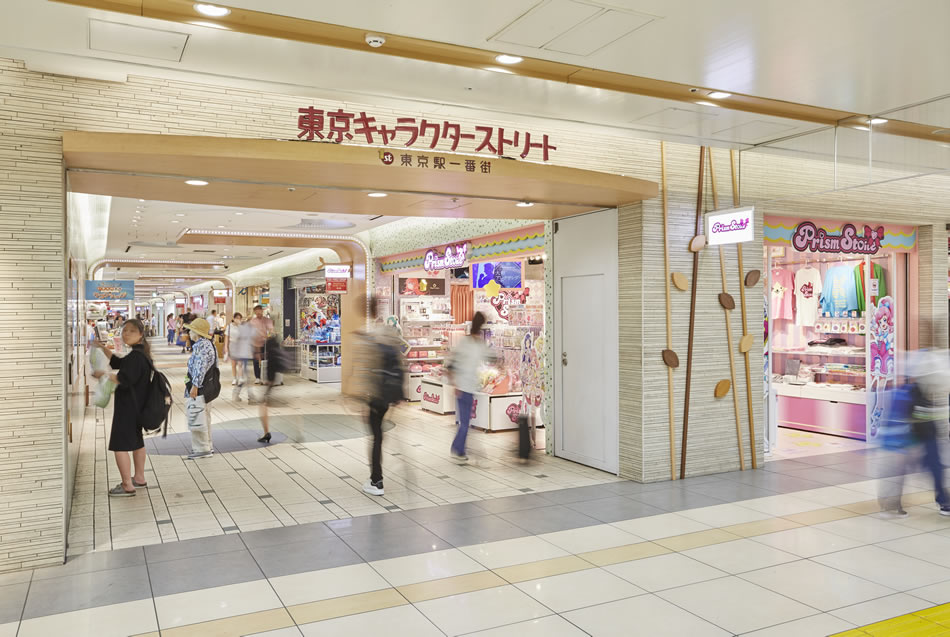 Mouthwatering restaurants
It might seem like a strange to head to a transport hub to eat but you'd be missing a trick if you didn't stop by Tokyo Station. From ramen to fresh sushi, you can find some of the best food in the city. Whether you're grabbing a quick breakfast before a trip or looking for a relaxing dinner with a stunning nightscape view, Tokyo Station is a gourmet destination in its own right.

Tokyo Ramen Street, has overwhelming choices. Particularly popular is Rokurinsha, known for its tsukemen thick, chewy dipping noodles with a rich broth. Then take a stroll through Tokyo Okashi Land—a haven of Japanese confections and other snacks. Don't miss the Calbee store, where you can freshly made chips to take away.

You can also sample many regional specialties from around Japan. Toyama Shiroebitei offers a bowl featuring tempura with Japanese glass shrimp from Toyama, and Yabaton, from Nagoya, has a branch of its misokatsu restaurant – fried, breaded pork topped with a sweet-savory miso sauce. There are countless stores to pick up a bento box lunch, with many specializing in ekiben, station lunchboxes, featuring regional produce.

Vegetarians and vegans should head to T's Tantan - spicy, sesame noodles made entirely from plant-based ingredients.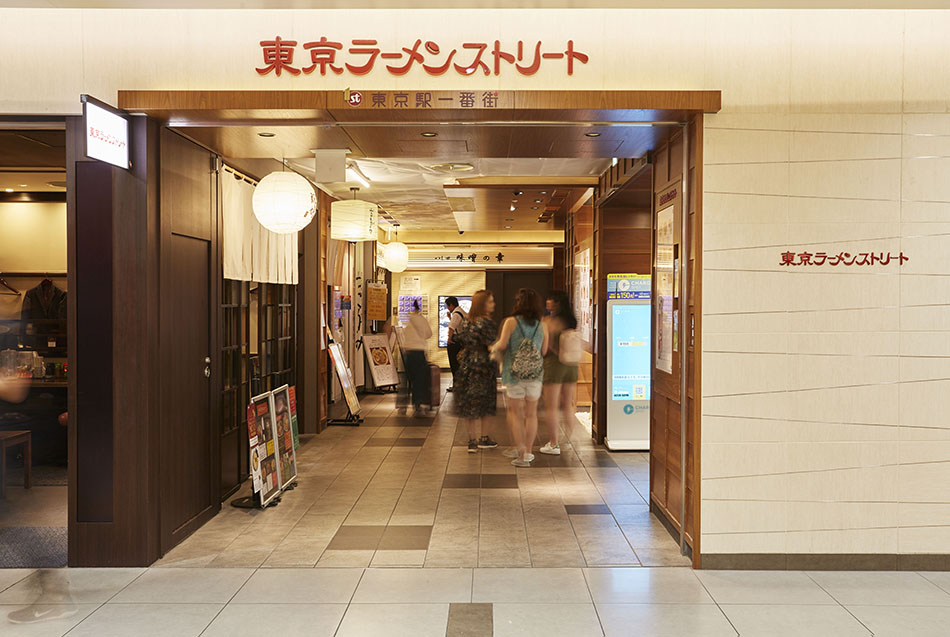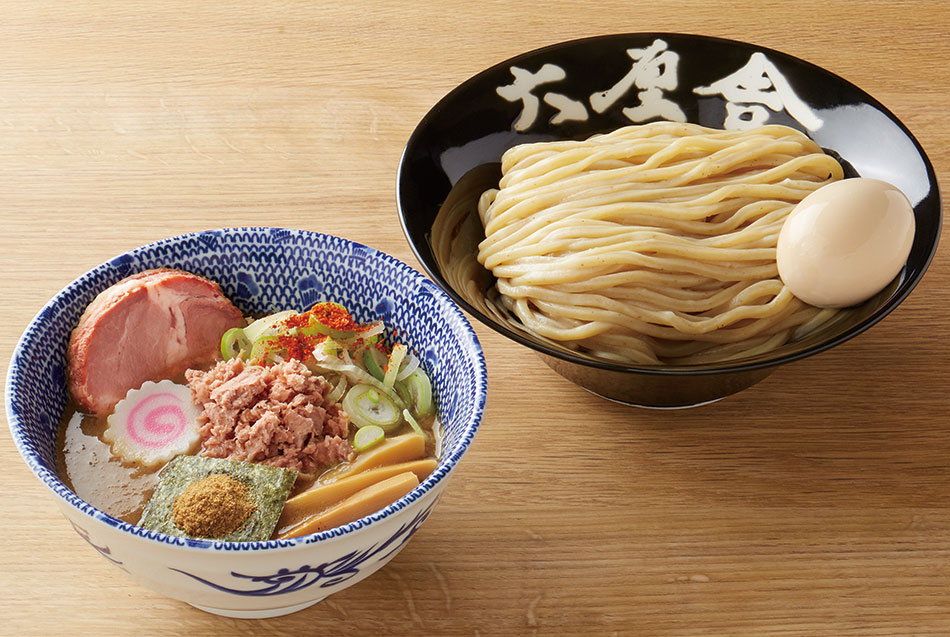 Marunouchi - Busy streets with a European look
Marunouchi is known as a office district with striking skyscrapers of steel and glass but these are interspersed with charming shopping streets that exude a distinctly European feel. The treelined Marunouchi Naka-dori Street with cobblestones transports you to a different part of the world while you browse high-end brands, admire some street art or sip a coffee at an outdoors table at one of the cafes. From November to February, the trees are wrapped in LED lights, creating a fairytale nighttime atmosphere.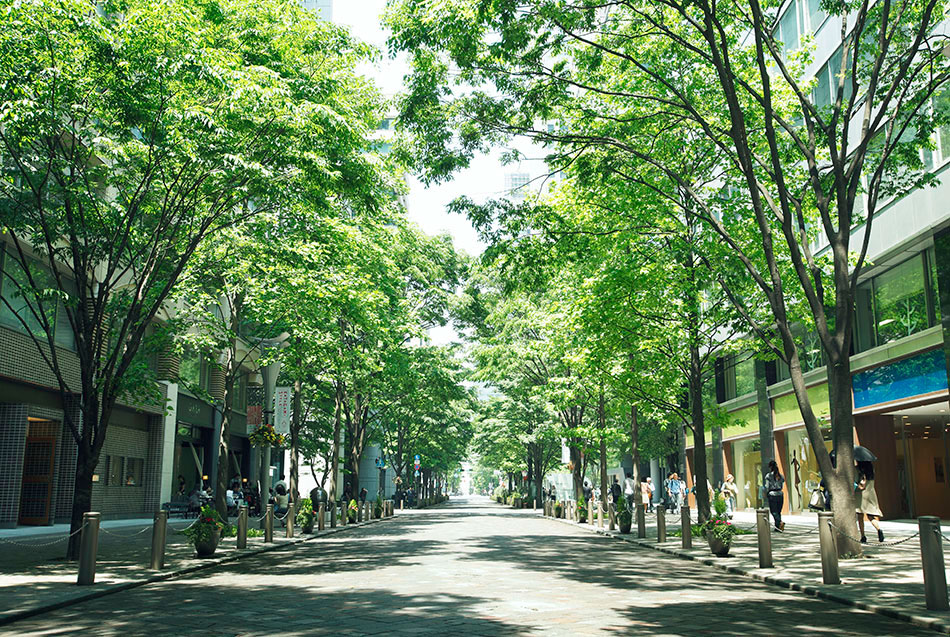 Marunouchi Bldg.
Prestigious office landmark and historical monument, the Marunouchi Bldg. is a 180-metre 37-story skyscraper that houses high-quality retail as well as some of the biggest corporate names. Overlooking Tokyo Station, the building was developed in 1923 by the Mitsubishi group and became famous for originally surviving the Great Kanto Earthquake later that year and the World War II fire bombings.

Get a sense of this history as you browse the shops and restaurants – these lower shopping floors recreate the external appearance of the initial building. For a different perspective, head up to floor 35 or 36 for a meal with some spectacular views over the city.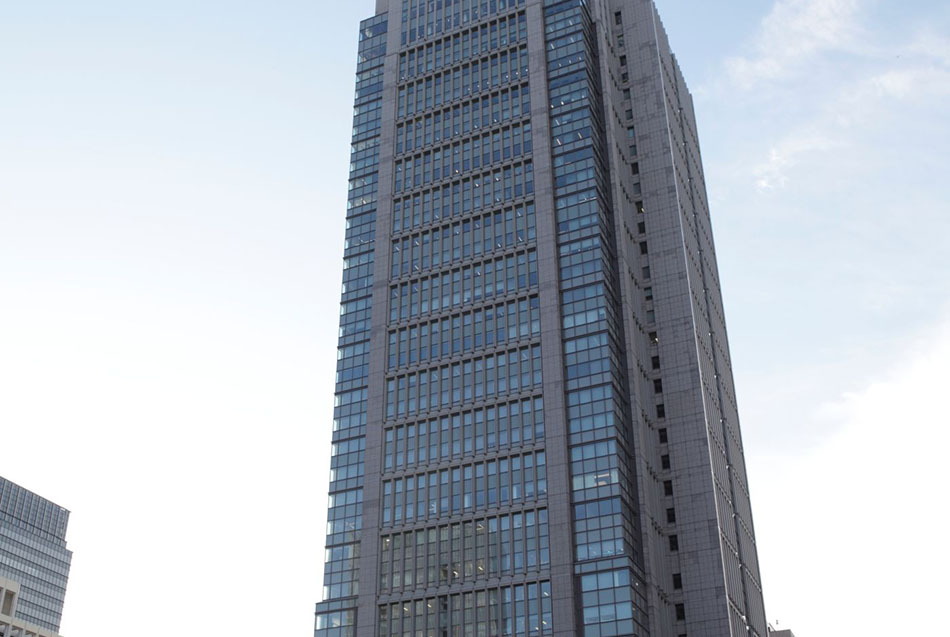 Marunouchi BRICK SQUARE
While Marunouchi can seem all about the big buildings, it also hides some places to take a breather from the city. Marunouchi BRICK SQUARE is a perfect example, with a small European-style garden, fountain, green lawn and benches to allow you to soak up the atmosphere and enjoy the view of the open sky. If you're feeling hungry, stop by any of the stylish restaurants, some of which offer al fresco dining. With several fashion boutiques next to the Ichigokan Museum, Marunouchi Brick Square is a compact yet diverse leisure space in the heart of the city.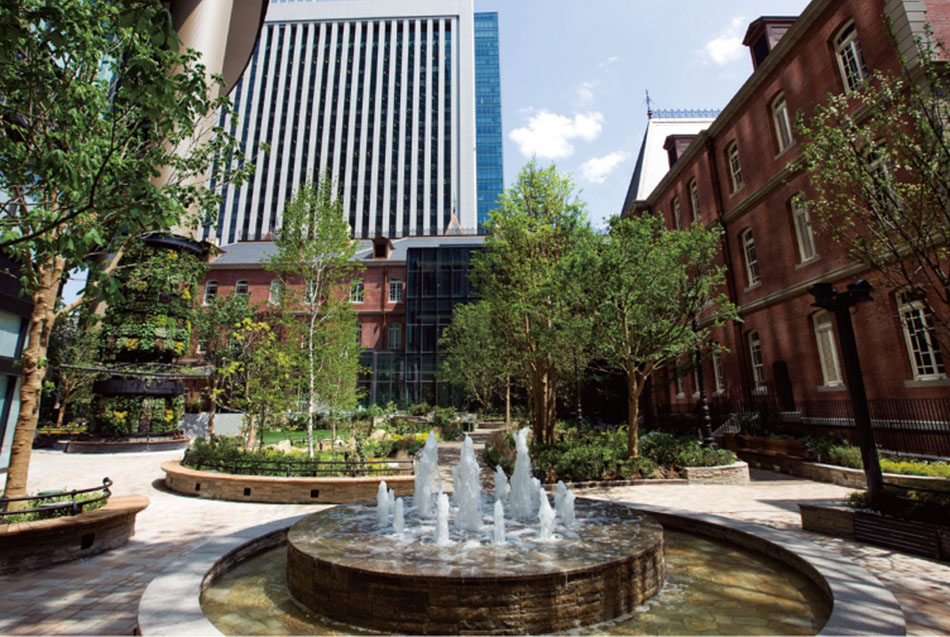 Marunouchi Trust Tower
Marunouchi Trust Tower Main Building is a 37-story skyscraper. Much of the building is office, but those wanting a taste of luxury should book a stay at the 5-star "Shangri-La Hotel, Tokyo" that occupies the upper eleven floors.

The Marunouchi Trust Tower North Building just next door offers a range of dining choices, from izakaya - Japanese-style pubs with shared plates – to a Chinese restaurant and beer hall.