Karuizawa, Japan's most fashionable place to summer
Karuizawa is a town in Nagano Prefecture a little over an hour from Tokyo by bullet train. The town and its surroundings look beautiful in all seasons, but thanks to its cool mountain air and lush green forests, it has long been one of Japan's most fashionable places to spend the summer. Even if you're not a member of the jet set, Karuizawa has plenty to offer, including fantastic shopping and a wide range of outdoor activities.
Tips
Lots of beautiful nature that's perfect for cycling
Luxury hotels with a lot of history
A town where you'll shop well and eat well
How to Get There
From Tokyo Station: 1 hour to Karuizawa Station via Hokuriku Shinkansen.
From Shinagawa Station: 20 minutes to Tokyo Station via JR Lines, then an additional hour to Karuizawa Station via Hokuriku Shinkansen.
From Ikebukuro Station: 3 hours to Karuizawa via highway bus.
Luxurious hotels with a lot of history
For many decades now, aristocrats, celebrities, and cultural leaders—both Japanese and foreign—have come to Karuizawa to relax and recharge. A number of excellent hotels have been there to meet their needs. One is the Mampei Hotel, famous for hosting John Lennon and Yoko Ono. A few kilometers down the road is the Hoshinoya Karuizawa, the flagship hotel of Hoshino Resorts. Both hotels and the areas around them have some lovely cafes and restaurants that anyone can enjoy.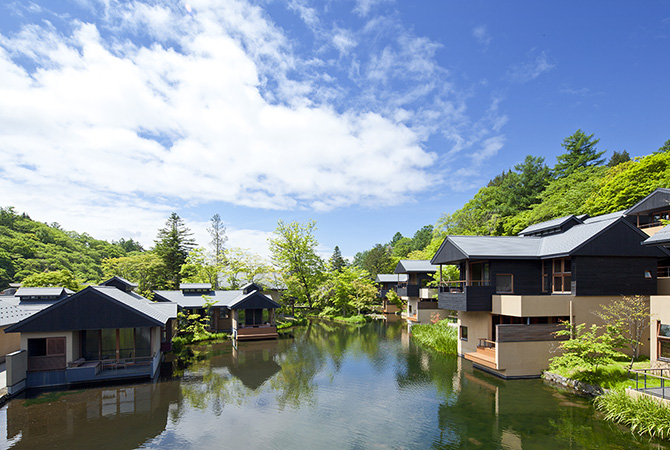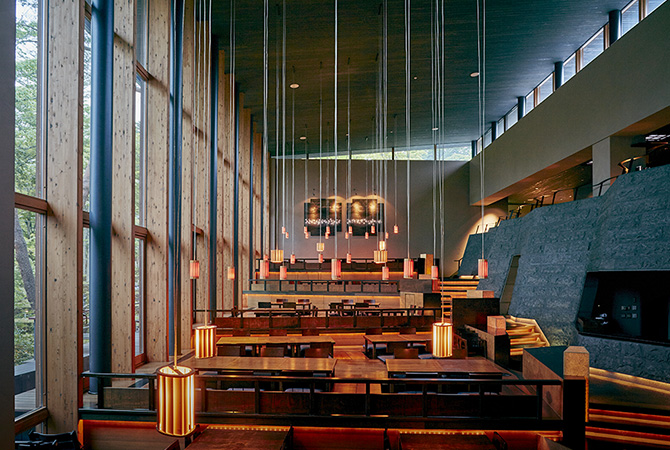 A natural setting that's perfect for cycling
When you're in Karuizawa, we recommend renting a bicycle to get around. Zip through the big shopping areas and cruise through the old part of town along Mikasa-dori Road, where you can peek through the trees to get a glimpse of stately old villas. One fantastic place to cycle is Kumoba Pond. The clear waters reflect the lush trees that surround the pond—ride around and breathe in the crisp mountain air. If you prefer an easier cycle, or are traveling with small children or senior citizens, you can rent an electric bicycle (pedelec) from some shops.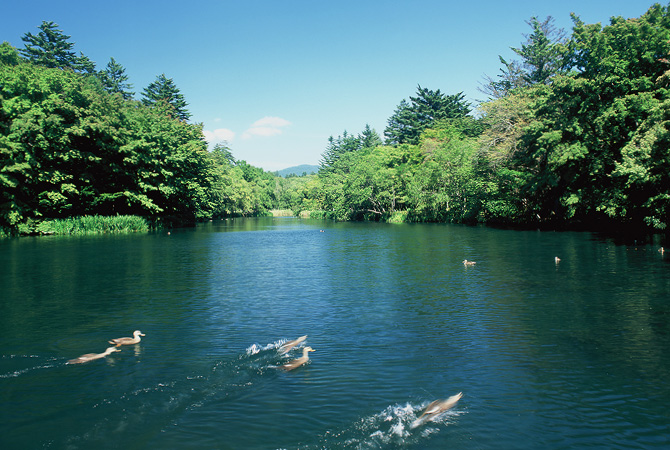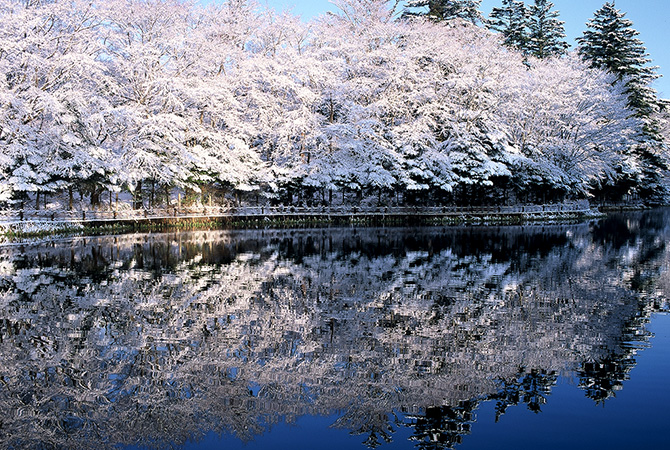 Splash out with a shopping spree…and an eating spree!
Right in front of Karuizawa Station you have the Prince Shopping Plaza, an outlet mall with around 200 stores. After finishing up there, you can walk to the Kyu-Karuizawa Ginza, the town's busiest shopping boulevard, where you'll find lots of galleries selling paintings and craft items created by local artists, as well as some wonderful gourmet food shops. The street is also the location of the historic St. Paul's Catholic Church.