Tokyo has a treasure chest of superb fishing spots for both amateurs and pros
A guide to the best urban fishing spots in central Tokyo and beyond. Benkei Fishing Club and Ichigaya Fish Center are fishing centers in Tokyo for both novice and serious anglers and a breath of fresh air amongst the urban sprawl of the Japanese capital. Hachijo Island and Miyake Island are perfect weekend getaways with tropical fish and stunning island scenery.
Tips
Bring warm clothing for the colder months as you will be on the waterside.
One hour is enough time to get a taste for fishing for beginners.
It's always good form and etiquette to release the fish back into the water.
It's better to have a short introduction for fishing beginners.
Angling under the urban sprawl
One of the oddest points about the Benkei Fishing Club is that when you are sitting next to the water with your rod in hand, amongst other keen anglers, you can see the main Tokyo expressway situated above. It's a curious site and one which is, perhaps, unique to Tokyo. The contradiction of fishing, nature and a main transportation thoroughfare is what makes Tokyo an interesting site for fishing. Benkei Fishing Club's water is full of largemouth bass, rainbow trout, bluegill, snakehead and carp. Although it's a "club" it's open to the public for some very reasonable rates with fishing on the deck only ¥450 for half an hour or by boat for ¥1,700 an hour. Rods and bait are also available for rental and very helpful staff available to assist novices or anyone who needs any support.
Strangely peaceful (although surrounded by hotels, office buildings and an expressway, it's a lovely way to enjoy some quiet time in the city. An oasis and ideal for any fishing fanatics, it's also a pleasant way to enjoy fishing for first-timers or anyone with even a passing interest.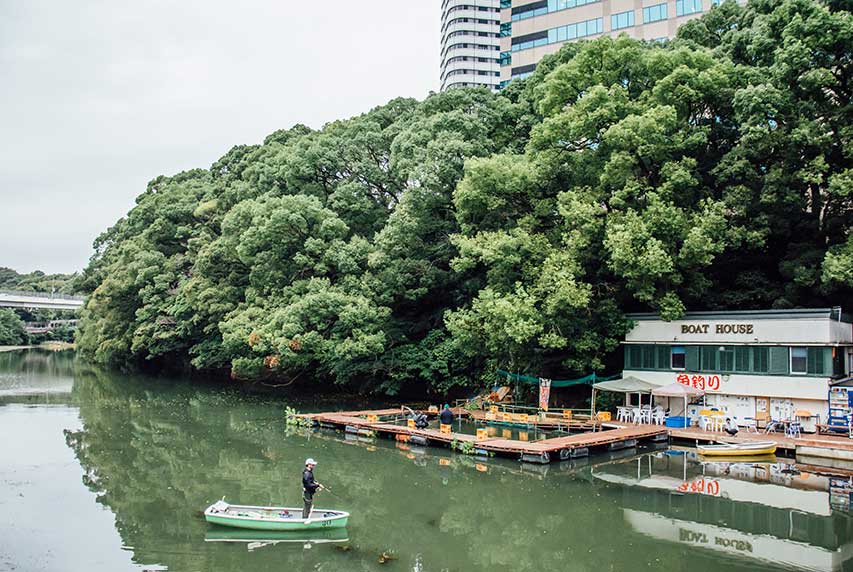 A pocket of calm under the railway tracks
In operation since the 1960s, Ichigaya Fish Center is, much like it's Akasaka cousin, a peculiar spot. Dwarfed by huge buildings and offices on one side and the Chuo/Sobu Line on the other, it's a magical pocket of Shinjuku-ku which just so happens to lend itself to a bit of fishing. In addition to its goldfish pond for children and novices, the complex holds five larger carp-filled pools, a shop and aquarium with fish for sale.
For kids and beginner parents, the goldfish area is a nice introduction to the world of angling. Visitors to this area are set a challenge to catch as many goldfish as possible in a set time period and can be taken home for a small fee however most customers release them back in the water.
The larger pools are mainly commandeered by the more experienced and serious anglers. Using upturned crates as seats, the oldtimers who congregate in these spaces are eager to get their hands on some of the huge carp which swim in these waters. Prices for mini-fishing begin at ¥500 for a 30-minute session with a ¥100 charge for taking up to 2 goldfish home. The carp fishing fee for adults ranges from ¥780 for an hour to ¥2,910 for a whole-day session. On weekdays, the centre opens at 9:30am and Weekend opening times begin at 9am and, the closing time depends on the season, you should check official website before you visit.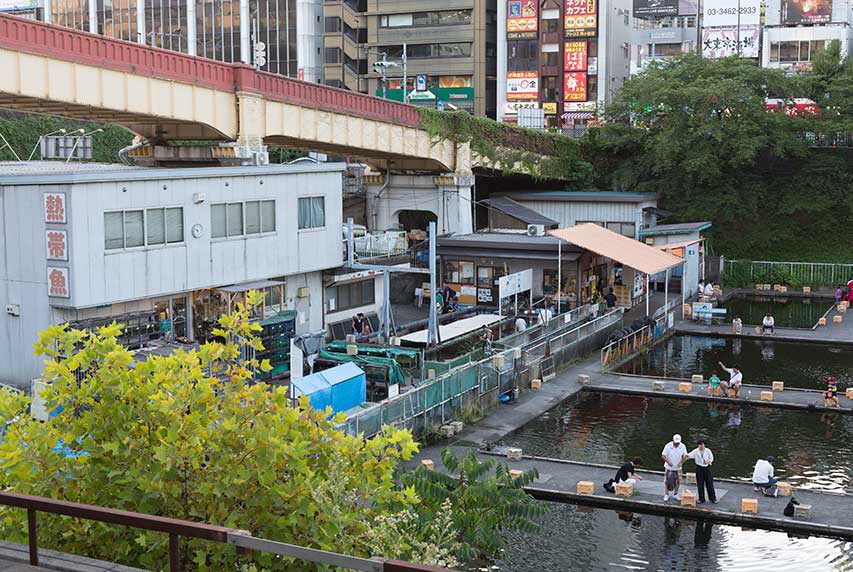 Hachijo Island
Although it's a flight or ferry ride from central Tokyo, Hachijo Island, one of 11 islands off the coast in Tokyo Bay, is a paradise for those keen on fishing. With clear blue water and stunning scenery, it's the perfect spot for fishing and attracts keen anglers due to the variety of fish in the local sea. There are fishing stores (and rental options) aplenty on the island and it's a lovely and peaceful break from the stresses of big city life. For sea fishing boats can also be rented and it's advised as it's a spectacular setting for it.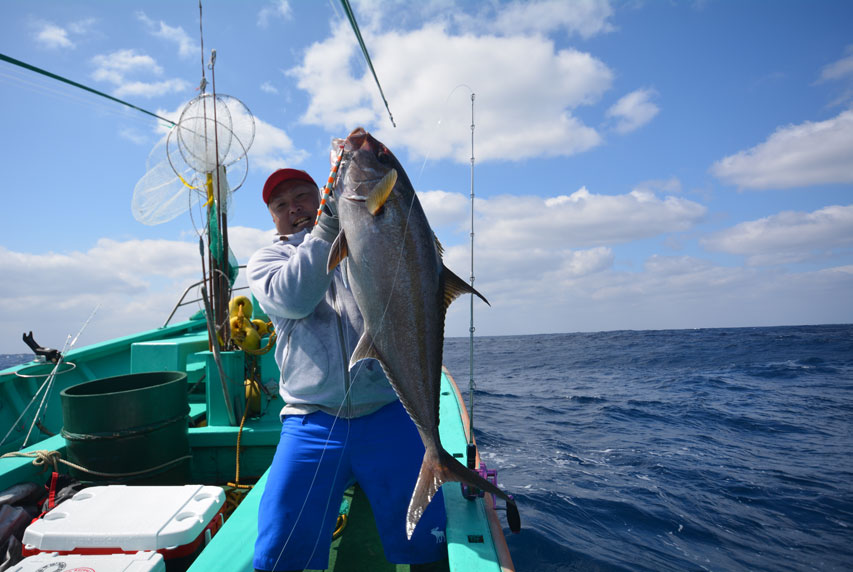 Miyake Island
Miyake Island can be reached in about 50 minutes by plane from Chofu Airport in Tokyo or in about 6 and a half hours by passenger ship from Takeshiba Pier. Miyake Island boasts waters from the Kuroshio Current and you can enjoy fishing all year round. The dense schools of fish will ensure that even those who are new to fishing can enjoy battling with these aquatic creatures. Fish for large monster-class species that occasionally appear. Your heart will tremble with delight every time you visit Miyake Island. There are shops on the island where you can rent fishing gear and even beginners can enjoy the fishing here