Your portal to Tokyo central and its waterways and islands
Just 15 minutes by monorail from Haneda Airport, Hamamatsucho is the gateway for many to Tokyo and beyond, offering a multitude of hotels and convenient bus, rail and ferry connections. Nearby Tokyo Tower dominates the skyline, glowing orange at night or decked out in colored lights for special occasions. The thriving business district comes alive at night as its many small bars and bistros open. By day, the area's wide streets are perfect for strolling to the traditional Kyu-Shiba-Rikyu Gardens and Hamarikyu Gardens, or even down to Tokyo Bay. You can catch a ferry to Asakusa or Odaiba from Hinode Pier, or venture further out to Tokyo's Izu Islands from the Takeshiba Passenger Ship Terminal.
How to Get There
Access the area from Hamamatsucho Station on the JR Yamanote and Keihin-tohoku Lines, or the Tokyo Monorail.
From Haneda Airport: 20 minutes by monorail.
From Narita Airport: One hour fifty minutes by train.
From Shinjuku: Take the JR Yamanote Line to Hamamatsucho Station. Travel time: 30 minutes.
From Tokyo: Take the JR Yamanote Line to Hamamatsucho Station. Travel time: 10 minutes.
Modern city views and remnants of old Edo
Although modern office towers and luxury hotels dominate Hamamatsucho's skyline, the landscaped gardens of Kyu-Shiba-Rikyu and Hamarikyu are clear reminders that this area was once a favorite of feudal lords. The contrast between their gentle hills, ornamental trees and koi-filled ponds and the modern metropolis is a classic Tokyo cultural mashup. For a bird's-eye view of the metropolis, ascend to the 250-meter high observation deck of Tokyo Tower.
During the Edo period, visitors could see the ocean from the second level of Zojoji Temple's grand gate. Those views are long gone, but from the temple grounds you get an up-close view of Tokyo Tower. Next to Tokyo Tower and right behind Zojoji Temple, Tokyo Shiba Tofuya Ukai, a tofu restaurant in a beautiful old sake brewery. Stroll the ornamental gardens as kimono-clad staff scurry about, and you're transported back to Edo... until you look up at the looming orange tower.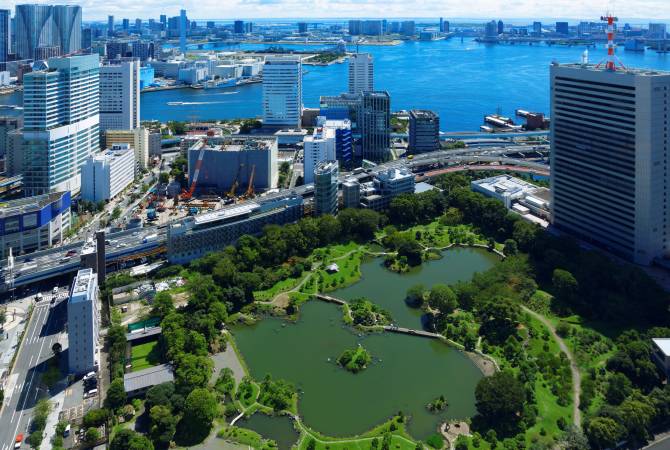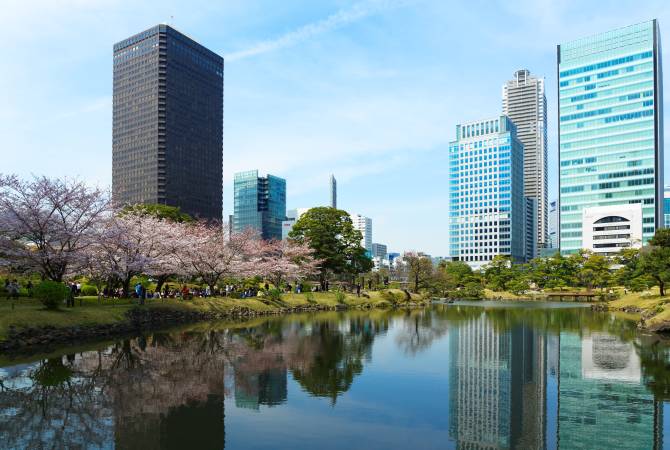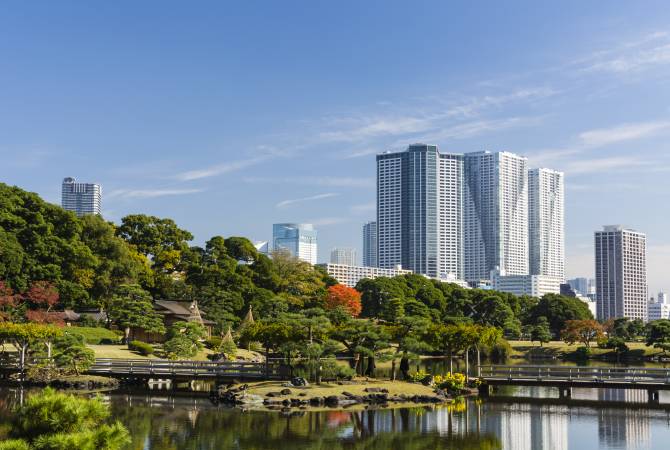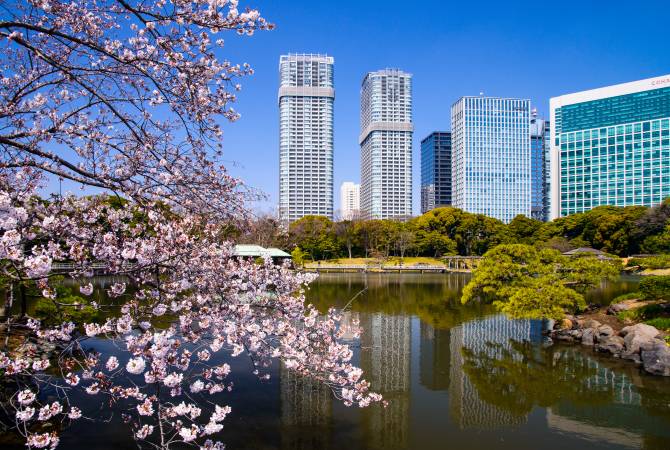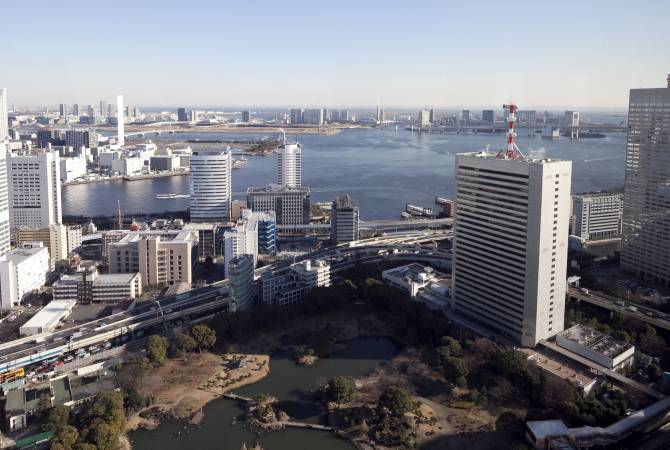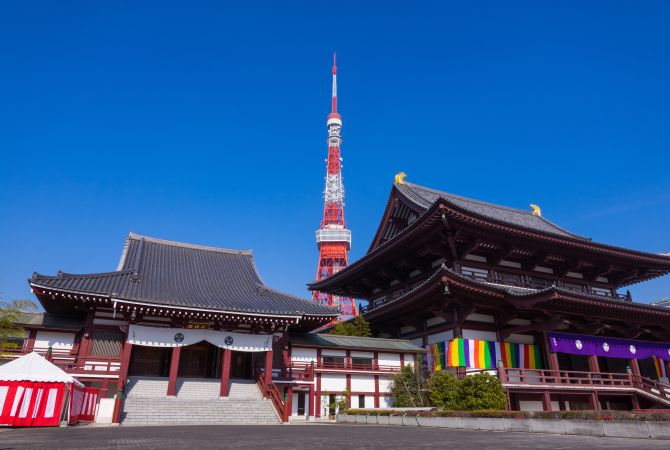 You choose—relaxing city bay cruise or island adventure
Situated right on Tokyo Bay, Hamamatsucho is the starting point for many marine excursions. From Hinode Pier, for example, you can take the anime-inspired Suijobasu ferry to historic Asakusa, futuristic Odaiba, or enjoy a lunch or dinner cruise around the bay. From Takeshiba Passenger Ship Terminal, you can board a high-speed ferry or slower passenger vessel to one of Tokyo's 11 islands. Oshima is under two hours away, while the subtropical Ogasawara Islands of Chichijima and Hahajima are 24 hours away.