Say hello to Hello Kitty and a legendary emperor
Hello Kitty, the cute cat with a global following has an amusement park dedicated to her and her the ever-growing cast of Sanrio characters—Sanrio Puroland. However, the Tama area is not simply about the cute and cuddly. If you take the Tama monorail, you can enjoy great panoramic views of the area as the track is several meters above ground. There are great shopping options, expansive parks, and a museum dedicated to Emperor Meiji. And after your exploration of the area, you can relax in warm onsen baths.
Tips
The Hello Kitty-themed train station at Tama Center Station
Shop for Japanese brands at the Cocolia Tama Center
Stand before Emperor Meiji at the Former Tama Seiseki Memorial Hall
How to Get There
The nearest stations are Keio Tama Center and Odakyu Tama center which can be reached by the Keio Sagamihara Line, Odakyu Tama Line, and Tama Toshi Monorail Line.
From Haneda airport: Around one hour 15 minutes by airport shuttle bus. Around one hour 30 minutes by train.
From Narita airport: Around two hours 10 minutes by airport shuttle bus. Around three hours five minutes by train.
From Shinjuku Station: Around 35 minutes to Keio Tama Center Station by Semi-Limited Express train on Keio Line. Or Odakyu Tama Center Station by Rapid Express on Odakyu Line.
From Tokyo Station: Get to Shinjuku Station by JR Chuo Line or Tokyo Metro Marunouchi Line and change to Keio line or Odakyu line to Keio/Odakyu Tama Center Station (Travel time: One hour 10 minutes)
Hello Kitty Station
You'll know you've reached Hello Kitty Country as soon as you arrive at Tama Center Station. It is decorated top to bottom in Sanrio characters. The main entrance to the ticket gates features an overhead Sanrio character mural of Hello Kitty and Keroppi dressed as Keio Line station masters. You'll see Hello Kitty inspired artwork from the ticket gates to the name tags of the station staff, just a small sample of what's to come at Sanrio Puroland.
Hello Kitty takes center stage
Sanrio Puroland is located a short walk east of Tama Center Station. You'll pass under its rainbow archway and into a world packed to the brim with a level of cuteness that can only be found in Tokyo. There are rides, parades, projection mapping shows and even a Hello Kitty Kabuki performance. Of course, you will also have plenty of chances to buy some exclusive Sanrio goods.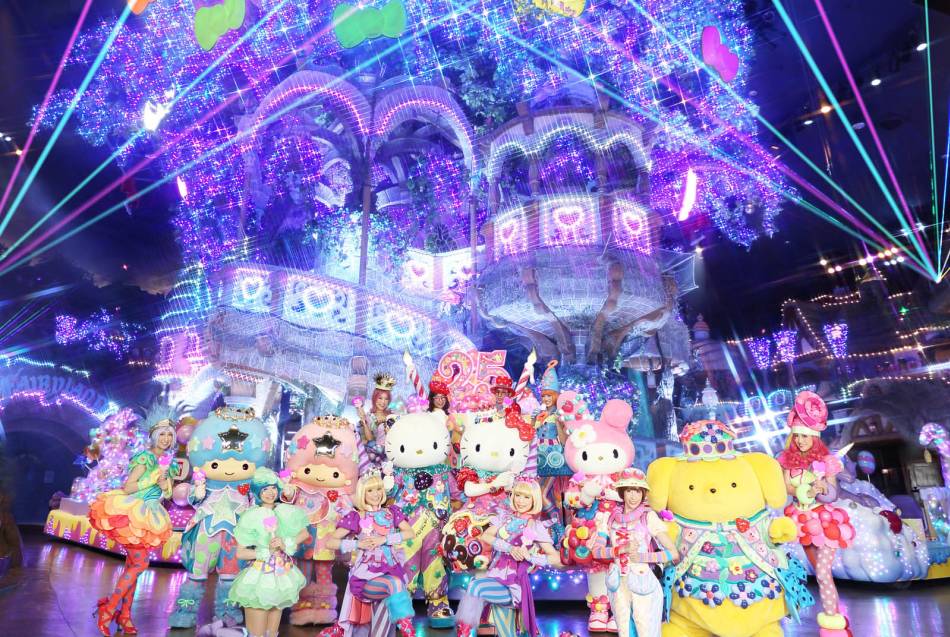 A day in Tama Center
Before or after visiting Hello Kitty land take a moment to relax in one of Tokyo's quieter parks. Tama Central Park has large grassy fields perfect for picnics. You could also pay a visit to the nearby Tokyo Metropolitan Archeological Center or the Tama Art University Museum. If you're in the mood for some shopping Cocolia Tama Center has an extensive collection of Japanese brand shops including Muji, Uniqlo, and Japanese interior design chain Nitori.
A walk in the park
Not far from Kinenkan-mae Bus Stop is Sakuragaoka Park. Heavily wooded with designated walking paths, the park is a great place to wander around, picnic and relax. The Former Tama Seiseki Memorial Hall is located in the park grounds. The hall was built to commemorate Emperor Meiji's visits to the area and inside you can see statues of the emperor and Edo period calligraphic works. There is a cafe inside selling light snacks and coffee.
A hot bath and dinner to end the day
After a busy day, relax with a hot bath at Gokurakuyu Tama Center. The onsen features indoor and outdoor baths as well as several saunas to unwind in after a busy day. After your bath, you can book a massage, relax in a tatami room or order a traditional Japanese set meal from the large dining hall.