Kawagoe, a "Little Edo" still thriving today
Kawagoe is a city in Saitama Prefecture. It's 30 minutes to an hour by train from most areas of central Tokyo, and there are convenient special passes for Kawagoe trains and buses. In the Edo period (1603-1867), when Tokyo was known as Edo, Kawagoe became a bustling commercial center, so much so that it earned the nickname "Little Edo." And parts of the city still feel that way, lined with old homes and shops that date back well over 100 years.
Tips
Kawagoe is an area rich with history that's as little as 30 minutes from Tokyo
Wander the old-fashioned cityscape
Pray for luck in love at Kawagoe Hikawa-jinja Shrine
How to Get There
From Ikebukuro Station: 30 minutes to Kawagoe Station by express train via Tobu Line.
From Seibu-Shinjuku Station: 43 minutes to Kawagoe Station by limited express train via Seibu Line.
From Shinjuku Station: 1 hour to Kawagoe Station via JR Lines.
From Narita Airport: 2 hours to Kawagoe Station by highway bus (8 buses per day).
Travel back in time to the Edo period
Kawagoe was such a vibrant commercial hub that it earned the nickname "Little Edo," and it still has streets lined with old-fashioned warehouse-style shops and homes. First, take a stroll down the Kawagoe Ichiban (No. 1) shopping street, or hire a rickshaw to give you a tour! Then hit the shopping stalls for some souvenirs, a baked rice ball and some green tea, or maybe a beer from a popular local craft brewery.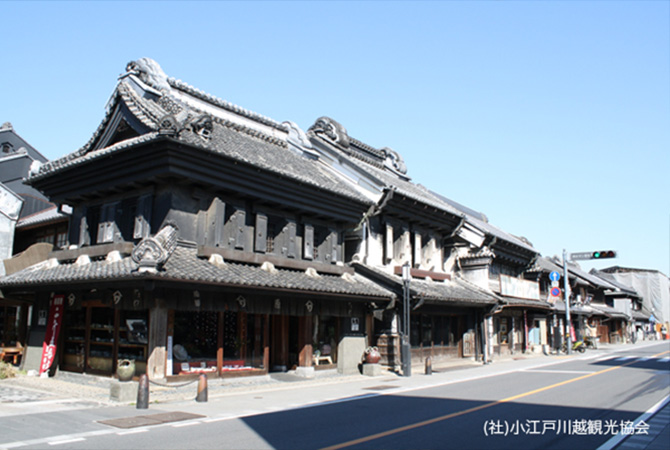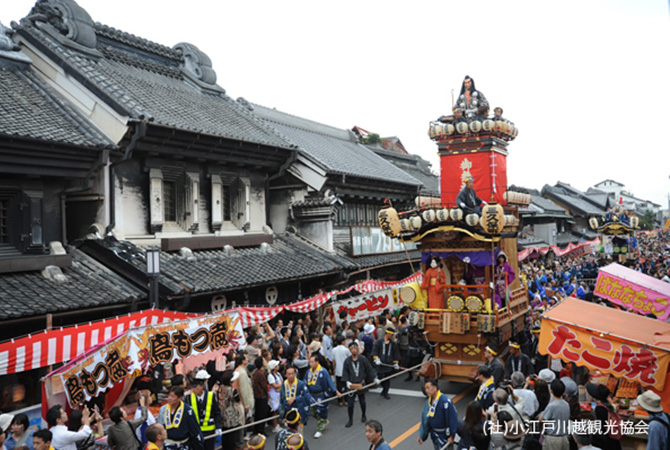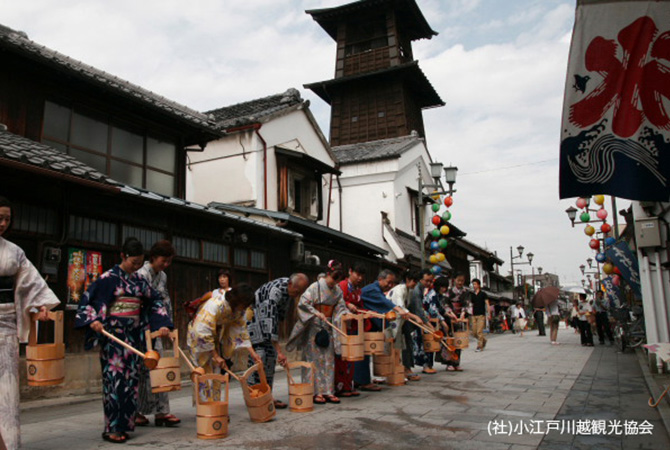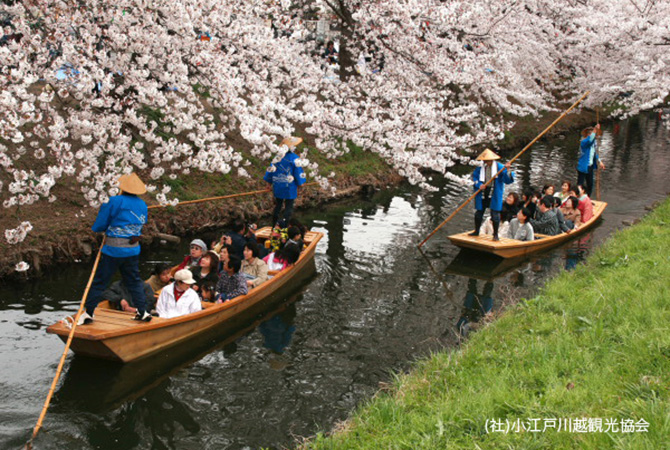 Get in touch with your spiritual side
Kawagoe has lots of historic temples and shrines. Hikawa-jinja Shrine is home to the deity of matchmaking. Single people come here to pray for luck in love (and buy special charms for that purpose), and for couples it's a romantic date spot. Kita-in is a temple where you can pray to ward off bad fortune. The approach to Kumano-jinja Shrine is a road paved with pebbles, meant to be a sort of shiatsu massage for your feet. Take off your shoes and give it a try!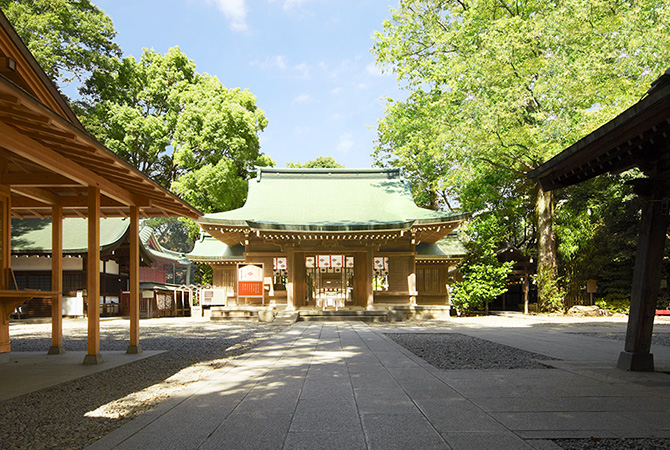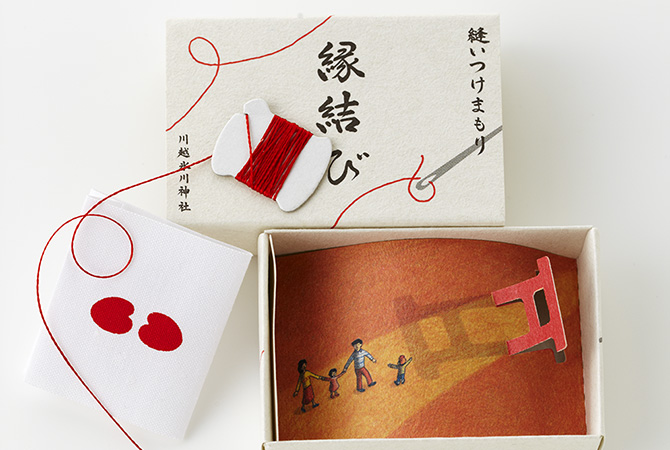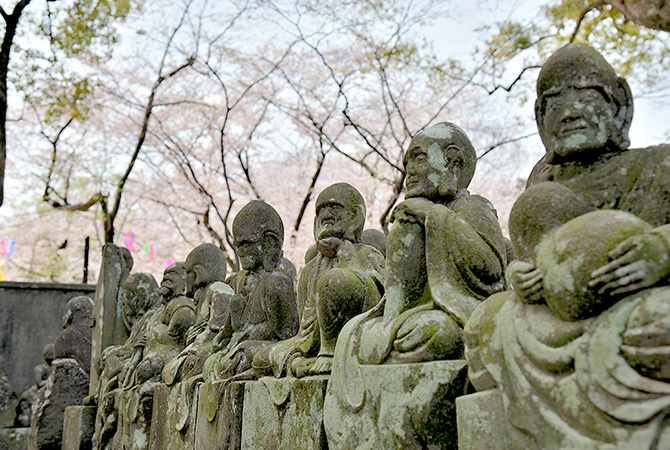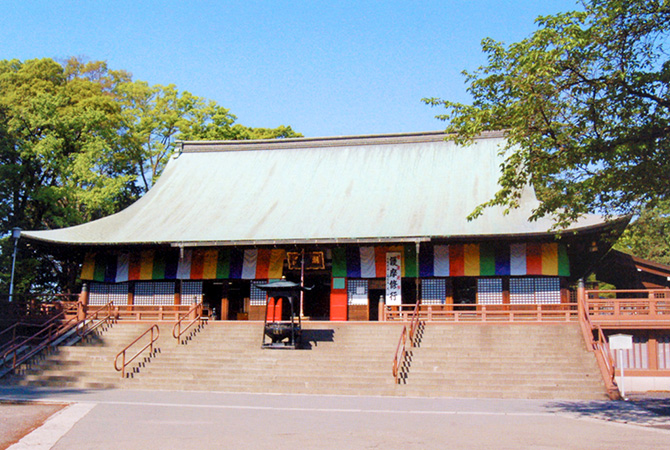 Superb sweets and elegant old-fashioned cafes
Kawagoe is known for having a large number of chic cafes. You will see a traditional teahouse housed in a former kimono shop dating back over 100 years. There's also a cafe that occupies a similarly historic building, but with a cozy modern interior, as well as a terrace with outdoor seating. Many shops and cafes offer exclusive seasonal sweets—don't forget to try them!
Side streets with splendid souvenirs
Don't miss out on exploring Kawagoe's many charming side streets. There's one called Kashiya Yokocho (Sweet Shop Alley) with over 20 stores selling old-fashioned Japanese candy and other treats. And Taisho Roman Yume Dori (Taisho Romantic Dream Street) is a retro fantasia of cobblestone streets and shops selling a wide array of cute souvenirs and chic items.