Japan is a country of festivals. Known as matsuri (祭り) in Japanese, these events celebrate or commemorate the changing of the seasons, historical events, and traditional culture, and pretty much every city, town and neighborhood has their own, many of them going back hundreds of years or more. Attending or taking part in a matsuri is a wonderful part of any trip to Tokyo.
Monthly calendar of unique cultural festivals
The festivals known as matsuri can take many forms, but typically they honor nature, tradition, or community—or, frequently, all three. Temples and shrines hold festivals to commemorate important events in their history or pray for good fortune. Parks and gardens hold festivals at the times of year when certain flowers come into bloom. Local town associations hold festivals to showcase the charms of their neighborhood and have a fun time parading through the streets.

Let's go month by month through some of Tokyo's best festivals, as well as some of the most important festivals across Japan.
January
Kanda Myojin Shrine hosts the Daikoku Festival, which is held close to Coming-of-Age Day, a holiday held in honor of those who are turning 20 that year. A Shinto dancer dressed as Daikoku, the deity of fortune, greets new adults by shaking his lucky mallet above their heads.

Outside of Tokyo, the amazingly vibrant Nagasaki Lantern Festival runs for roughly two weeks in January or February.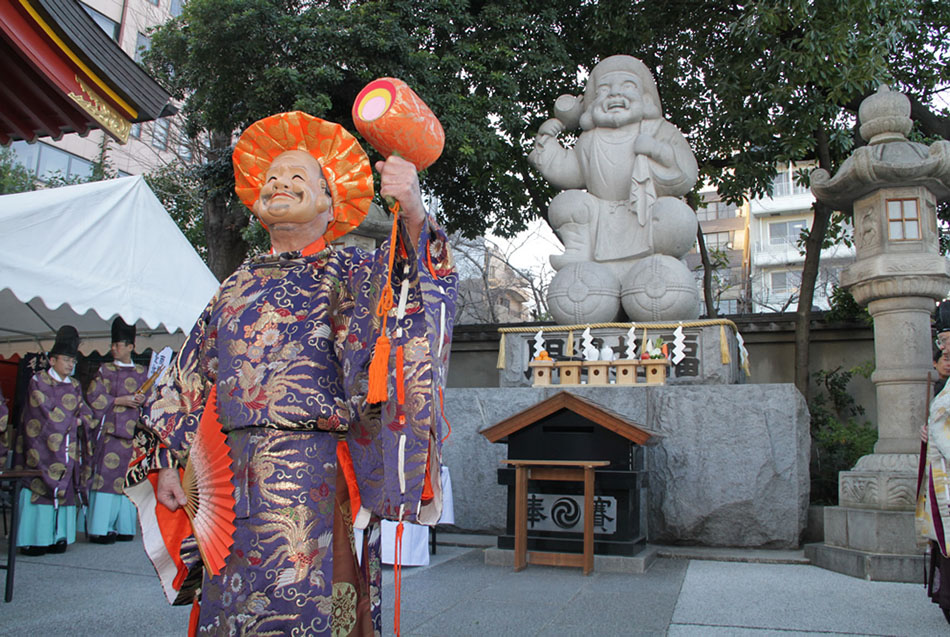 February
Setsubun is a traditional event held across Japan marking the end of winter, where you throw beans to cast out evil spirits and bring in good fortune. Throwing the beans at the "demons" (people in masks and/or costumes) is an activity children across Japan love. The Setsubun festival at Sensoji Temple in Asakusa is particularly lively.

February is also the season for ume (plum blossoms), another harbinger of spring. Flower festivals this month include the Setagaya Ume (Plum Blossom) Festival and the Bunkyo Ume Matsuri, which features fun cultural events such as haiku classes and tea ceremonies on weekends during its run.

If you can travel outside of Tokyo, check out the Sapporo Snow Festival, where the city is decorated with hundreds of world-class ice sculptures. Make sure to bring warm clothing, because you'll want to be outside for hours looking at the stunningly intricate creations.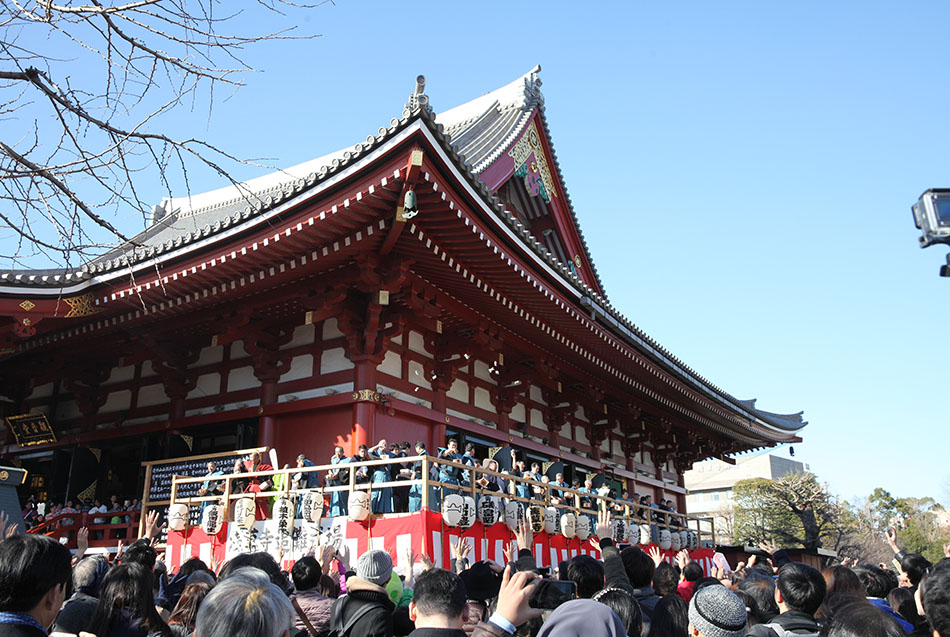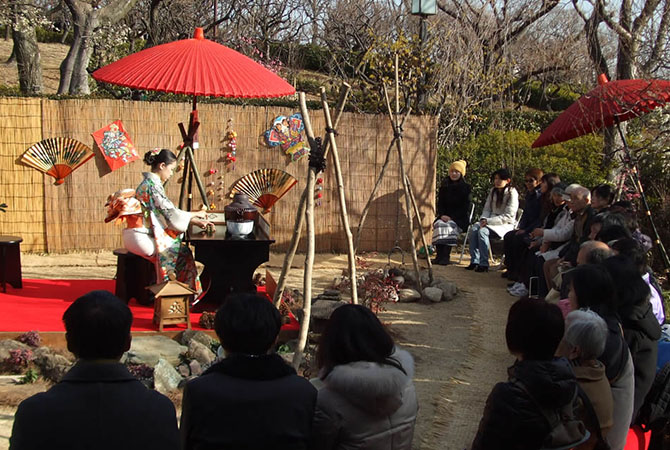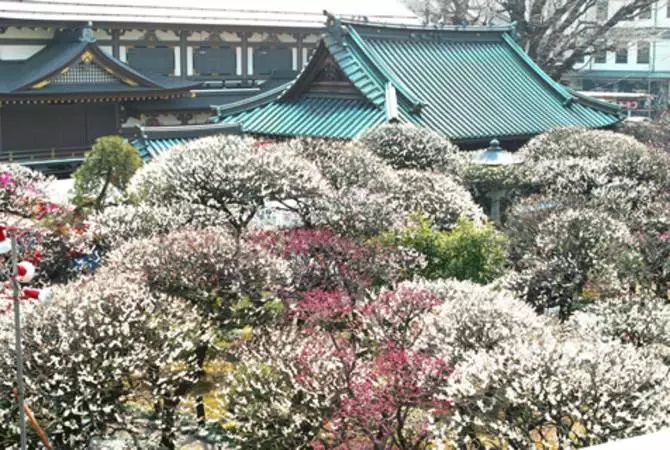 March
Visit Mt. Takao in western Tokyo for the Fire-walking Festival, where barefooted monks chant and walk atop a path of smoldering embers.

March also marks the beginning of cherry blossom season, which means cherry blossom festivals all the way into mid-April. Some big ones include the Ueno Cherry Blossom Festival, the Chiyoda Cherry Blossom Festival, and the Sumida Park Cherry Blossom Festival.
April
In April, spring gets into full swing.

Cherry blossom festivals continue into early April, when the petals begin falling from the trees in droves. This is the quintessential Japanese image of ephemeral beauty.

The annual Meiji Jingu Grand Spring Festival, held from late April through early May, features presentations of traditional performing arts in the open air.

Mt Takao's Yakuoin Temple also holds its own spring festival.
May
Kanda-matsuri Festival, a grand six-day celebration, is considered one of Japan's three greatest festivals. This religious festival is centered on Kanda Myojin Shrine, and it features huge processions of mikoshi (portable shrines) and floats. Massive crowds turn out to celebrate this epic event.

If you're a night owl, the Kurayami Matsuri (Darkness Festival) in Fuchu involves portable shrines being carried through the night of May 5. If you're up for braving the darkness of the wee hours, this is an awesome experience!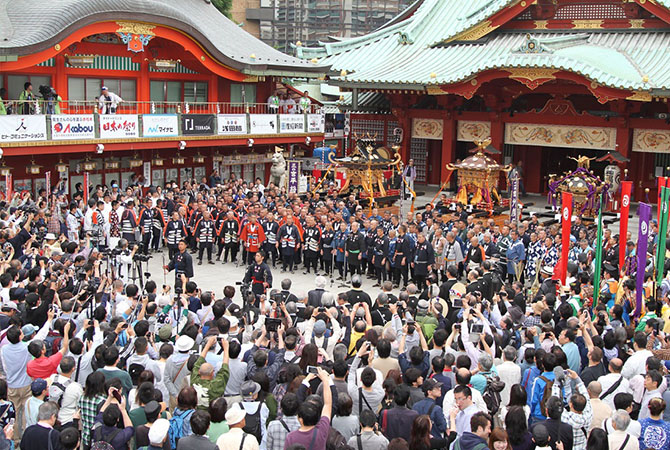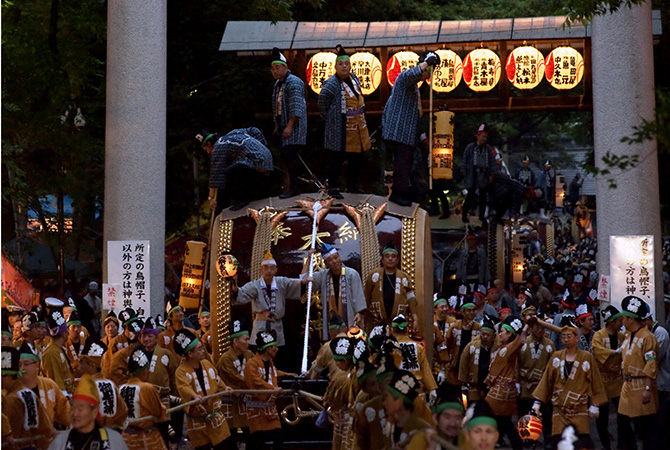 June
The biggest traditional festival on June's calendar is the historic Sanno Masturi in Asakusa, considered to be one of Japan's three great festivals. The festivities last 11 days, and every day offers something new!

As summer kicks off, you could head to the Hachioji region of Tokyo for the Fussa Hotaru (Firefly) Festival to witness fireflies dancing in the twilight sky along the banks of the Kita-Asakawa River.

If you're interested in flower festivals, check out the Katsushika Shobu Matsuri (Iris Festival) or the Bunkyo Ajisai Matsuri (Hydrangea Festival).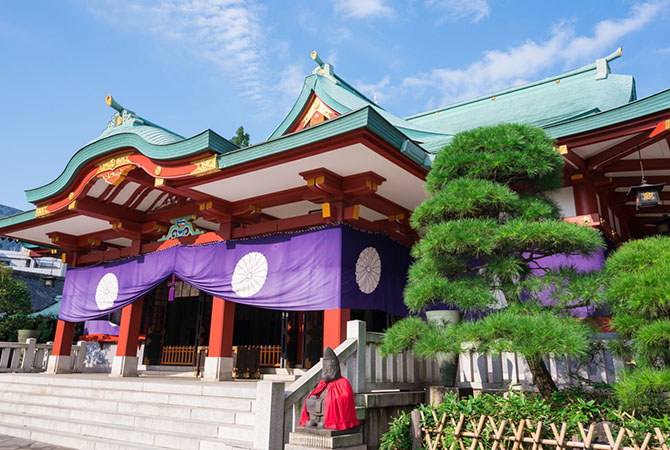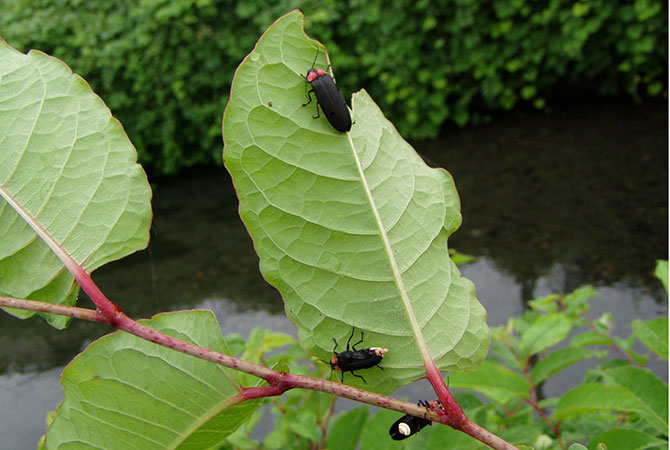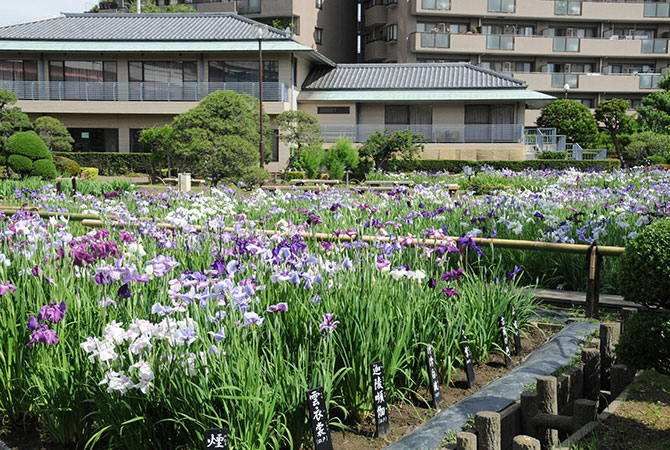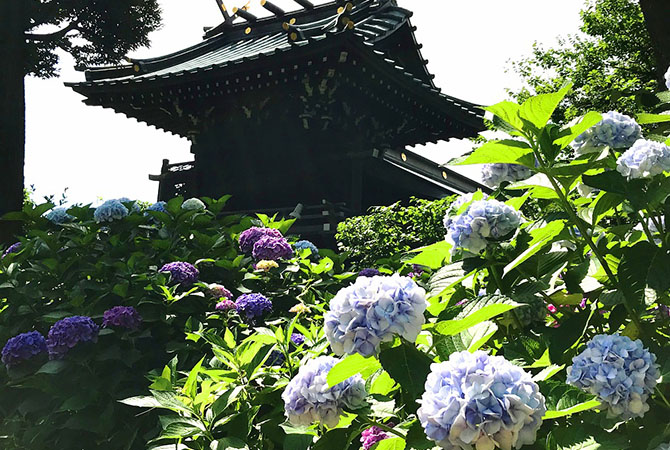 Photo: Bunkyo City Tourism Association
July
Japan has some amazing fireworks festivals, and the king of them all is the Sumidagawa River Fireworks Festival in Ryogoku. It's no exaggeration to say this is one of the world's coolest firework experiences. Thousands upon thousands of fireworks of all colors, shapes and styles, launched from multiple spots around the neighborhood, fill the skies for close to two hours. Get there early to claim a good spot!

Tokyo has lots of other great fireworks festivals in July and August, so if you're visiting during that time of year, check and see what's on.

If you're in Kyoto, don't miss the Gion Matsuri. It is the most famous Kyoto festival, and perhaps the most famous festival in all of Japan. It officially runs all July, but the main events are the Yamahoko Junko, two processions of extremely lavish wooden floats.
August
August is Bon season in Japan, and countless Bon-odori festivals will be held in every neighborhood of the city. One large Bon festival with a long history is the Tsukiji Honganji Bon Odori, held at Tsukiji Honganji Temple.

The annual festival of Tomioka Hachimangu Shrine, also known as the Fukagawa Hachiman Festival, is held around August 15. It is considered one of the three great festivals of Edo (as Tokyo was once called). Throughout the event, people splash purifying water on mikoshi (portable shrines), lending the event its nickname: the "water-splashing festival." Shrine-bearers and spectators alike create a special, playful energy.

If you want to see spectacular summer festivals outside of Tokyo, head north to the Sendai Tanabata Festival or the Nebuta Matsuri in Aomori, both in the northeastern Tohoku region, or the Gujo Odori, a historic Bon festival in Gifu featuring all-night dancing several days in a row in mid-August.
September
Head to the Nezu Jinja Shrine Annual Grand Festival in September, one of the three great festivals of Edo, said to have been established in 1714. Today it features traditional dance performances and street stalls.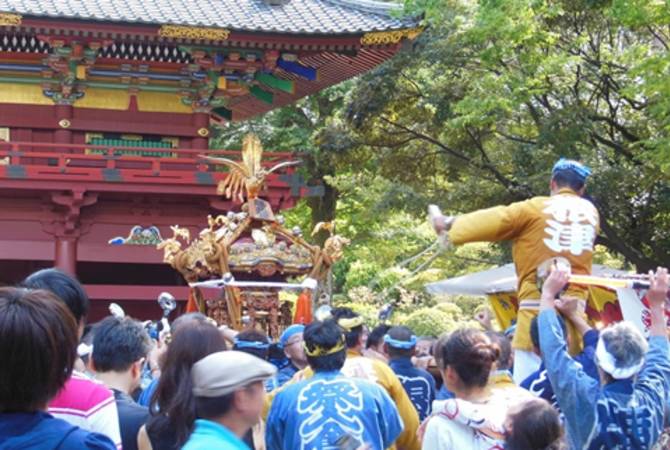 Outside of Tokyo, the Kishiwada Danjiri Matsuri in Osaka is probably the most famous danjiri matsuri (cart-pulling festival) in Japan. Local associations build and maintain the carts, which they parade around town during the festival.
And in the Yatsuo area of Toyama, the Owara Kaze no Bon festival features elegant dances meant to calm the kaze (winds) and protect crops in the lead-up to the harvest.
October
October is the great month to visit some festivals while watching the autumn leaves.

At the Ikegami Honmonji Temple Oeshiki Ceremony, a procession of tall lanterns marks the anniversary of the passing of Nichiren (1222-1282), who founded the Nichiren sect of Buddhism, and who died at Ikegami Honmonji Temple. This festival has been celebrated since his death well over 700 years ago.

The Nihonbashi Ebisu-ko Bettara-ichi Pickle Fair commemorates Ebisu, the Buddhist god of wealth, with some delicious local delicacies.

Outside of Tokyo, the Nagasaki Kunchi is a festival that reflects Nagasaki's international character. It features a famous dragon dance that originated with Nagasaki's Chinese residents. The Kawagoe Festival in Saitama Prefecture, is a lively celebration whose highlight is the elaborately decorated floats that parade through the streets into the evening.
November
Tori no Ichi events are held on select days in November at various shrines in the city. One of the most spectacular versions of this traditional festival takes place at Ootori Jinja Shrine and Chokokuji Temple. Pick up an ornate kumade rake and pray for good fortune and prosperity.
December
Held on December 14 at Sengakuji Temple, the Ako Gishisai honors the famous 47 ronin, and is marked by a solemn procession from Zojoji Temple to Sengakuji Temple, with participants dressed in traditional attire.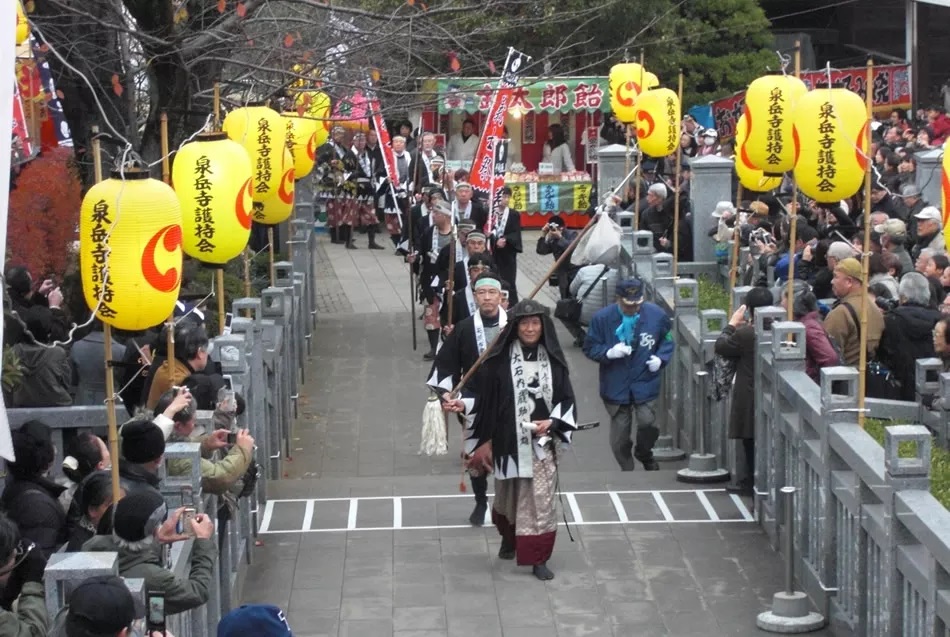 Tokyo Festivals: Beyond Traditional Matsuri
If you want to see a traditional matsuri, Tokyo has endless options, but it also has plenty of "festivals" in the more modern sense.
Music festivals in Japan
The Tokyo Jazz Festival, held in Shibuya in September, is the largest jazz event in Japan, featuring spectacular, captivating performances.

The Summer Sonic Festival is a massive rock festival, perhaps Japan's biggest, that takes place right next door to Tokyo in Chiba (and Osaka). The same group runs Sonicmania, a festival with a focus on electronic music.
Anime festivals
Not surprisingly, Tokyo has some of the world's best festivals for anime, manga, cosplay, video games and more.

Comiket is a massive twice-a-year fair featuring passionate amateurs and mega-popular pros alike. Anime Japan is a premier anime trade show. And if you like Shueisha's various Jump properties, you can't miss Jump Festa.

You might also find some great manga at the Kanda Used Book Festival, the biggest marketplace for secondhand books in Japan.
Food & drink festivals
Yoyogi Park, next to Harajuku Station, hosts lots of great food festivals over the course of the year. One great event there featuring Japanese eats is the Hokkaido Food Festival.

Also, Japan loves beer, and various "Oktoberfest" events are held in Tokyo almost year-round, many of them featuring German food and music. Odaiba has a big Oktoberfest in the spring.