Main content starts here.
In order to prevent the spread of coronavirus (COVID-19), various facilities around Tokyo may change their operating days or hours. In addition, some events may be canceled or postponed. Please check official facility or event websites for the latest updates and information.
The Bunkyo Plum Blossom Festival takes place at Yushima Tenmangu (also known as Yushima Tenjin), a shrine that's been known as a spot for plum blossom-viewing for hundreds of years. The shrine has over 300 plum trees that are spectacular in bloom.

Yushima Tenmangu Shrine is also a popular spot for students wishing to pass exams, because Sugawara no Michizane—an ancient scholar who became revered as the Shinto deity of learning—is enshrined here. Sugawara, upon his exile to the remote region of Kyushu, wrote a famous poem about his beloved plum blossoms at home. "When the east wind blows, flourish in full bloom, you plum blossoms! Even though you lose your master, don't be oblivious to spring."

The plum blossoms at Yushima Tenmangu Shrine typically bloom in the second half of February. You can check the blossom forecast by following the link on the right.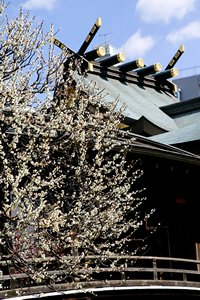 Yushima Station | Exit 3 | 2 min on foot
Chiyoda Line
Please check the official event website for the latest updates on opening dates and times, prices, and other information.