Tiny volcanic island with tide pool hot springs, sandy beaches and dazzling blue coves
Shikinejima is only three hours from Tokyo by high-speed ferry, but it couldn't be more different from the sprawling metropolis. The miniscule island, lined with rugged coves and sandy beaches, is largely undeveloped with few roads and just one stop light. Void of traffic, it's perfect for exploring on foot or by bicycle. While the beaches offer traditional island relaxation, forested trails and the most natural of hot springs offer a hefty dose of island adventure.
Tips
Swimming and sun bathing at Tomari Beach
Finding a hot spring tide pool to bathe in
Stargazing from Kambiki Observatory
Exploring the island by bicycle
How to Get There
From Tokyo Takeshiba Pier: By high-speed jet ferry takes about three hours. Or the large passenger ships depart at night and it takes about ten hours.
From Tokyo Chofu Airport: Fly to Niijima Island (three hours) and take a 15-minute ferry ride to Shikinejima.
The best beaches
While neighboring Niijima Island may have better beaches for surfing, Shikinejima is the undisputed champion when it comes to picture-perfect, family-friendly beaches. Tomari Beach is perhaps the most popular with white sand and calm, turquoise waters. Out of season, you will need to buy food and drink to take with you from one of the island stores, but during peak summer season, there is a beach hut selling simple snacks and chilled drinks.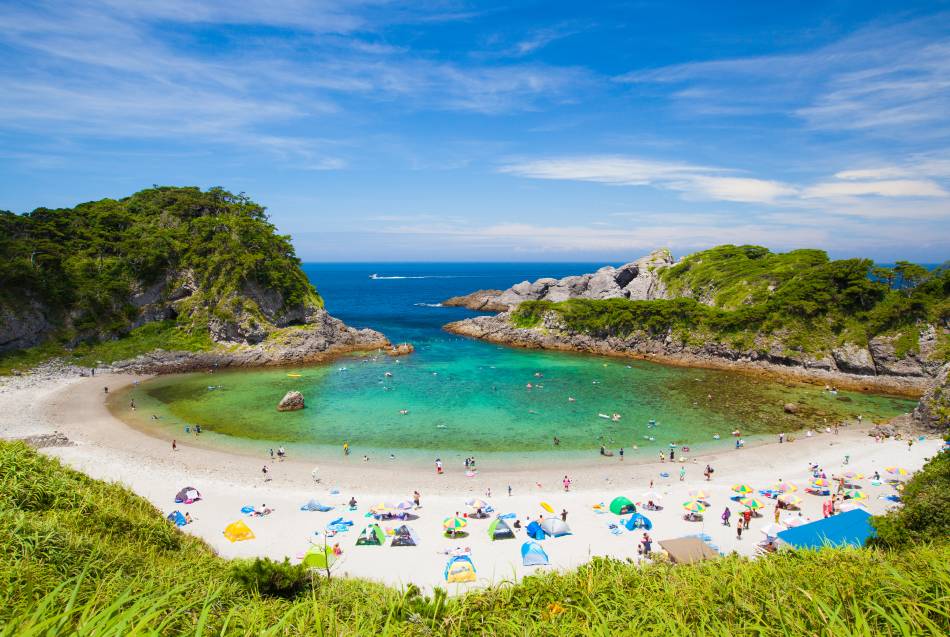 Tomari's calm, shallow water makes for easy swimming
Other noteworthy beaches include Oura Beach for the sunset and Nakanoura Beach for snorkeling. On the opposite side of the island, Ishijirogawa Beach is a convenient choice for close proximity to island shops and other facilities. It is also within easy walking distance of several hot spring spots.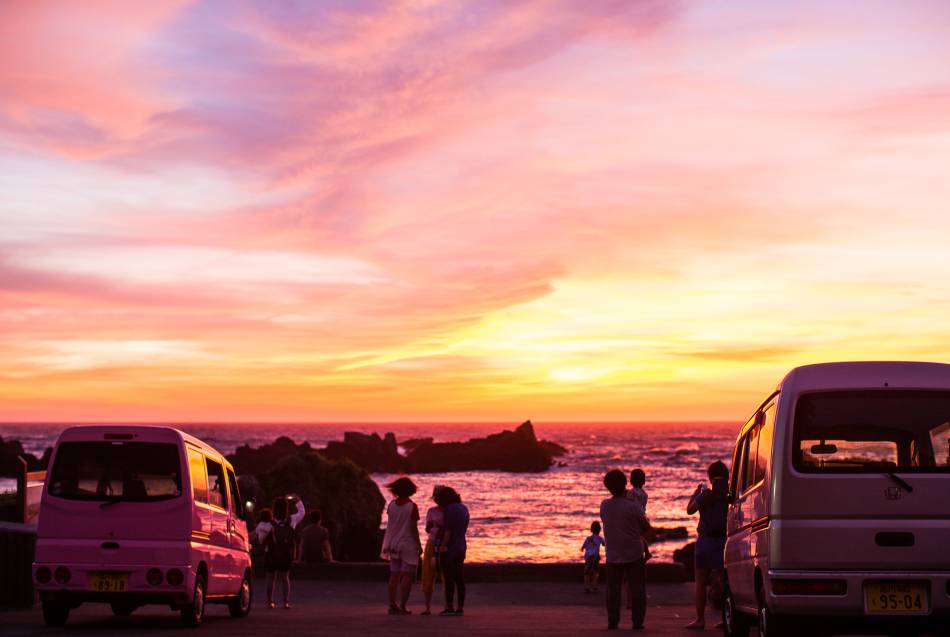 The sunset from Oura Beach
An island of adventure
Covered with dense forest and rocky outcrops, there is plenty to explore on the island. While it is possible to get to most places on foot in less than an hour, renting a bike from one of the various bike rental stores is the most effective way to see the island. For stunning views of the coastline, head to Kambiki Observatory. From there, you can follow hiking trails to much of the west side of the island. On a clear evening, you can get a crystal-clear view of the stars from the lookout.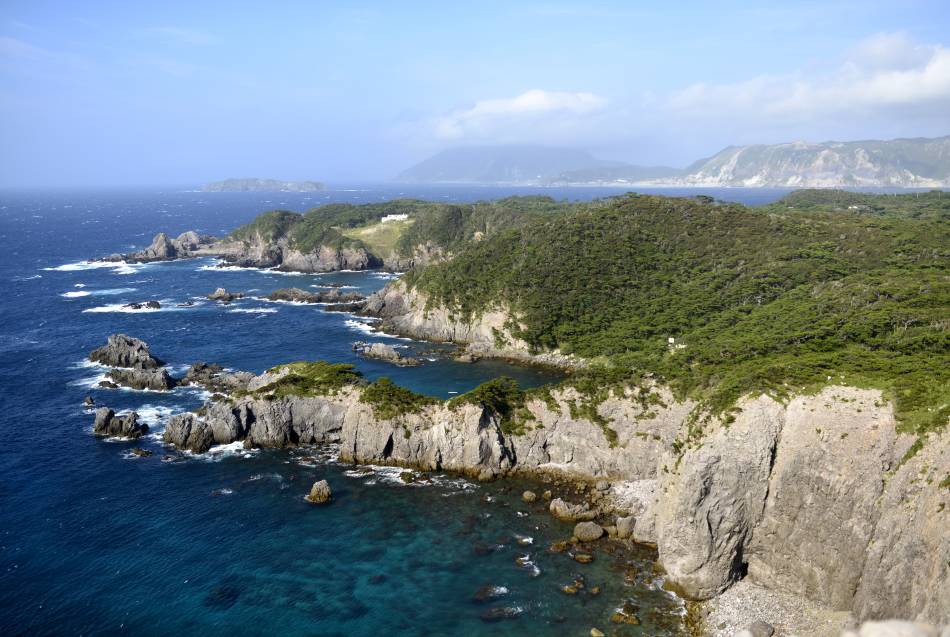 Wild, rugged hot springs
Shikinejima's all natural hot springs are one of the highlights of a trip to the island. The most wild and rugged of the hot springs require that you pay attention to the tide and time your visit carefully. At low tide, the iron-rich water of Jinata Onsen which bubbles up into seafront rock pools is scolding hot. As the tide comes in, however, seawater mixes with the spring water making the pools comfortable enough for bathing.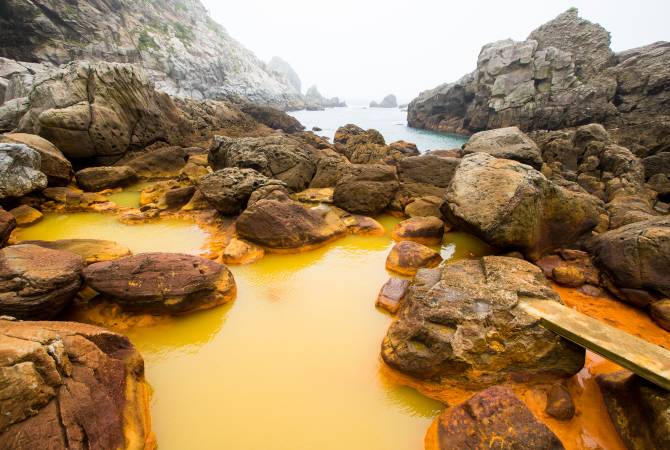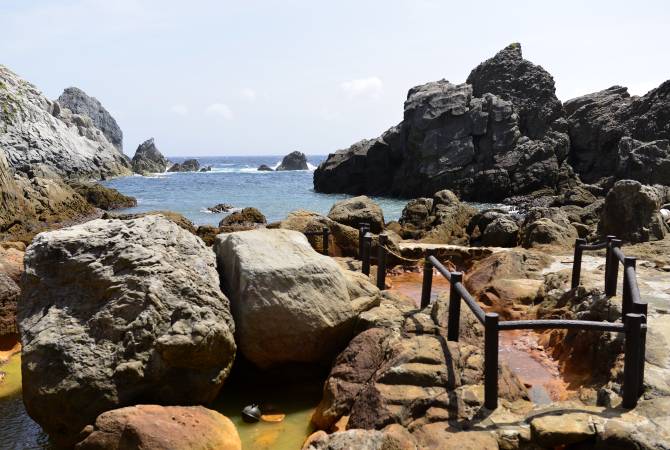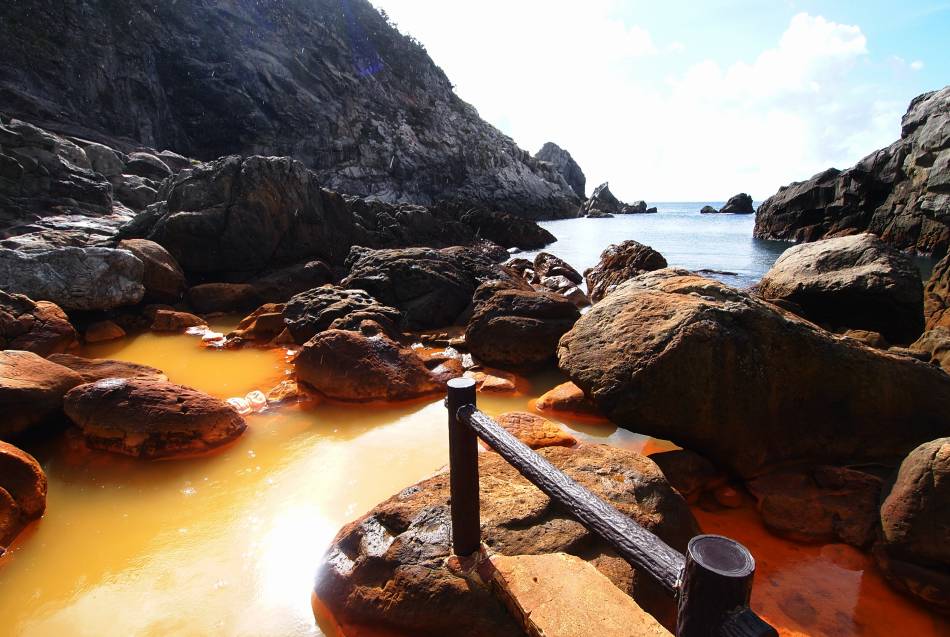 Bathe at Jinata Onsen as the tide comes in
Ashitsuke Onsen, much milder than Jinata Onsen, requires less careful timing. If a particular rock pool feels too hot, try one further out on the shore. In addition to being more accessible than Jinata Onsen, there are simple changing facilities in the vicinity of the pools.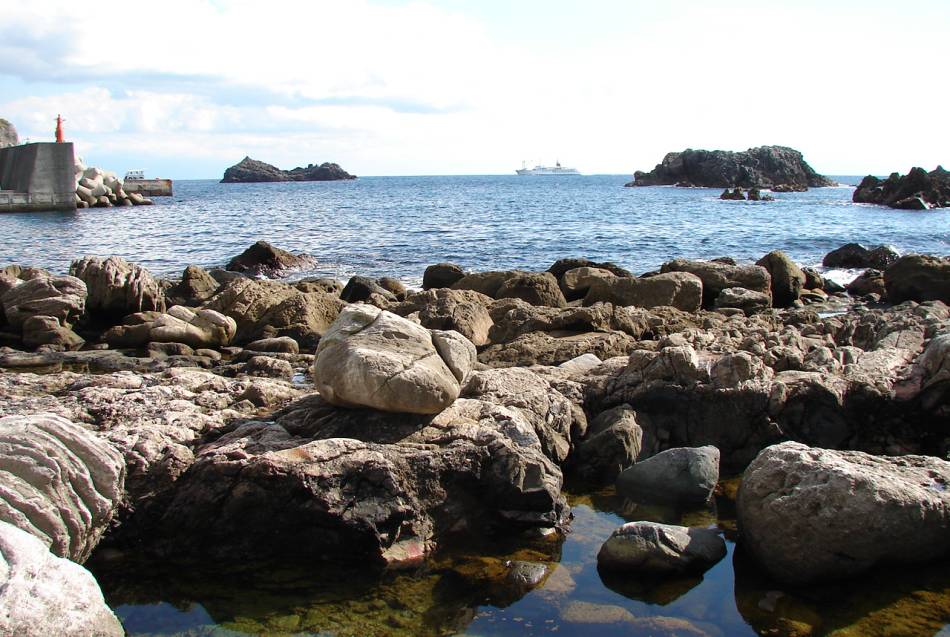 Hop from pool to pool and find the one that's right for you
Near Ashitsuke Onsen and slightly less wild, Matsugashita Miyabiyu comprises two artificial pools. One is shallow and fitted with benches so you can sit and bathe your feet, and the other, less shallow, is suited for full-body bathing.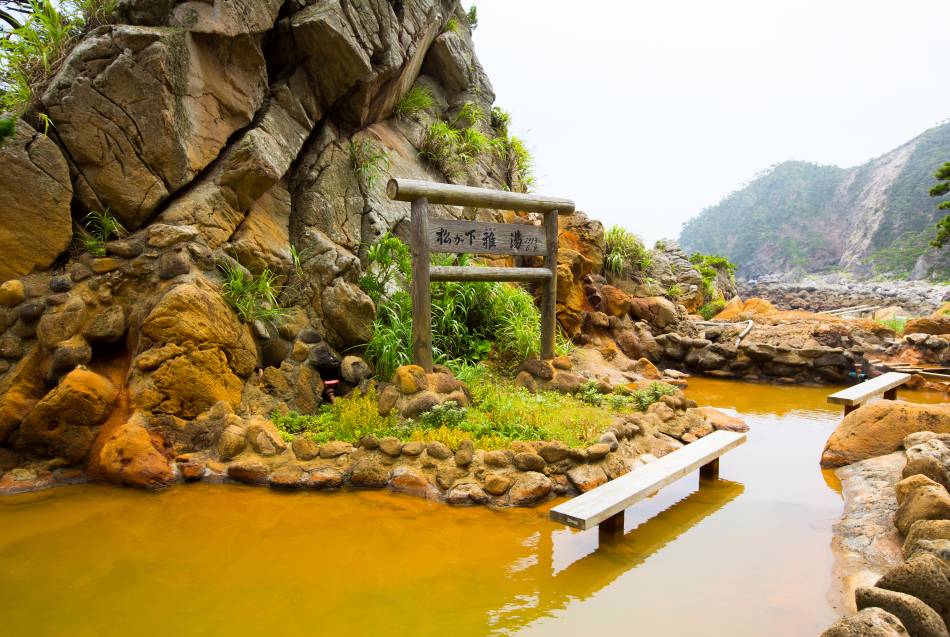 The foot bath at Matsugashita Miyabiyu