Tokyo's cherry blossom rivers
Springtime in Japan is flower viewing time. Flower viewing, or hanami, is a popular event all over Japan—but in Tokyo, you can see romantic cherry blossoms along the city's famous rivers, creating a different feeling than in other places. It's not uncommon to see people drinking and singing underneath the cherry trees. While you're in Tokyo, you should try a real Japanese cherry blossom hanami. Find the perfect spot for your Tokyo cherry blossom viewing.
Tips
Arrive at your destination early
Plan an alternate route if you know it will be crowded
Bring a blanket, towel, or tarp to sit on
Be considerate of others with your noise and drinking
Don't leave trash behind
Somei Yoshino cherry trees on the Meguro River
Catch the cherry blossoms at Meguro River's most famous viewing spot from the end of March to the first week of April. More than 800 Somei Yoshino cherry trees line Meguro River Promenade for about four kilometers. During the cherry blossom viewing season, take a stroll from Daikan-yama or Naka-meguro stations to appreciate the beauty of spring and the rebirth of nature. It's sure to be crowded but filled with positive energy.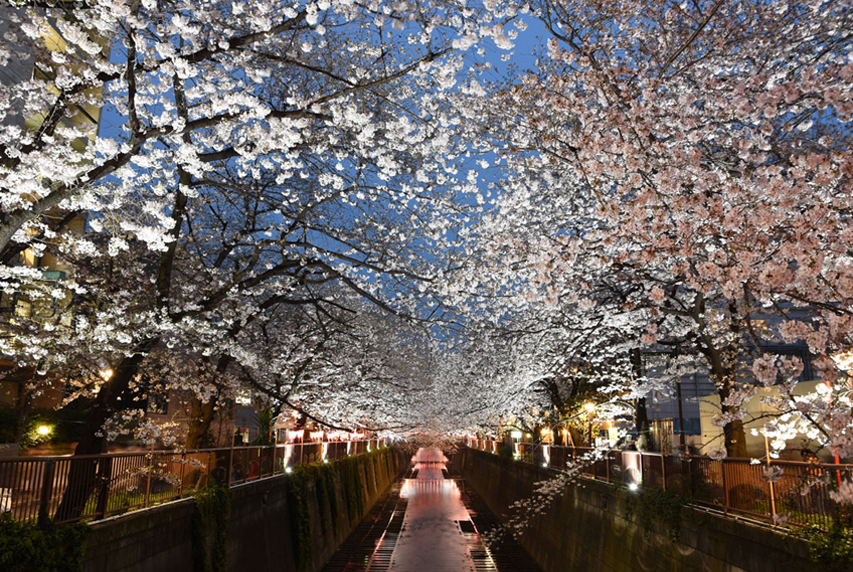 Cherry trees and Tokyo Skytree on the Sumida River
Relax by the Sumida River while being wrapped in the beauty of spring. Sumida Park—between Azumabashi and Sakurabashi bridges—is a gorgeous place to enjoy the cherry blossoms. From the riverside, you can gaze at more than 500 cherry blossom trees lining both sides of the river and even get a great view of Tokyo Skytree. Why not enjoy a springtime walk under the trees or a fantastic river cruise to take in the blossoms? The cherry blossom illuminations from early evening are especially lovely and not to be missed.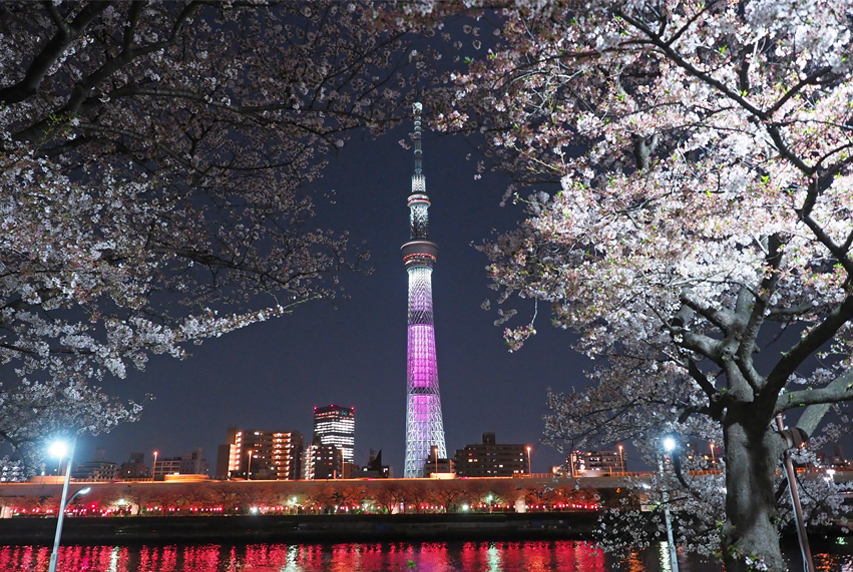 A slow stroll through cherry blossoms—Kanda River
Enjoy the cherry blossoms along the Kanda River at Edogawa Park. These dainty, white flowers veil the cityscape and Edogawa Park is sure to be a top contender for your favorite cherry blossom viewing spot. You'll love this 500-meter stretch with over 200 cherry trees. It's a great place to take things slow and appreciate the views by day or by night.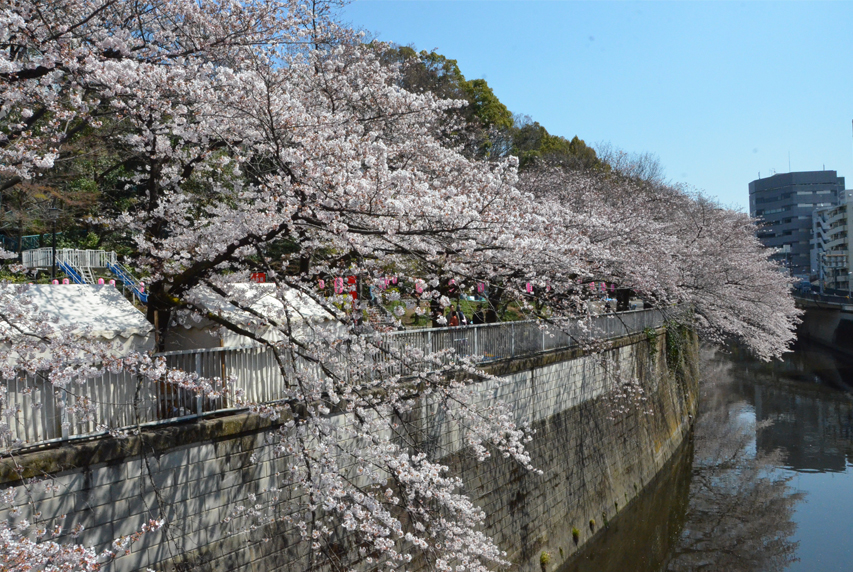 Suburban Tokyo and its cherry blossoms—Shakujii River
The Shakujiigawa River empties into the Sumida River, but before it does, it's a great cherry-blossom river in its own right. Located in Nerima in northwest Tokyo, Shakujiigawa River can be accessed from Ikebukuro. This beautiful stretch of river offers an almost secretive world painted with the colors of spring. While you marvel at the flowers, you can fill your stomach. During the festival season, there are plenty of covered food stalls serving Japanese festival foods like yakitori and okonomiyaki—and even some cold drinks.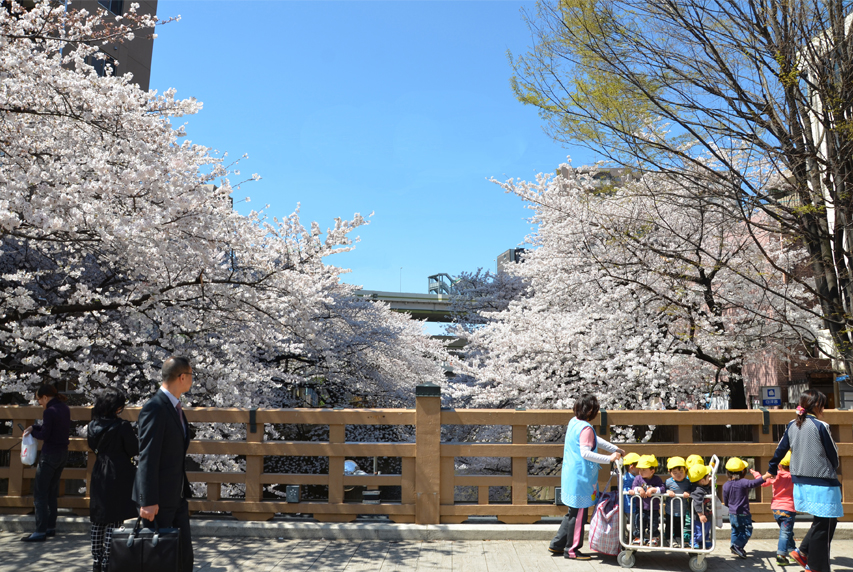 Quaint riverside cherry blossoms—Zenpukujigawa Park
You will love the otherworldly cherry blossoms along the Zenpukujigawa Park. The cobblestone and concrete-lined park provides a beautiful contrast to green banks and the dark bark of cherry trees. Take a walk around Zenpukujigawa Park. Breathe in the fresh spring air, and relax among more than 400 cherry blossom trees. There's no better way to welcome spring.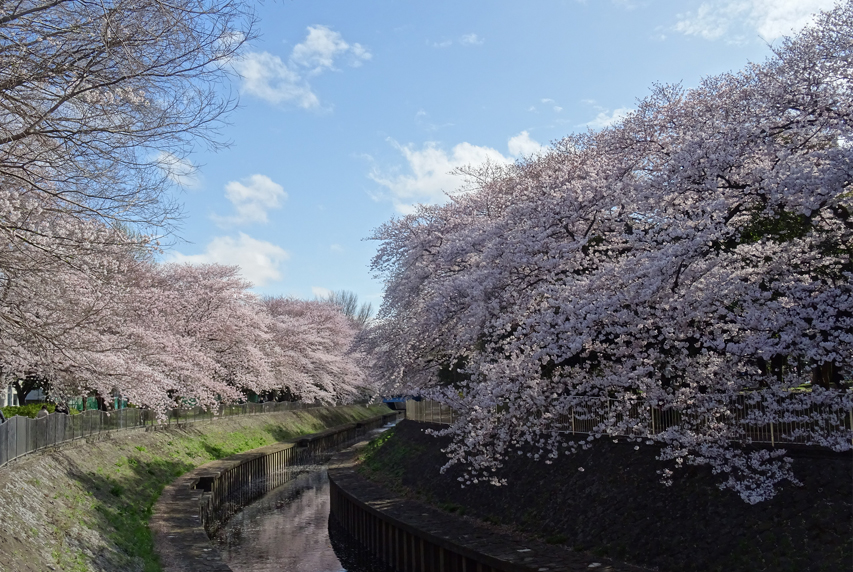 Mysterious night cherry blossoms—Tama River
Hamura Intake Weir in Hamura, Tokyo, becomes a nighttime wonderland during the festival period, with cherry blossoms illuminated by red lanterns after dark. You can enjoy food stalls and the blue sky peeking through the fluffy branches of the cherry trees along Tama River. At night, when the lanterns light up, experience a completely different side of the cherry blossoms. The daytime charm of the cherry blossoms becomes something magical at night. The illuminations last the duration of the cherry blossoms blooming season.