August sees Tokyo at it's hottest
While the mercury rises to its peak, a continuing cascade of fireworks, traditional obon dances, multicolored tanabata lantern events, and the height of official water park and beach season all provide welcome distractions.
One not-to-be-missed affair is the extravaganza otherwise known as the Koenji Awa-odori Dance, a behemoth event held over two nights featuring over 10,000 performers and 1,000,000 visitors. A rapturous display of playful abandon and dancing prowess, the Koenji Awa-odori Dance is your finest opportunity to party Japanese style.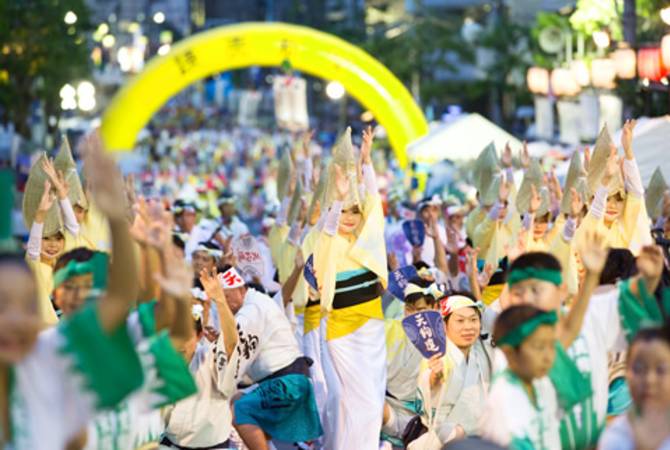 Other yosakoi dance events held around town provide similar kinds of entertainment.
More sedate but no less captivating is the Asakusa Summer Night Festival—Toro Nagashi (Paper Lantern Floating). The soothing sight of paper lanterns gently bobbing along the Sumida-gawa River is a pleasant diversion from the sticky Tokyo summer.
Commemorating the meeting of star-crossed lovers, visit one of the lively Tanabata festivals—the Asagaya Tanabata Matsuri Festival being one of Japan's leading examples of the event—to see giant papier-mâché ornaments, hear the rustle of bamboo decorations and savor street food both hot and cold.