In order to prevent the spread of coronavirus (COVID-19), various facilities around Tokyo may change their operating days or hours. In addition, some events may be canceled or postponed. Please check official facility or event websites for the latest updates and information.
The original icon of Japan's capital
Tokyo Tower, the height of 333 meters was built in 1958. The 2018 marked the 60th anniversary and the refurbishment was conducted on a larger scale.
Tips
Combining sightseeing and exercise by climbing up the outdoor staircase to the tower's main deck
Seeing the city far below your feet while standing on glass floor sections
You can choose to take the elevator or walk up 600 steps to the main deck, located 150 meters above the ground. If you are lucky, on sunny days you can even catch a glimpse of Mt. Fuji rising in the distance. If you are not afraid of heights, try standing on the glass floor sections and look directly down to the ground—almost 145 meters under your feet. The very top deck— up at 250 meters— was renovated in early 2018, adding topsy-turvy mirrors and LED lighting effects to give the feeling of floating above the city in a high-tech spaceship.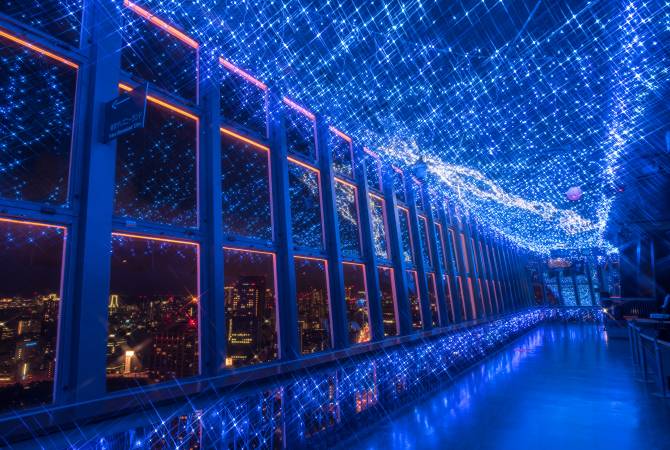 At the appropriately named Foot Town at the base of the tower you can get a ticket to Tokyo One Piece Tower, a theme park dedicated to the wildly popular One Piece animation series. If you are looking for a quieter activity, the Tokyo Tower Aquarium is a good alternative. Foot Town offers several shops and cafes where you can purchase light snacks, drinks or more substantial meals to give you the energy to explore nearby Zojoji Temple and Shiba Park.