Japanese ingredients blessed with distinct seasons and an abundant harvest from the sea and mountains are very rich in variety. The key appeal of Tokyo's culinary scenes is the availability of fresh and flavorful ingredients from all over Japan. In Tokyo, a city with a long history and rich culture, you can experience everything from traditional Japanese cuisine to modern culinary trends in one place.
For the benefits of the guests with dietary restrictions to enjoy dining in Tokyo with peace of mind, here are some examples of the types of menus and services offered by the restaurants in Tokyo. Furthermore, with some knowledge of the basic dining etiquette in restaurants in Japan as well as Japanese culture, and customs, please enjoy the food, which is often the best part of traveling.
Things to be aware of when dining in Japan
Traditional Japanese cuisine has been added to UNESCO's Intangible Cultural Heritage and its basis is healthy flavoring that makes good use of the "umami" flavor of dashi broth. Traditional seasonings used to bring out the umami flavor are increasingly becoming compatible with dietary restrictions in recent years, allowing more people to enjoy dining in Japan.
To enjoy a meal with peace of mind, please make sure to check what kind of food you should choose if you have dietary restrictions.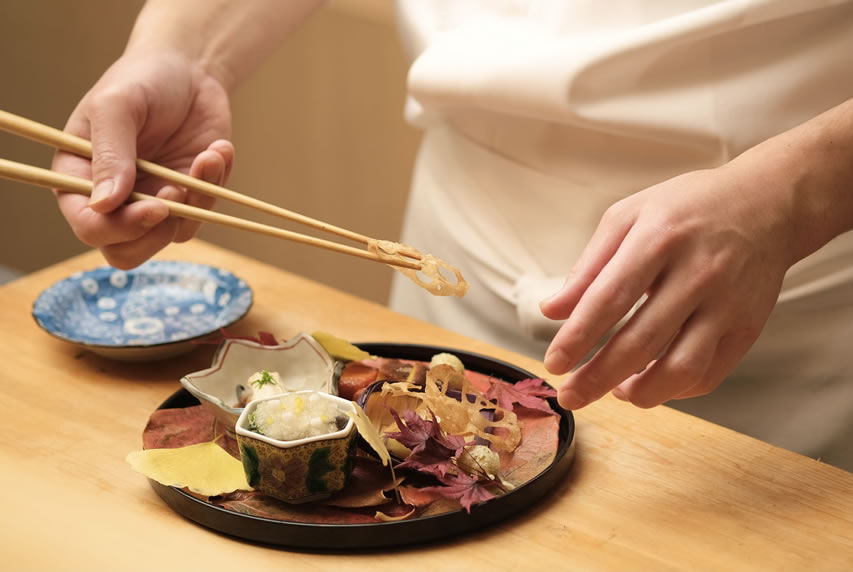 For Vegetarians or Vegans
Traditional Japanese cuisine and other Japanese dishes use "dashi", which is a broth that contains a bouillon-like umami flavor. Please note that some seemingly meat- and fish-free dishes may contain dashi broth or gelatin made from animal ingredients, such as bonito and other fish broth or meat extracts. Also, animal ingredients may be used in the seasoning or emulsifier.
For Muslims
Traditional Japanese seasonings such as mirin (cooking sake), soy sauce, and miso (soy paste) may contain alcohol. Furthermore, Japanese sake is also utilized a lot in cooking. Even if it is not specified in the ingredients, please note that emulsifiers with gelatin or pork-derived ingredients, or alcohol-based seasonings may be used. Please be aware that some vinegars used in sushi rice are manufactured from alcohol.
Japanese Dining Etiquette You Should Know
Otoshi
Otoshi is a small dish like an appetizer. It is served automatically before the order, usually for the cover charge, at a place like Izakaya (casual dining bar).
Water, Tea
Water or tea is served as you are seated at the table. It is usually free and for consumption in house.
No food or beverage to be brought in
Please consume only what is ordered and served in house.
Oshibori
It is a small wet towel for wiping your hands provided as a courtesy. It is for use in house only and not to be taken out.
Taking off shoes
Take off your shoes before entering the tatami-matted sitting room. Place the shoes taken off in an orderly manner.
A number of orders
At an eatery, it is commonly expected to order at least one dish per person.
Tipping
There is no custom of tipping in Japanese restaurants. Please ask if the check is to be settled at the table or paid at the register.
* The examples above are generally practiced at restaurants in Japan.
Approaches to dietary restrictions by restaurants in Tokyo Metropolis
"Tradition" and "Innovation" coexist in Tokyo. With the passage of time, new cuisines are born one after another, and there are rows and rows of restaurants of all sorts. In addition, having attracted top chefs from around the world, Tokyo ranks high in terms of the number of Michelin-starred restaurants in the world. How does each restaurant deal with dietary restrictions? Here are some example cases.
Experience Culinary Trend of Tokyo at Café Restaurants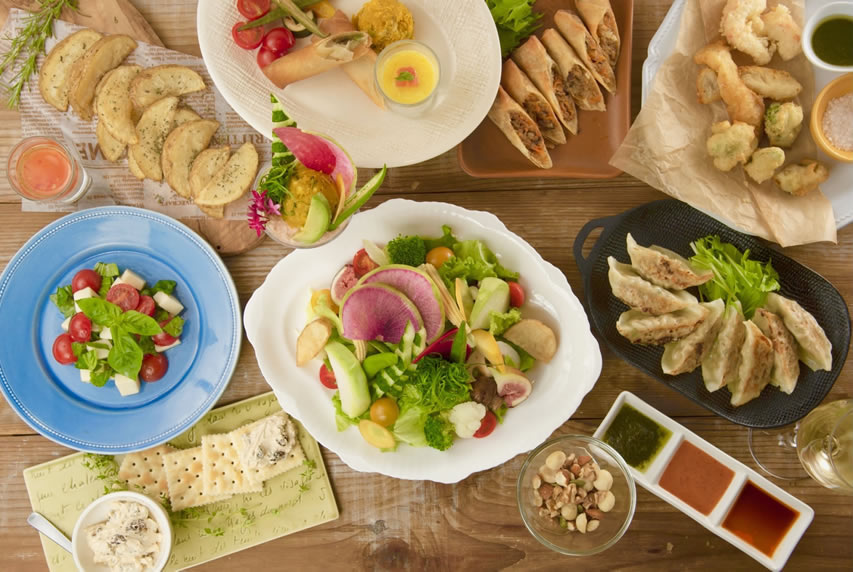 - Recommended for these people
"There is a great variety of Japanese food. I would like to taste many different types of dishes."
"My children are allergic. Is there a place where we can have vegan sweets?"
[A case of a vegan restaurant]
Vegan-Muslim restaurants are on the rise, even among café restaurants where you can enjoy the current culinary trend of Tokyo in a casual setting. Vegan-Muslim versions of the dishes inspired by Japanese popular culture such as gyoza and karaage using soybean meat are offered in the menu.
Even though Japanese versions of foreign-origin dishes such as curry rice and ramen noodles, which have become an integral part of the unique culinary culture, usually contain meat and/or fish, vegan restaurants do not use animal ingredients and instead use vegetables and seaweed to add depth to the flavor.
For sweets, soymilk and coconut oil and the like are used instead of eggs and butter. In the gluten-free menu items, rice flour, a typical Japanese ingredient, is mainly used. The soymilk ice cream has a soothing taste and will help you have a relaxing teatime after a long journey.
There are plenty of flavors that are only available in Japan! Be sure to taste them appreciating the tasty flavors of the vegetables.
* Alcohol may be used in some of the ingredients in the menu served for Muslim. Please inquire directly with the restaurant for details on the ingredients and seasonings used.
Japanese Kaiseki Restaurants Featuring the Japanese Joy of the Seasons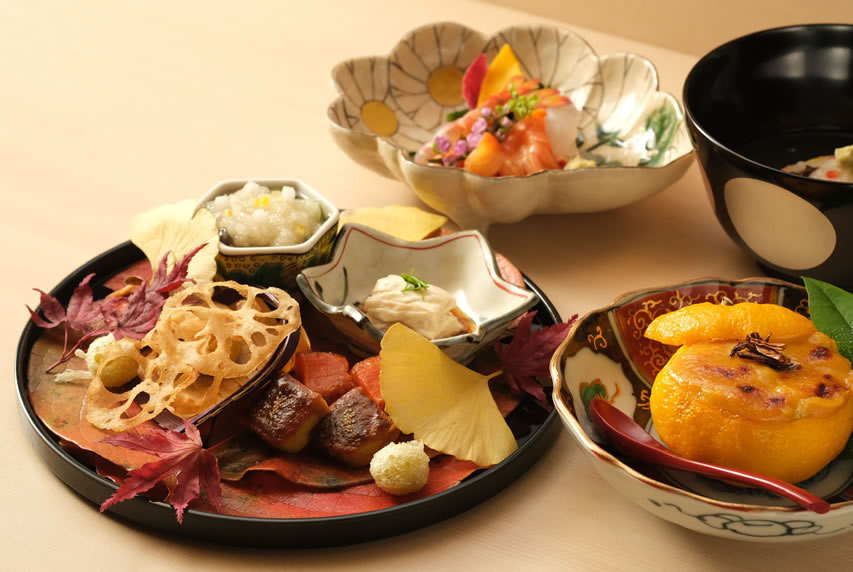 - Recommended for these people
"I would like to taste the traditional Japanese cuisine."
"As each member of the group can only eat different things, please accommodate each person's request."
[A case of a Kaiseki restaurant]
Kaiseki-ryori is a Japanese cuisine created for the enjoyment of the tea ceremony, a Japanese tradition. "Wabi-sabi", the basis of the tea ceremony, is expressed in the course menu. While expressing the seasonality through the seasonal ingredients as well as the cherry blossoms and maple leaves that decorate the dishes, the delicate and profound Japanese culinary culture is evident in the attention to details in the presentation of the dishes. You can feel the spirit of the Japanese people, who cherish the richness of nature and a sense of the seasons, in every single dish.
The restaurant has created a multilingual booklet on the basics and etiquettes of Kaiseki cuisine to make sure our guests can safely enjoy the dining experiences with the clarifications of the ingredients.
For Muslim guests, gelatin-free and alcohol-free soy sauce is used. Halal Wagyu beef served in Teppanyaki and Shabushabu is exceptional.
For vegetarians and vegans, we have a colorful dish of vegetables in mushroom and kelp broth. You can enjoy vegetables delivered directly from contract farmers and seasonal delicacies such as edible wild plants in the spring and wild mushrooms in the fall.
We can also prepare gluten-free versions of Tempura, in which flour is usually used for batter, or soy sauce, the basic seasoning of Japanese cuisine. Guests can safely enjoy the dishes without compromising the taste.
Kaiseki cuisine contains much of the essence of good old traditional Japan. It would surely be a highlight of your trip in Japan.
Enjoy Japanese Soul Food Casually at Soba Restaurants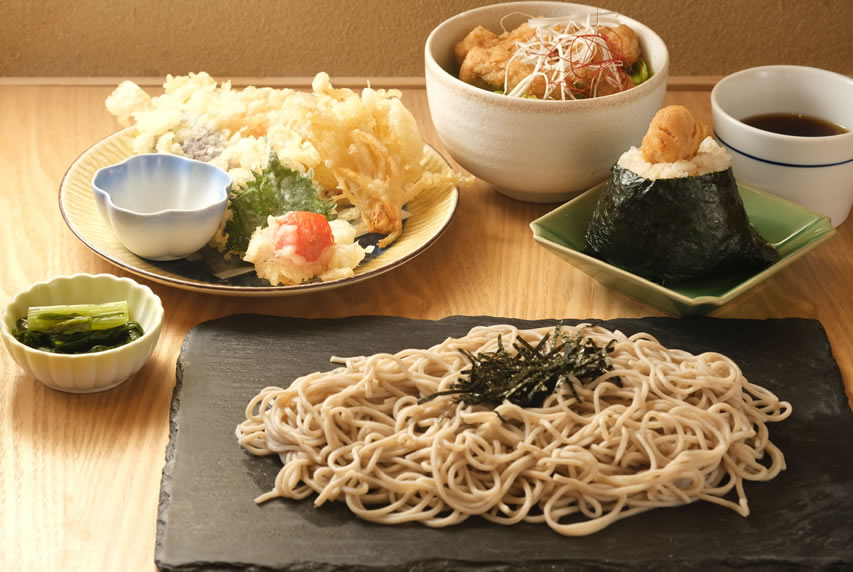 - Recommended for these people
"I would like to experience a casual Japanese cuisine familiar to the Japanese."
"I would like to have Japanese food at a reasonable price."
[An example of a Soba restaurant]
One of the dishes that foreign visitors to Japan always mention as the "Must try Japanese food" would be Soba or Tempura.
At a Soba restaurant, you can casually enjoy everyday local food of Japanese people such as Tempura and various rice bowls as well as Soba.
Dashi broth used for noodle sauce is often made with bonito, but it is made with kombu (kelp) to make it more palatable for vegetarian and vegan guests. The noodle sauce is an important factor in determining the taste of Soba. A number of trials were made over a long time to make sure it tasted right.
It can also be made available for oriental vegetarian guests by taking out the leek seasoning. The texture of the crispy batter is the hallmark of Tempura. The texture of the batter is maintained even without eggs. Why not take this opportunity to experience a kind of soul food that is familiar to the Japanese people?
* Soba (buckwheat) is an allergy item.
First-class Cuisine in Tokyo, the Center of the Finest Ingredients of Japan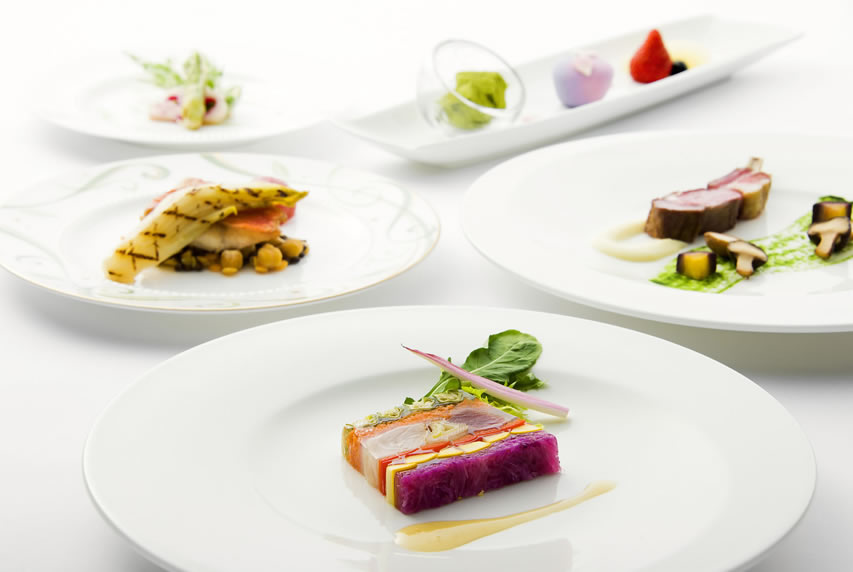 - Recommended for these people
"I would like to taste the cuisine by Japan's top chefs to commemorate the visit to Japan."
"I would like to taste a course menu of the seasonal ingredients from all over Japan."
"Please address different dietary restrictions of the guests."
[A case of a restaurant]
Tokyo welcomes a large number of overseas guests. We strive to make sure our guests can have comfortable and quality dining experiences by asking in advance and accommodating requirements for vegetarian and gluten-free as well as various allergies which have become more common in recent years.
A central kitchen has been set up to accommodate dietary restrictions, and when preparing Muslim menus, the cooking area and utensils are specially prepared for Muslims. A course menu using Halal Wagyu is particularly popular.
You can feel the nature-rich terroir of Japan through organic, fertilizer-free, and pesticide-free vegetables from all over Japan, as well as flavorful ingredients carefully selected paying attention to their producers and origins. Our chefs bring out the delicious flavor of the ingredients grown in Japan, one after another.
Tokyo's foodie charms abound! Information about Muslim and vegetarian eateries and the like can be found here.