Time your trip to coincide with the crimson leaves
While spring explodes in a deluge of bright pinks and pure whites, the autumn season offers a regal spectrum of crimson reds, vivid oranges, and bright yellows. Starting in the second half of November, the city's ginkgo and maple trees begin to transform. Dressed in sweaters and scarves, couples and families stroll outside to bask in the majestic sights. From immaculately manicured Japanese gardens to rugged mountain wilderness, autumn is a time when the foliage truly comes alive.
Tips
The best autumn views last from mid-November to early December
The autumn weather ranges from mildly warm to chilly. Be sure to pack a sweater and scarf
Certain days and times will be particularly crowded with travelers and locals eager to enjoy the sights. Consider scheduling your visits on weekdays and mornings to avoid the crowds
Rikugien Gardens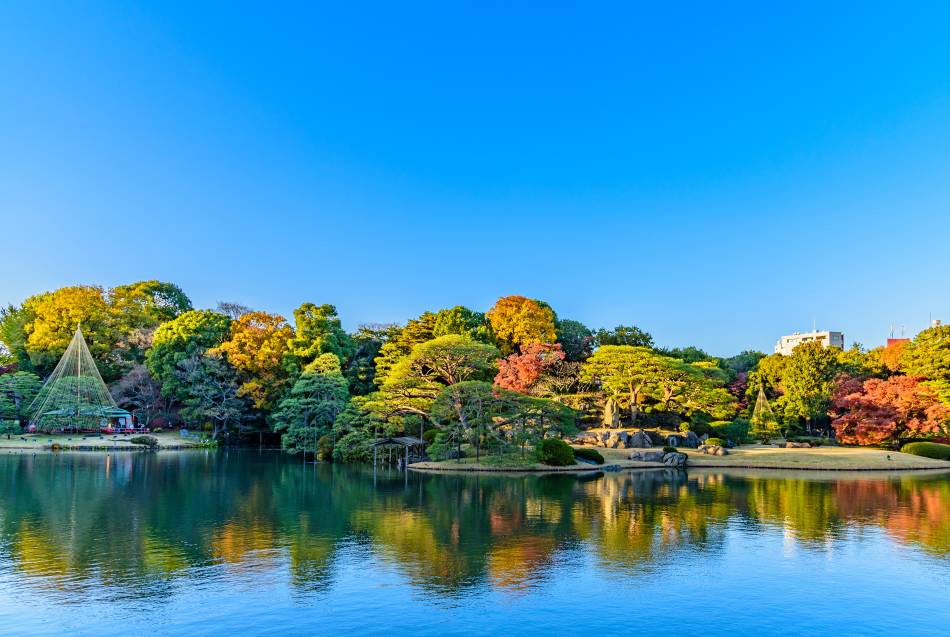 For the best traditional views, head to Rikugien Gardens, one of the most popular autumn spots in the city. During the peak season, this Edo-period garden extends its hours into the evening, illuminating the leaves for a truly remarkable view.
Rikugien Gardens
Hama-rikyu Gardens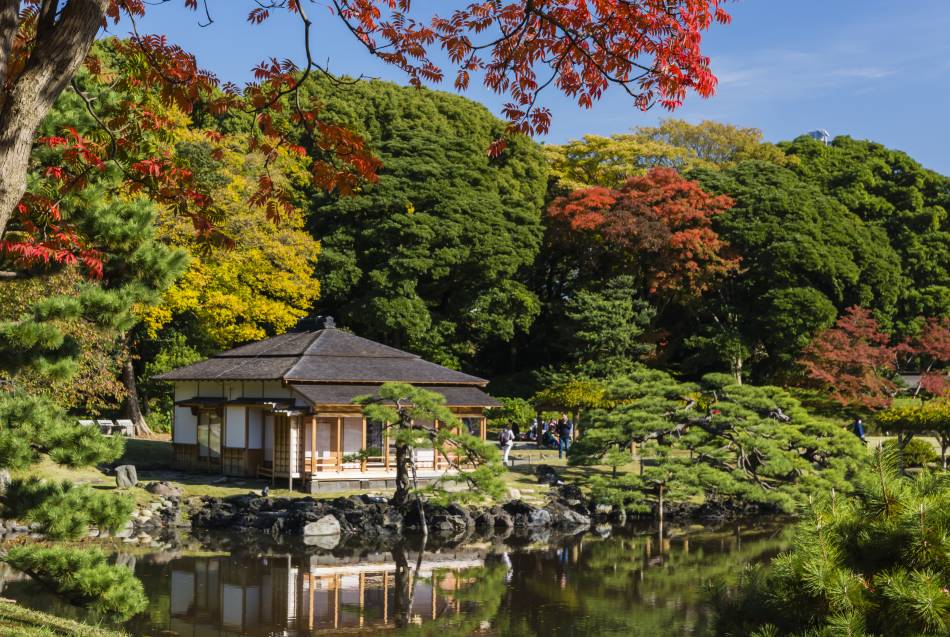 Located in Shiodome, the Hama-rikyu Gardens boasts incredible autumn views, with towering skyscrapers on one side and the wide-open Tokyo Bay on the other.
Hama-rikyu Gardens
Koishikawa Korakuen Gardens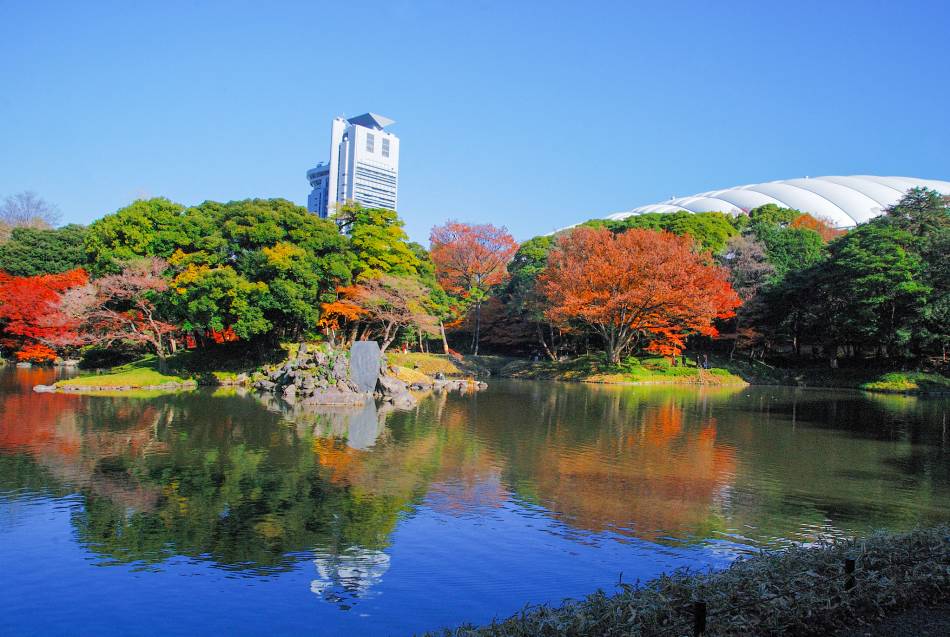 This traditional garden is most popular in the autumn, with its abundant maple trees transforming into vivid hues of red and orange.
Koishikawa Korakuen Gardens
Ninomaru Gardens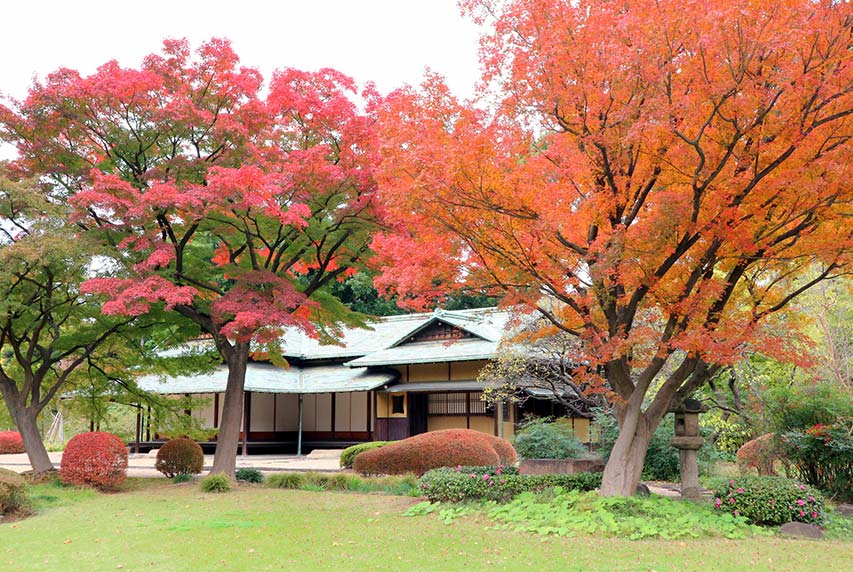 Part of the Imperial Palace, the convenient location of Ninomaru Gardens makes for an easy day trip. Enjoy the serene garden views, followed by a walk across the expansive palace grounds, then head to nearby destinations such as the Budokan, the National Diet Building, and the upscale shopping area of Ginza.
Shinjuku Gyoen National Garden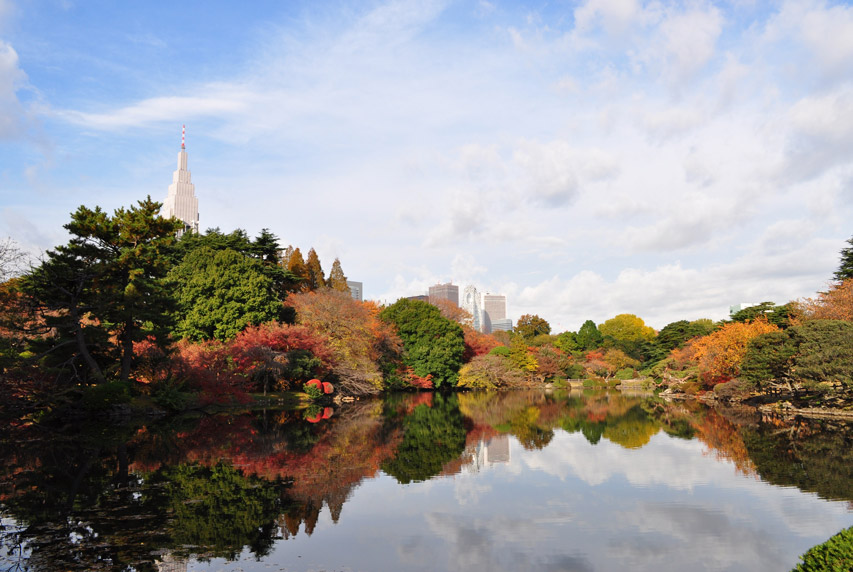 A short walk from Shinjuku Station brings you to Shinjuku Gyoen National Garden. In the expansive garden, you can enjoy a slow-paced stroll or a relaxing picnic, surrounded by traditional landscapes and fall foliage.
*Drinking alcohol, using sports equipment and musical instrument in the garden are prohibited.
Shinjuku Gyoen National Garden
Meiji Jingu Gaien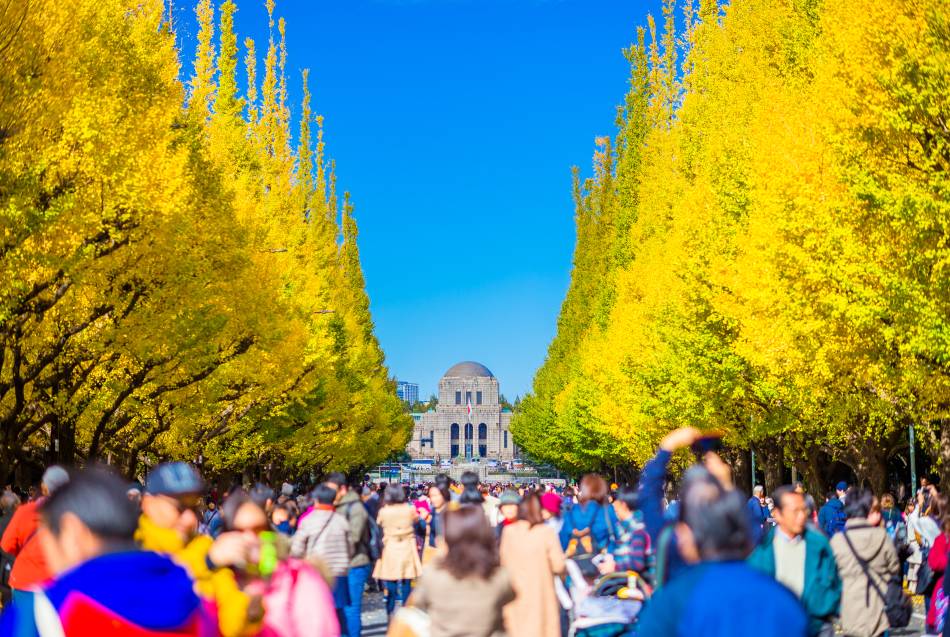 For the best modern fall views, head to Meiji Jingu Gaien, which boasts a long avenue, Icho Namiki, lined with bright yellow ginkgo trees. This is one of the most popular fall photo spots in the city.
Meiji Jingu Gaien
Mt. Takao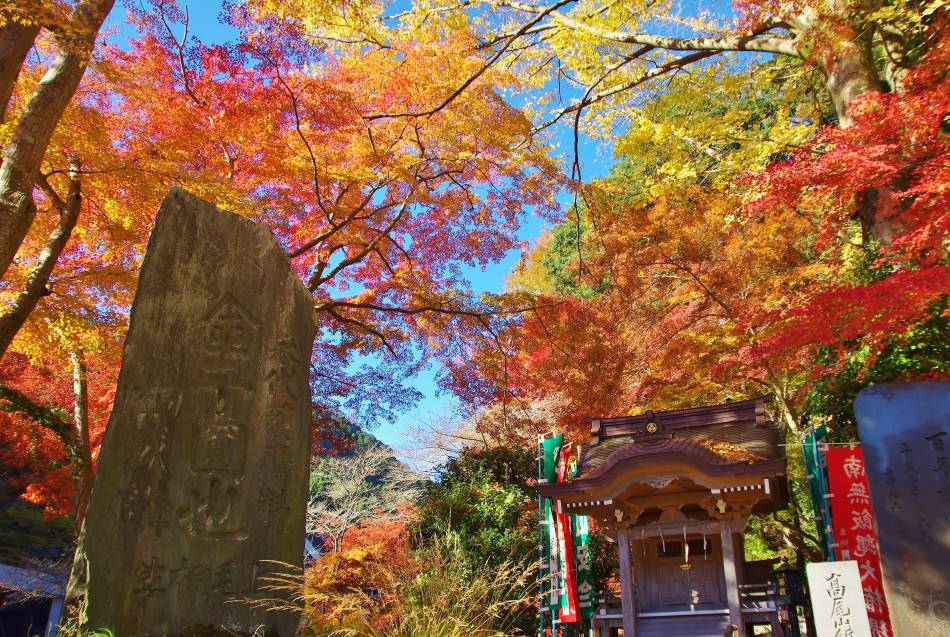 Take a scenic day trip to the nearby peak of Mt. Takao. The entire mountain region turns a bright shade of orange and red, and the temperate weather makes for the most pleasant hikes of the year.
Mt. Takao
Lake Okutama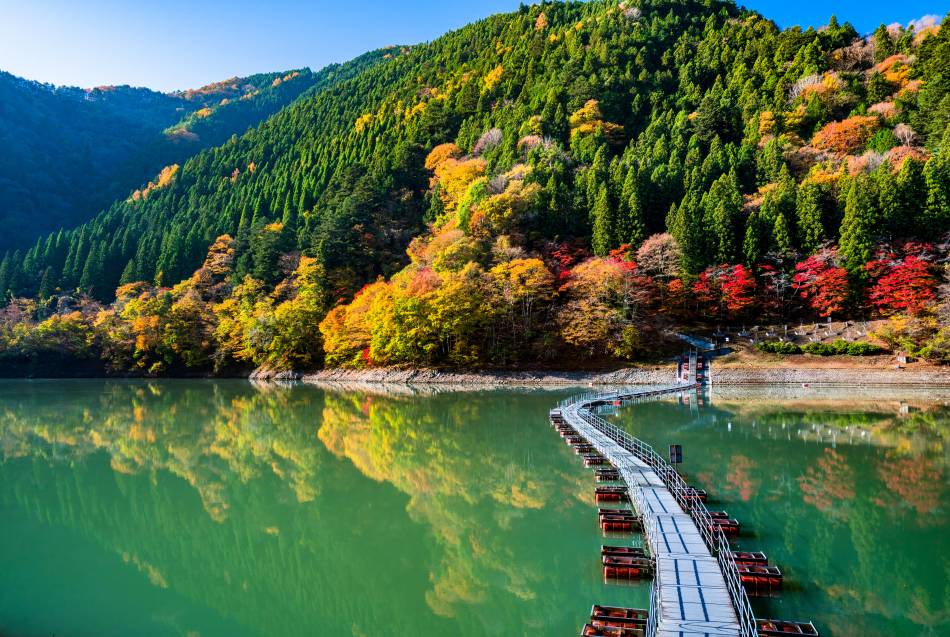 A two-hour train ride from central Tokyo, escape the congestion of the city to enjoy expansive natural landscapes and outdoor recreation. Walk through river valleys, peaceful villages, and dense forest trails, surrounded by some of the most beautiful foliage in the greater Tokyo area.
Lake Okutama
Yoyogi Park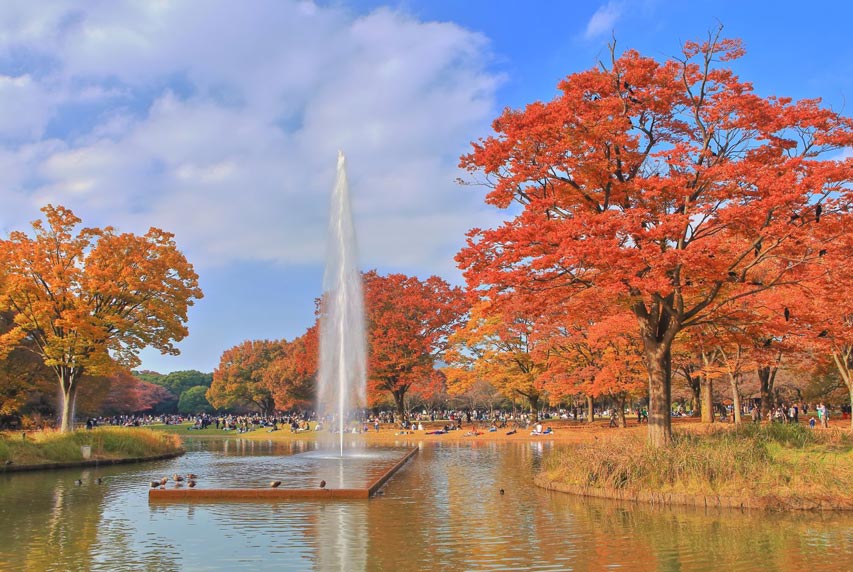 A short walk from Meiji Jingu Shrine, Yoyogi Park is a fantastic location to take in the hues of Tokyo's fall foliage. Gather with friends for a picnic under the trees, or rent a bike and ride around the cycling course within the park on a crisp fall afternoon.
Yoyogi Park
Ueno Park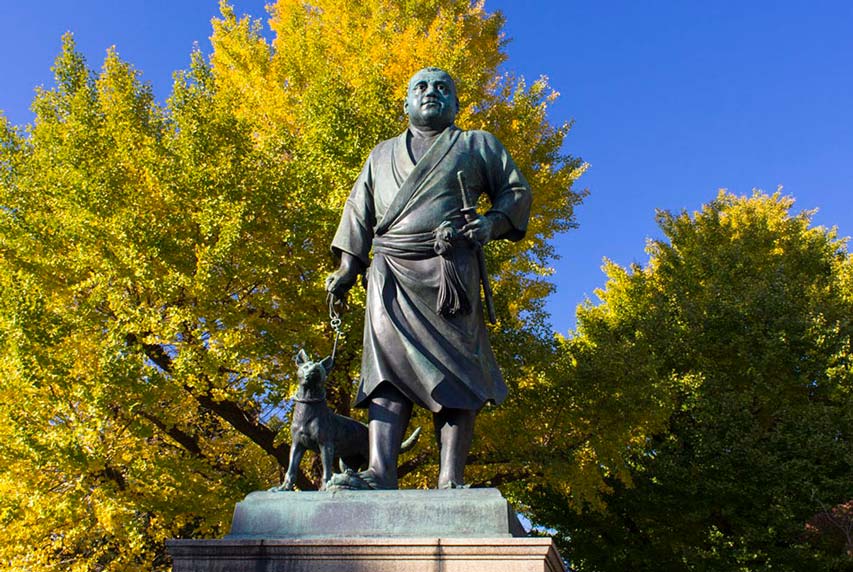 In addition to its famous zoo, shrines and museums, Ueno Park is also a great place to observe the changing colors of fall. There are thousands of trees in the park, providing visitors with an abundance of photo opportunities. The red leaves of the maple trees make a stunning backdrop.
Ueno Park
Showa Kinen Park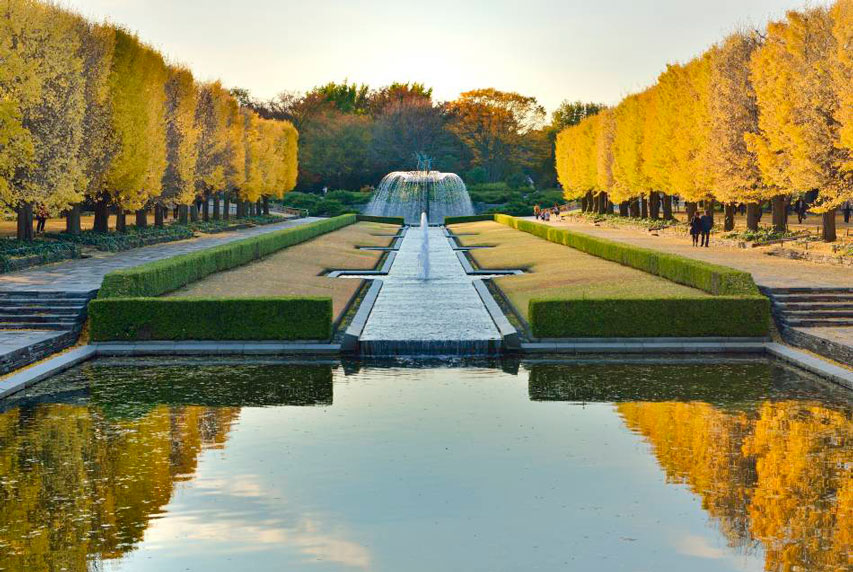 Showa Kinen Park, a thirty-minute trip from central Tokyo, is an idyllic place to take in Tokyo's fall colors. The park contains a beautiful pathway of ginkgo trees which turn a brilliant yellow, perfect for taking some nice photos. In the evenings, the park is illuminated for guests to enjoy.
Showa Kinen Park
Inokashira Park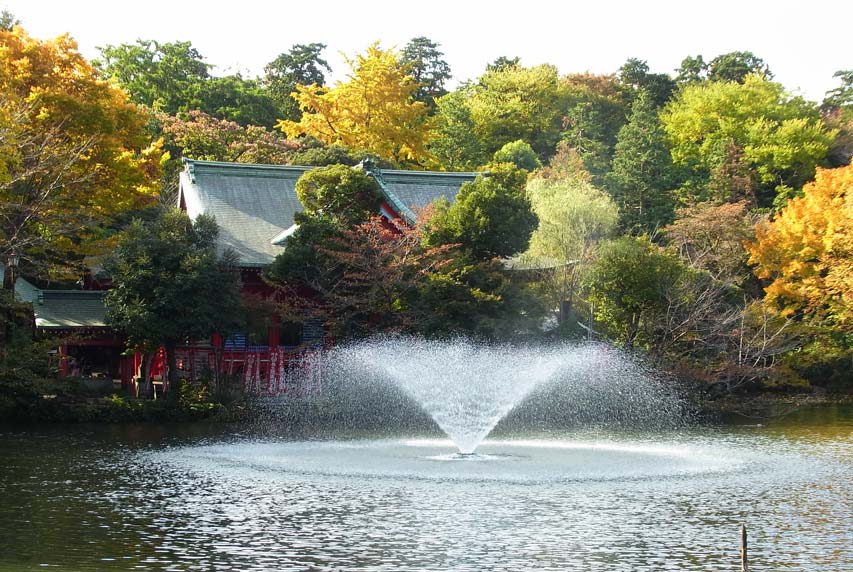 Located in the trendy shopping area of Kichijoji is the picturesque Inokashira Park. At its center lies Inokashira Pond, which offers swan boat rentals—a great way to take in the fall scenery. Once you finish your ride, you can visit the zoo, aquarium, or the nearby Studio Ghibli museum.
Inokashira Park