Main content starts here.
Course: Takashimaya Nihombashi Store >> Nihombashi Cruise (Nihombashi Bridge) >> Mitsukoshi Nihombashi Main Store >> Coredo Muromachi / Nihombashi Information >> Ningyocho (>> Meijiza Theater, Suitengu Shrine)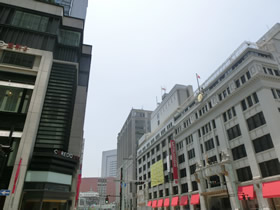 In 1604, the Tokugawa shogunate declared Nihombashi as the starting point of five routes connecting the capital of Edo (present-day Tokyo) with outlying provinces (prefectures). Since then, the area has flourished as the political and financial center of Japan. This history is evident today in the many buildings designated as important cultural properties. Also with new commercial complexes popping up in the area, the popular Nihombashi Cruise offering a view of the townscape from the water, and the nostalgic Ningyocho and Amazake Yokocho being only 15 minutes away by foot, Nihombashi is well worth a long, leisurely walk.
11:00 Tokyo Metro Ginza Line / Tozai Line Nihombashi Station Exit B2
11:00 Takashimaya Nihombashi Store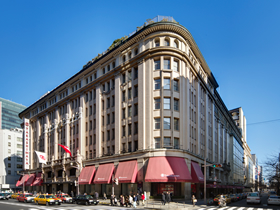 Takashimaya was founded as a used-clothing and cotton cloth merchant in the Karasuma district of Kyoto in 1831. The current Nihombashi Store opened its doors in 1933. The building designed to be a "modern representation of Eastern aesthetics" is a model of department store architecture in Japan, and in 2009 became the first structure of its kind to be listed as an important cultural property. The manned elevator keeps alive the spirit of omotenashi or Japanese hospitality that has never changed since the department store's opening.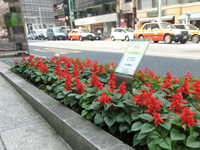 | | |
| --- | --- |
| | Walk 2 minutes |

Delight in the pretty seasonal flowers along Chuo-dori Street. The flower bed is managed by local volunteers.
12:00 Nihombashi Cruise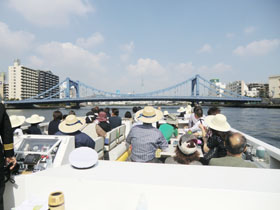 The Nihombashigawa River & Sumidagawa River 45-minute Course requires no reservations, and is priced at an affordable 1,500 yen per adult and 800 yen per child. The cruise departs at Nihombashi Pier next to Nihombashi Bridge, passes under the scenic bridges of Sumidagawa River, and returns via the Hatchobori neighborhood. Highlights are the Nihombashi Bridge, the Kiyosubashi Bridge, and the Eitaibashi Bridge. For departure times, visit the Tokyo Bay Cruising website or inquire by phone.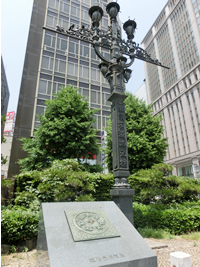 | | |
| --- | --- |
| | Walk 1 minutes |

The Kilometer Zero marker at the center of Nihombashi Bridge is the starting point of the five routes of Edo: Tokaido, Koshu Kaido, Oshu Kaido, Nikko Kaido, and Nakasendo.
13:00 Mitsukoshi Nihombashi Main Store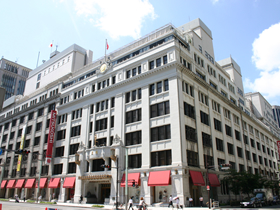 Mitsukoshi was founded as a dry goods store named Echigoya in 1673 and was reborn as Japan's first department store in 1904. The current Nihombashi Main Store, erected in 1935, features grand architectural beauty reminiscent of the Taisho period (1912–26), and is designated a historical structure by the Tokyo Metropolitan Government. Highlights are the symbolic lion statue at the main entrance, which celebrated its 100th anniversary in 2014; the sculpture of a nymph descending on a flower in the central hall on the first floor; and the ceiling embellished with marble and stained glass. Almost 340 years from its founding, Mitsukoshi still attracts a stream of customers waiting for opening time.
| | |
| --- | --- |
| | Short walk |
14:30 Coredo Muromachi , 2, 3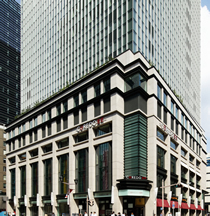 From Mitsukoshi, cross Chuo-dori Street to Coredo Muromachi on the opposite side. All tenants express the theme "Nihombashi, the lively center of Japan" with traditional Japanese food and sundries. The wall art on the first floor, titled "Steel and Time," presents an example of traditional Japanese aesthetics with two clusters of used steel plates placed side by side—one is polished carefully by hand, and the other is left to rust. Coredo Muromachi 2 next door houses a cinema complex and restaurants, and the adjacent Coredo Muromachi 3 has a broad selection of lifestyle items that attract customers of all ages. About a 5-minute walk from there, near Nihombashi Station, Coredo Nihombashi showcases the latest fashion brands.

15:30 Nihombashi Information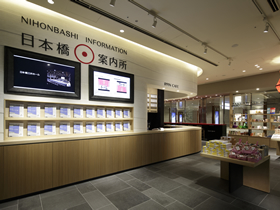 On the B1 level of Coredo Muromachi is a general information center staffed by women dressed in kimono gowns. It offers services for foreign tourists as well as promotional items from popular and established stores in the Nihombashi area. Visitors are welcome to check out staff-recommended spots in Nihombashi on the huge area map, and even ask the English-speaking concierge for an almost hour-long guided tour of Coredo Muromachi. Also equipped with a lounge that serves coffee, Nihombashi Information is the perfect place for taking a short break.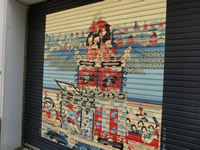 | | |
| --- | --- |
| | Walk 18 minutes |

Now, weave your way through the office buildings and head to Ningyocho. While walking, admire the painting of a matsuri festival on the shutters of the disaster control center. By train, it's 8 minutes from Tokyo Metro Asakusa Line Nihombashi Station to Ningyocho Station. Amazake Yokocho is 3 minutes away from Exit A3.
16:15 Ningyocho, Amazake Yokocho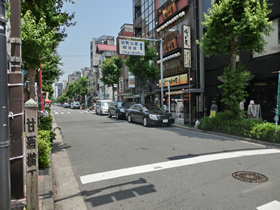 Amazake Yokocho was named after the amazake (sweet sake) shop that marked the alley's entrance in the early Meiji period (1868–1912). The alley is lined with shops selling sea bream-shaped cakes filled with sweet beans, which attract an endless stream of customers, and old restaurants serving Japanese-style set meals. Many shops set up chairs outside as a courtesy to passers-by who might want to rest along the way. Intersecting Amazake Yokocho is Ningyocho-dori Street. True to the name "doll district," dancing dolls from a clock tower announce every hour between 11:00 to 19:00. Only a walking distance away is Suitengu Shrine, dedicated to prayers for conception, smooth childbirth, and safety at sea; and Meijiza Theater, which stages everything from period and contemporary dramas to music shows.
| | |
| --- | --- |
| | Walk 1 minutes |
17:00 Tokyo Metro Hibiya Line Ningyocho Station Exit A1
Model course
Nihombashi
is displayed on a larger map
The red lines indicate trains and subways, blue lines are buses and cars, green lines are for walking, pink lines are for bicycles, purple lines are ships and water buses.