One market or another is held somewhere every weekend in Tokyo. Markets are always fun, whether you go there to chat with the sellers, discover special products, or taste delicious food. The following is a special report on Tokyo's various markets.
Join the Crowd and Meet the Creators—Let's Go To the Market!
Le marché—or the market—is a popular "people's kitchen" in its birthplace of Europe. Its numbers are increasing in Tokyo each year, too, and markets are held regularly, usually on weekends, in various places throughout the metropolitan area. The beauty of a market is that it attracts a diverse assortment of creators who sell everything from fresh fruit and vegetables to bread to craft items. Experience the joy of shopping around the stalls while hearing the stories behind the products directly from their creators.
Hot markets
Hills Marche
The market carries sophisticated goods up to par with the upscale area of Roppongi. Check out the bread, pizza, and other prepared and processed foods recommended by chefs from restaurants in Ark Hills.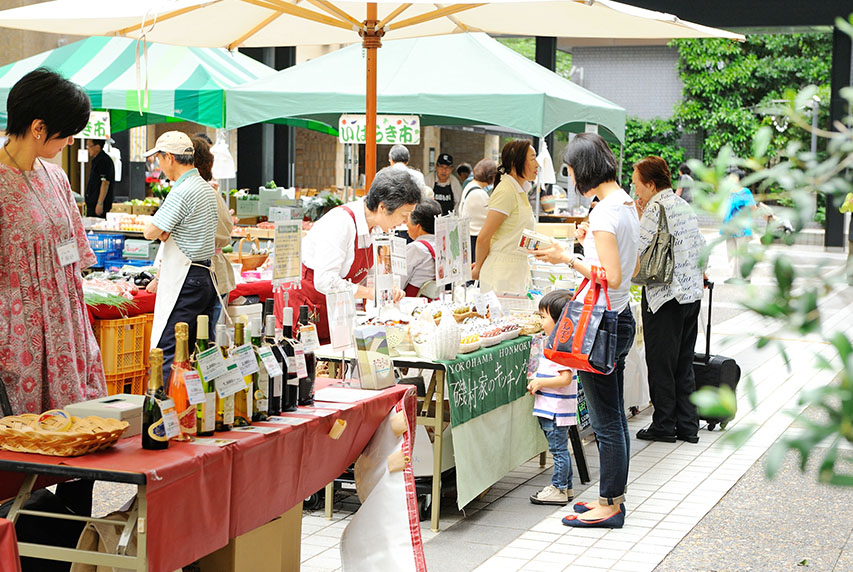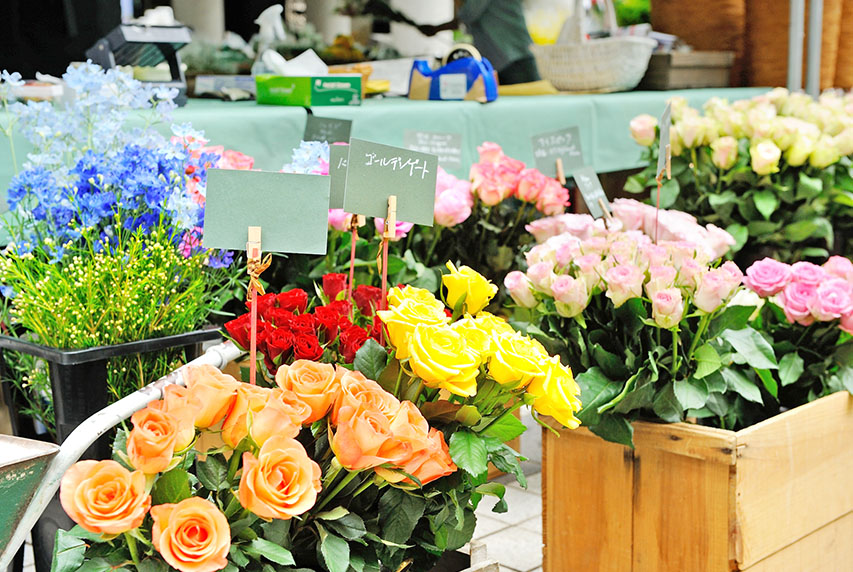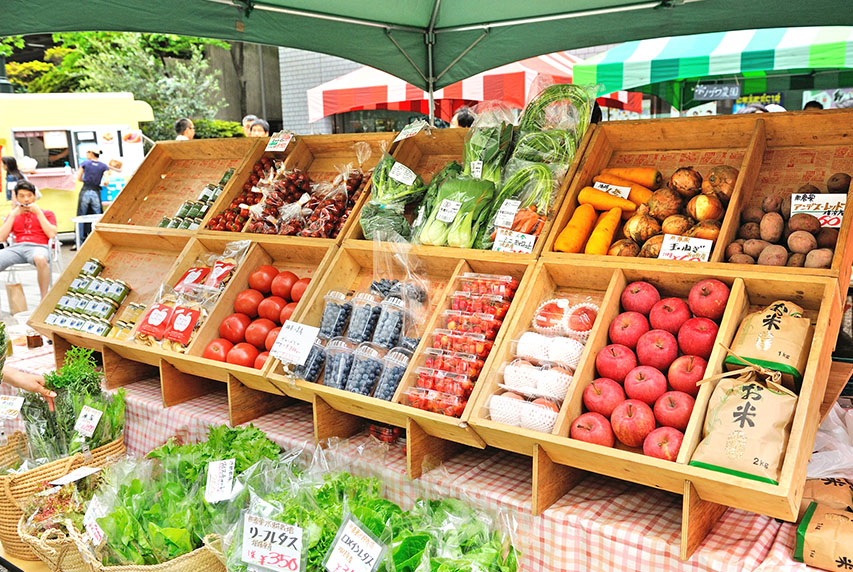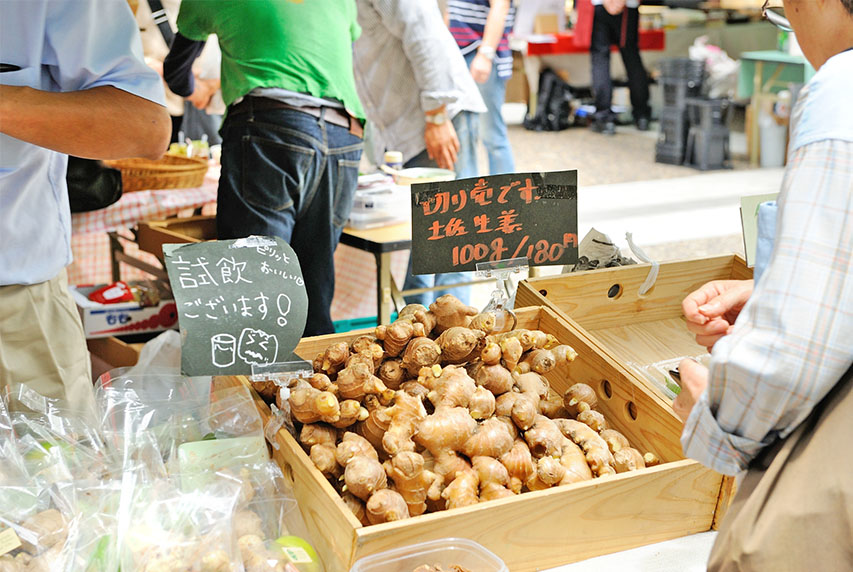 Location (address)
Ark Karajan Place, Ark Hills, 1-12-32 Akasaka, Minato City, Tokyo
Days
Saturdays
Hours
10:00–14:00
Access
Tameike-sanno Station | 1 min on foot
Namboku Line | Ginza Line

Roppongi-itchome Station | 1 min on foot
Namboku Line

Kamiyacho Station | 8 min on foot
Hibiya Line

Akasaka Station | 9 min on foot
Chiyoda Line

Kokkai-gijidomae Station | 10 min on foot
Chiyoda Line | Marunouchi Line
URL
Hills Marché
Farmer's Market @UNU
This venue offers fresh vegetables and freshly baked bread, as well as many spaces to sit and eat. Why not buy some natural-yeast bread and rich milk, and have brunch on the spot?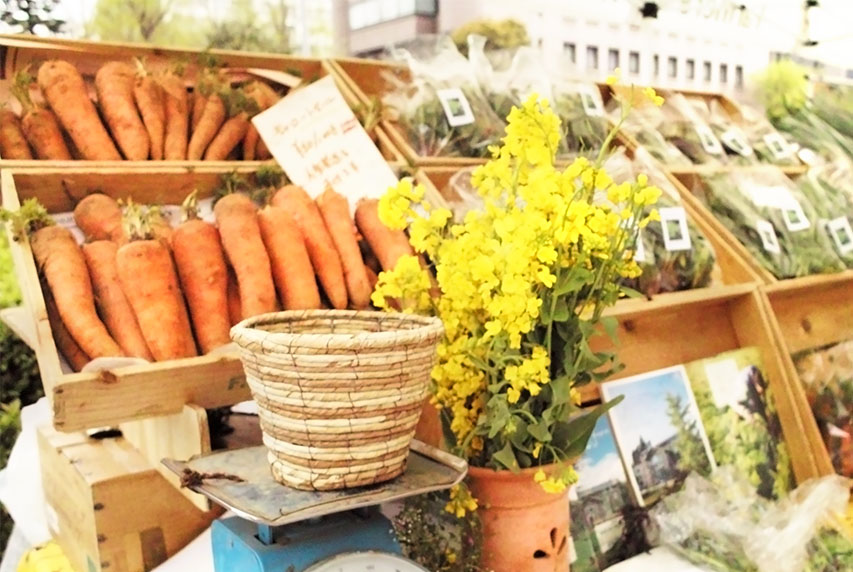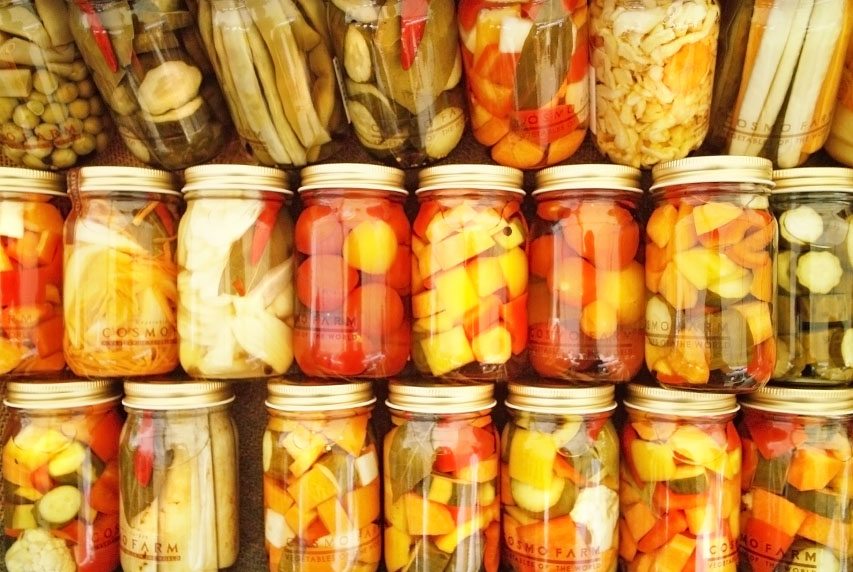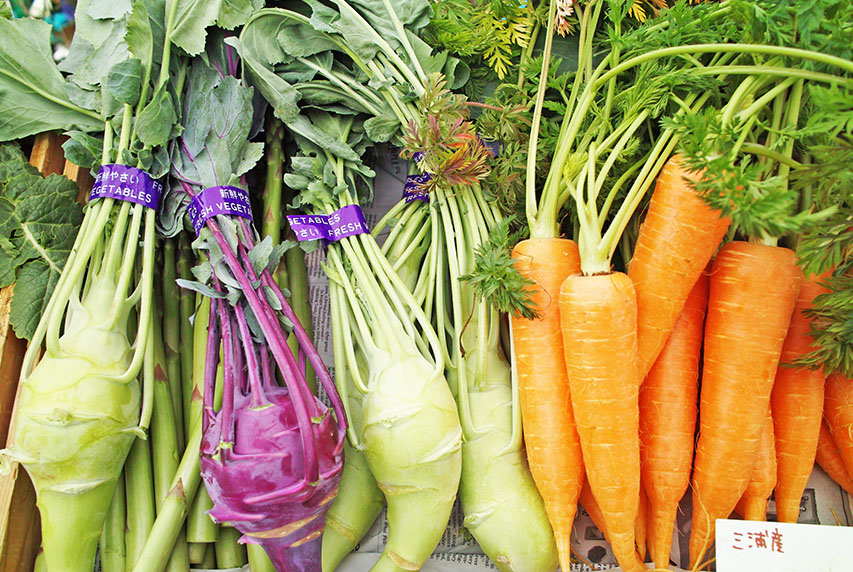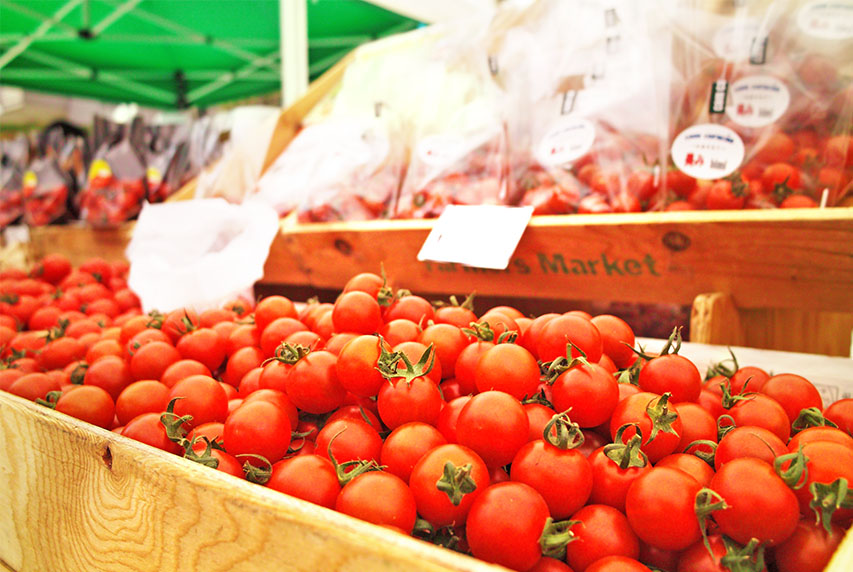 Location (address)
Plaza in front of United Nations University, 5-53-70 Jingumae, Shibuya City, Tokyo
Days
Every Saturday and Sunday
Hours
10:00-16:00
Access
Shibuya Station | 10 min on foot
JR Yamanote Line | JR Saikyo Line | Ginza Line | Hanzomon Line | Fukutoshin Line

Omote-sando Station | Exit B2 | 5 min on foot
Ginza Line | Hanzomon Line | Chiyoda Line
URL
Farmer's Market
GOOD SUNDAY MARKET
This Market is regularly held in the green garden of Yoyogi VILLAGE. Though you can always expect the same high-quality shops as well as lifestyle workshops, the theme changes every month so there is always something new to look forward to
Location (address)
Yoyogi Village by Kurkku, 1-28-9 Yoyogi, Shibuya City, Tokyo
Days
Irregular; about once a month
Hours
10:00-16:00
Access
Yoyogi Station | West Exit | 2 min on foot
JR Yamanote Line | JR Sobu Line

Yoyogi Station | Exit A1 | 1 min on foot
Oedo Line

Minami-Shinjuku Station | 5 min on foot
Odawara Line
URL
Yoyogi Village by Kurkku
Akagi Marche
This market held at Akagi-jinja Shrine in Kagurazaka carries small Japanese objects and accessories made by artists. Works radiating style and good taste make perfect souvenirs.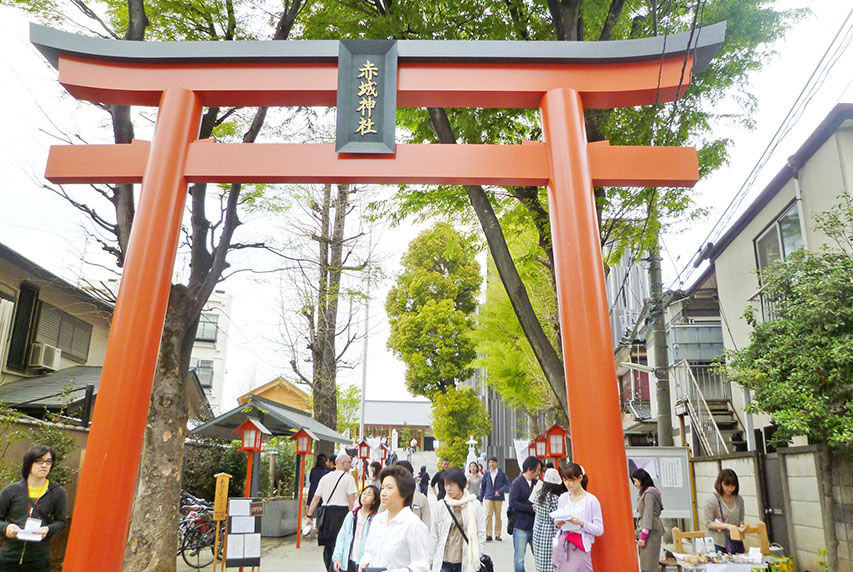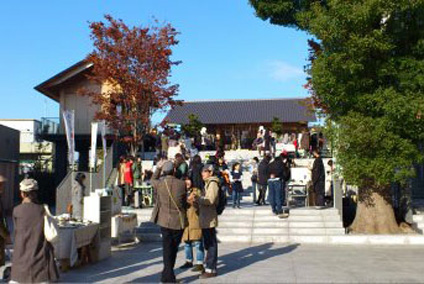 Location (address)
Akagi-jinja Shrine, 1-10 Akagimotomachi, Shinjuku City, Tokyo
Days
Irregular; about once a month
Hours
10:00-17:00
Access
Kagurazaka Station | Exit 1 | 1 min on foot
Tozai Line

Ushigome-kagurazaka Station | Exit A3 | 8 min on foot Oedo Line
URL
Akagi Marché
Other markets
For information on other markets held in Tokyo, please visit each company's website.
Flea Markets: A Treasure Trove of One-off Lucky Finds!
Flea markets bring together lots of different sellers and buyers looking for a lucky find. They always attract a large crowd.
Shop smart at a flea market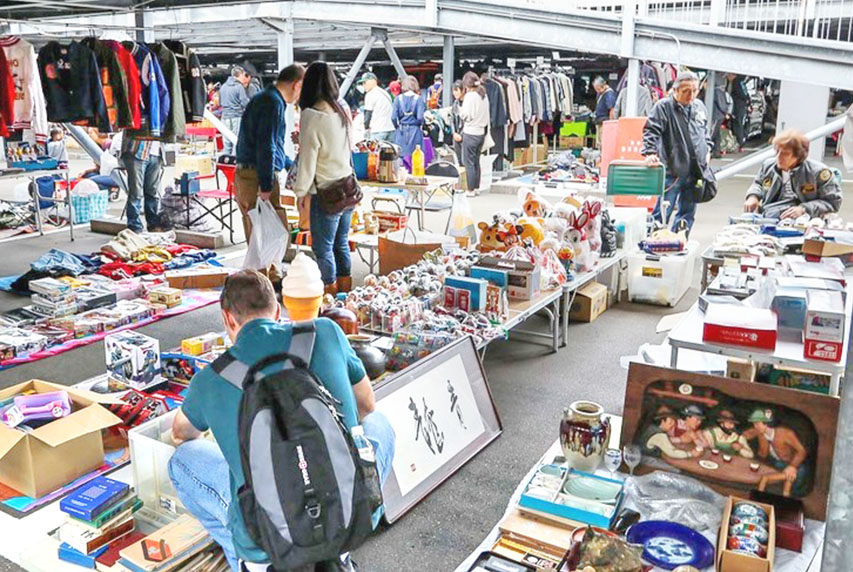 Have you ever tried negotiating a better price at a flea market, without really knowing how? Here are some tips.
One important thing is, don't start haggling straight away. First praise the product and let the seller know you like it. Then offer a specific price, perhaps starting at a little less than you want to pay. If you still have a difficult time meeting halfway, offer to buy multiple items from that seller in exchange for a discount. This usually does the trick.
In any case, avoid incessant haggling. Remember that shopping should be fun—both for you and for the seller.
Another tip to smart shopping is timing. Attractive products sell fast. So if you're serious about making a lucky find, the rule of thumb is to show up right when the flea market opens. On the other hand, if your goal is to strike a good bargain, show up around closing time. Sellers are reluctant to lug their goods back home, so they're more open to negotiation at the end of the day. But do bear in mind that there may be fewer attractive products then.
Tokyo flea market schedules
Tokyo flea market links
Comfortable Nostalgia in Old Collectibles Antique Market
Shrines are usually serene places, but when they host antique markets, they attract a lively crowd. The products available at these fairs are distinguished and nostalgic. This long-established variety of market is for visitors looking for good, old items.
Antique as art
Antique markets specialize in historical, well-worn items. Simply taking a tiny object in your hands and imagining the story behind it is a joy in itself. Buying is a bit trickier, as it takes judgment, experience, and knowledge to identify a genuine work of art. Yet when all is said and done, the key is whether or not you like it.
Be it furniture, ceramics, tableware, a table ornament, or a nostalgic toy, a single antique object can add an artistic touch to your home. Why not visit a market in Tokyo and seek out some comforting nostalgia in an old collectible?
Tokyo antique market schedules
Oedo Antique Market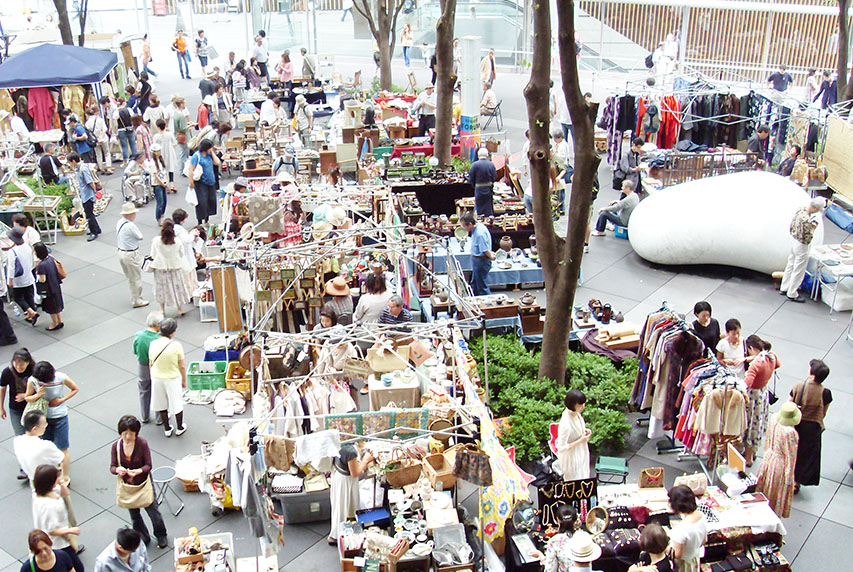 Location (address)
Ground floor, Tokyo International Forum, 3-5-1 Marunouchi, Chiyoda City, Tokyo)
Days
First and third Sundays of the month
Note: This antique market usually has around 250 sellers. It is canceled in the event of rain.
Hours
9:00–16:00
URL
Oedo Antique Market
Tomioka Hachimangu Shrine Antique Market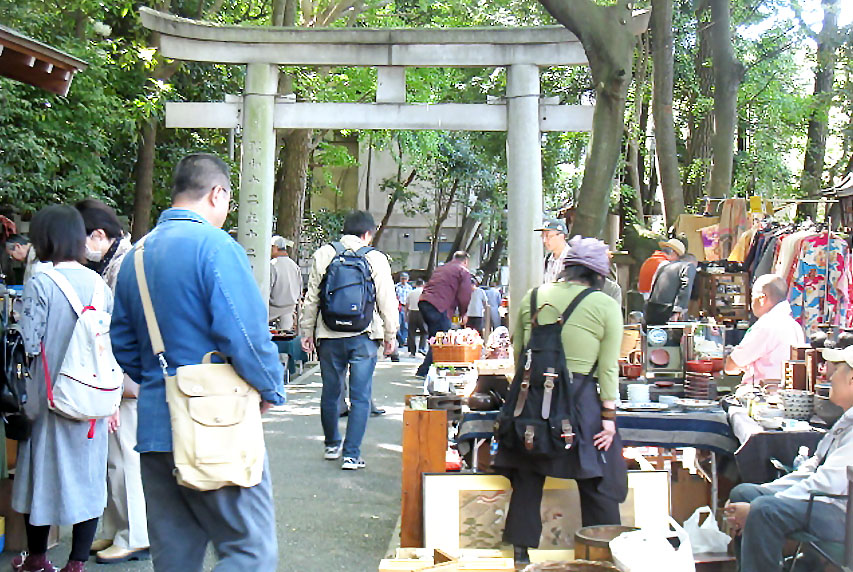 Location (address)
Tomioka Hachimangu Shrine, 1-20-3 Tomioka, Koto City, Tokyo
Days
First (except in January), second, fourth, and fifth Sundays of the month
Note: Closed on Sundays that fall on the 15th and the 28th
Hours
6:00-17:00
URL
Rakuichi rakuza
Takahata Fudoson Temple Gozare-ichi Market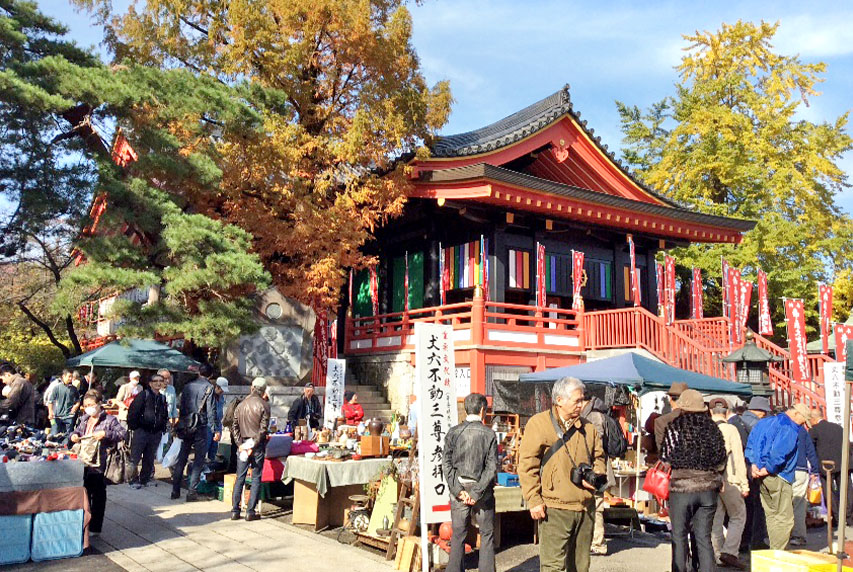 | | |
| --- | --- |
| Location (address) | Takahata Fudoson Temple, 773 Takahata, Hino-shi, Tokyo |
| Days | 3rd Sunday every month |
| Hours | 7:00–16:00 |
| URL | Kanagawa antique market |