The Japanese word izakaya (居酒屋) is made up of three kanji with the meaning, in order, "stay-drink-place." A spot to grab a drink, settle in, and get comfortable. Sounds about right.
What is an izakaya?
From small, single-proprietor affairs to massive chains, izakaya are ubiquitous in Japan. They are places where people come to unwind with co-workers and friends. More like a tapas bar or gastropub than just a bar, at an izakaya you take your pick from beer, whiskey, sake, and a wide variety of Japanese (and not-so-Japanese) foods.
Some izakaya look like bars, other look more like restaurants. At some the tables are low, and you sit on a cushion or in low chair on the floor, while others have standard, Western-style chairs and tables. You might be asked to remove your shoes before entering, in which you'll probably store your shoes in a cubby by the entrance or in a designated spot near your table.
At larger izakaya chains, ordering may be done via electronic tablets. Smaller establishments' menus are typically written in Japanese only, with some being entirely handwritten. Don't let this dissuade you, though. The laid-back atmosphere and free-flowing alcohol means you may soon be making friends with your neighbors, who can be an invaluable source of information and suggestions.
At the end of the night, say "okaikei onegaishimasu" or make an X by crossing your index fingers, and your bill will be brought to your table. This is almost never an itemized affair, so be prepared to just split things evenly with your group. Also, as with all other restaurants in Japan, tipping is not customary.
Typical hours for an izakaya start at 17:00 or 18:00. Many will close at 23:00 or midnight, around the time when the last trains in Tokyo head home, while some will stay open until the wee hours.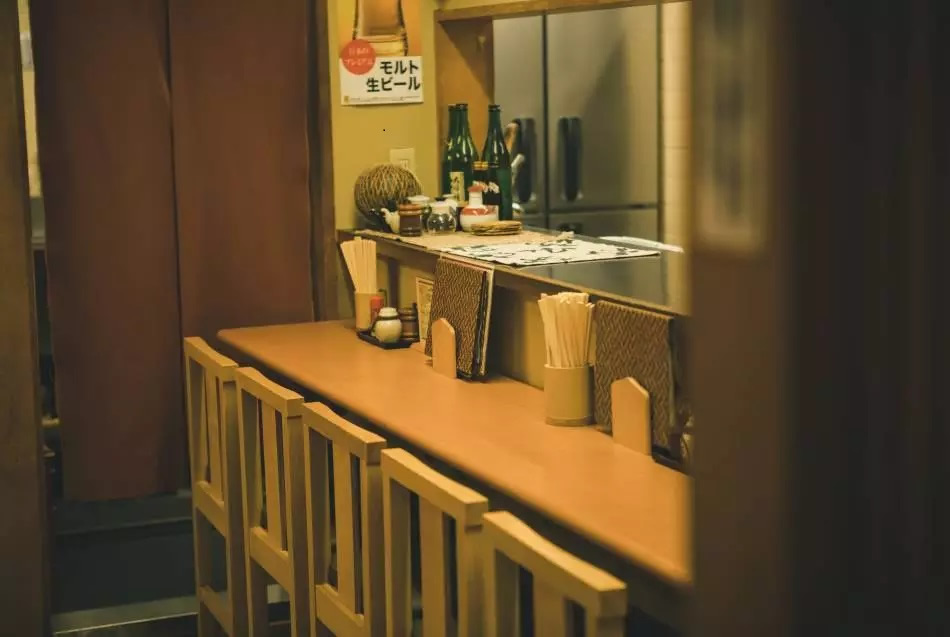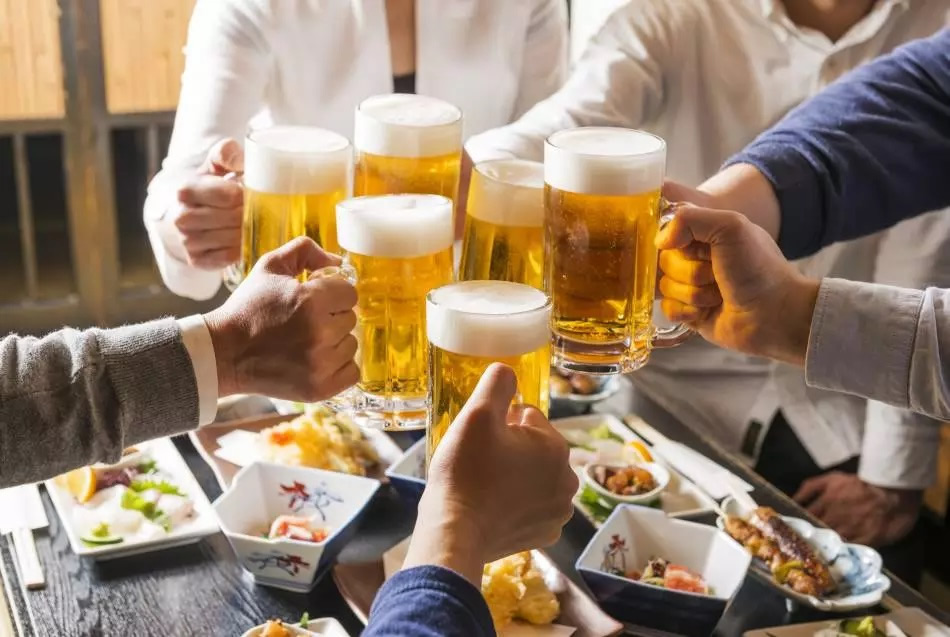 What's on a typical izakaya menu?
The typical izakaya menu features tasty, unpretentious food and beverages. Food is mainly smaller dishes that you can share and that aren't too filling. Beer, whiskey, sake, and simple cocktails make up the bulk of the drinks menu. Prices are generally reasonable, so you can try a wide variety of items without breaking the bank.
Food
Food at an izakaya tends to be classic, simple fare with broad appeal. Expect yakitori (grilled chicken skewers) and other grilled meat & fish, karaage (fried chicken), edamame, pickled vegetables, and probably some casual Western foods like French fries, potato salad, and pizza. Other Japanese classics like sushi and ramen can be found at larger izakaya (although not so common at smaller ones.)
At its core, izakaya food is anything that goes well with drinking. Just be sure to order enough for everyone, as items are generally small or single servings. But don't worry about ordering everything at once, you can make small orders at the same time you get another round of drinks. If you're still not full at the end of the evening, get some grilled rice balls!
When you are seated at an izakaya, you'll get a towel to wipe your hands and a small dish called an "otoshi." This is included in a seating charge, or "otoshidai," and can be anything from stewed vegetables to fresh fish. Keep an open mind and give it a try.
And one final note: It's fair to say that most izakaya are not super vegan/vegetarian-friendly. Japan is an omnivorous place. Check the menu carefully, or ask the staff directly, to make sure the "salad" you've just ordered isn't sprinkled with cheese or bacon.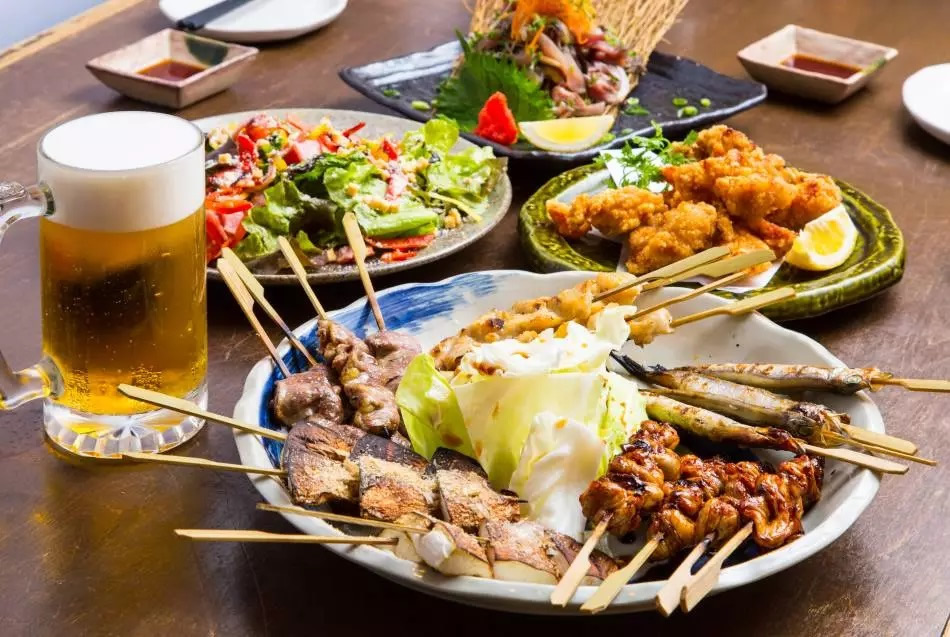 Drinks
Don't go in expecting microbrews or fancy cocktails. You will usually have a choice of beer (crisp and cold), sake, shochu, whiskey and wine. Popular mixed drinks include whiskey soda (which is known as a "highball" in Japanese) and "sours" (shochu and soda with some kind of fruit flavoring, quite similar to the "hard seltzers" that have recently become so popular in some Western countries).
Many izakaya offer happy hour specials in the early evening, and many offer all-you-can-drink deals all night—pay a certain amount of money for unlimited drinks for a set amount of time (usually 1-2 hours). If you don't drink alcohol, no problem! Pretty much any izakaya will offer tea, juice and other soft drinks.
A related note: For a long time smoking was allowed in pretty much all bars and izakaya in Japan, but a big change is set for April 2020. Smoking will be heavily restricted in almost all bars and restaurants, allowed only in separate, designated smoking rooms. Presumably this means small, one-room izakaya will have to go completely non-smoking, although we'll see how things play out. Also, many restaurants in Tokyo already have separate smoking and non-smoking sections, but the separation between them can be pretty flimsy. In any event, this new law is probably bad news if you're a smoker, but if you don't like being around cigarette smoke, enjoying an izakaya in Tokyo should be a more pleasant experience.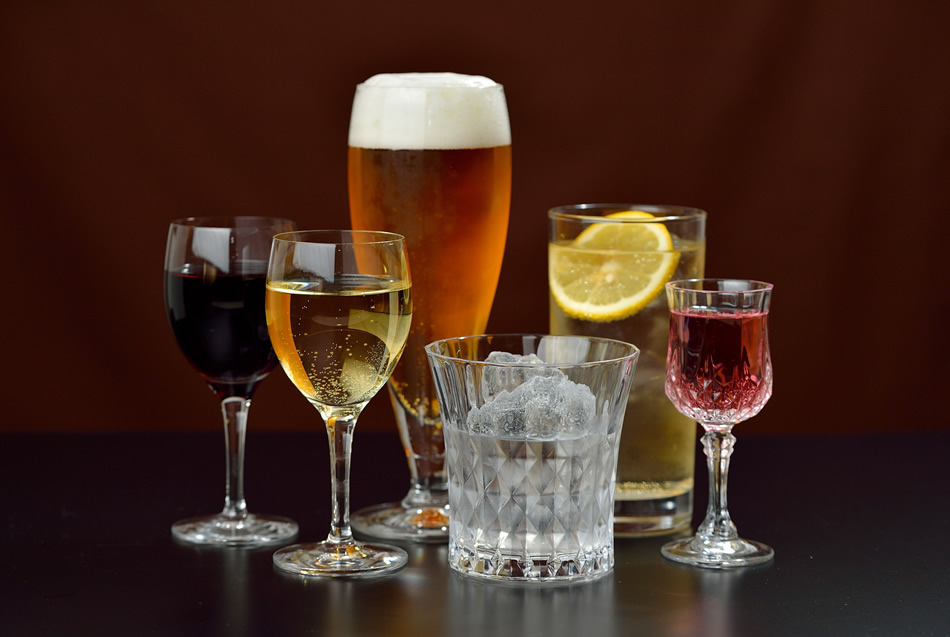 Visit Tokyo izakaya alleys
Yokocho is Japanese for "alleyway," but it has grown in meaning to refer to narrow streets lined with red lanterns and packed with izakayas and bars. Come here for a less polished, more authentic taste of Tokyo, and for the chance to have a drink with the locals.
Traditionally, the entrances to izakaya in yokocho are marked with red or white lanterns with the name of the establishment written in calligraphy. Noren, or cloth drapes, mark the entrance. Interiors are usually quite compact, some serving less than 10 people at a time. There might only be counter seating, and perhaps not even that—tachinomi (standing bars) are also quite common. It's a fun, cozy experience—everyone inside sitting shoulder to shoulder and sharing fun conversation. (Although don't go with a huge group, because you won't be able to fit!)
Tokyo's best yokocho are found where you'd expect—in areas packed with people and near office buildings, making them a convenient place to unwind with co-workers or duck in to escape the crowds. Many can be found within walking distance of train stations in the business districts and major neighborhoods of the city, like central Shinjuku (Omoide Yokocho & Golden Gai) and Shibuya, Ebisu (Ebisu Yokocho) to the south, Shimbashi to the east, and Ueno (Ameyoko) to the northeast.