Delectable food that stands out
Tokyo has a host of shops that offer great takeout food at affordable prices. From ever-popular taiyaki and menchi-katsu to sweets that are designed to be both seen and savored, you'll be able to find something that satisfies any craving.
Tips
If you find Ginza Taiyaki Sakuraya's thick taiyaki too heavy, they also offer a more traditional version, with less filling.
Kichijoji Satou's original "Maru Menchi" can be eaten fresh, but reheat well if you'd rather enjoy it at home.
Make sure to check Creperie Tirol's social media pages for up-to-date information.
Asakusa Soratsuki offers seasonal menu items. Try "Sakura Ichigo" in the spring.
Ginza Taiyaki Sakuraya Nakameguro
Ginza Taiyaki Sakuraya, a short 3-minute walk from Nakameguro Station, specializes in handmade taiyaki—a traditional Japanese cake-like sweet typically molded into the shape of a fish. Taiyaki are usually filled with anko (red bean paste), which adds an element of subtle sweetness. Customers can watch taiyaki being made right before their eyes as they order. Ginza Taiyaki Sakuraya's trademark is a thick taiyaki that gives patrons the opportunity to enjoy a generous helping of red bean paste. For those who appreciate variety, they also offer plenty of other flavors. The custard, green tea, and chestnut taiyaki are especially delicious. If you're looking for something savory, try a four-cheese taiyaki. Another popular choice is the soft-serve ice cream, perfect for visitors looking for a sweet treat to beat the heat during Tokyo's hotter months. Ginza Taiyaki Sakuraya's taiyaki are beautiful to look at as well as the perfect shape and size for people seeking a snack to go.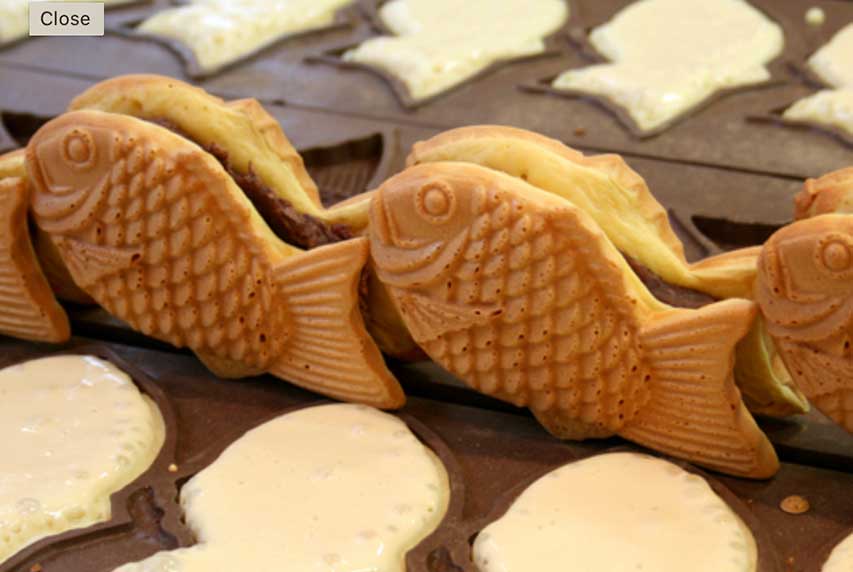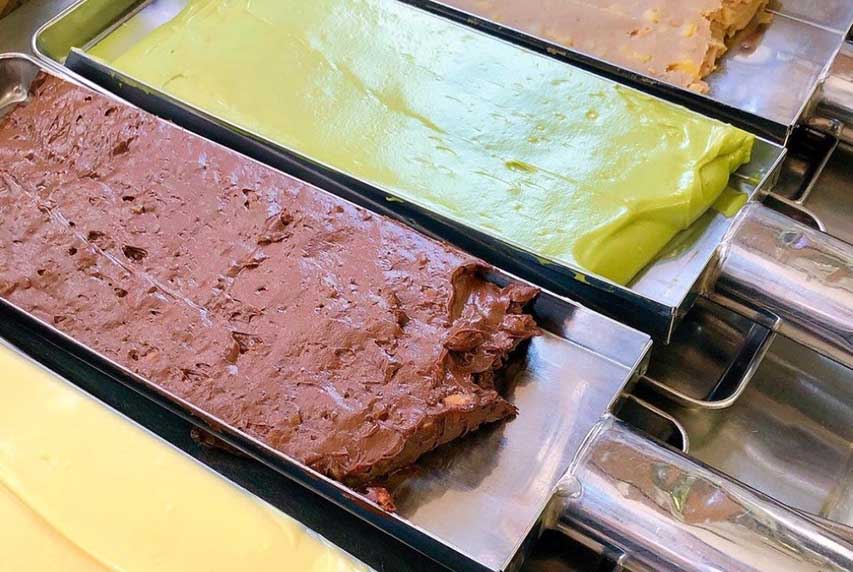 Ginza Taiyaki Sakuraya Nakameguro
1-19-10 Kami-Meguro, Meguro City, Tokyo
Kichijoji Satou
The wildly popular Kichijoji Satou, located within a short walking distance of Kichijoji Station, is a butcher shop and restaurant that specializes in Wagyu beef. While there is a full-fledged steakhouse on the second floor of the building, the shop is primarily known for its original "Maru Menchi," which are fried minced-beef cutlets. These cutlets feature a crispy, crunchy exterior and are filled to the brim with tender, high-grade Japanese beef. The juicy meat is perfectly complemented by onions whose texture and sweetness elevate these cutlets to the level of perfect Japanese comfort food. If you want to try these mouthwatering delights, be warned—they tend to sell out fast, so be sure to get there early. If you're not a fan of beef, or you arrive too late for the Maru Menchi, Satou offers plenty of other delicious options. The pork cutlets, meatballs, and potato croquettes are standout favorites.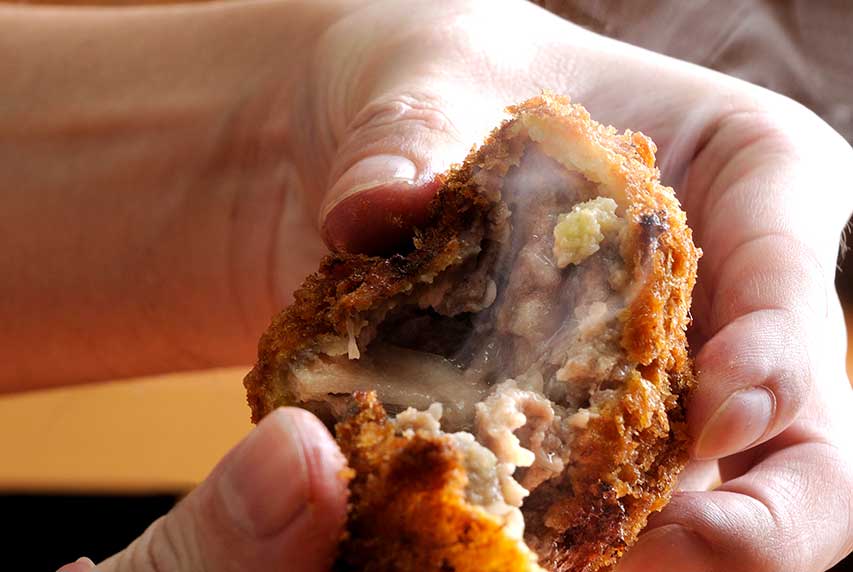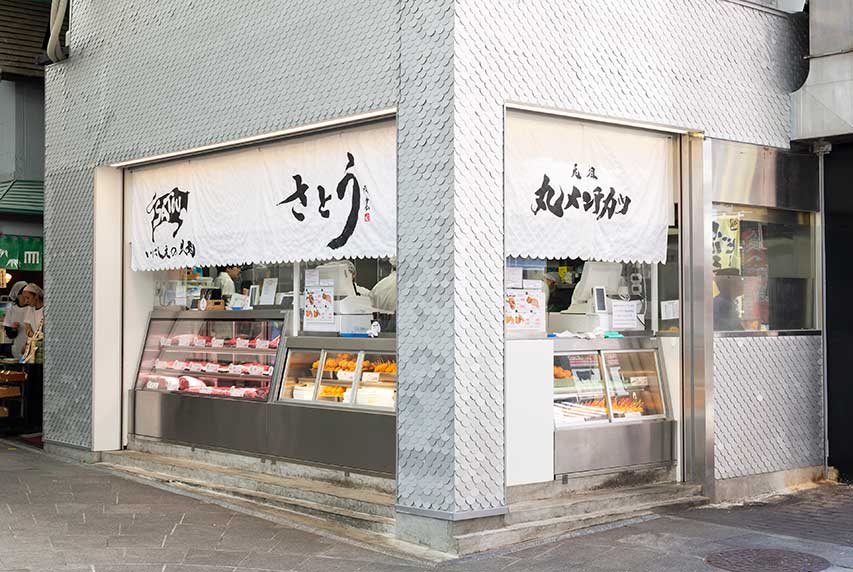 Kichijoji Satou
1-1-8 Kichijojihoncho, Musashino City, Tokyo
Creperie Tirol
Creperie Tirol is a wonderful crepe shop situated just a 3-minute walk from Soshigaya-Okura Station. This area, which is 20 minutes from Shinjuku Station via the Odakyu Line, is home to the quirky "Ultraman Shopping Street." In a city filled to the brim with crepe shops, Creperie Tirol differentiates itself with a focus on beauty and attention to detail. Not only are these crepes delicious, they are individual works of art. Pieces of fruit to be used as toppings are cut into intricate shapes—strawberry hearts and kiwi roses are just a small sampling of the variety on offer. In addition to shaping toppings, they also add beautiful garnishes and other additional artistic flourishes that are sure to please. Photos of these crepes are a must-share for any social media feed. To make sure everything is beautiful and fresh, Creperie Tirol partners with farmers across Japan. That ensures you'll always get the highest quality domestic ingredients.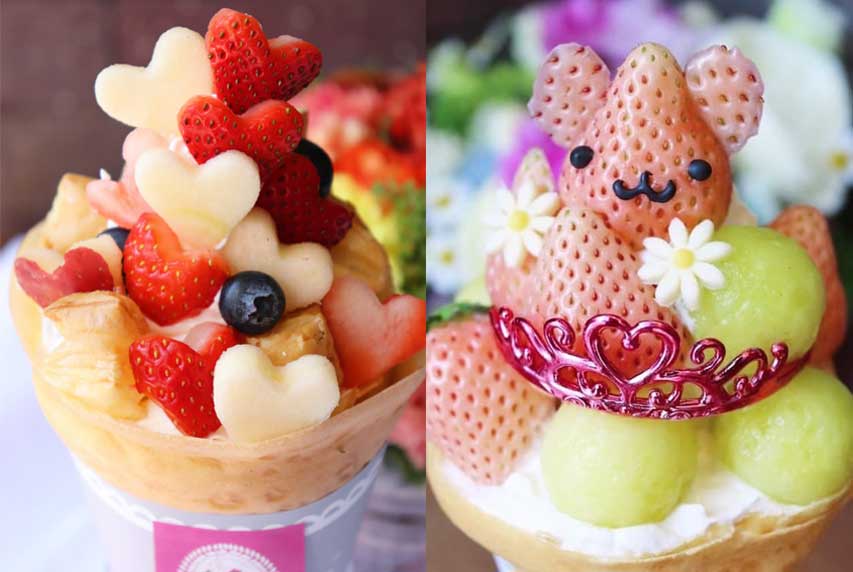 Creperie Tirol
8-7-17 Kinuta, Setagaya City, Tokyo
Asakusa Soratsuki
A convenient side trip from Tokyo's famous Sensoji Temple, Asakusa Soratsuki's eye-catching strawberry-themed exterior serves as the perfect backdrop for the delectable Japanese sweets within. This walk-up sweet shop serves a host of traditional Japanese sweets, all with a strawberry twist. By using traditional red strawberries alongside breathtaking white strawberries, as well as other colorful toppings, Asakusa Soratsuki creates a wide variety of beautiful treats. You can enjoy the refined elegance of "strawberry skewers," which come in red, white, and mixed variations, or you can opt for a vibrant "Strawberry Four-Color Dango," which offers a colorful take on the traditional Japanese sweet dumplings. They also offer dorayaki pancakes with colorful fillings. If you're not in the mood for a traditional Japanese sweet, Asakusa Soratsuki also offers smoothies and ice cream, so you'll never be left wanting. The food here is as photogenic as it is delicious, so don't forget to take a picture before you eat!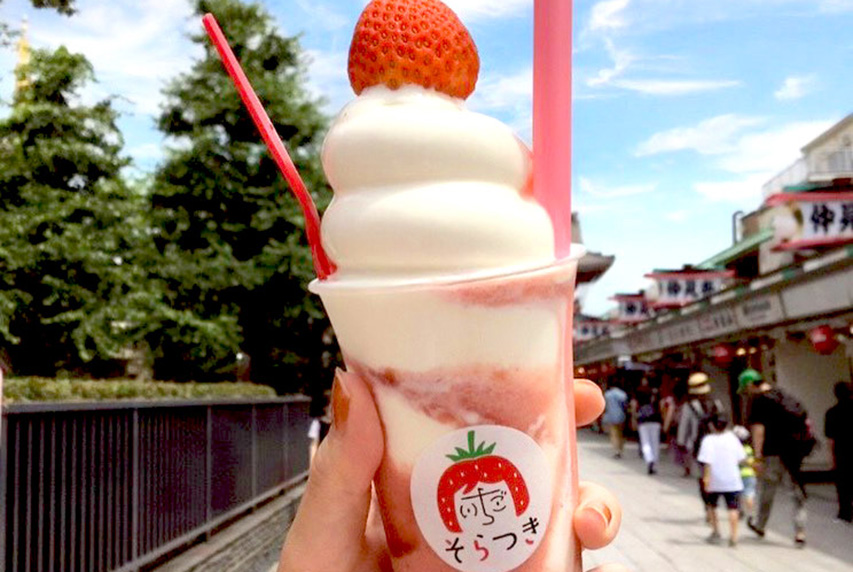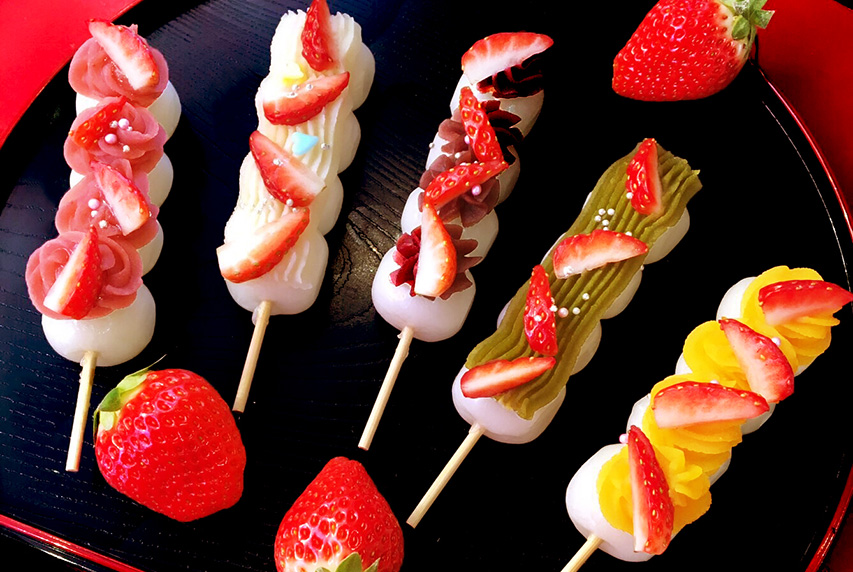 Asakusa Soratsuki
1-36-4 Asakusa, Taito City, Tokyo