Main content starts here.
Updated: February 4, 2021
In order to prevent the spread of coronavirus (COVID-19), various facilities around Tokyo may change their operating days or hours. In addition, some events may be canceled or postponed. Please check official facility or event websites for the latest updates and information.
There are three types of Rascal manhole covers located in the vicinity of Seiseki-Sakuragaoka Station! These designs are the "Ginkgo Biloba Rascal" (left) and "Cherry Blossom Rascal" (right) installed in January 2018. The anime Rascal the Raccoon is created by Nippon Animation, whose head studio is located in Tama City. Nippon Animation has signed a partnership agreement with Tama City regarding activities to boost local community activity. In addition to appearing on manhole covers, Rascal also shows up at events in the Seiseki-Sakuragaoka Station area.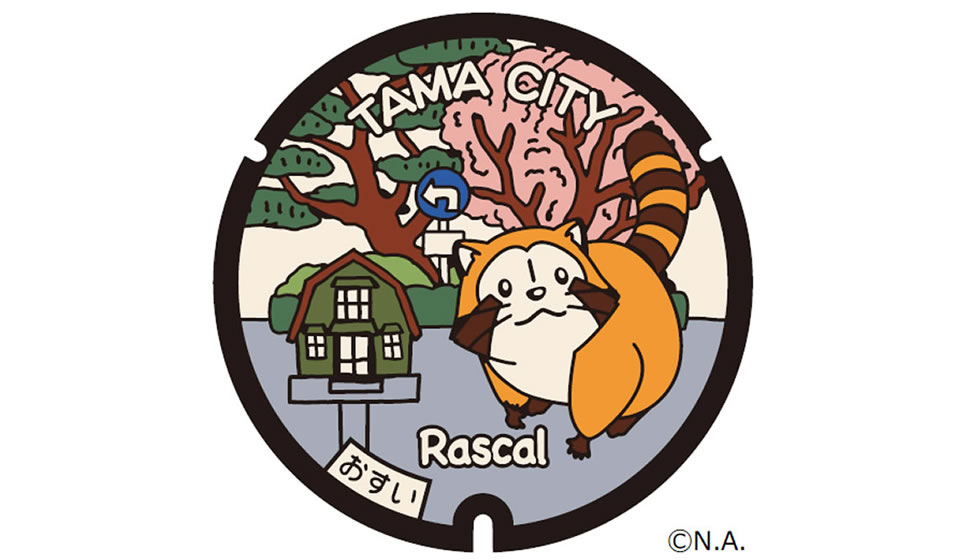 This is the "Rascal Goes for a Walk" manhole cover installed in March 2020. It is located in the vicinity of Irohazaka, a 15-minute walk from Seiseki-sakuragaoka Station. The background of one manhole cover design references the scenery at Sakuragaoka Rotary near the location of one manhole, while another design features the city's "Seishun Post Box," which is modeled after the antique shop Chikyuu-ya in the Studio Ghibli animated film Whisper of the Heart. The film's setting is said to have been based on the Seiseki-sakuragaoka Station area.