Main content starts here.
Second-hand clothing stores tour at the north exit >> Lunch at south/west exit cafés >> Tollywood Short Film Theater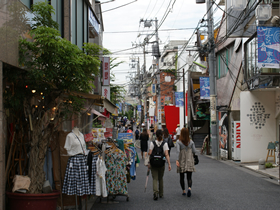 Enjoy shopping and strolling around Shimokitazawa, which is lined with various unique stores and is highly popular with young people. After passing the ticket barrier, head towards the north exit. Shop to your heart's content in the myriad of second-hand clothing stores and sundry shops that line Shimokita station's front street and Sakae-dori Street. Then head on towards the south exit where you will find the Honda Gekijo theater and many more. After lunch at a café, go watch a movie in the Tollywood Short Film Theater.
10:00 Odakyu Odawara/Keio Inokashira Line Shimokitazawa Station
10:03  Second-hand clothing stores tour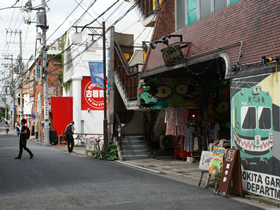 From the north exit, continue to the west exit, stroll along Shimokita's west exit street, Shimokita Hyakka-dori Street, Shimokita Ochame-dori Street, Shimokita Ekimae-dori Street, and Sakae-dori Street. Enjoy shopping in the second-hand clothing stores and sundry shops. VALON and Lanp are stocked with high quality, reasonably priced second-hand clothes, carefully selected from the USA. Get a hold of vintage, old, regular, men's, and women's second-hand clothes. In the RAGLA MAGLA Shimokitazawa 1 goten store, every second-hand article is priced at 990 yen. It carries a wide array of goods, from accessories to coats and jackets, so both men and women can enjoy coordinating their outfits here.

13:00 Cafés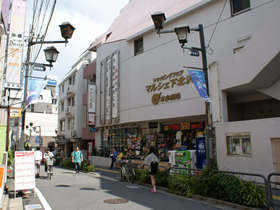 Cross the railway from the main street, and head towards Chazawa-dori Street at the south exit. On the way, you can see the symbol of Shimokitazawa, the Honda Gekijo theater. Shimokitazawa is home to various theaters such as The Suzunari, Ekimae Gekijo Theater, and OFF•OFF Theater, and has been dubbed the "theater district." There are lots of trendy cafés, restaurants, and other dining establishments lined up along the street. Go shopping in used record stores, then have lunch in one of the cafés surrounding the station, such as CITY COUNTRY CITY, where you can enjoy dining on pasta made with namamen (homemade noodles) as the main course, or Bio Ojiyan Cafe Shimokitazawa store, where they have egg rice porridge with a variety of toppings, their own creative invention.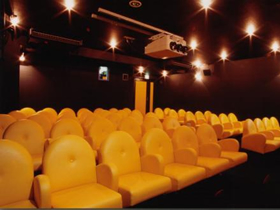 From the works of young Japanese directors to international animation, various short films are screened in this theater. Who knows? Maybe you'll be able to watch a work by a future star director!
| | |
| --- | --- |
| | Walk 10 minutes |
17:00 Odakyu Odawara/Keio Inokashira Line Shimokitazawa Station
Model course
Shimokitazawa
is displayed on a larger map
The red lines indicate trains and subways, blue lines are buses and cars, green lines are for walking, pink lines are for bicycles, purple lines are ships and water buses.