In order to prevent the spread of coronavirus (COVID-19), various facilities around Tokyo may change their operating days or hours. In addition, some events may be canceled or postponed. Please check official facility or event websites for the latest updates and information.
Gateway to Sensoji Temple and iconic symbol of Asakusa
Minutes from Asakusa Station and brimming with tourists, worshippers and shoppers, Asakusa's venerable Sensoji Temple is one of Tokyo's major draws. The temple's entrance, the imposing Kaminarimon Gate, is an iconic Asakusa photo spot with an impressive history to match.
Tips
Seeing Kaminarimon Gate illuminated at night when crowds have thinned out
The intricate dragon-shaped engraving adorning the base of the gate's red lantern
Viewing Kaminarimon Gate from behind, to see it juxtaposed with the Kengo Kuma designed Asakusa Tourist Center
Originally built by military commander Taira no Kinmasa and dating back to 942 A.D., Kaminarimon Gate was later relocated to its current site. Reconstructed several times after being damaged by fire, the current gate dates from 1960 thanks to donations from Panasonic founder Konosuke Matsushita.

It's the gate's centerpiece, a magnificent red lantern made by a Kyoto lantern maker and inscribed with kanji characters meaning "thunder gate," that first draws your eye. Measuring 3.9-meters high, 3.3-meters wide and weighing roughly 700 kilograms, the lantern's grandeur is undeniable. Don't miss the delicate dragon carvings adorning its base.

Flanking the lantern are two statues that give the gate its name; Japanese people commonly pay homage to these figures for peace, tranquility and abundant crops. The figure on the left is the God of Thunder, on the right, the Wind God. Guarding Sensoji from storm, flood and fire, both figures are said to be benevolent deities. Look for another two statues, the dragon-tailed gods Tenryu and Kinryu, who can be seen from behind after passing through the gate.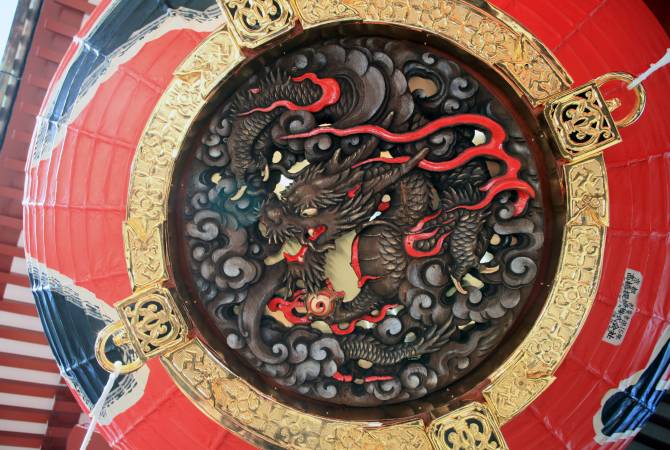 © Sensoji Temple