For much of its recent history, Haneda Airport—officially Tokyo International Airport—was used mainly for domestic flights within Japan, but that changed with the launch of a new international terminal in 2010. Haneda is now by far the most convenient airport for getting into Tokyo. The airport's three domestic terminals have flight routes going across Japan, and all around the world. Haneda Airport ranks among the busiest airports in the world.

Haneda has also undergone renovations in recent years that have brought in some excellent shops, restaurants and attractions, and the airport is only set to get better.
* The international flight-related facilities at Terminal 2 are currently not in operation.
Getting to and from Haneda airport
Haneda Airport is convenient, centrally located in Haneda area of Ota city, less than an hour from most of Tokyo's biggest neighborhoods. The distance from Haneda to the heart of Tokyo is roughly 15km.
By train
Express trains from each terminal run to Shinagawa Station on the JR Yamanote Line—the loop train that circles the city— via the Keikyu Line, allowing you easy access to the rest of Tokyo. You can also take the monorail to Hamamatsucho, another Yamanote Line station closer to Tokyo Station.
Keikyu Line
From Haneda Airport: 11 minutes to Shinagawa Station
From Shinagawa Station: 13 minutes to Tokyo Station via Yamanote Line
Tokyo Monorail
From Haneda Airport: 13 minutes to Hamamatsucho Station (shortest 13 minutes from Terminal 3 station)
From Hamamatsucho Station: 7 minutes to Tokyo Station via Yamanote Line

Remember that if you have a JR Rail Pass, that will cover your fare on JR lines.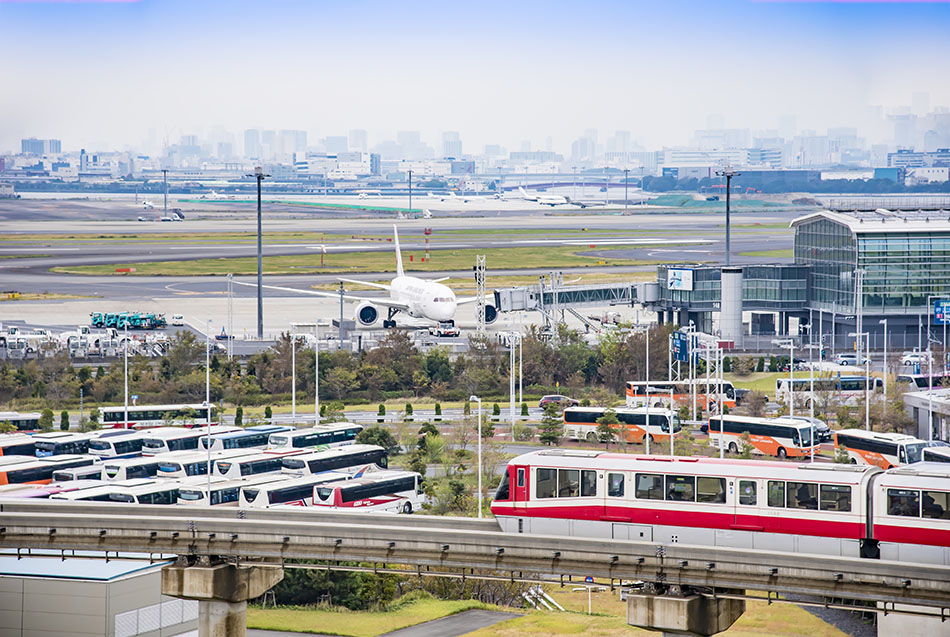 By bus
Buses connect Haneda Airport to all areas of the city, including the major hotel districts and tourist destinations. Visit the desk located at Arrivals to purchase a ticket from the bilingual staff.
Make sure to double check which terminal your bus is leaving from, and which stations it's stopping at.
Limousine Bus (Airport Transport Service Co., Ltd.)
From Haneda Airport: 45 minutes to Tokyo City Air Terminal
55 minutes to Tokyo Station
60 minutes to Shinjuku Station
80 minutes to Kichijoji Station
Keihin Kyuko Bus
From Haneda Airport: 55 minutes to Tokyo Station
60 minutes to Shibuya Station
By taxi
Taking a taxi is a stress-free way to travel into the city, and Haneda Airport's central location means it won't break the bank—especially if you are traveling in a group and can split the cost. The taxi pick-up area is clearly signposted in the Arrivals area. Normally, taxis offer metered services based on distance and time traveled, but budget-friendly flat-rate services are also available for trips to specific areas of the city. Reservations are required and a nighttime surcharge is applied for trips between 10 p.m. and 5 a.m. Any highway tolls incurred will also be charged separately.
To/From other cities in Japan
Haneda Airport runs flights to most of Japan's major cities, including several flights a day to Kansai Airport (which serves Osaka, Kyoto and Kobe). It's a 75-minute flight to Osaka, a 90-minute flight to Sapporo in Hokkaido, and a 3-hour flight to Naha, Okinawa.

For cities in the greater Tokyo area such as Yokohama and Chiba, you can get to Haneda easily by train, bus or car.
Haneda Airport to Narita Airport
Getting from Haneda Airport to Narita Airport generally takes somewhere between 75 minutes and 2 hours.
An Airport Limousine Bus service runs direct from Haneda to Narita.
An express train service run jointly by the Keikyu and Keisei lines runs between the two airports as well. It leaves about every 40 minutes. When departing Haneda Airport, this express service is called the "Airport Kaitoku."
You could also take the Keikyu Line to Shinagawa Station and transfer to the Narita Express there.
A taxi is another option, but it would be very expensive, on the order of 25,000 yen.
Haneda Airport terminals & map
Haneda Airport has three terminals. Terminal 1 & 2 are connected by an underground walkway, and a free shuttle bus connects all three terminals.

* For more information, check the airport's official website.
You can also see a detailed map here.
* Haneda Airport started operating international flight routes out of Terminal 2 from March 29, 2020.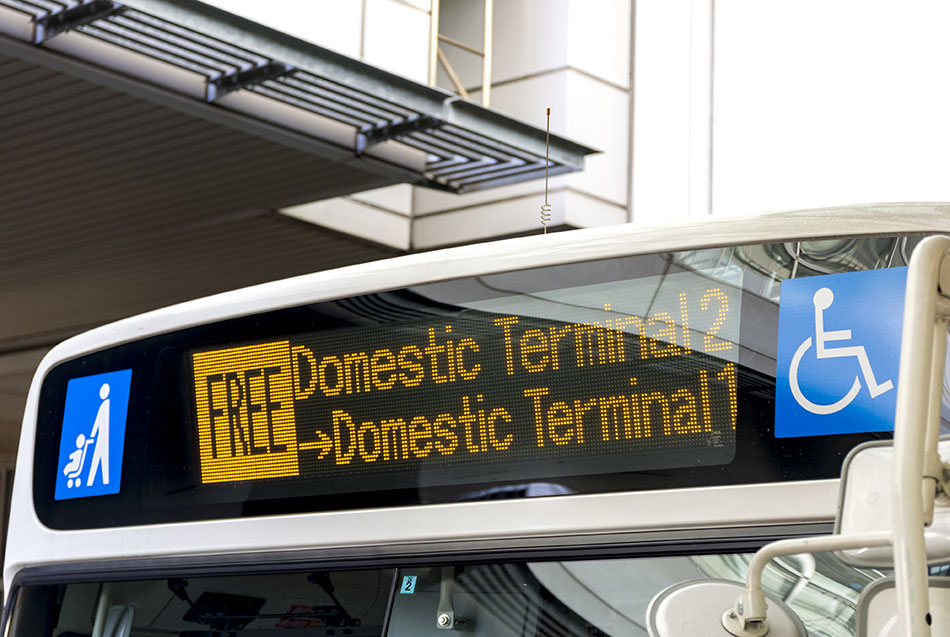 Terminal 3 (International Terminal)
The new Terminal 3, opened in 2010, offers great food and even anime merchandise.

1F is the entrance plaza, 2F is the arrival lobby, 3F is the departure lobby, 4F is Edo Ko-ji, a collection of shops and restaurants modeled after an old Tokyo streetscape, and 5F has an observation deck and Tokyo Pop Town, a collection of shops and restaurants that offers some very unique experiences.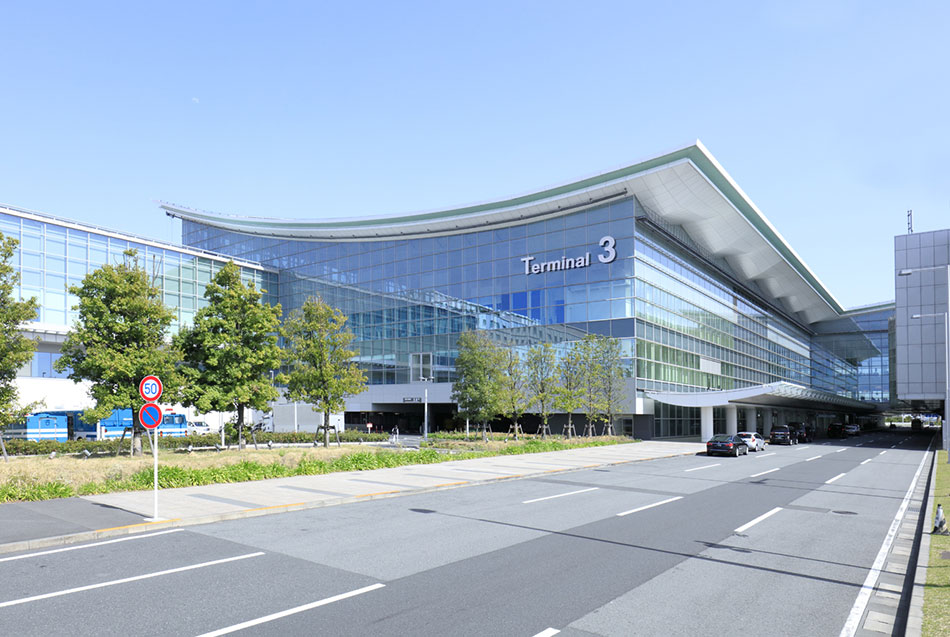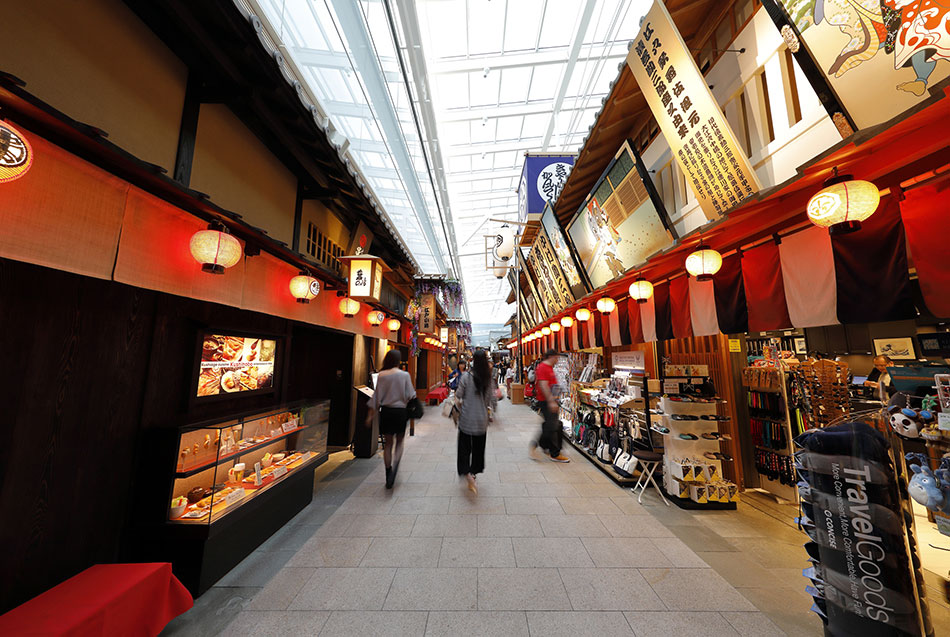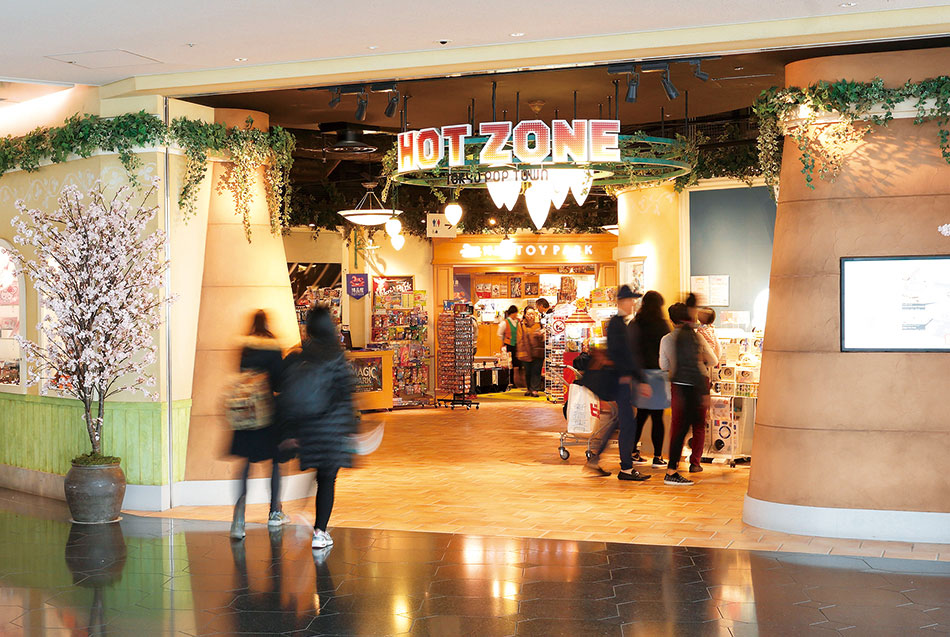 Domestic Travel: Terminal 1 and Terminal 2
Terminals 1 & 2 at Haneda handle mainly domestic flights. Japan Airlines (JAL) uses Terminal 1, while All Nippon Airways (ANA) uses Terminal 2. Japanese low-cost carriers such as Skymark and StarFlyer also fly out of Haneda.

In both domestic terminals, the B1 level is where trains arrive and depart. For domestic flights, 1F is the arrival lobby, 2F is the departure lobby. And the floors above have shops and restaurants. The top floors of each terminal also have an observation deck (5F for Terminal 2, 6F & R for Terminal 1).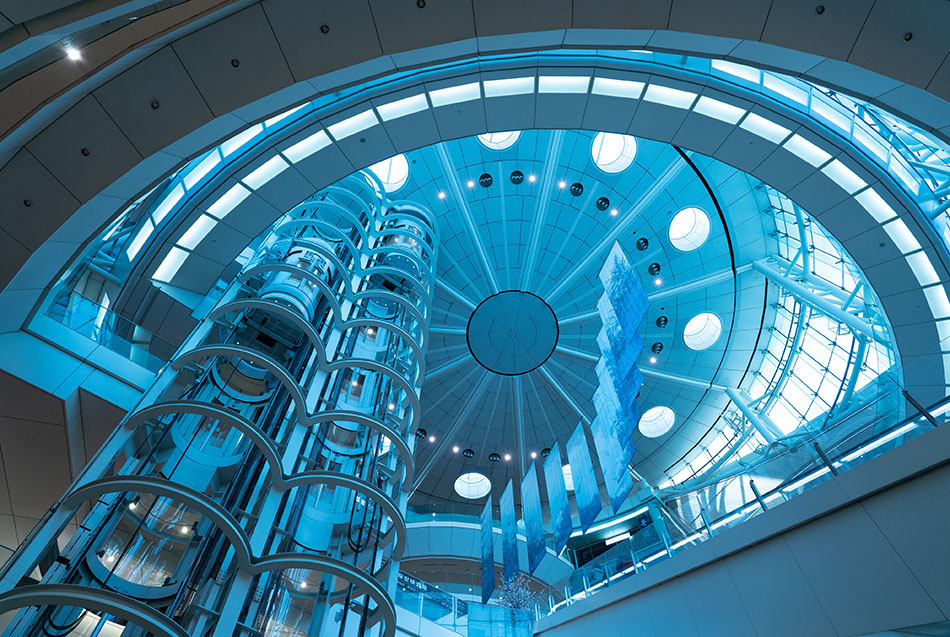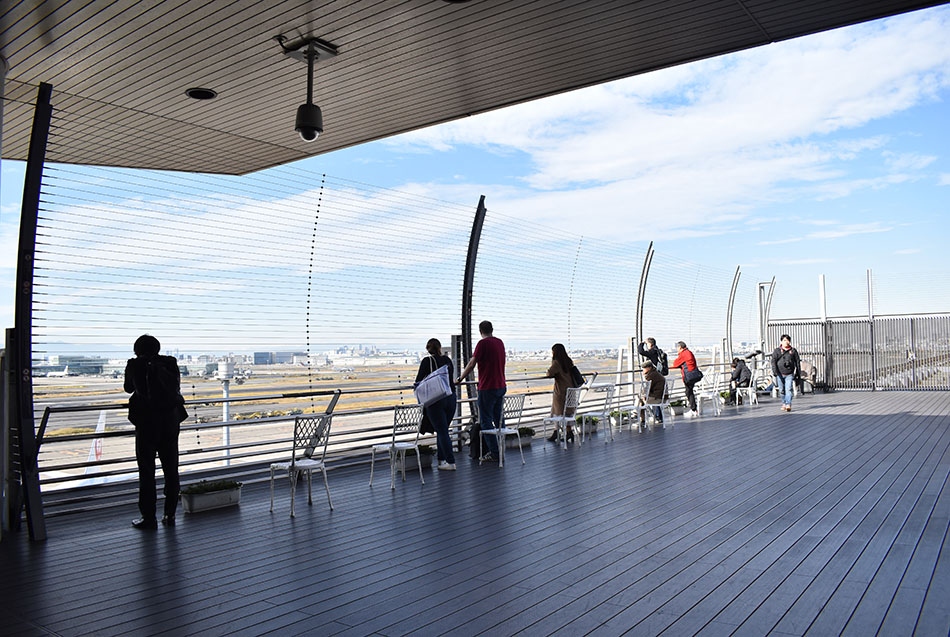 Facilities and services
Haneda Airport has all sorts of services to help make your airport experience a pleasant one, and your Tokyo experience go more smoothly, from currency exchange and portable Wi-Fi rental to car rental services.

There's also a pharmacy and a clinic in all three terminals , dozens of AED machines, and a police box just outside the first floor of Terminal 3. And information counters (marked with a "?" symbol), 24-hour public sign language phones and an information call center at various locations are also available.
Wi-Fi rental and SIM cards
Several locations in Haneda Airport offer rentals of pocket Wi-Fi devices and prepaid SIM cards, including convenience stores, vending machines and specialized shops.

If you think you do want to use a pocket Wi-Fi during your stay in Tokyo, it might be a good idea to reserve one in advance.
Luggage storage
Temporary baggage storage counters (B1F in Terminal 1 & 2; 2F/3F in Terminal 3) will store your luggage for up to two weeks. Coin lockers are also available for up to one week at a time.

The airport also offers luggage delivery to the airport from your accommodation, or from the airport to your accommodation.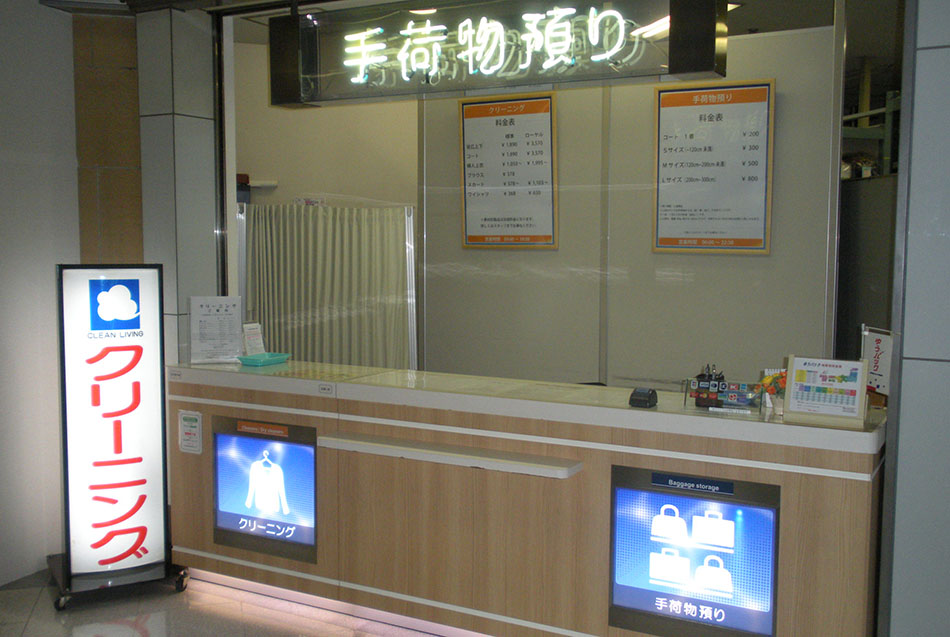 Currency exchange and ATMs
Currency exchange is available at several locations in the Terminals 2 & 3, and one location each in Terminal 1. ATMs from most of the big Japanese banks are available throughout both terminals. Generally speaking, the Seven (as in Seven-Eleven) Bank ATMs get along best with international cards.

It is possible to purchase overseas travel accident insurance from vending machines located in the Departure Lobby on the third floor of Terminal 3.
Car rental
Over a dozen rental car agencies, including Japanese and international companies, offer car rental out of Haneda Airport. Most are clustered around Terminals 1 & 2, although some are a bit up the road from the airport. If necessary, you'll get a ride on a shuttle to your car.
Post office
Haneda Airport has a fully functioning post office. It is located in the Market Place on the first floor of Terminal 1.

The Terminal 3 has a few mailboxes you can use to post mail, but no post office.
Things to do at Haneda Airport
Haneda Airport is far more than just an airport; it's a fascinating destination in itself, with a wealth of food, shopping and attractions. Air enthusiasts can enjoy gazing out at planes from the observation decks, and touring the Japan Airlines facilities. If you have a longer layover, near the airport, the Jonanjima Seaside Park is a pleasant place for strolling along Tokyo Bay.

A new commercial complex called the Haneda Airport Garden, which will feature a shopping mall and hot spring baths, and which will be directly connected to the Terminal 3, is also scheduled to open.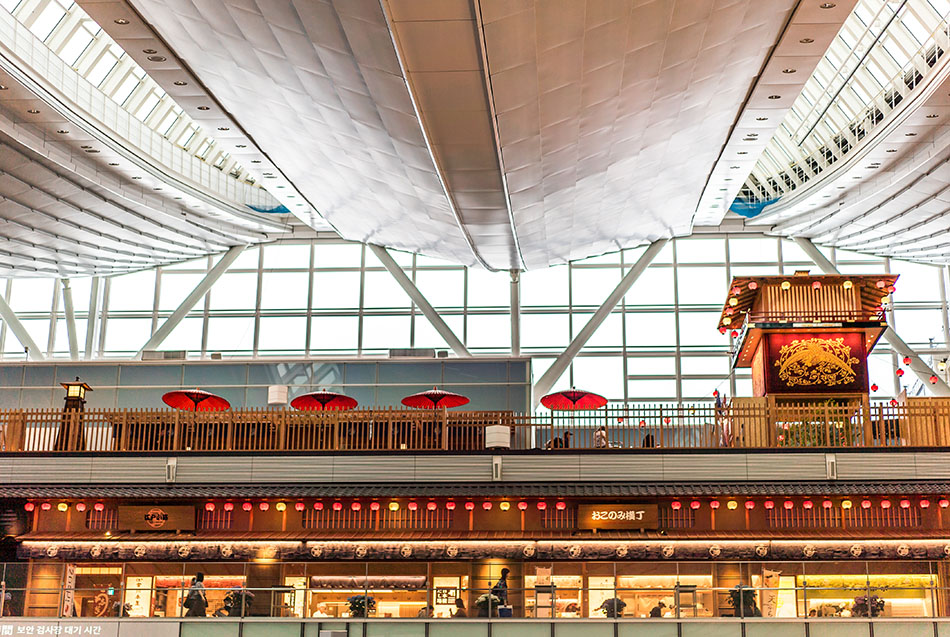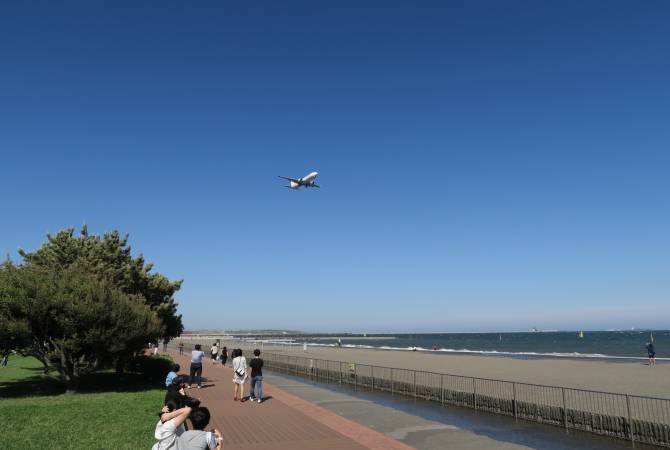 Restaurants
Haneda has some excellent food. The Terminal 3 is home to Edo Ko-ji, a street modeled on the Tokyo of samurai days with restaurants serving classics such as sushi and yakitori (grilled chicken skewers).

Both Terminals 1 & 2 have lots of food options—including some fancy Japanese ones if you want to eat one more great Japanese meal before you depart—and several cafes, about 100 shops in total between them.
Shopping
You can find dozens of duty free shops in the Terminal 3, most of which are located at Gates 109-111 or Gates 112-114. At Tokyo Pop Town on the fifth floor before security checks, there are stores selling merchandise featuring some of Japan's most popular characters and the Hakuhinkan Toy Park, and it's an amazing place to take your kids.
As well as duty-free shops, Terminal 2 also houses Haneda Virtual Boutique, where you can find fashion items sold at Terminal 3. (Limited to certain brands and items.)
At Terminal 1, you'll find several great places to buy little Japanese gifts to take back home for friends and loved ones.
Lounges
The Terminal 3 Departure Lobby has lounges for Japan Airlines, All Nippon Airways and Cathay Pacific (if you have status on another airline, check and see if you are in one of these airlines' alliances), as well as a Sky Lounge that can be accessed for a relatively modest sum, and waiting rooms that you can rent.
Terminal 2 has an All Nippon Airways lounge, and both Terminals 1 & 2 have a series of lounges called Power Lounges that work on a similar fee system to the Sky Lounge.
Hotels in and around Haneda Airport
There are several hotel options around the airport, whether you have a late flight, an early start, or you have a layover and just need to sleep for a few hours.

The Haneda Excel Hotel Tokyu and Royal Park Hotel Tokyo Haneda are both located within Haneda. Hotels around the airport include the Keikyu Ex Inn Haneda Airport, Hotel MyStays Haneda, and Hotel JAL City Haneda Tokyo, all of which offer free shuttle service to and from the airport.

Also, two hotels are planned to be opened at the Haneda Airport Garden. with approximately 1,700 guestrooms.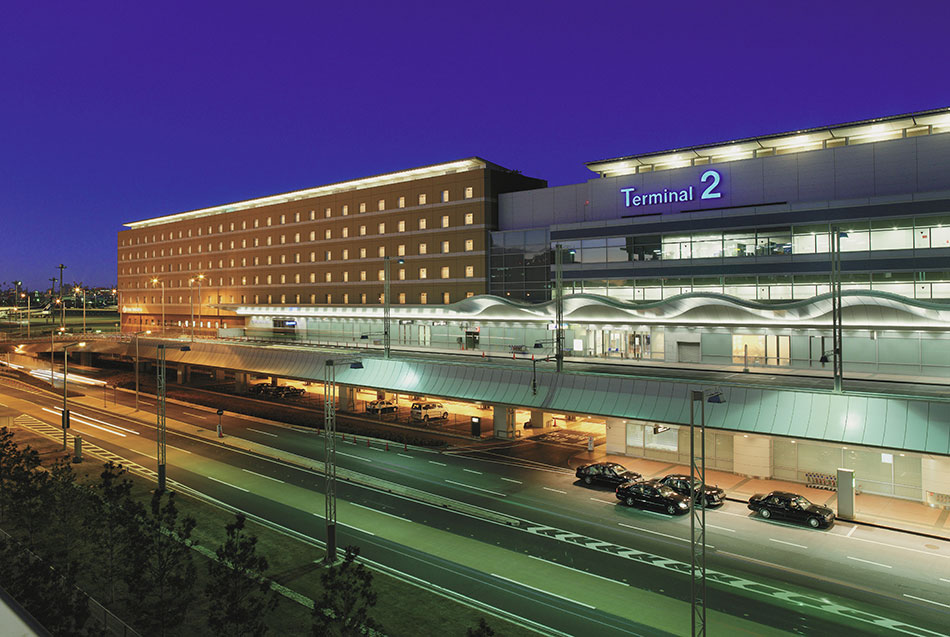 Capsule hotels/transit hotels inside the airport
The Royal Park Hotel Tokyo Haneda has some rooms available for transit (Gates 112-114, 3F, Terminal 3) if you need a shower and/or a short rest during a layover.
Areas to stay around the airport
Neighborhoods near Haneda Airport with good lodging options include Omori, Magome and Kamata. Many of the hotels run their own free airport shuttle buses to Haneda Airport.

If you do stay relatively close to Haneda Airport, you could check out Ikegami Honmonji, a temple with many centuries of history, or Senzokuike Park, which is popular with families for its pretty walking paths and large pond that you can paddle around in using a small, swan-shaped boat!