Each cruise ship operator promotes measures to prevent the spread of the novel coronavirus disease (COVID-19).
For details, please visit the operator's website below or contact the operator directly.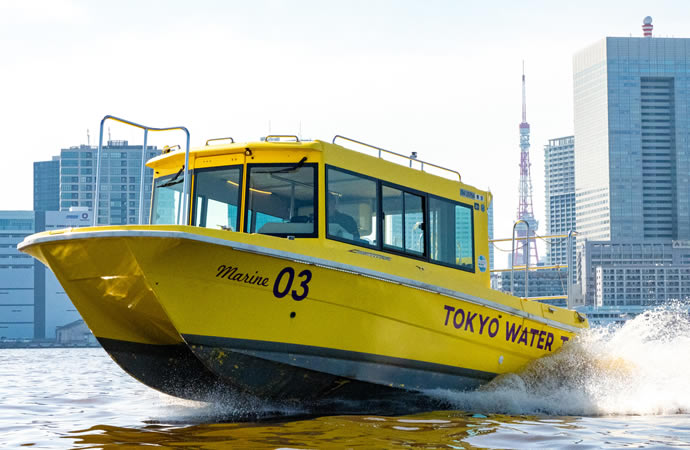 Have Tokyo's striking waterfront views all to yourself! Experience the spacious atmosphere that only a charter cruise can offer. You can choose your point of departure and arrival as well as your cruise route. The ship may be small, but it has restrooms, air-conditioning/heating and Bluetooth speakers. You can also bring whatever you like onboard, so please relax and make yourself at home. Fees are calculated by dividing the charge per boat per hour by the number of people (maximum eight).
Views from this course
Course / service type
Departure landing
Asakusa/Sumida/Ryogoku|Nihombashi|Hamamatsu-cho/ Keihin/Shinagawa|Fukagawa/ Tsukishima/Toyosu|Odaiba
Arrival landing
Asakusa/Sumida/Ryogoku|Nihombashi|Hamamatsu-cho/ Keihin/Shinagawa|Fukagawa/ Tsukishima/Toyosu|Odaiba
Time required
1 hour–3 hours
Budget
2,000~3,000 yen
Other services
Daytime cruise|Night cruise
Contact information
Operator:TOKYO WATERTAXI
Telephone number:03-6673-2528
Fax number:03-6673-2528
E-mail address:info@water-taxi.tokyo
Hours:11:30 am to 9 pm(Reservation/ Inquiry: 11 am to 7 pm)
Regular holidays:Mondays (if Monday falls on a holiday, the following Tuesday)