Main content starts here.
Water Taxi(Tokyo Water Taxi)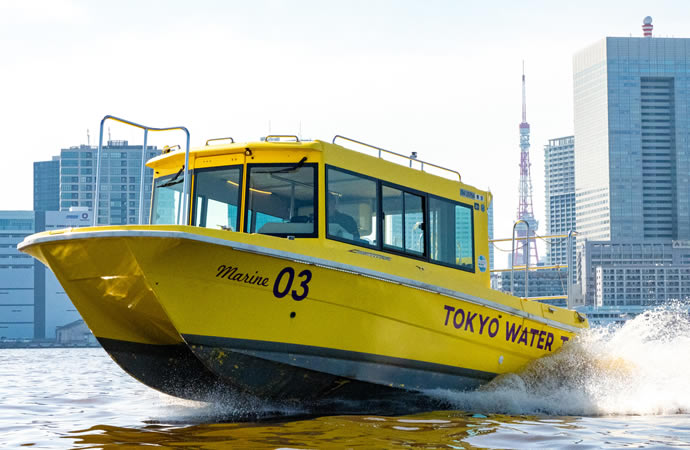 Tokyo water taxies are a means of transportation with a high degree of freedom because it is possible to select the point of departure, destination, and travel time. Travelers can make as many stops along the way as they want during the allotted travel time, so these taxies are great for not only sightseeing but also various types of tours. Reservations by telephone can be made up to six days in advance, and reservations seven or more days in advance can be made online. The fees are calculated by dividing the charge per boat per hour by the number of people in the group (maximum of six).
Views from this course
Course / service type
Departure landing
Asakusa/Sumida/Ryogoku|Nihombashi|Hamamatsu-cho/ Keihin/Shinagawa|Fukagawa/Tsukishima|Odaiba|Edogawa/Kasai
Arrival landing
Asakusa/Sumida/Ryogoku|Nihombashi|Hamamatsu-cho/ Keihin/Shinagawa|Fukagawa/Tsukishima|Odaiba|Edogawa/Kasai
Time required
By negotiation
Budget
2,000 yen
Other services
Morning cruise|Daytime cruise|Night cruise
Contact information
Operator:Tokyo Water Taxi
Telephone number:03-3453-2762
Fax number:03-5442-0389
E-mail address:info@water-taxi.tokyo
Hours:11 am to 7 pm (Reservation/Inquiry)
Regular holidays:Mondays