Main content starts here.
Course:Sumida Park >> Flower-viewing from a water bus >> Hama-rikyu Gardens >> Tsukiji Outer Market >>Shinjuku Gyouen National Garden >> Chidorigafuchi Park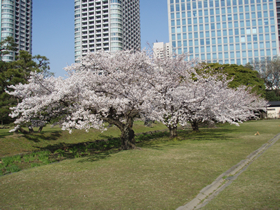 This course will take you on a short tour of famous places while being surrounded by flowers, letting you feel the beauty of Tokyo in spring. Around late March to early April each year, the city is dotted with places where cherry blossoms are in full bloom. Enjoy viewing from a cruise the cherry blossom trees lining the road, cherry blossoms harmonizing with elegant gardens, or even cherry blossoms at night. Since it is springtime, take a tour around Tokyo and experience the flowers in full bloom.
11:00 Tobu Skytree Line, Toei Asakusa Line, Tokyo Metro Ginza Line Asakusa Station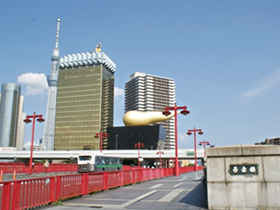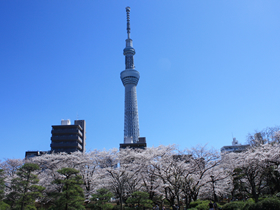 Sumida Park stretches some 80,000 square meters alongside Sumida River. Since Tokugawa Yoshimune planted cherry blossom trees here in the Edo period, it has become famous as a cherry blossom spot. It is said that the garden within the park was built using the remains of ponds from the land of the Mito branch of the Tokugawa clan and that the Tokugawa clan lived here for generations until the grounds were completely destroyed by the Great Kanto Earthquake. When the cherry blossom season arrives, both banks of the Sumida River are lined with cherry blossom trees going on for about 1km, and with the Tokyo Skytree as its backdrop, it is a sight to behold.
| | |
| --- | --- |
| | Walk 5 minutes |
12:30 Flower viewing from a water bus (Tokyo Metropolis Sightseeing Ship – TOKYO CRUISE)
The breeze is pleasant this time of year. Entertain yourselves by gazing at the cherry blossoms along Sumida River while cruising on a water bus at a relaxing pace. Enjoy viewing cherry blossoms from the river, sights different from the usual, starting with the best of Sumida River, "Bokutei Senbonzakura" (lit. one thousand cherry blossoms along the Sumida River bank) and the cherry blossoms in the Chuo-ohashi Bridge area. Moreover, when the cherry blossom season arrives, event cruises such as the "Hanami boat" or "Night time cherry blossom boat" start running. Enjoy Edo sailing without worries. If you're on the Sumida River line, alight at the next destination, the Hama-rikyu Gardens.
| | |
| --- | --- |
| | Water bus 35 minutes |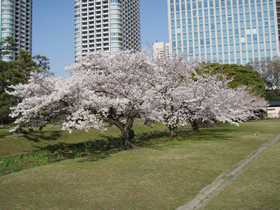 The Sumida River mouth extends to the water bus port in the gardens, which radiates serenity and elegance you would never think existed in the city. It is known to have been the location of the second residence of the former Tokugawa shogunate. It features a tidal pond and two duck hunting grounds, a typical garden of a feudal lord back in the Edo period. After strolling around the garden, savor the green tea served in the tea house sitting on a small island in the middle of the pond. Moreover, when spring arrives, cherry blossoms of around 100 Somei Yoshino and Yaezakura trees bloom, and you can also see rare types of cherry blossoms like Kanzan, Fugenzo, and Ukonzakura.
| | |
| --- | --- |
| | Walk 6 minutes |
14:30 On the way to Tsukijishijo station lie Tokyo's premier Tsukiji Fish Market and Tsukiji Outer Market.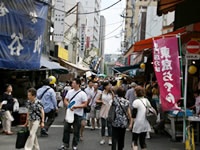 | | |
| --- | --- |
| | Walk 1 minute |
15:30 Toei Oedo line Tsukijishijo Station
| | |
| --- | --- |
| | Train 21 minutes (For Hikarigaoka via Daimon) |
15:51 Toei Oedo line Shinjuku Station
| | |
| --- | --- |
| | Walk 15 minutes |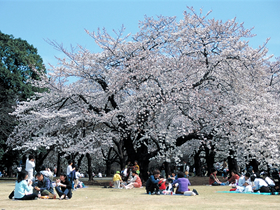 With a perimeter of 3.5km and stretching for a total area of 583,000 square meters, the park is a combination of Japanese and western-style gardens. It features a French-style trimmed garden, an English scenery garden, and a traditional Japanese garden. Around 1,300 trees and 65 types of cherry blossoms are in full bloom within these grand gardens during spring. Also enjoy the splendid blooms of Kan-zakura in February, Kasumi-zakura in late April, as well as Hankachinoki (Davidia) and Yurinoki (tulip tree). Bringing of alcoholic beverages and playing equipment is not allowed. It is the perfect place to kick back, relax and admire the flowers.
| | |
| --- | --- |
| | Walk 8 minutes |
17:15 Toei Shinjuku line Shinjuku-sanchome Station
| | |
| --- | --- |
| | Train 6 minutes (heading towards Motoyawata) |
17:21 Toei Shinjuku Line Kudanshita Station
| | |
| --- | --- |
| | Walk 5 minutes |
17:26 Chidorigafuchi Park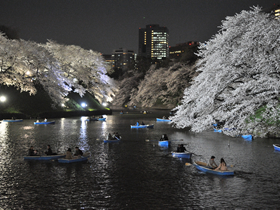 A 700-meter long promenade stretches along Chidorigafuchi on the west side of the Imperial Palace. From the Chidorigafuchi war memorial entrance, it goes on to Yasukuni-dori Street. Along the way, you can see 260 trees of Somei Yoshino and Oshima-zakura cherry blossoms. Indulge in the feeling of walking through a cherry blossom tunnel as it blooms overhead the people passing through the promenade. As a famous cherry blossom spot known nationwide, it is visited by over a million tourists from Japan as well as from foreign countries. There are also cherry blossom illumination displays from late March to early April (around 18:30 to 22:00 in the evening).
Check this out!
The East Gardens of the Imperial Palace
A 210,000 square meter area surrounds the inner and outer citadel of the former Edo castle. During the cherry blossom season, enjoy 280 trees of cherry blossoms, with Somei Yoshino, clusters of Sato-zakura, and a picturesque thicket of Edohigan in the lawn area foreground. Entrance to the park is free of charge, however, since sports and drinking of alcohol have been prohibited, it is rarely crowded and has been known to be a spot where you can enjoy viewing flowers peacefully in the heart of the city. Early March is the best time to view early bloomers such as Kawazu-zakura. Although it is a bit far, it is also possible to walk to Chidorigafuchi Park.
| | |
| --- | --- |
| | Walk 5 minutes |
19:00  Tokyo Metro Tozai Line, Hanzomon Line, Toei Shinjuku Line Kudanshita Station
Model course
Tokyo in spring
is displayed on a larger map
The red lines indicate trains and subways, blue lines are buses and cars, green lines are for walking, pink lines are for bicycles, purple lines are ships and water buses.