Main content starts here.
Course: Aqua Park Shinagawa >> Shinatatsu Ramen and Donburi (>> Togoshi Ginza, Hara Museum of Contemporary Art>>) Rainbow Bridge >> Odaiba (Madame Tussauds Tokyo, Gundam Front Tokyo)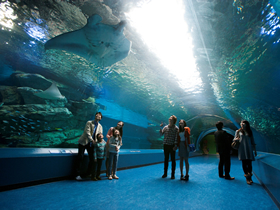 The course explores Shinagawa and Odaiba—two areas packed with fun spots for the entire family. Start at an aquarium with an underwater tunnel and a show by dolphins and sea lions. Then, have lunch at Shinatatsu which serves ramen noodles prepared by seven masters and donburi rice bowl dishes prepared by five masters. Finally, walk across Rainbow Bridge to Odaiba, where popular entertainment spots await both children and adults. All this promises a fun weekend!
10:00 JR Shinagawa Station Takanawa (West) Exit
| | |
| --- | --- |
| | Walk 2 minutes |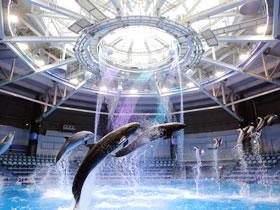 Aqua Park Shinagawa opened in July 2015 as the remodeled version of Epson Shinagawa Aqua Stadium, known as the pioneer of urban aquariums. Expanded to twice the original size, the interior space features new attractions such as the world's first fish tank operated by a touch panel, a jungle zone with the facility's first display of reptiles and freshwater fish, and a friendly square where visitors can play with sea lions and fur seals. The huge tunnel-shaped tank welcomes 16 new species of ray, offering the sight of manta and other rays swimming elegantly. At the end of the one-way route from entrance to exit waits a dynamic, breathtaking dolphin performance incorporating a water curtain and sound and lighting effects that change from day to night.
| | |
| --- | --- |
| | Walk 5 minutes |

toward JR Shinagawa Station
12:00 Shinatatsu Ramen and Donburi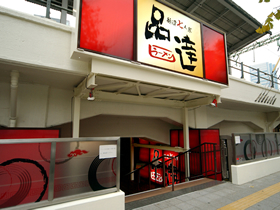 Shinatatsu, occupying a section under the elevated railway tracks of the Keikyu Line, is lined with shops serving ramen noodles and donburi rice bowl dishes. The seven masters of ramen come from shops popular in their hometowns across Japan. And the five masters of donburi serve variations of the rice bowl including Chinese, curry, and pork. Choose your favorite (or favorites), and enjoy the shops. A take-out menu is also available.
| | |
| --- | --- |
| | Walk 2 minutes |
13:00 JR Shinagawa Station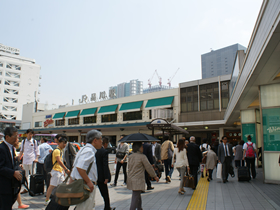 If time allows, other good spots to visit are the Hara Museum of Contemporary Art (15 minute walk from Shinagawa Station), which introduces the latest in the art scene, and the Togoshi Ginza Shopping District (12 minutes by train from Shinagawa Station), home to some 400 shops and attracting 10,000 visitors even on weekdays.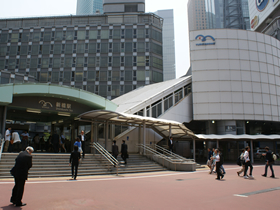 | | |
| --- | --- |
| | Train 26 minutes |

JR Yamanote Line (inner loop), and transfer at Shimbashi Station to Yurikamome (for Toyosu)
13:26 Yurikamome Shibaura-futo Station
| | |
| --- | --- |
| | Walk 5 minutes |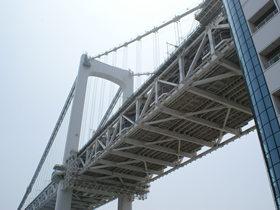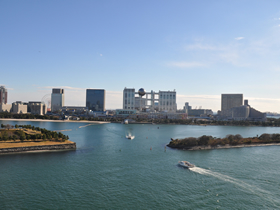 Rainbow Bridge isn't only for cars and trains. Pedestrians can also cross on the walkway which commands a view of Odaiba. Rental pedestals are available for users with a bicycle. Admission is free. The entrance on the Shibaura side is equipped with vending machines and displays a model of the Rainbow Bridge.
| | |
| --- | --- |
| | Walk 30 minutes |
14:01 Odaiba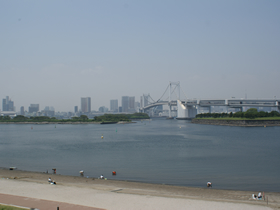 The exit on the Daiba side leads to the beach at Odaiba Seaside Park. Although swimming is not allowed, there is always a crowd of visitors walking, jogging, and playing in the water. Madame Tussauds Tokyo, displaying life-size wax figures of celebrities, is a 2-minute walk from Odaiba-kaihinkoen Station. Gundam Front Tokyo, offering an experience of the world of the popular anime Gundam, is a 5-minute walk from Daiba Station. (As of June 2014). Odaiba is full of entertainment spots for both children and adults. It's an ideal destination for the entire family.
| | |
| --- | --- |
| | Walk 5 minutes |
17:00 Yurikamome Daiba Station
Model course
Shinagawa–Odaiba
is displayed on a larger map
The red lines indicate trains and subways, blue lines are buses and cars, green lines are for walking, pink lines are for bicycles, purple lines are ships and water buses.