Main content starts here.
Course:
(Day 1, Day 6) Ogasawara-maru
(Day 2–Day 5) Futami Port >> Ogasawara Visitor Center >> Ogasawara Marine Center >> Minami-jima Island >> Futami Port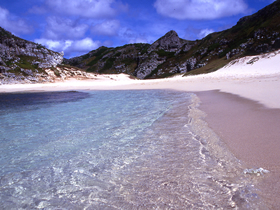 Photo by Ogasawara Village Tourism Bureau
The course introduces the attractions of the Ogasawara Islands listed as a natural World Heritage Site in 2011. The five-night, six-day trip (including two nights on board) uses the passenger ship Ogasawara-maru, which runs once every six days and is the only access to the archipelago. The course is ideal for anyone seeking to relax on a tropical island or enjoy physical activity in vast nature. Visits to the Ogasawara Islands generally center on the two inhabited islands: Chichijima and, south of it, Hahajima. This tour offers the experience of nature on Chichijima, served by Ogasawara-maru.
(Day 1) 10:00 Depart Takeshiba Pier, Tokyo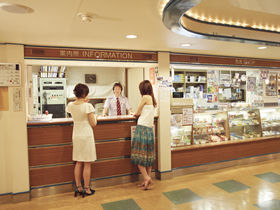 | | |
| --- | --- |
| | Ogasawara-maru 25 hours 30 minutes |

In clear weather, the journey offers the view of a scarlet sun setting in the Pacific and, after it turns pitch dark, a sky filled with twinkling stars. A range of facilities including a restaurant, a kiosk, a video library, and shower rooms is provided for your comfort.
(Day 2) 11:30 Arrival Futami Port, Chichijima Island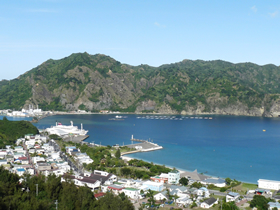 (Days 3–4) Chichijima Island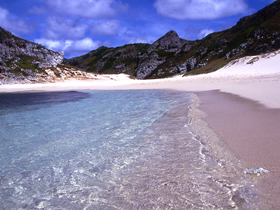 Dolphin swimming, whale watching, trekking through the forests and mountains home to precious flora and fauna… An array of tours is organized, so choose your favorite and experience the vast nature of Ogasawara. Between sessions of physical activity, there are also lessons in making accessories from screw pine leaves, a local craft since the pre-war period. Another joy is the local cuisine, from shima-zushi (a type of hand-pressed sushi) to dishes made with blacktip grouper.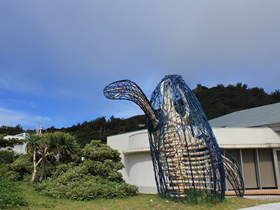 The Ogasawara Visitor Center introduces the history of Ogasawara since its birth as an oceanic archipelago, information on the beautiful sea, rare flora and fauna, and whales and dolphins, and programs on nature preservation and eco-tourism. The facility also organizes various exhibitions, lectures, workshops, and nature observation tours. (Events are not held every day. Please inquire for details.)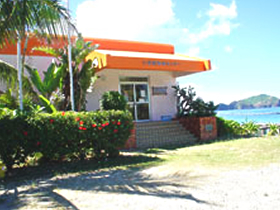 The Ogasawara Marine Center, run by the non-profit organization Everlasting Nature, conducts activities to breed, survey, and protect sea turtles and to survey humpback whales. The exhibit hall and sea turtle tanks are open to visitors. The facility also organizes programs that involve caring for sea turtles.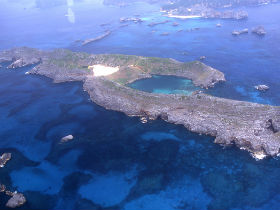 Minamijima is a small uninhabited island southwest of Chichijima. It features the beauty of a white sandy beach against the deep blue sea and a tunnel of odd-shaped rocks. The shores are home to various plants and a nesting site for female sea turtles. Although the islet is 20 minutes by motorboat from Futami Port, regular services are not available. Most trips are included in the dolphin swimming and whale watching tours. (For precautions on stepping ashore, please consult the tourist association.)
(Day 5) 14:00 Departure Futami Port, Chichijima Island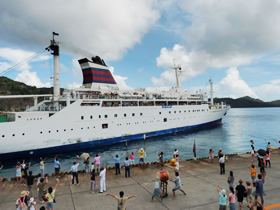 | | |
| --- | --- |
| | Ogasawara-maru 25 hours 30 minutes |
(Day 6) 15:30 Arrival Takeshiba Pier, Tokyo
Model course
Ogasawara Islands (5-night, 6-day course)
is displayed on a larger map
The red lines indicate trains and subways, blue lines are buses and cars, green lines are for walking, pink lines are for bicycles, purple lines are ships and water buses.