Main content starts here.
Course: Nezu Museum >> Meiji Jingu Gaien >> Japan Traditional Crafts Aoyama Square >> Rikugien Gardens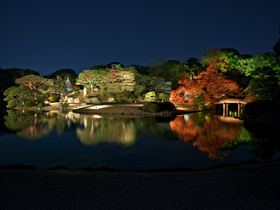 Autumn in Japan is the season to appreciate art, to read a good book, and to satisfy the appetite. Tokyo has many spots filled with the inspiring air of autumn, too. The route takes you to admire art at a museum, stroll a beautiful ginkgo-lined avenue, experience traditional Japanese culture, and gaze at illuminated scarlet and golden foliage—the perfect way to spend a balmy autumn day.
12:00 Tokyo Metro Ginza Line / Chiyoda Line / Hanzomon Line Omotesando Station Exit A5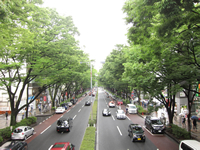 | | |
| --- | --- |
| | Walk 8 minutes |

Take a walk along Omotesando in the opposite direction of the upscale shopping area.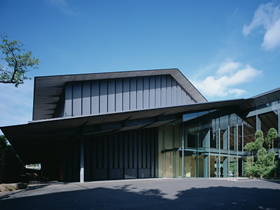 Nezu Museum preserves and exhibits antique art from Asia centering on Japan. It was founded in 1941 to display the private collection of the entrepreneur and president of Tobu Railway, Kaichiro Nezu (1860–1940). The museum houses some 7,400 works, including 7 designated as national treasures, 87 as important cultural properties, and 94 as art treasures. The main building, designed by Kengo Kuma, is inspired by Japanese architecture. After strolling in the 20,000-square-meter garden, dotted with teahouses, enjoy anew the seasonal view from the café overlooking the garden.
| | |
| --- | --- |
| | Walk 8 minutes |
13:30 Tokyo Metro Ginza Line Omotesando Station Exit A5
| | |
| --- | --- |
| | Train 3 minutes (for Asakusa) |
13:33 Tokyo Metro Ginza Line Aoyama-itchome Station Exit 1
| | |
| --- | --- |
| | Walk 3 minutes |
13:36 Meiji Jingu Gaien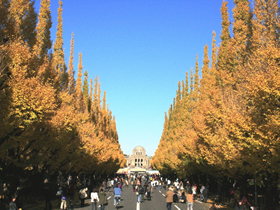 Meiji Jingu Gaien was founded to eternally commemorate the role of Emperor Meiji and his consort, Empress Shoken, in the Meiji Restoration (1868). The premises' symbolic Meiji Memorial Picture Gallery dedicates a 250-meter expanse of wall to displaying 80 murals depicting the culture and art of the period. Other attractions include sports facilities, like the Jingu Stadium, a golf driving range, and an ice-skating rink plus a park for children. The lush grounds offer a view of different vegetation each season, the autumn highlight being the 300-meter-long ginkgo-lined avenue leading back to Aoyama-dori Street. In mid-November, the Jingu Gaien Ginkgo Festival nearby attracts a lively crowd.
| | |
| --- | --- |
| | Walk 3 minutes |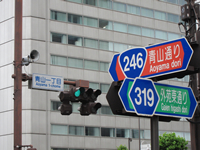 Cross the Aoyama-itchome intersection at Gaien Higashi-dori Street, and proceed straight down Aoyama-dori Street.

| | |
| --- | --- |
| | Walk 5 minutes |
14:35 Japan Traditional Crafts Aoyama Square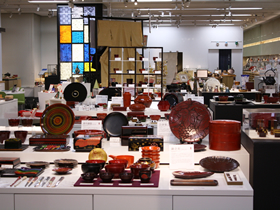 Aoyama Square houses and exhibits some 3,500 traditional handicraft works, collected from across Japan, including woven and dyed textiles, pottery and porcelain, lacquer work, washi paper, and wood and bamboo objects. Besides a permanent exhibition of these works, special exhibitions are organized every two weeks, and the Takumi (Master) Corner hosts weekly demonstrations and workshops by actual artisans. A variety of crafts are also for sale at the shop. Items related to food, clothing, and housing promise to add spice to your life and make the ideal gift for someone special.
| | |
| --- | --- |
| | Walk 5 minutes |
15:30  Tokyo Metro Ginza Line Aoyama-itchome Station Exit 4
| | |
| --- | --- |
| | Train 4 minutes (for Asakusa) |
15:34 Transfer at Tokyo Metro Ginza Line Tameike-sanno Station to Tokyo Metro Namboku Line
| | |
| --- | --- |
| | Train 17 minutes (for Akabane-iwabuchi) |
15:51 Tokyo Metro Namboku Line Komagome Station Exit 2
| | |
| --- | --- |
| | Walk 7 minutes |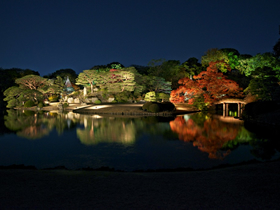 Rikugien is a classical stroll garden, which features an artificial pond and hills. It was built over a period of seven years on the land given by the fifth shogun Tokugawa Tsunayoshi to his retainer Yanagisawa Yoshiyasu in 1695. The landscape, comprising a strip of woodland encircling the huge pond with islands, is designed to replicate scenes of Kishu (present-day Wakayama), as depicted in the Japanese poetry anthologies Manyoshu and Kokin Wakashu, as well as from events in Chinese history. It also represents one of two great gardens of Edo-period Tokyo, along with Koishikawa Korakuen. In the autumn, hours are extended to present the illuminated autumn foliage to visitors. During this period, the teahouses Fukiage-chaya and Shinsen-tei offer refreshments along with a view of the gardens.
| | |
| --- | --- |
| | Walk 7 minutes |
19:00 Tokyo Metro Namboku Line / JR Yamanote Line Komagome Station
Model course
Tokyo in autumn
is displayed on a larger map
The red lines indicate trains and subways, blue lines are buses and cars, green lines are for walking, pink lines are for bicycles, purple lines are ships and water buses.