Main content starts here.
Course:Chuo-dori Street >> Maid cafés >> Yodobashi-Akiba
From JR Akihabara station, head towards the "Akiba-kei (Akihabara-style)" stores, lined up along Chuo-dori Street. Waitresses wearing maid uniforms are ready to welcome you in maid cafés, which originated here in Akihabara. Lastly, go shopping in Yodobashi-Akiba, where a wide variety of commodities, including the latest electronic gadgets, are available.
13:00 JR Akihabara Station
| | |
| --- | --- |
| | Walk 5 minutes |
13:05 Chuo-dori Street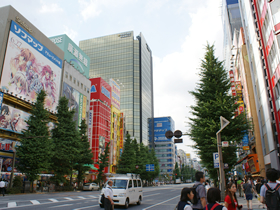 Chuo-dori Street is just by the Electronics District Exit of Akihabara Station. The street, which connects to Ueno in the north and Ginza in the south, is lined with specialty gaming stores, household appliances and computer stores, which are the so-called Akiba-kei (Akihabara-style) stores.
15:00 Maid cafés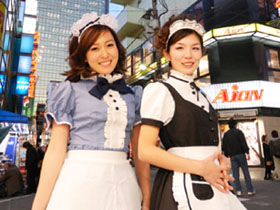 Back in 2001, maid cafés popped up in Akihabara, where waitresses in a maid's uniform welcome you into the café. The design and original menu varies depending on the establishment, plus they also hold collaborative events involving anime and gaming.
| | |
| --- | --- |
| | Walk 2 minutes |
17:00 Yodobashi-Akiba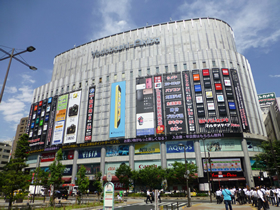 Yodobashi-Akiba is one of the largest shopping establishments in Japan. There are about 850,000 items on hand, including DLSR cameras, the latest electronic gadgets, figurines, toys, Japan-made and imported high-class wristwatches, branded bags, and cosmetics. With its tax-exemption services, acceptance of payment with a China UnionPay card, and stationed staff that can speak English, Chinese, and Korean, Yodobashi-Akiba is visited by various customers, regardless of nationality, age, and gender. Enjoy sushi, okonomiyaki (Japanese pancakes), and the like at the restaurant on the topmost floor.
| | |
| --- | --- |
| | Walk 2 minutes |
20:00 JR Akihabara Station
Model course
Akihabara
is displayed on a larger map
The red lines indicate trains and subways, blue lines are buses and cars, green lines are for walking, pink lines are for bicycles, purple lines are ships and water buses.