Main content starts here.
Updated: February 4, 2020
On March 18 in the year 628, two brothers discovered a small Buddhist statue while fishing on the Sumidagawa River. When they presented the statue to their lord, Haji-no-Nakatomo, he realized it was a statue of the bodhisattva Kannon. Haji-no-Nakatomo entered the priesthood, turned his mansion into a temple, and became devoutly religious.

This is the origin story of Sensoji Temple, and it's retold and celebrated through the Asakusa Kannon Jigen-e ritual.

Sensoji Temple's full honorific name is Kinryuzan Sensoji, "Kinryuzan" meaning "golden dragon mountain." This title was inspired by Kannon's manifestation as the golden dragon, a Buddhist protector who came down from heaven. This is why the Kinryu-no-Mai (Golden Dragon Dance) is performed in the temple precincts on the same day as this ritual.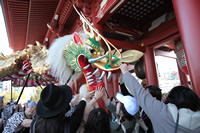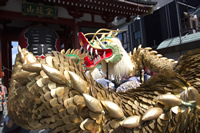 Opening Hours
For start and finish times, visit the official website.