Spend a day on the river with good food and good times
Sun and summer and barbeque by a beautiful river—is there anything better? Not much can beat the heat or offer a respite from summer like watching the water flow by with a cool river breeze as the smell of grilled meat and veggies takes over. Each BBQ area in Tokyo meets new coronavirus regulations so you can rest easy knowing that you and your family will be safe. Your stomach will be growling to visit these locations that offer great Tokyo riverside BBQ experiences. Here are three wonderful BBQ spots in Tokyo for you to enjoy barbeque while appreciating a river view.
Tips
Book in advance to ensure that you can BBQ on the day you'll be visiting
Bring sunscreen to make sure you don't get sunburned
Reserve a food package or bring your own cuts and veggies, if allowed
Be sure to clean up after yourself before leaving the grounds
BBQ at Shioiri Park is a Treat that Can't Be Beat
Explore a playground wonderful and verdant park as you eat some grilled goodies at outdoor BBQ in Tokyo. Shioiri Park was developed as a part of an urban development project in 2006. Located about 12 minutes waking from Minami-Senju Station, enjoy a day on the banks of Sumida River as you play on the massive grounds and structures, breathe in the fresh air provided by lush greenery, and escape the stress of Tokyo's urban center. This family-friendly park also lets pets enjoy in the fun, so long as they remain leashed and owners clean up after them. Parents of young children will also find the park has changing stations for ease.
Perhaps, best of all, you can enjoy barbeque at Shioiri Park. The park accepts online reservations for their BBQ area. Once you reserve a date online, you can bring your own food to grill and enjoy the luxury of a green riverside. After your meal, maybe enjoy a tennis match or two at the four tennis courts located inside the park. There are also many walking paths next to Sumida River for you to relax and stroll along. During summer, Shioiri Park also offers a great vantage point from where you can watch the Sumida Fireworks Festival. Enjoy a beautiful sunset from this park hugged by the Sumida River.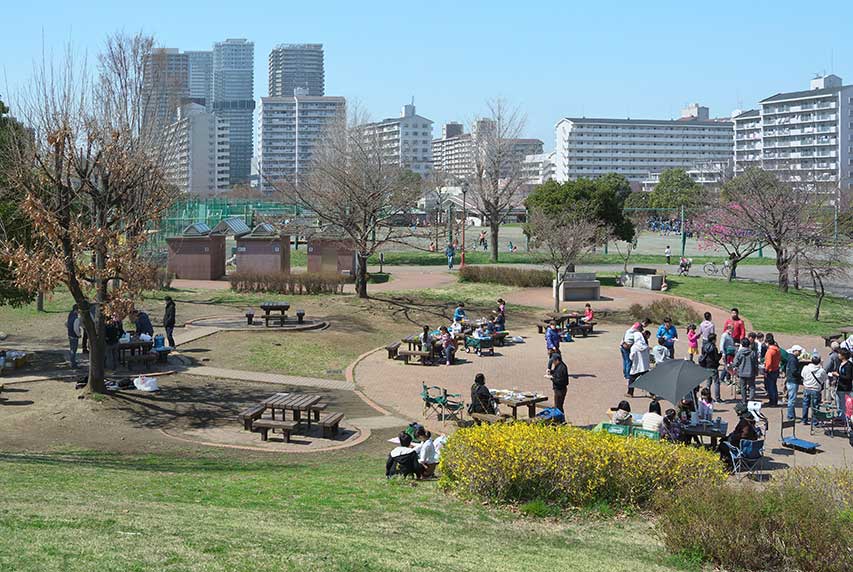 Enjoy Lunch or dinner at Koto Ward wakasu Park
Watch the water and waves while you eat some delicious BBQ at Koto Ward Wakasu Park; located on Wakasu Island where takes 15 minutes from Shinkiba Station by bus, the seaside park is on reclaimed land south of Shin-Kiba in Tokyo. Visitors can enjoy leisure activities such as camping, golf, sea fishing, and even bicycles for rent and plenty of cycling trails for you to enjoy. While on the island, fans of cats can watch the many friendly stray cats where they live near the rocky area at the tip of the park. There's so much to do at the park, and that's before you even make it to the BBQ park!
Spend a night or two camping at the park at one of their 117 camp sites for rent. And while you are enjoying the comfort of a tent and the beautiful sky, fire up the grill provided and barbeque your favorite cuts of meat and vegetables. If you try your hand at the rental fishing available on the park grounds, you could even grill your catch! With Japanese sea bass, sole, sardines, and anchovy in the waters, you will be amazed by the bounty of the sea. You can reserve your desired date up to three months in advance, so be sure to book early.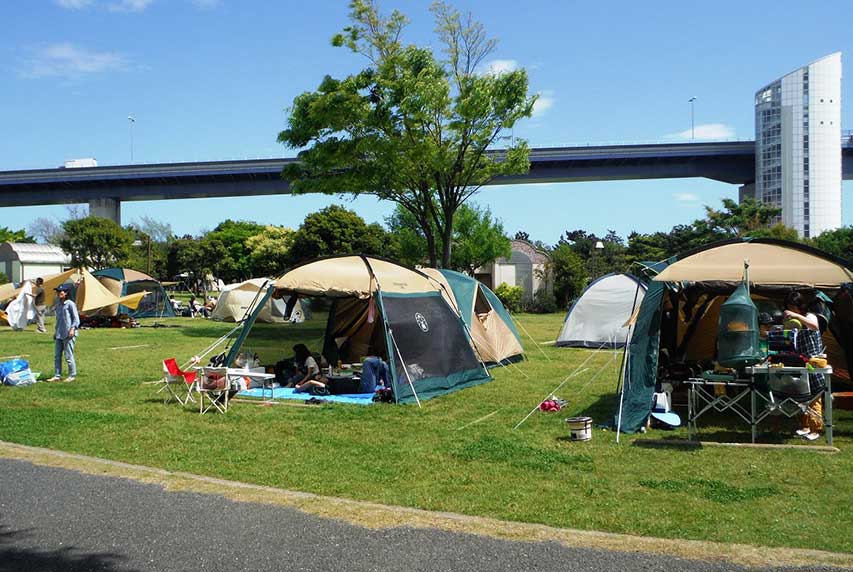 Spend a Day in the Embrace of Nature
Become forest royalty at Okutama River Terrace's glamping park. With a wooden deck beneath your feet and a canvas tent between you and the canopy of the trees surrounding the barbeque terrace, you might feel like you are on the set of a forest fantasy movie more than on the riverbank of Tama River. From between the thin tree trunks, you will be able to spot the river peeking out at you. Soak up the positive ions in the leafy green paradise beside the river. Enjoy a barbeque dinner that comes fully equipped with a cooler box, tableware, and even a coffee press.
After you have finished your prepared meal of grilled deliciousness, have a relaxing walk along the Tama River to a secret waterfall surrounded by mossy rocks. Or, if hiking isn't for you, why not just wile away the hours on a hammock under the shade of the trees while you listen to the wind and birds lull you to sleep. Reserve well in advance to make sure that you get to enjoy Okutama River Terrace's pre-prepared venison and steak lunch sets—all the courses of the meal will be ready for you to grill upon arrival. It's truly an experience to be remembered.