TOKYO with the Season
KAKIZOME - Calligraphy as a Custom to Welcome the New Year
The new year is for new beginnings and many firsts. From the first sunrise to the first calligraphy writing, people in Japan take great care when it comes to starting the new year. The first calligraphy of the year, or kakizome, means writing auspicious characters, either at home, or sometimes as a part of a kakizome contest.
New year, new beginnings, and new resolutions. In Japan, as the new year starts unfolding, the first actions you take have special meaning - first prayer (hatsumode), first sunrise (hatsuhinode), first sale (hatsuuri) and many more, among which is the custom of kakizome, or first calligraphy of the year. Usually reserved for January 2nd, kakizome is practised by drawing auspicious characters like 'dream', 'peace', 'happiness' etc. People usually exercise their calligraphy chops at home with their family, but for those preferring a challenge, there is Japan's annual new year kakizome (calligraphy) contest that takes place in Tokyo's Nippon Budokan (an indoor arena located in Chiyoda) and attracting people from all over Japan. Thousands of participants of all ages - starting from elementary school students - draw kanji with ink (sume) on paper in the allotted time, their every stroke assessed, while the whole contest is broadcast nationwide. Another way is to experience kakizome lessons and workshops. These courses can either be offered by a calligraphy school, a public event, or at calligraphy hobby groups and gatherings. Some of these are available in English as well.
TOKYO in this Month
- THINGS TO DO -
TOKYO MARATHON 2019: Connecting the City's Past, Present, And Future
On Sunday March 3rd, 2019, the famous Tokyo marathon will once again take place in the streets of Japan's capital. The 42 km (26 mile) run will serve not only as a true test of stamina but also as the qualifier for the Tokyo Olympics marathon.
The 2019 edition of the race celebrates 13 years of runners from all over the world, who are set to compete with each other against the backdrop of one of the most exciting cities on the planet. The marathon will start at the plaza in front of the Tokyo Metropolitan Government building in Shinjuku and finish on Gyoko-dori near Tokyo Station, taking the participants through parts of Tokyo which represent the city's past, present, and future. This will include the modern Shimbashi district and the historic Asakusa and Ryogoku areas. Some 10,000 volunteers will assist the runners and the roadside supporters will encourage them by holding up banners. Various kind of events such as MARATHON FESTA 2019, will be held during the Marathon.
However, while all the marathon participants are running, many streets will be closed to accommodate the runners, drivers are encouraged to find alternative routes to their destinations, and everyone else is advised to use trains and the subway to get around.
If you are not running but still want to be involved, you can donate to the Tokyo Marathon Charity, "Run with Heart."
TOKYO MARATHON https://www.marathon.tokyo/en/
Contact:press-tm@tokyo42195.org
MARATHON FESTA http://www.tokyo42195festa.tokyo/ (Japanese)
TOKYO in this Month
- THINGS TO DO -
Jindaiji Temple Daruma Doll Fair
Step aside, Spring arrival is celebrated by Jindaiji Temple Daruma doll fair! Whether traditional red or neon green, over 60,000 people visit the Jindaiji Temple every year to pick up a "daruma" to make their wishes come true.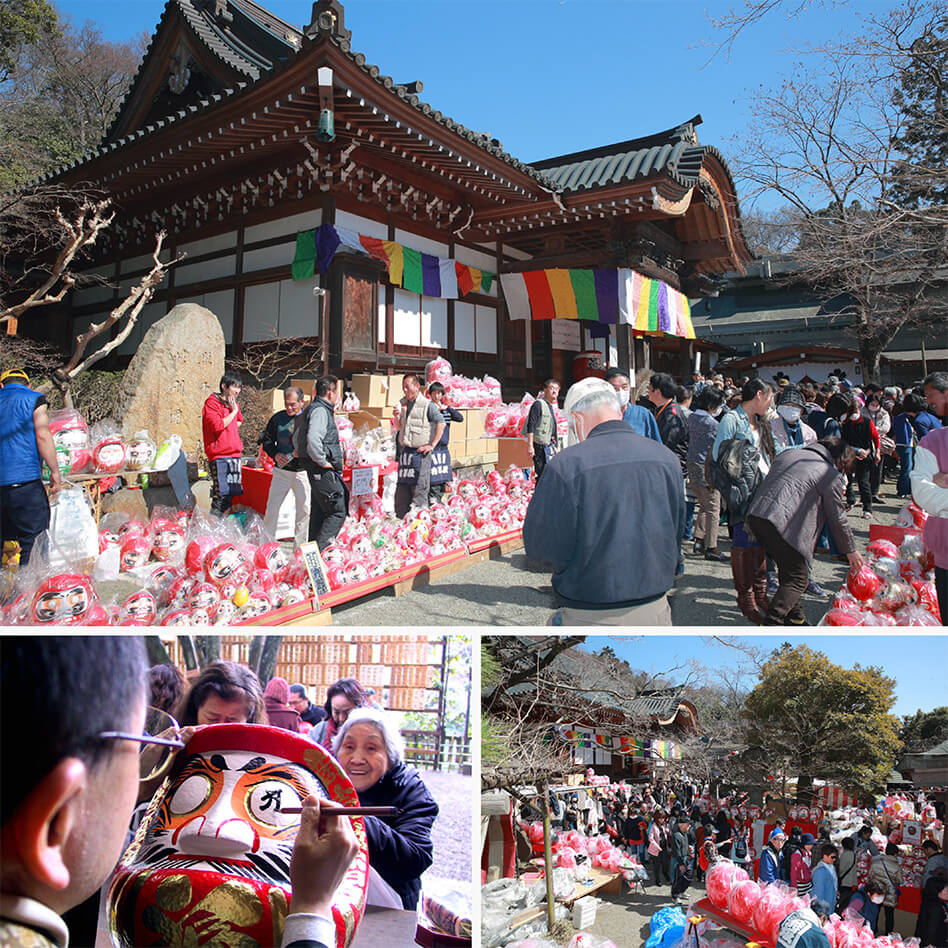 Jindaiji is a Buddhist temple of Tendai sect, founded in 733. The Jindaiji Temple Daruma Doll Fair is held on the 3rd and 4th of March every year, and is the biggest annual festival at Jindaiji Temple, not to mention one of the largest daruma markets in Japan. Modeled on the founder of Zen Buddhism, daruma dolls have long been a sign of good luck in Japanese culture, and nowadays are used by people of all ages to help make their wishes come true. To make a wish, one must fill in the left eye of the daruma (while making the wish), and when this wish comes true, fill in the right eye.
At the fair, visitors can take their daruma to the monks of the temple who, at scheduled times, hold "spiritual awakenings" or "eye-openings" in which they write special characters (Sanskrit characters) on the left eye of the new daruma. It is really rare custom that can be found here. For visitors whose wishes have already been fulfilled, the monks can also fill in the right eye for you, after which the daruma may be left in the temple to be ceremoniously burned. The festival boasts over 300 stalls selling daruma of all colors and sizes, so there is definitely a daruma for everyone. Aside from daruma, the festival also offers a variety of delicious food (Jindaiji Temple in particular is known for its soba noodles). Jindaiji Temple is located in Chofu, west of Tokyo.
https://www.jindaiji.or.jp/event/darumaichi.php (Japanese only)
TOKYO in this Month
- THINGS TO DO -
AnimeJapan 2019
As one of Japan's most recognizable cultural products, anime has a huge fan base along with several major events throughout the year like AnimeJapan. AnimeJapan 2019 will take place for the sixth time, on the weekend of March 23rd and 24th. AnimeJapan focuses primarily on anime fans and passionate independent artists, who can apply to set up a booth at the event and sell their art.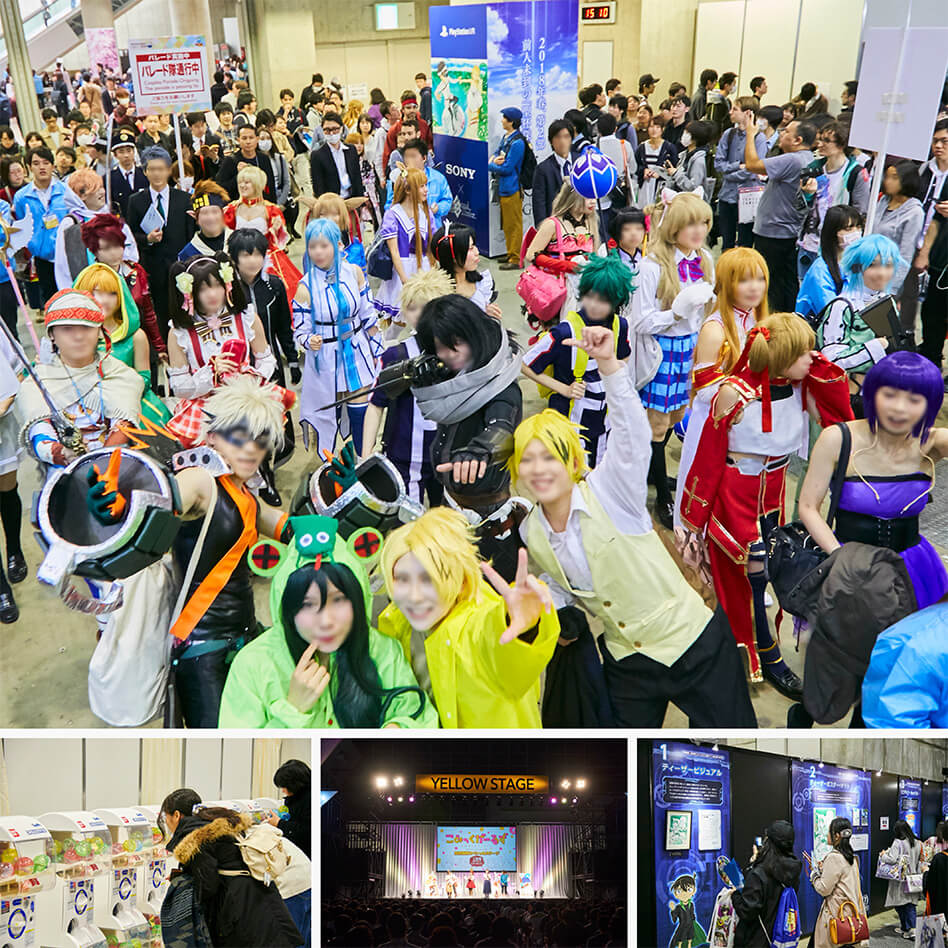 As one of Japan's most recognizable cultural products, anime has a huge fan base along with several big major events throughout the year where they come together. The next important anime event in Tokyo is AnimeJapan 2019, on the weekend of March 23rd and 24th, taking place for the sixth time. The halls of Tokyo Big Sight will be bustling with visitors, many cosplaying their favorite anime character. AnimeJapan focuses primarily on anime fans and passionate independent artists, who can apply to set up a booth at the event and sell their art. Companies involved in the anime industry can be found joining in as well.
AnimeJapan 2019 is separated into three areas: the Exhibition Area, the Business Area and the Family Anime Festa Area, each offering a different atmosphere. The Exhibition Area is the host to the central event, whereas the Family Anime Festa, as the name suggests, has content that's aimed more suited to children. The Business Area is active two days after the event, and is a unique opportunity to pick the brains of professionals from the animation industry.
Contact: press@anime-japan.jp
TOKYO in this Month
- THINGS TO DO -
Mt. Takao Fire-Walking Festival
March usually marks the last of the truly cold season in Tokyo, and what better way to welcome the warmer weather than with a little fire? Tokyoites and thrill-seekers far and wide venture out to Mt. Takao to bask in the hot glory of the Mt. Takao Fire-Walking Festival.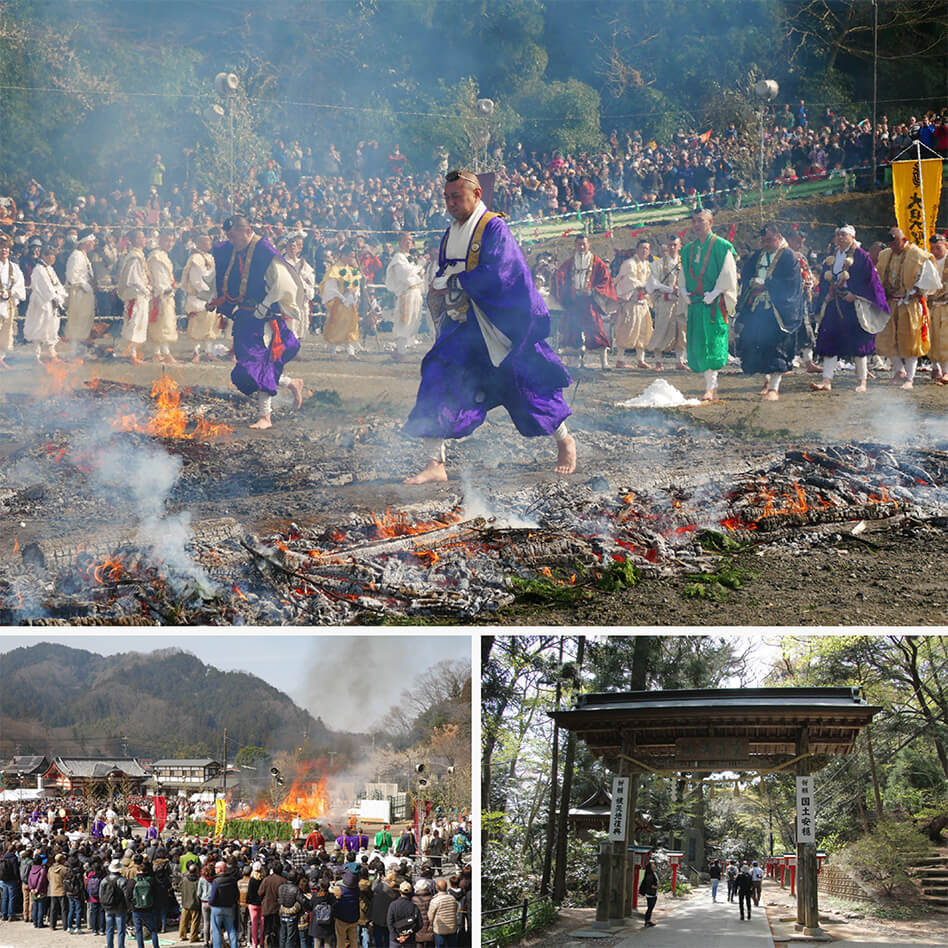 Every year on the second Sunday of March, followers of the Shugendō religion, known as "Yamabushi", gather at the Takaosan Yakuoin Temple to join in the Mt. Takao Fire-Walking Festival. As the name suggests, the festival takes place on Mt. Takao, a beautiful mountain on the outskirts of Tokyo, and involves walking across a literal fire. At the festival, the Yamabushi light an enormous sacred bonfire as part of a ceremony to cleanse themselves of evil spirits.
The flames are said to purify those who feel their heat, and, when they die down, the Yamabushi walk barefoot across the smoldering embers. After the Yamabushi have crossed, festival goers are invited to follow them across the embers to pray for health, protection from disasters, and safety for their families. This festival attracts thousands of visitors every year, many of whom step up to the challenge of the fire-walk. However, the Yamabushi claim that simply feeling the heat of the flames can have the same purifying effect, so the festival is perfect for all types of travelers. Aside from the fire-walk itself, the Mt. Takao Fire-Walking Festival also offers a number of other traditional rituals, and a variety of delicious festival food.
TOKYO in this Month
- THINGS TO DO -
Find your Green Tokyo!
Give more green spaces to the urban jungle and you might just end up within a utopia. Despite its enormous size and population, Tokyo is doing well when it comes to green spaces. To make access to these green spaces easily, "Find your Green Tokyo" guide has been released.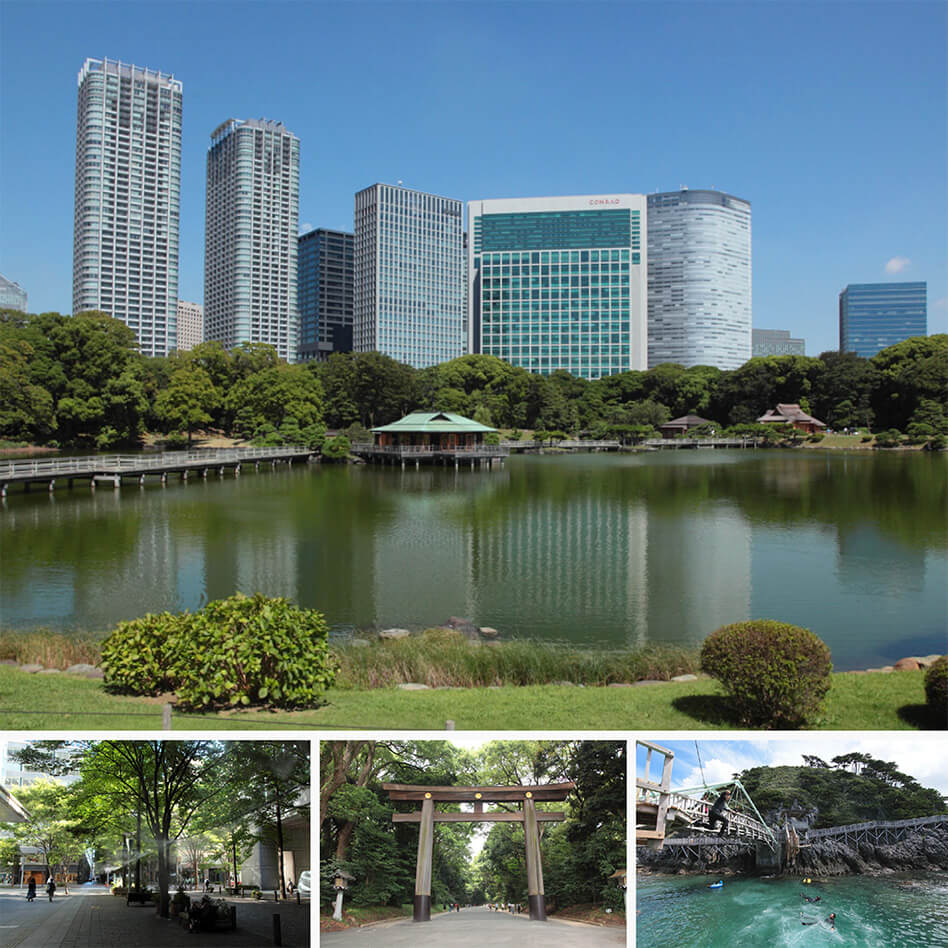 Hama-rikyu Gardens
Marunouchi / Meiji Jingu Shrine / Kozushima Island
Give more green spaces to the urban jungle and you just might end up within a utopia. Despite its enormous size, population and notorious lack of space, Tokyo is doing well when it comes to green spaces. Traditional Japanese gardens, and shrine and temple grounds are one big source of greenery spread all across the city.
"Find your Green Tokyo" lists them under 'old green' and includes places like Meiji Jingu Shrine forest, The Imperial Palace East Garden, Hama-rikyu Gardens and many more. Then there are public parks, both big and small, like Hibiya Park and Otemachi Forest, many of them listed under 'new green'. And literally on top of that all are the many rooftop gardens, making an excellent use of the space, for instance on top of GINZA SIX, Ginza Mitsukoshi and Ginza Tokyu Plaza. You can also help - if you find a great green spot in Tokyo, post it online and add the hashtag #greentokyo.
https://www.asahi.com/ads/fygt/en/
Contact: solution-design@asahi.com
TOKYO in this Month
- THINGS TO DO -
Hinamatsuri - Dolls, Sweets and All Things Girly
Every March, Japanese girls and their mothers venture into the depths of their closets and emerge with boxes of red carpet, ornaments, and, most importantly, dolls. Whether porcelain or plastic, these beautiful dolls can only mean one thing - Hinamatsuri (Girls' Day) has arrived.
Hinamatsuri, also known as Doll's Day, takes place on March 3rd every year, and is essentially a holiday to celebrate and pray for the health and happiness of girls. During this festival, Japanese mothers and daughters decorate their homes with sets of ornamental dolls known as hinaningyo. These dolls usually represent a wedding scene from the Heian period (794 - 1185), with the two most intricate dolls atop the display representing the Emperor and Empress.
In Tokyo, there are many ways to celebrate Hinamatsuri. On February 25th at the Sumida River, "The Edo Nagashibina (doll floating) Ceremony" is held. In this ceremony, which is said to take away misfortunes, participants make dolls out of paper and send them down the river in straw boats. At the Tokyo Daijingu Shrine, visitors can participate in "Hinamatsuri no Harae" (purification ritual) and write their prayers and wishes on paper dolls. For a more modern Hinamatsuri experience, the Keio Plaza Hotel Tokyo offers special Hinamatsuri lunch menus at nine of its restaurants. The hotel also offers an impressive exhibition featuring many intricate dolls and ornaments. Hotel Gajoen Tokyo is also holding Hina Doll Festival in Hyakudan Kaidan (historical 100 step building).
Hinamatsuri-themed sweets and traditional snacks such as hina-arare (a type of rice cracker) can be found everywhere in Tokyo.
Edo Nagashibina http://hina-ko.jp/sumida/index.html (Japanese only)
Tokyo Daijingu http://www.tokyodaijingu.or.jp/saiten/index.html#03 (Japanese only)
Keio Plaza Hotel Tokyo


https://www.keioplaza.com/offers/index.html#offers_01
Hotel Gajoen Tokyo


https://www.hotelgajoen-tokyo.com/event (Japanese)
Editor's Pick
A Comprehensive Guide To Hanami
It sometimes feels like hanami, the famous Japanese custom of flower viewing, doesn't need to be explained further. Many people around the world already know that, the people of Japan gather around to view and celebrate their colorful cherry trees in bloom between late March and early April.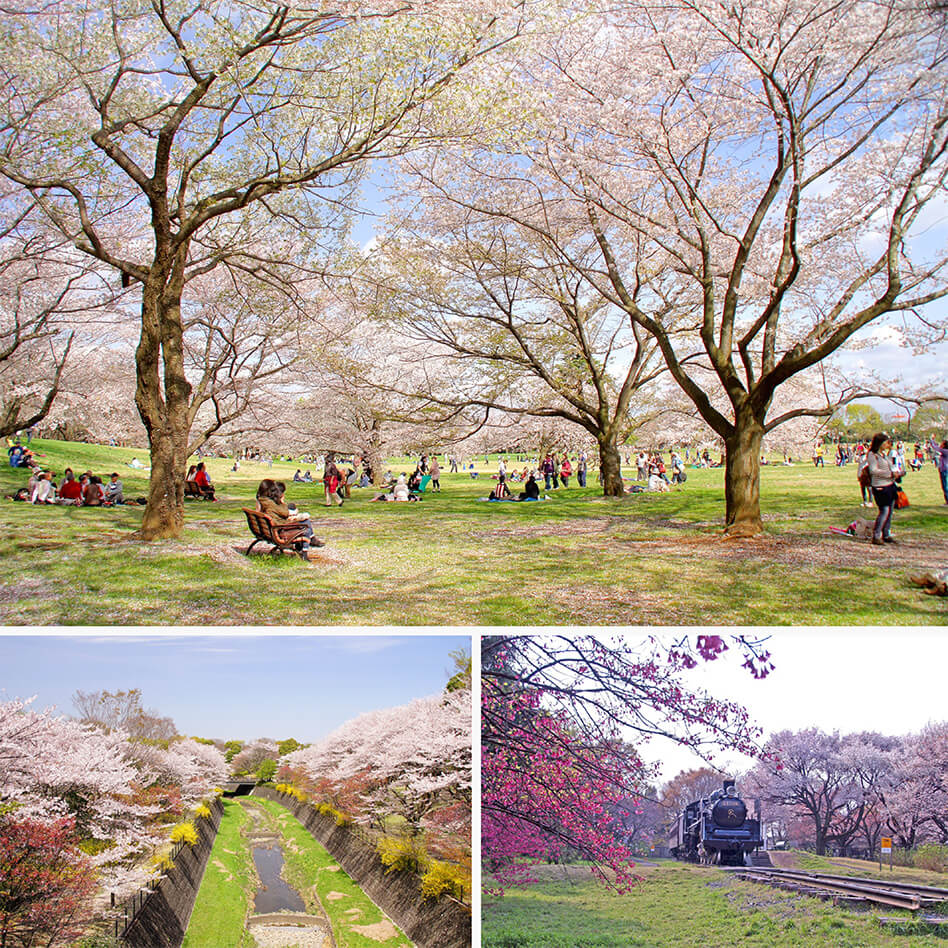 If, however, you're about to experience your first hanami in 2019, here are a few rules to keep in mind. First: do not touch the trees, do not pluck the blossoms, and above all don't break off any branches to take home as a souvenir. Second: Japanese flower viewings mean a lot of people gathering at popular hanami spots, so if you're sitting down on a tarp or a blanket, make sure to not take up too much space and not leave any trash behind. Finally, although hanami is also synonymous with drinking in Japan, remember to not overdo it and to keep quiet.
But where should you go for the ultimate hanami experience in Tokyo? Some of the most popular places include Ueno Park, which is probably the most famous hanami destination in Tokyo. But, this kind of famous sakura viewing spots are very crowded. There are less crowded hanami spots in Tokyo. Showa Memorial Park, Koganei Park - where every year entire families enjoy the blooming of over 2,000 cherry trees - making it perfect for a family outing. Sarue Onshi Park in Koto is a real secret place for Hanami. Even the TOKYO SKYTREE® with Sakura can be seen in the distance from this park.
Showa Memorial Park https://tokyo--trip.blogspot.com/2017/04/showamemorialpark.html
Koganei Park https://www.gotokyo.org/en/spot/422/
Sarue Onshi Park https://livejapan.com/en/article-a0000949/
MOVIE of this Month
Umeno Nakamura
Blurring Boundaries
New Type of Kabuki Actor
Umeno Nakamura is an extraordinary Kabuki actor who, after years of practice, is now boldly introducing fellow Tokyoites and people from around the globe to Japanese Kabuki Theatre. This art form is over four centuries old and has been passed down for generations, actors receiving training in family since a very young age. But since 1970 there has been one more way in: the Kabuki training programs at the National Theatre in Miyakezaka, Tokyo and Umeno is one of the graduates. Blurring boundaries related to one's training or the types of roles a Kabuki actors plays, as Umeno plays both male and female roles, he has been building his Kabuki career with immense passion.
National Theatre: https://www.ntj.jac.go.jp/english.html
Photo Download: Images can be downloaded here. All images are available for use in printed, online, and other distributed media.
Press Release: Click on the "PRESS RELEASE" button to access the original press release. * Note that Japanese press releases are included.