TOKYO with the Season
Autumn Foliage Illumination in Tokyo
In autumn, natural green spaces all across Japan are ablaze with colors and people go on trips to admire them, a long-established practice called "momiji-gari". In Tokyo, a place where traditions and modernity go hand in hand, some gardens or autumn leaves viewing spots are also illuminated at night.
In autumn, trees all across Japan are splashed in all the shades of red and yellow, and just like the springtime's cherry blossoms, they are a sight to behold. The practice of admiring autumn foliage, called momiji-gari, has originated among the aristocracy in the Heian period (794-1185), but today it is a beloved pastime for people of all walks of life. True to Tokyo's spirit of blending traditions and modernity, popular autumn leaves viewing spots are also illuminated at night. This gives another dimension to the beauty, as the leaves shine against the dark night backdrop.
TOKYO in this Month
- THINGS TO DO -
Dreaming Under the Stars - Konica Minolta Planetaria TOKYO
In Yurakucho Mullion, the Konica Minolta Planetaria TOKYO will have its grand opening in mid-December. The heavens have inspired adventurers and artists throughout human history, and this exhibit intends to capture that magic by immersing guests in high-resolution visuals of the stellar night sky accompanied by the poetic melodies.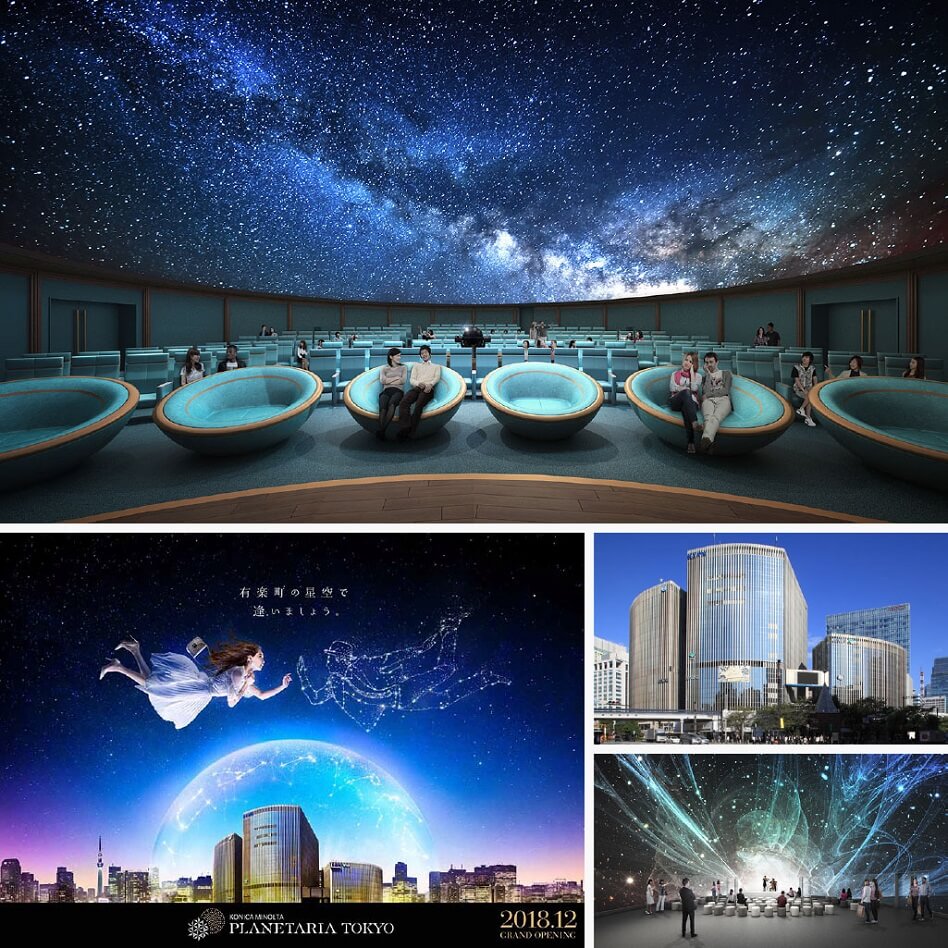 In 1938, Yurakucho opened Tokyo's first planetarium, and now Konica Minolta, one of the world's leading planetarium equipment manufacturers, is pleased to rekindle the spectacular night sky with Japan's first twin-dome planetarium and multipurpose dome theater. In a city where the stars can rarely be appreciated outdoors, the goal of this work is to reignite the wonder and fascination that people once felt when they gazed up at the shimmering night sky. As Japan's first twin-dome complex, Konica Minolta Planetaria TOKYO can offer a variety of entertainment in each dome with the help of their 8K-capable projectors. The multipurpose digital dome theater is set to incorporate VR, live music performances, and interactive entertainment content into its immersive visual experience.
For its grand opening in mid-December, Konica Minolta Planetaria TOKYO has teamed up with DREAMS COME TRUE, an iconic Japanese pop band with nearly 30 years of experience generating hit pop songs. Vocalist Miwa Yoshida and bassist/arranger/programmer Masato Nakamura made their debut in 1989, and from there they went on to sell millions of records over their long career. Starting winter of 2018-2019, you can experience their inspirational music alongside the spectacular visual art from the latest projection and 3D sound technology presented by Konica Minolta Planetaria TOKYO.
Contact: konicaminolta-pr@kyodo-pr.co.jp
https://planetarium.konicaminolta.jp/planetariatokyo/ (Japanese)
TOKYO in this Month
- THINGS TO DO -
Experience The Long Tradition Of The Japanese "Long Song" On Shamisen
Between late October 2018 and mid-February 2019, Arts Council Tokyo will host a series of Shamisen and Nagauta workshops for all those interested in traditional Japanese music. Arts Council Tokyo (Tokyo Metropolitan Foundation for History and Culture), implement various cultural programs throughout the year.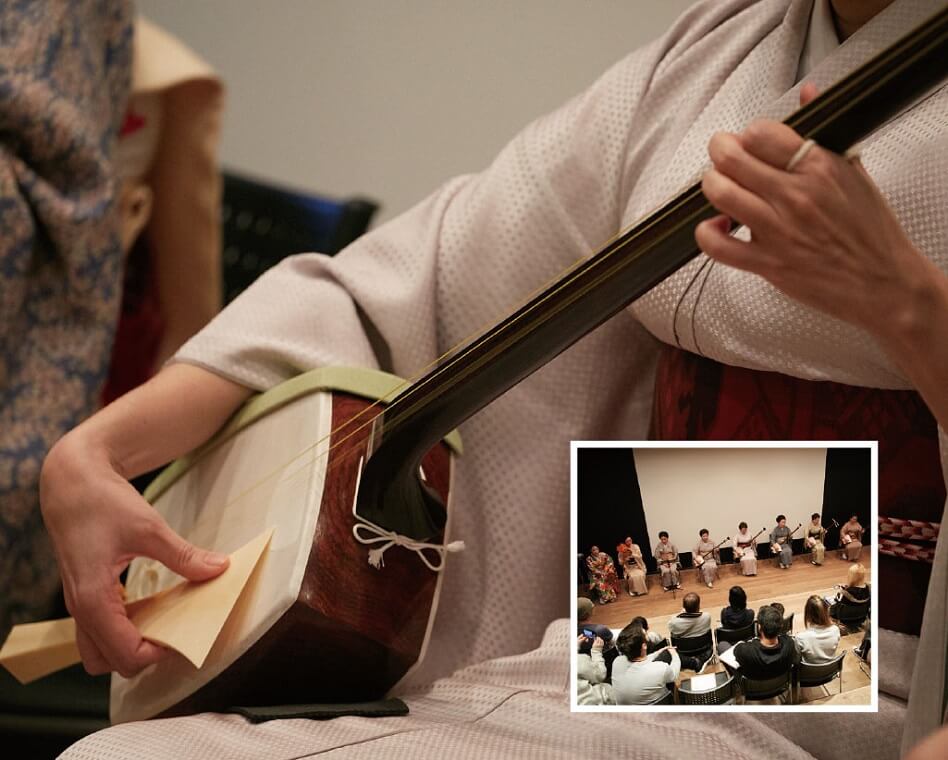 The shamisen (also known as sangen) is a Japanese three-stringed instrument used in everything from theater plays to street music. The old folk-based music played on it has historically been known as "Nagauta,"" or "long song" originating from the year 1740. Besides the shamisen, the musical performance can also involve drums, which is just one thing you'll learn during the workshop presented by professional shamisen and nagauta players. The course organizers say the teachers explain the traditional instrument and music in a way that even total novices won't have trouble understanding. And best of all, the workshop is completely free!
The course will take place on October 21st, November 18th, December 16th, January 20th, and February 17th at the 6th floor of the Asakusa Culture Tourist Information Center. Multiple courses of 60 minutes each will be held on the designated days between the hours of 11:30 AM, 1:20PM and 3:10PM. For more details and reservations, please visit the course's official site.
Contact: artscouncil@vectorinc.cojp
TOKYO in this Month
- THINGS TO DO -
The Delicious Art of Hokusai
The Sumida Hokusai Museum is planning a special exhibition of food-related works by the renowned Japanese artist Hokusai and members of his school. Titled "Hokusai and Gourmets of the great Edo," the exhibition will be held between November 20th, 2018 and January 20th, 2019.
Widely considered one of the greatest artists in Japanese history, Hokusai (1760 – 1849) is best known as a painter of ukiyo-e: a genre of woodblock prints that primarily focused on urban culture and city dwellers. Most people are probably familiar with Hokusai's famous "The Great Wave off Kanagawa" (Under the Wave off Kanagawa, from the series Thirty-six View of Mount Fuji ) ukiyo-e, but the artist has also tried his hand at more commercial forms of art.
During the height of the Edo period (1603 - 1868), the city of Edo (modern Tokyo) flourished, allowing its denizens to enjoy all sorts of food which were before unavailable to them. This new culture of fine dining eventually made its way to the world of ukiyo-e, which aimed to capture the authentic urban experience. Some ukiyo-e were also depicting food, and not just the gourmet kind. Fast food, cheap sweets and various food ingredients were also the subjects of old Japanese woodblock prints, and they, together with more food-related art, will be on display at the Sumida Hokusai Museum.
Check it out and marvel at the centuries-old roots of Japan's food culture.
Contact: Megumi Ogawa hm-pr@hokusai-museum.jp
http://hokusai-museum.jp/modules/Exhibition/exhibitions/view/587?lang=en
TOKYO in this Month
- THINGS TO DO -
GIRLS' STATIONERY FAIR 2018: A World of Kawaii
Japan loves cute things and stationery, so when it combines both the results are super creative! Among stationery shops and cafes you can visit, there's now also bungu-joshi haku 2018 (Tokyo Girls Stationery Fair 2018), scheduled to take place in the middle of December.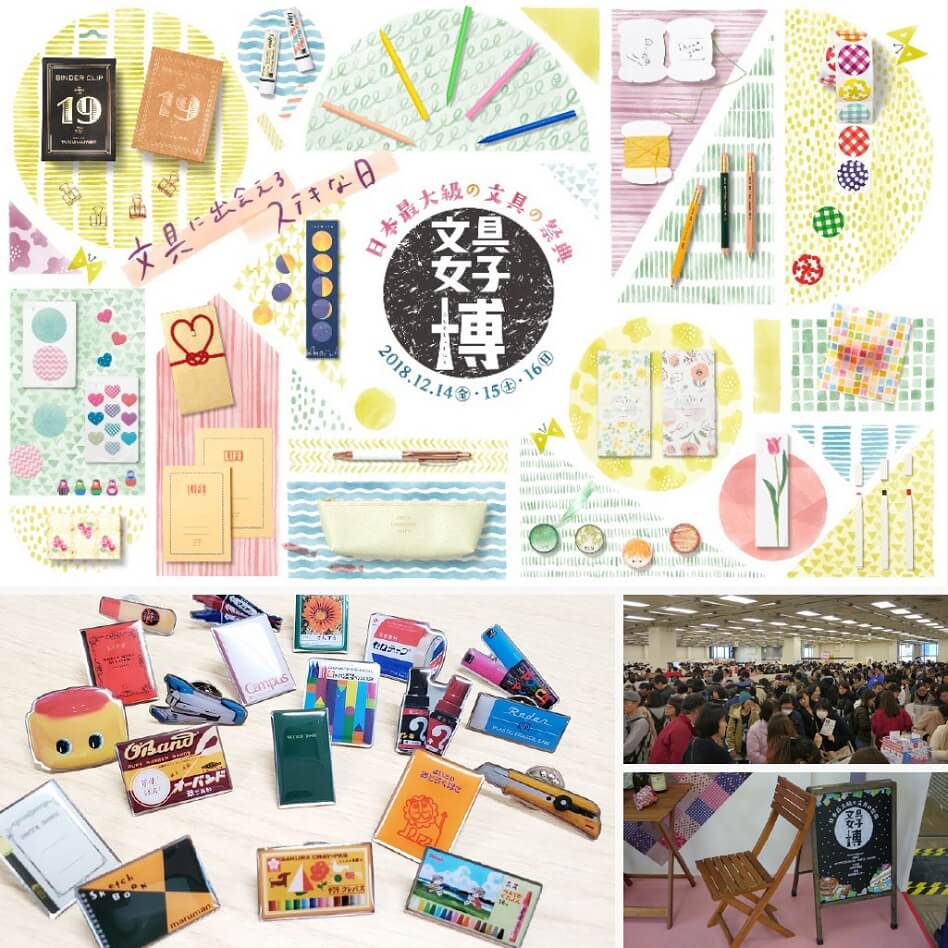 Shopping for stationery can be fun, especially in Japan as it is well-known for its variety of cute and inventive memos, pens, paperclips and much much more. You can wander through the many, large stationery shops in Tokyo, go to a stationery themed cafe, and now you can even go to Bungu-Joshi Haku 2018 (Tokyo Girl's Stationery Fair 2018)! This event debuted in 2017 and in 2018 it will be held from December 14th to 16th in the Tokyo Ryutsu Center. When you visit, expect to find unique washi masking tape designs, intricately decorated greeting cards, funny sticky notes and even more things you never knew you needed until you see them!
Contact: bungujoshi@nippan.co.jp
https://bungujoshi.com/ (Japanese)
TOKYO in this Month
- EATING OUT -
The Restaurant Bus Is Coming To Tokyo
Since 2016, WILLER, Inc.'s restaurant bus has been travelling across Japan, providing an exciting fusion of sightseeing and gourmet food. And now, starting on October 5th, it will also begin operating in Tokyo.
The concept behind the restaurant bus is simple. The double-decker eatery on wheels hosts a kitchen on the lower deck, with the upper deck being occupied by tables and chairs for up to 25 happy patrons to enjoy a fine meal and all the best tourism spots that the city they're in has to offer. In Tokyo, this promises to be an unforgettable sightseeing experience, additionally made better by the local ingredients used in the dishes.
The theme of the restaurant bus is "matsuri," or Japanese festivals, and its target customers are foreign visitors to Japan's capital wanting to experience the best of cuisine. The restaurant bus will offer two courses: lunch and dinner. The lunch course will cost between 7,800 and 9,800 yen, and operate between noon and 2:30 PM. The dinner course runs from 6 PM to 9 PM, and costs between 10,800 and 12,800 yen. Both delicious itineraries will start at Tokyo Midtown Hibiya and consist of such dishes as roast beef starter, salad, cauliflower potage, a meat dish, and much more.
Contact: koho@willwe.co.jp
TOKYO in this Month
- TRAVEL TIPS -
What To Do With Your Bags While Visiting Tokyo
One of the biggest challenges of traveling through Tokyo is dealing with your heavy suitcases and backpacks. For all those hoping to move around the capital unencumbered, here are some affordable options to consider.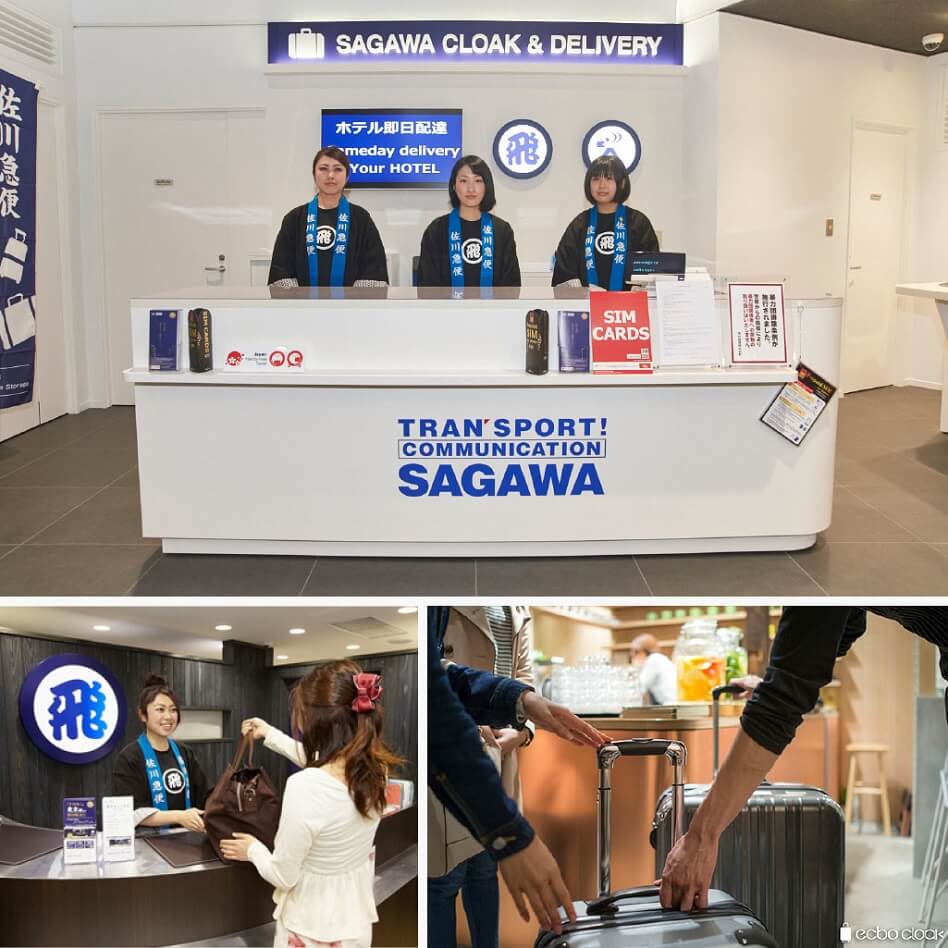 ecbo cloak
What if you could leave your baggage in a safe space and get a coffee at the same time? That's what ecbo cloak is here for. The system allows you to select a convenient location near you, like a café or a shop, and then leave your belongings with the staff. The service costs 300 yen per bag or 600 yen per suitcase.
https://cloak.ecbo.io/en
Temporary Baggage Storage Service
Sagawa Express' Temporary Baggage Storage Service (TBSS) is perfect for groups or people with large suitcases because their storage spaces are able to accommodate dozens of bags at once or individual bags up to 200 cm (6.5 feet) in height. There are currently four TBSS locations in Tokyo, with prices ranging from 500 to 800 yen per item.
http://www.sagawa-exp.co.jp/ttk/english/
Train Station Coin Lockers
The most popular choice for foreign tourists with heavy bags, the lockers found at major Japanese train stations can be a godsend but be careful because there are actually two types of lockers: Ones that take physical coins and ones that only accept IC cards. The latter are operated from an LCD screen in the middle of the lockers and, thankfully, usually have an English menu option.
Editor's Pick
CHRISTMAS With a Japanese Twist
Christmas is beloved in Japan too, not religiously, but by capturing the Christmas magic and embracing the festive staples like Christmas trees, cards, presents, Christmas lights and so on. The whole city of Tokyo is decorated with illumination displays!
Despite only about 2% of the Japanese population being Christian, Christmas is widely enjoyed in Japan, albeit in a less traditional way. Though it's a quieter family affair in the West, Christmas in Japan is more of a night-out or an occasion for a romantic date. Moreover, due to some popular stories and successful marketing, believe it or not, a Christmas cake and fried chicken are the most popular Christmas foods in Japan! Differences aside, Japan has embraced all the festive staples like Christmas trees, cards, presents, illumination and so on. Especially in Tokyo, the Christmas magic is brought to life every time with outdoor ice-skating rinks, Christmas markets and vast and creative illuminations. While every neighbourhood spends significant effort on decorating, some of the crowd's ultimate favorites are Roppongi Hills, Marunouch Area, Tokyo Midtown and Meguro River illuminations.
Christmas Lights in Tokyo
Tokyo Station and the Marunouchi Area http://www.marunouchi.com/event/detail/3182 (Japanese)
Roppongi Hills https://www.mori.co.jp/img/article/180919_1.pdf (Japanese)
Tokyo MIDTOWN http://www.tokyo-midtown.com/jp/event/4252/ (Japanese)
Odaiba https://www.odaiba-decks.com/en/
Shinjuku https://prtimes.jp/main/html/rd/p/000000138.000017557.html (Japanese)
MOVIE of this Month
ARCHITECTURE AS ART
Seeing the City Inside Out
Tokyo's modern architecture cityscapes are like nowhere else. Due to unique circumstances, this metropolis is home to outstanding examples of experimental architecture. As Tokyo has so much to offer, it has several walking tours, as well as special custom-designed tours by demand. The Tokyo Architecture Tours by Showcase Tokyo are led by licensed professionals who are also architecture enthusiasts.
Tokyo's modern architecture cityscapes are like nowhere else. Due to unique circumstances, this metropolis is home to outstanding examples of experimental architecture. However, some of them are small and hard to find, some require knowing their backstory to appreciate them, and some are residential and hence, off limits to visitors. This is where professional architecture tours, like the ones by Showcase Tokyo, come in. This time, Showcase Tokyo lead us inside one of the capsules of the retro-futuristic Nakagin Capsule Tower Building, while Mr. Maeda from Nakagin Capsule Tower Preservation Project explained the significance of this building in particular and the challenges and problems it faces today. Peek inside the capsule, and peek behind what modern architecture means for Tokyo today.
Contact: info@showcase-tokyo.com
Photo Download: Images can be downloaded here. All images are available for use in printed, online, and other distributed media.
Press Release: Click on the "PRESS RELEASE" button to access the original press release. * Note that Japanese press releases are included.