Special Feature:

Tokyo's sustainable town causing a stir: WATERS takeshiba Subscribe Download
Enter the wizarding world of Harry Potter in Tokyo!
June 16, 2023

Northern Tokyo

Entertainment facility

On June 16, Warner Bros. Studio Tour Tokyo – The Making of Harry Potter opens in Tokyo as Asia's very first Warner Bros. Studio Tour. Walk through this entertainment site and venture behind the scenes to experience firsthand how the world-famous series of Harry Potter and the Fantastic Beasts were made. In this massive facility, breathtaking movie sets like Hogwarts School of Witchcraft and Wizardry are displayed so, for a magical moment, you can lose yourself in these fantasy worlds. Advance reservations are required for admission, and online sales have already begun.

'Wizarding World' and all related names, characters and indicia are trademarks of and © Warner Bros. Entertainment Inc. Wizarding World publishing rights © J.K. Rowling.
Shinjuku's new landmark is born
April 14, 2023

Shinjuku

Entertainment facility

The Shinjuku neighborhood of Kabukicho is one of Tokyo's liveliest entertainment districts, and on April 14 an amusement complex of the grandest scale opened here, the Tokyu Kabukicho Tower. The towering high-rise multi-use complex rises from five floors underground to 48 floors aboveground. Within these walls are two hotels with different categories of luxury and lifestyle (open May 19), restaurants, movie theaters, stage theaters, concert halls, and more. The underground nightlife zone, ZERO TOKYO, will welcome artists from Japan and abroad, creating a space to feel new sensations from a fusion of music, DJ's, amazing interiors, and live performance.
International brand Bulgari opens a hotel in Tokyo
April 4, 2023

Tokyo Station & around

Accommodation

On April 4, the Bulgari Hotel Tokyo opened in the Yaesu neighborhood near Tokyo Station. The world's 8th Bulgari hotel occupies the 40th to 45th floors of the Tokyo Midtown Yaesu skyscraper complex. The enviable location offers a sweeping view of the heart of the city, within walking distance of the Imperial Palace, Nihonbashi, Ginza, and other famous spots. With a sushi restaurant under the eye of a 3-Michelin-star chef, as well as a spa of polished refinement, all that you desire for the ultimate wellbeing retreat is right here.
Flowers and National Treasures in harmony at this special exhibition
April 15 to May 14, 2023

Even after the sakura (cherry blossom) petals have floated away, various flowers emerge throughout Tokyo in April and May. For a limited time only, one museum offers the chance to see beautiful blossoms blooming alongside national treasures. The Nezu Museum exhibits a variety of antique art collections from Japan and the East. The chic interior of the renovated building in Minami Aoyama designed by Kengo Kuma in 2009 is an ideal space to contemplate fine arts. The main attraction right now are the "Irises Screen" painted by Ogata Korin (1658-1716). These designated National Treasures are only displayed each year from mid-April to mid-May when irises bloom. After admiring the artist's vision, step out into the gallery garden to see the living flower in full glory. (Highly recommended to reserve date and time via the website. Credit card only.)
Period: April 15 to May 14, 2023

National Treasure "Irises" by Ogata Kōrin
Japan Edo period, 18th century
Nezu Museum
Tokyo's sustainable town causing a stir: WATERS takeshiba
Takeshiba is an area near Tokyo Tower and Zojoji Temple. Despite being near these cultural attractions, until recently, not many tourists visited the area which was mainly known for the shipping hub of Takeshiba Pier. However, since it opened in 2020, "WATERS takeshiba" has stolen the limelight, transforming the area into a place where many people, from sightseers to local families, come for a relaxing day. The complex has radically changed the feel of the neighborhood, but what kind of place is it?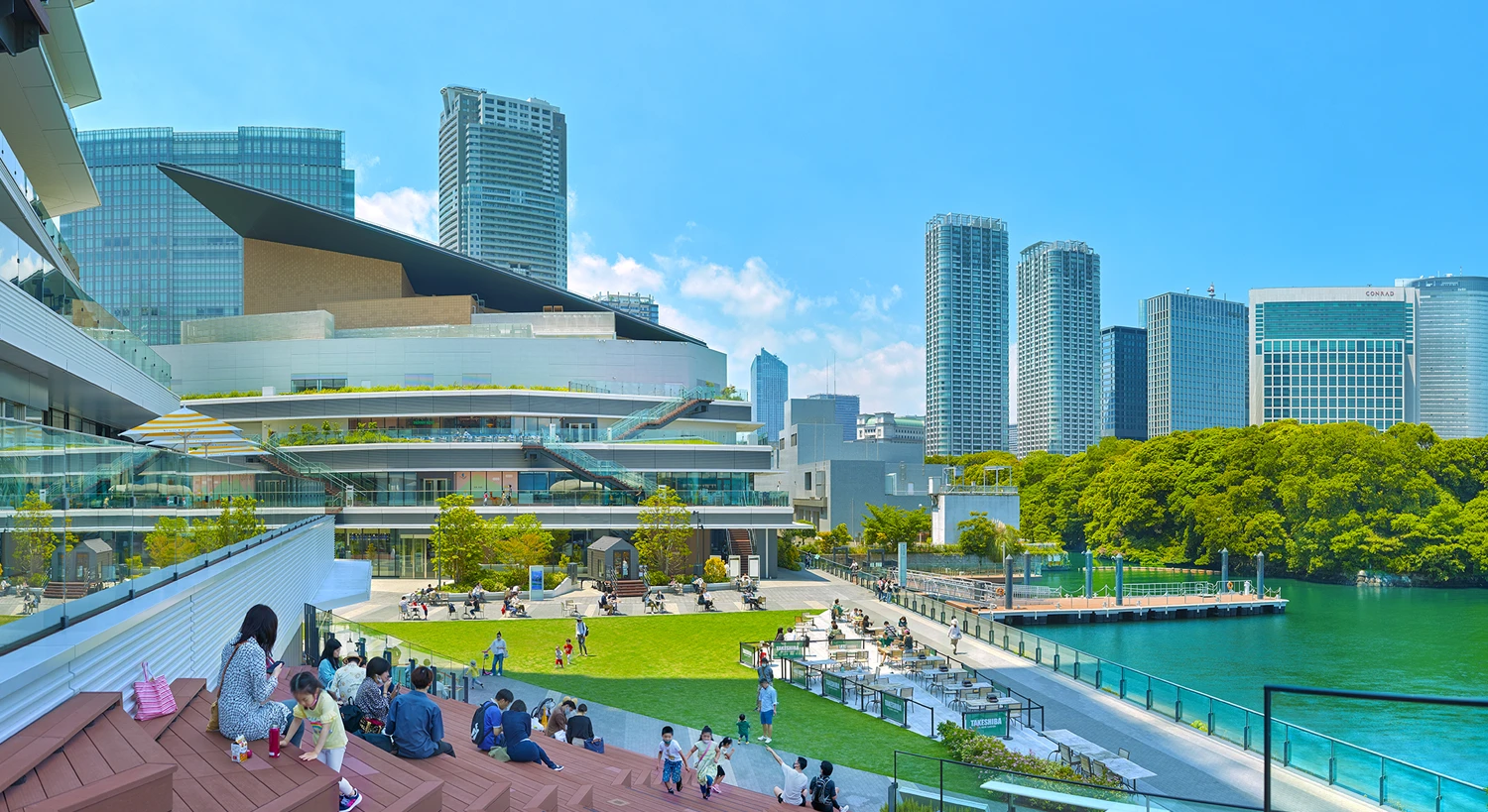 Experience sustainability
while having fun
WATERS takeshiba, a multi-use complex opened in 2020 on the waterfront of Tokyo Bay, is home to the playhouse of the Shiki Theater Company, the shopping mall atré TAKESHIBA, a hotel, offices, and a stop for the Water bus. It's a great place to spend time shopping or dining with a view of the bay, but also stands out among other facilities for its sustainability initiatives.
For example, the waterfront area surrounding the water bus pier is an artificial tidal flat made for efforts to regenerate the natural ecosystem of Tokyo Bay. On the 2nd Sunday of every month, educational events about the environment are held where anyone is welcome to come learn more about the local flora and fauna.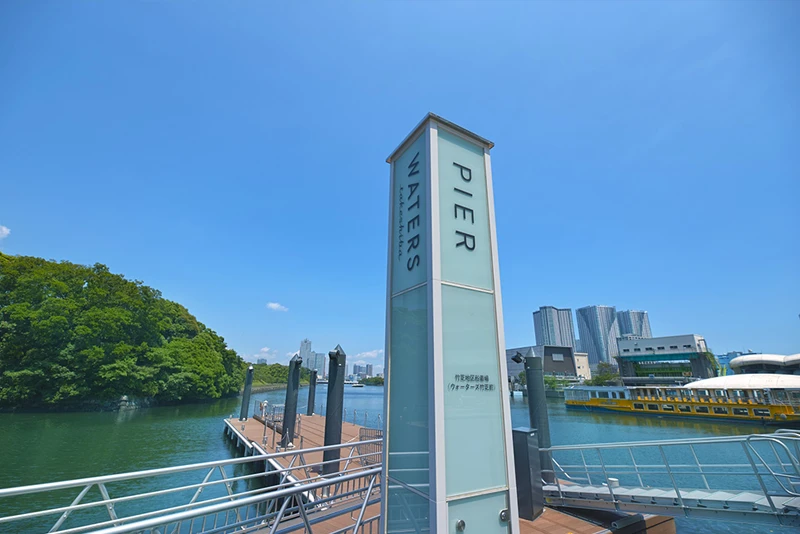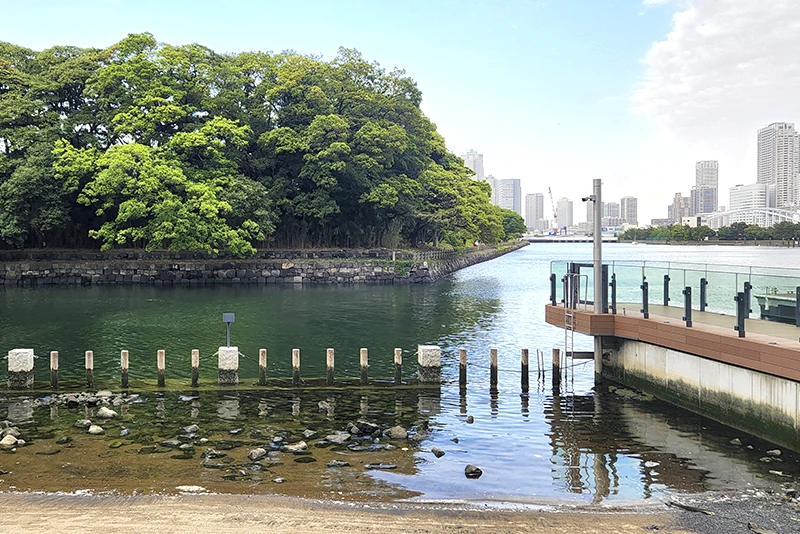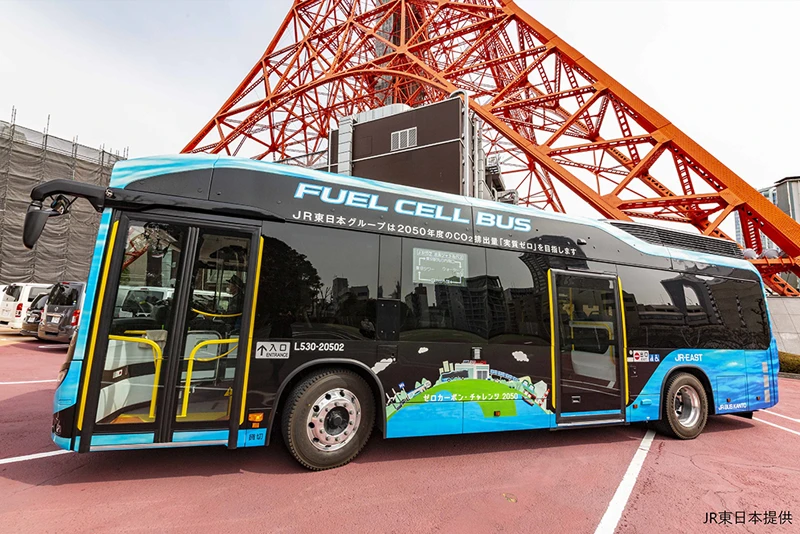 WATERS takeshiba is also accessible by hydrogen-powered shuttle bus from Tokyo Station, a mode of transportation with zero carbon emissions available free of charge. One of the hydrogen-powered shuttle bus routes passes through via Tokyo Tower.
Reach two sightseeing hubs
by water bus from Takeshiba
Speaking of public transportation, don't forget the water bus stop here, with routes bound for both Asakusa and Odaiba. Cruising through rivers and canals, this view of Tokyo is a world away from that of everyday trains and buses.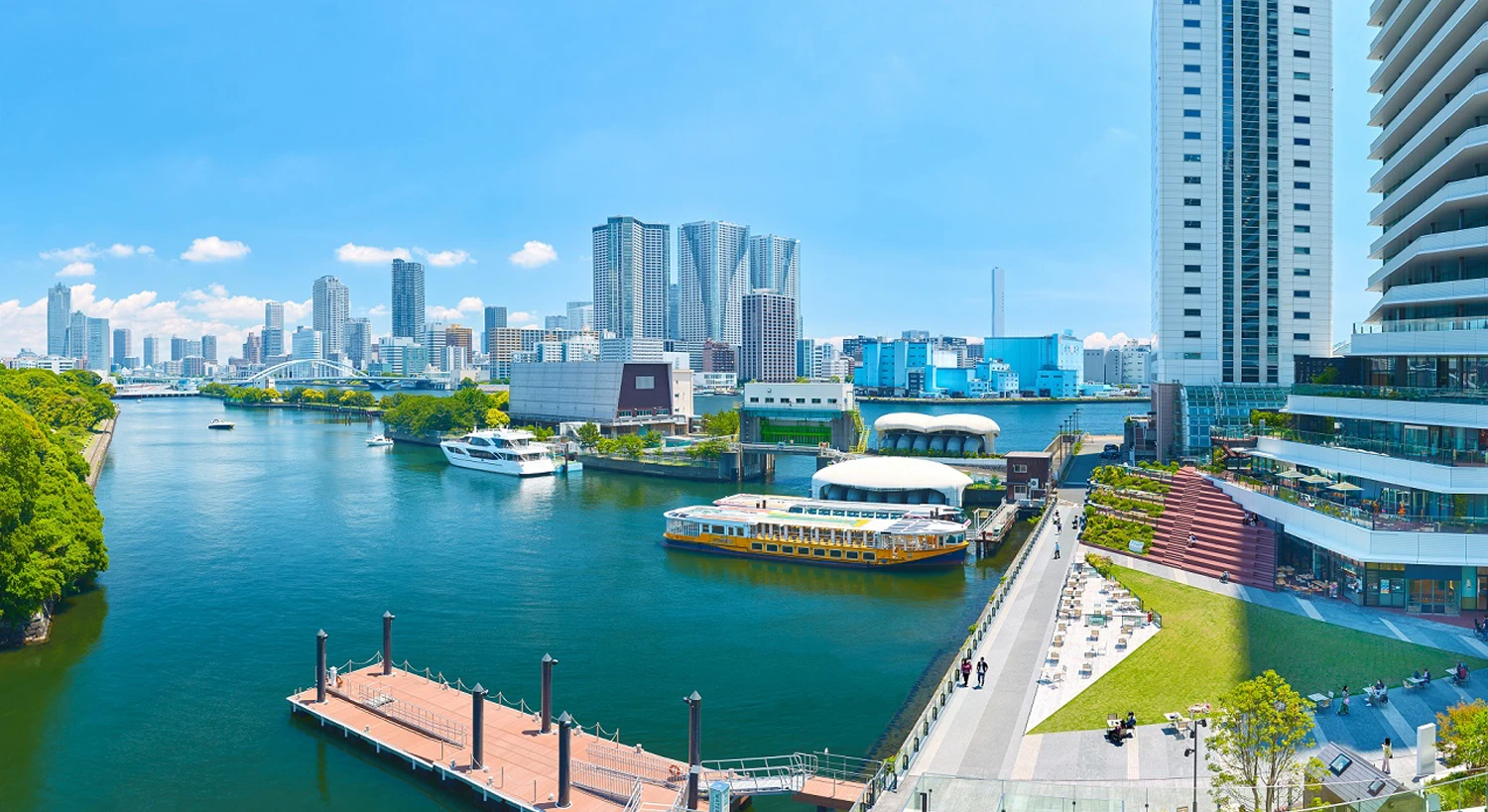 A hotel with Tokyo's modern sense
of style
The sophisticated beauty of Tokyo and the spirit of sustainability of WATERS takeshiba merge seamlessly in the hotel. Mesm Tokyo, Autograph Collection occupies the 16th to 26th floors of the tower. Amid this refined luxury, tradition and innovation fuse together in a space where the ever-changing nature of Tokyo can be experienced with all the senses.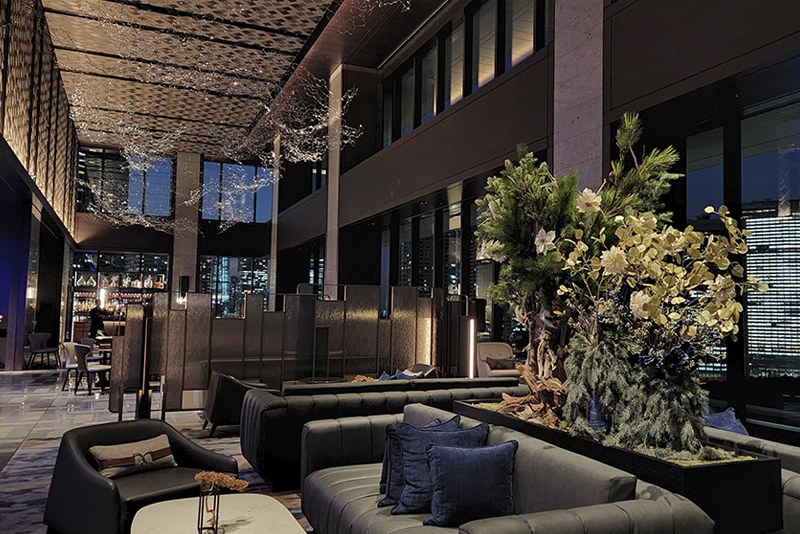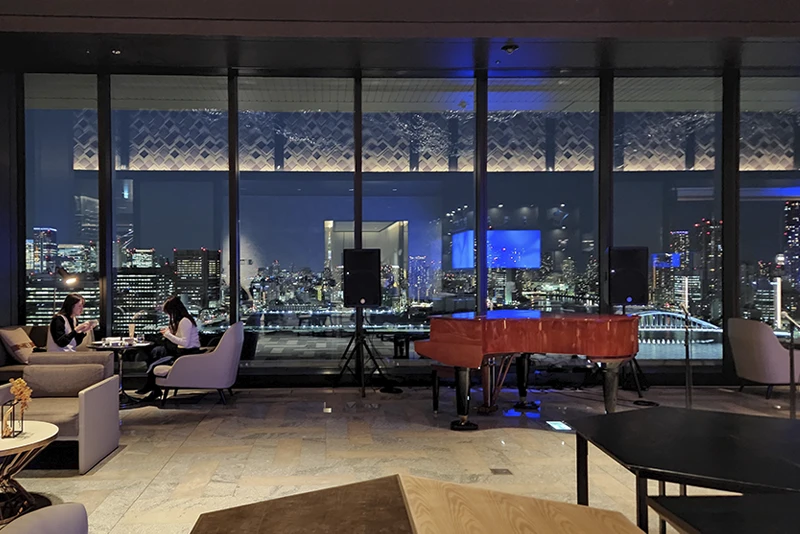 Some of the 265 rooms have balconies where both the contemporary cutting edge and the history of the metropolis can be seen together in a single view that stretches from Tokyo SKYTREE and the Sumida River beyond, to the Hama-rikyu Gardens below.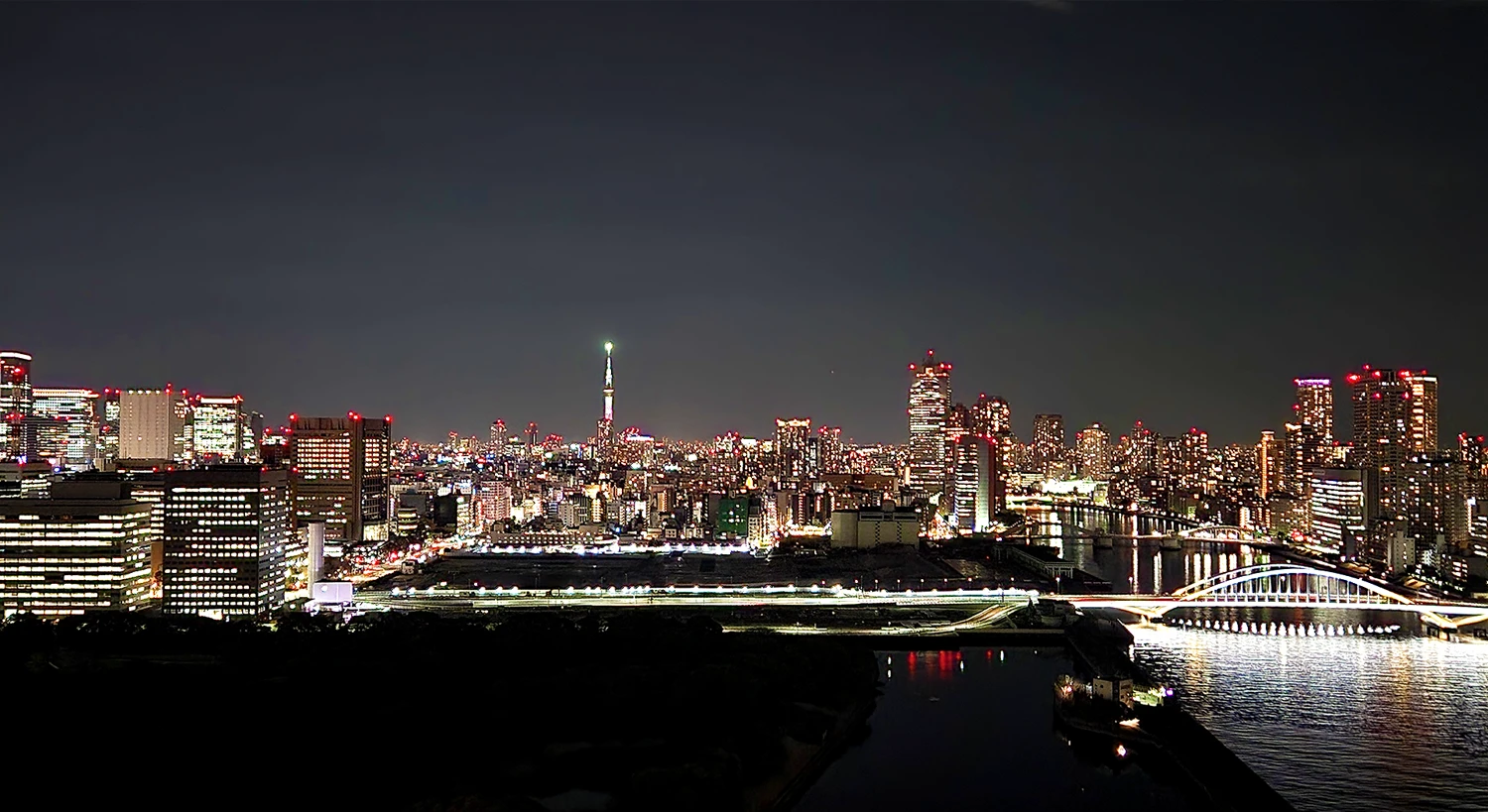 The stunning interiors are accentuated by aromatherapy and music throughout the space, while the restaurant, bar, and guest room amenities show attention to the finest details combined with a sense of playfulness. All drinks in the guest room refrigerator are returnable bottles, and there are also matcha bowls and tea whisks. The tablet provided in the room displays a video on how to make matcha so you can experience this aspect of Japanese culture at your leisure.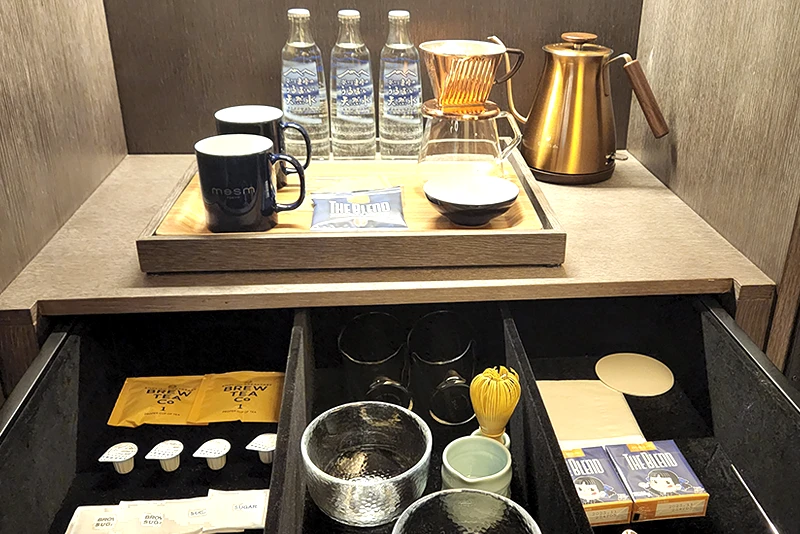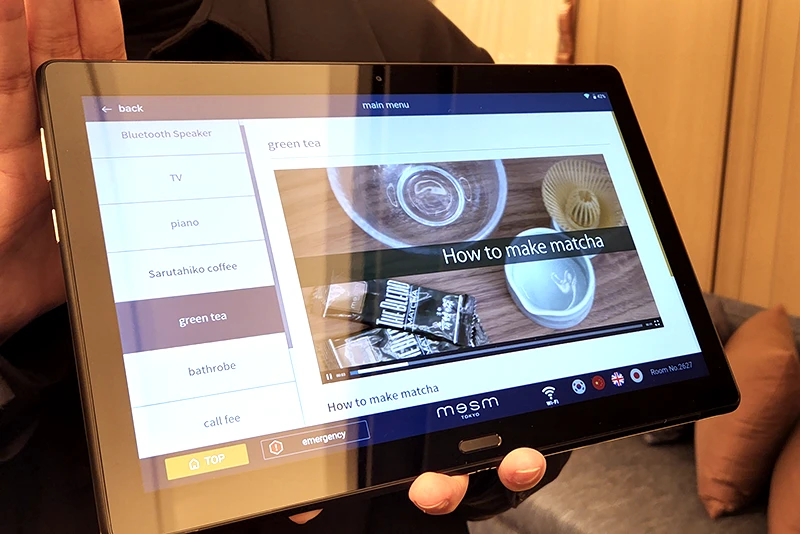 Bathroom amenities are kept in this booklet as a way to use paper packaging to further reduce the use of plastic and vinyl, while maintaining a high sense of design.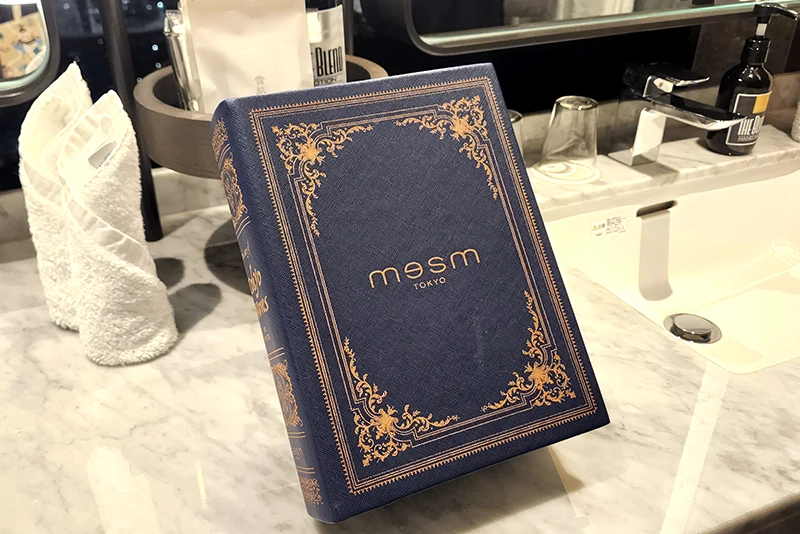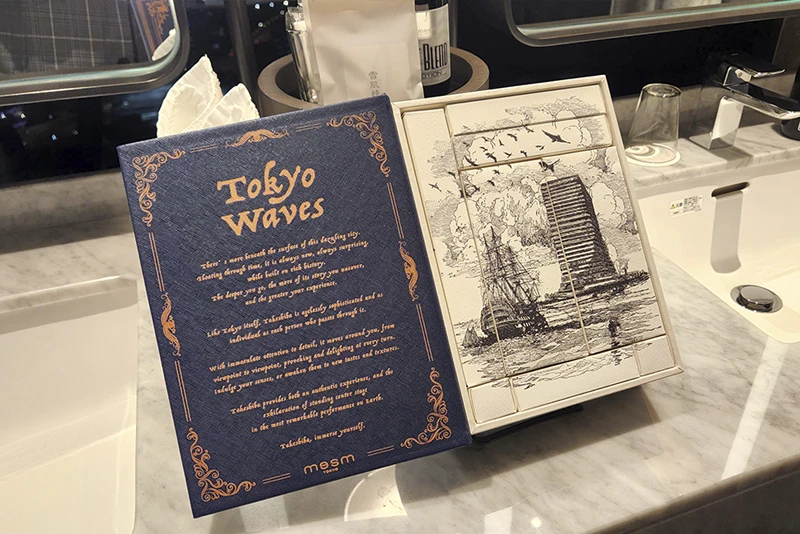 Japan's traditional arts and sense of beauty are evident even beyond the guest rooms and hotel interior. In the restaurant, the cuisine is inspired by themes from stories and artworks, while the bar lounge is modeled after an "artist's studio." Time spent in this world is a way to refine our tastes while supporting the environment and sustainable development goals at the same time.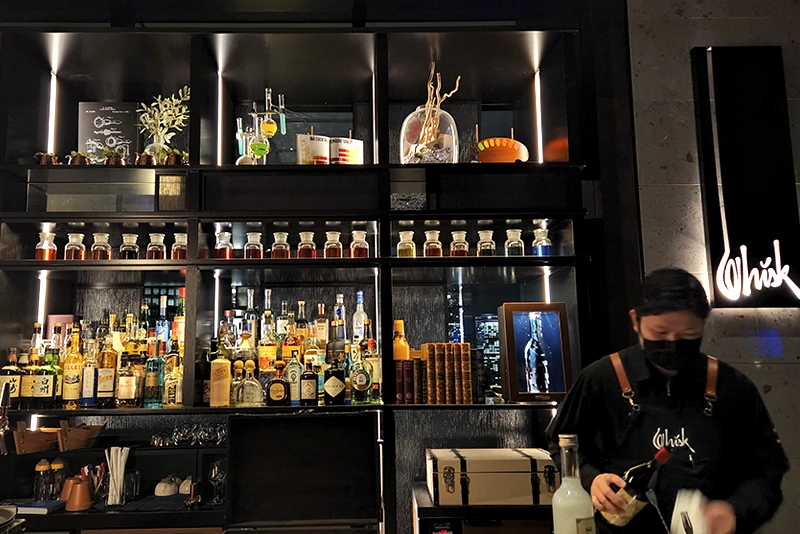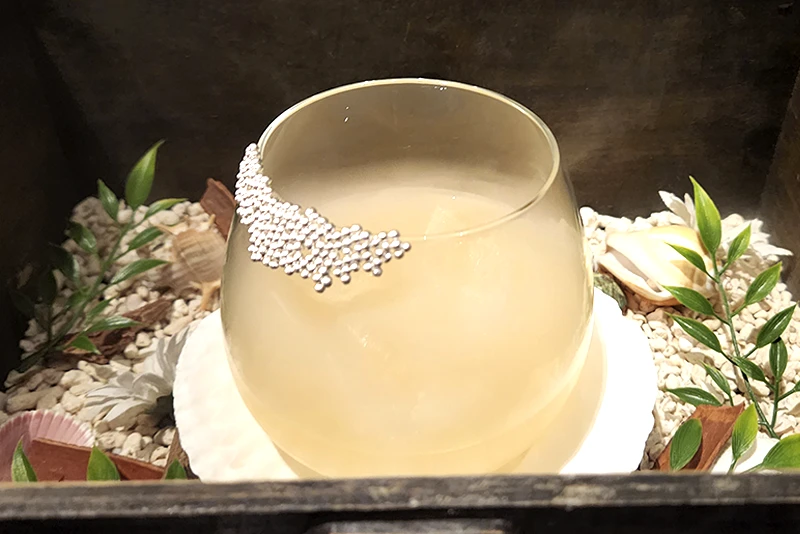 The changing vision of Tokyo
from day to night
WATERS takeshiba is not only fun during the day, but also at night. Have a drink with cool tunes at the music club bar in atré TAKESHIBA, or venture out for a night cruise departing from just steps away. Jicoo The Floating Bar offers stellar night views of Tokyo with cocktails and hip beats on a futuristic looking ship. The roughly 50 minute cruise drifts past night views of Rainbow Bridge and Odaiba from 0 m sea level.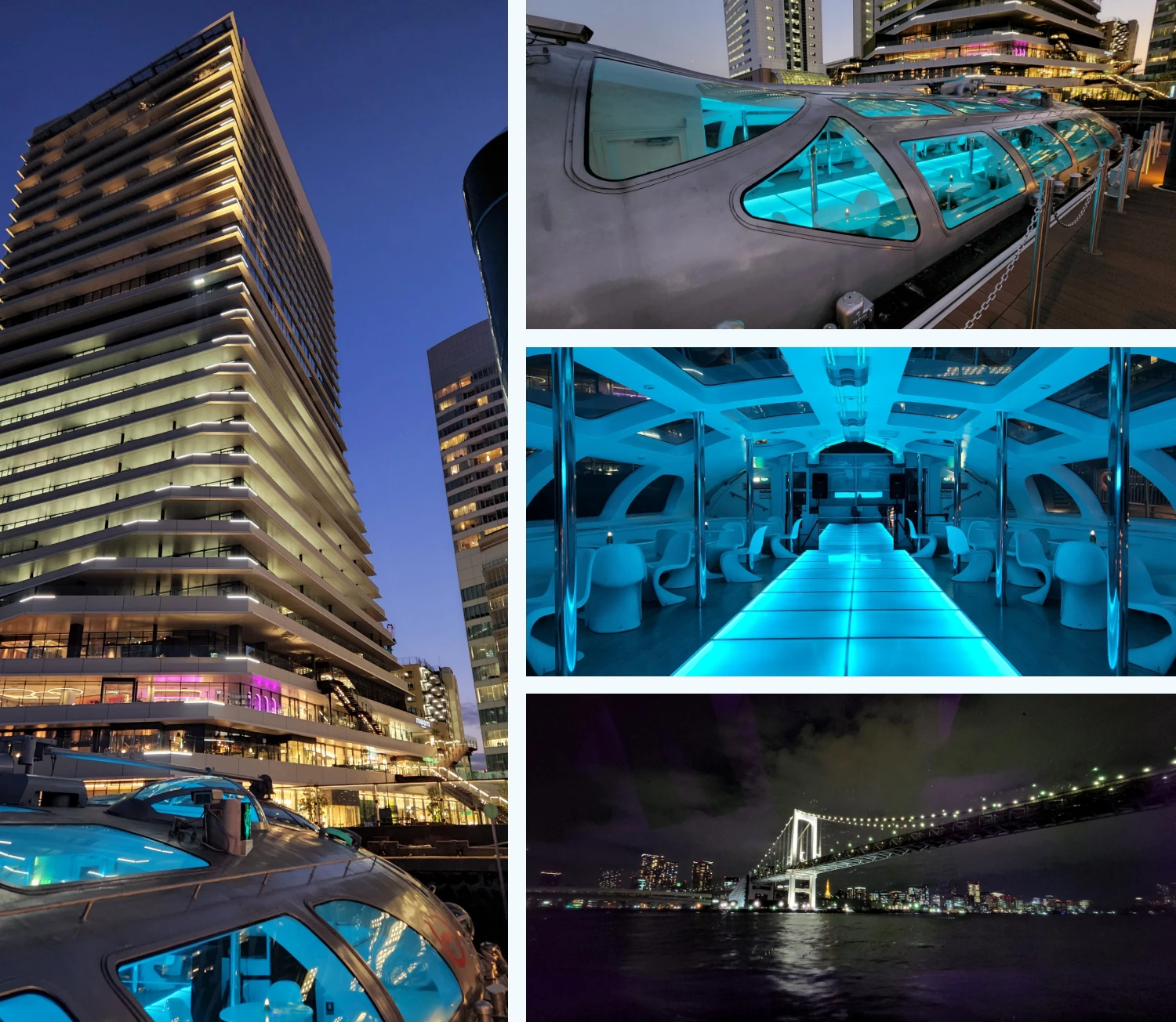 JR Hamamatsucho Station is closest to WATERS takeshiba and directly connected by monorail from Haneda Airport, so you can be here in as little as 30 minutes from the airport. Keep this new waterside town in mind as a base for your Tokyo trip.