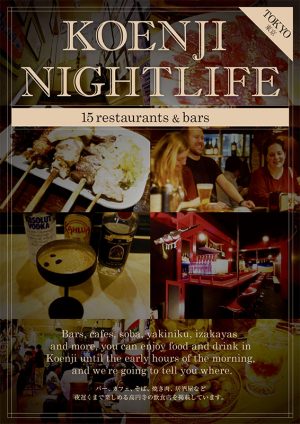 Publication Date

2019

Language

English

Others

Category

Tag

Area

Publishers

EXPERIENCE SUGINAMI TOKYO

Reference Links
Overview
Located on the JR Chuo line and the Sobu Line, you can access Koenji with ease even from Shinjuku. The area is beloved by many famous musicians, and idolised by the nation' s youth.
One of the unique appeals of Koenji is how subculture symbols such as live venues and second hand clothes stores take their places on the streets alongside more traditional businesses.
The face of Koenji changes completely between day and night. We' ve picked out 15 establishments from the wide variety that ply their trade in Koenji at night. Allows us to be your companion as you set out into the nightlife of Koenji.