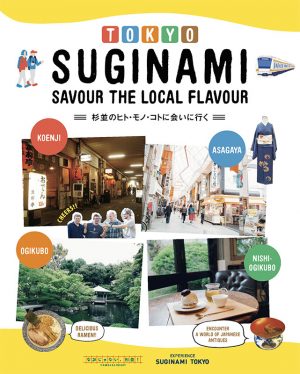 Publication Date : 2019
Language : English
Others :
Category :

Sightseeing

Events

Dining

Shopping

Area :
Publishers :

中央線あるあるプロジェクト実行委員会

Reference Links : https://www.chuosen-rr.com/
Overview
Koenji, Asagaya, Ogikubo and Nishi-Ogikubo…which town do you have in mind?
Suginami is situated close to the center of Tokyo, and yet it has lots of green spaces and peaceful locations. It's a very popular suburb, with many people wanting to live there. You can find many different things to see and do here,
from touristy pursuits to more down-to-earth activities enjoyed by visitors and locals alike.
We hope that you find somewhere, or something that you'd like to try while visiting in Suginami ward.