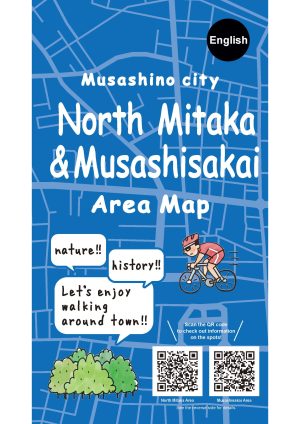 Publication Date

2022

Language

English

Others

Category

Tag

Area

Publishers

一般社団法人 武蔵野市観光機構

Reference Links
Overview
This is a map that summarizes sightseeing, shopping, dining, cafe spots, etc. in the North Mitaka & Musashisakai area of Musashino City.
[North Mitaka] On the north side of Mitaka Station is a concentration of goverment offices to support residents'lives, and culture and sports fadcilities available to all, young and old alike.
The area boasts many spots for relaxation and strolls, including Tokyo Municipal Musashino Chuo Park and Tamagawa Josui Canal. Here you can spend a leisurey time, relaxing as you please.
[Musashisakai] The impact of multiple universities and cultural facilities is spurring the location's evolution into an area for learing. where cultural and academic activities flourish in many domains. The surrounding residential neighbourhfoods have expandend, boarding Koganei Park to the west.