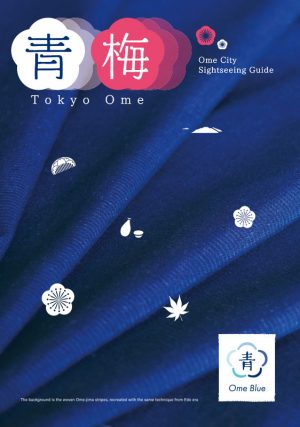 Publication Date : 2020
Language : English
Others :
Category :

Sightseeing

Events

Dining

Shopping

Accommodation

Transportation

Area :
Publishers :

Ome city

Reference Links : https://www.city.ome.tokyo.jp/
Overview
~OmeBlue is a blend of the history and tradition of Ome~
Once a textile dyed in blue, which is popular in Edo, it is the "Ome-jima stripes"
woven from this area.
The colors of blue and textiles, stills, temples, art and food grow deeper with each
dyeing…Ome is a rich natural weaving of history and culture.
The blue color of "OmeBlue"is the blue of the "Ome-jima stripes",the blue of the
blue sky, the mountain stream, the new green leaves of early summer and the fresh
produce, above all, it represents the "blue" of Ome.
The history, tradition and culture of the people born and raised here are woven,
and a message is also being entrusted to go to Ome for now and in the future.
Why don't you visit the world of "OmeBlue"?