TOKYO with the Season
Tokyo in Full Bloom
Spring has finally arrived in Tokyo, and soon enough the city will be pink with cherry blossoms. As these beautiful flowers start to bloom, so do the people, flocking to the parks for hanami (cherry blossom viewing). However, there are many ways to enjoy the season without facing the crowds.
In order to avoid the hustle and bustle of popular hanami spots like Yoyogi Park, many Tokyo locals head to the streets during hanami season. Nothing quite says spring like a stroll beneath a canopy of pink petals, and a surprising amount of streets in Tokyo are lined with cherry blossom trees. The suburban areas of Tokyo are often overlooked, but exploring the backstreets of popular areas can often reveal hidden hanami spots.
Another local secret is Western Tokyo. A quick trip outside of the 23 wards to cities such as Tama and Fuchu will reveal a treasure trove of comparatively empty streets, and parks that draw much smaller crowds. There are also more parks closer together, which means more options and an arguably more fulfilling cherry blossom experience. Hanami season also inspires cherry blossom-flavored everything, and while popular cafes have queues outside the door for their seasonal drinks, many suburban bakeries make delicious cherry blossom bread and have much shorter lines.
There's so much to see and do in Tokyo during the spring, and it's undoubtedly the best time to explore and discover Tokyo in its full beauty.
TOKYO in this Month
- THINGS TO DO -
Celebrate Japan's Unification at the Kanda-matsuri Festival
In 1600, Ieyasu Tokugawa won a decisive victory over his enemies during the Battle of Sekigahara, thus concluding the total unification of Japan under his rule. To this day, Ieyasu's triumph continues to be celebrated at the Kanda Festival.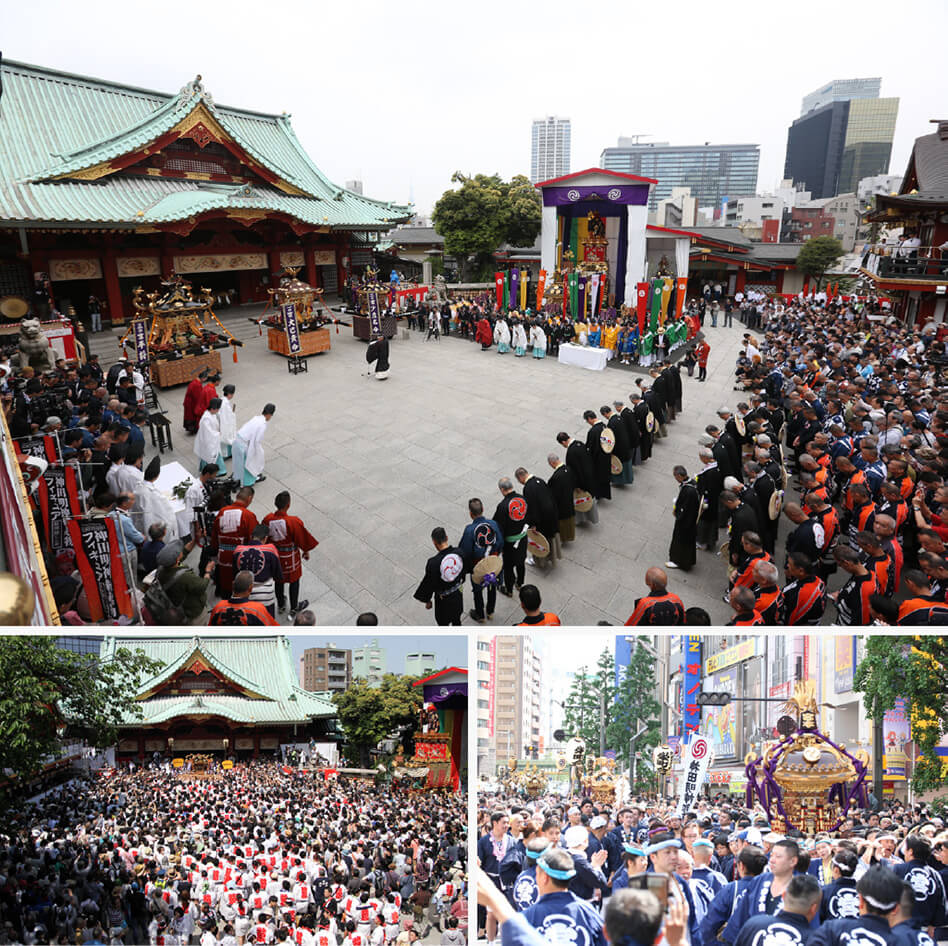 Kandamyoujin
Held every odd-numbered year at and around the Kanda Myojin Shrine in Tokyo (and now also dedicated to prosperity and good fortune), the festival is one of the three largest celebrations of its kind in Tokyo since the Edo period (1603-1868). It lasts a total of six days, with the last two days being dedicated to processions of mikoshi (portable shrines housing various deities inside) from Kanda to Nihonbashi. This year, these processions will take place on May 11th and 12th.
May 11th, Saturday, is the day of the first important procession. First, priests will invite the shrine deities into three ornate mikoshi after which they will be carried from Kanda through Nihonbashi and Akihabara. Over 1,000 people typically accompany the procession, including dancers, musicians and people in colorful, traditional costumes. The Sunday procession will be slightly livelier, though. On May 12th, hundreds of people from the Kanda and Nihonbashi area will prepare their own portable shrines housing their personal guardian deity, and parade them in droves throughout the city. It's said that few other festivals can rival the energy of the Kanda Festival Sunday procession, but you should come and see for yourself how true that is!
https://www.kandamyoujin.or.jp/kandamatsuri/ (Japanese)
TOKYO in this Month
- THINGS TO DO -
Lift Your Spirits at CRAFT SAKE WEEK at ROPPONGI HILLS 2019
Between April 19th and 29th, Roppongi Hills will host the annual CRAFT SAKE WEEK where fans of Japanese alcohol will be able to taste and learn about the best sake brands from all over the country. Each day, 10 brands of sake will be featured from more than 100 participating breweries within Japan.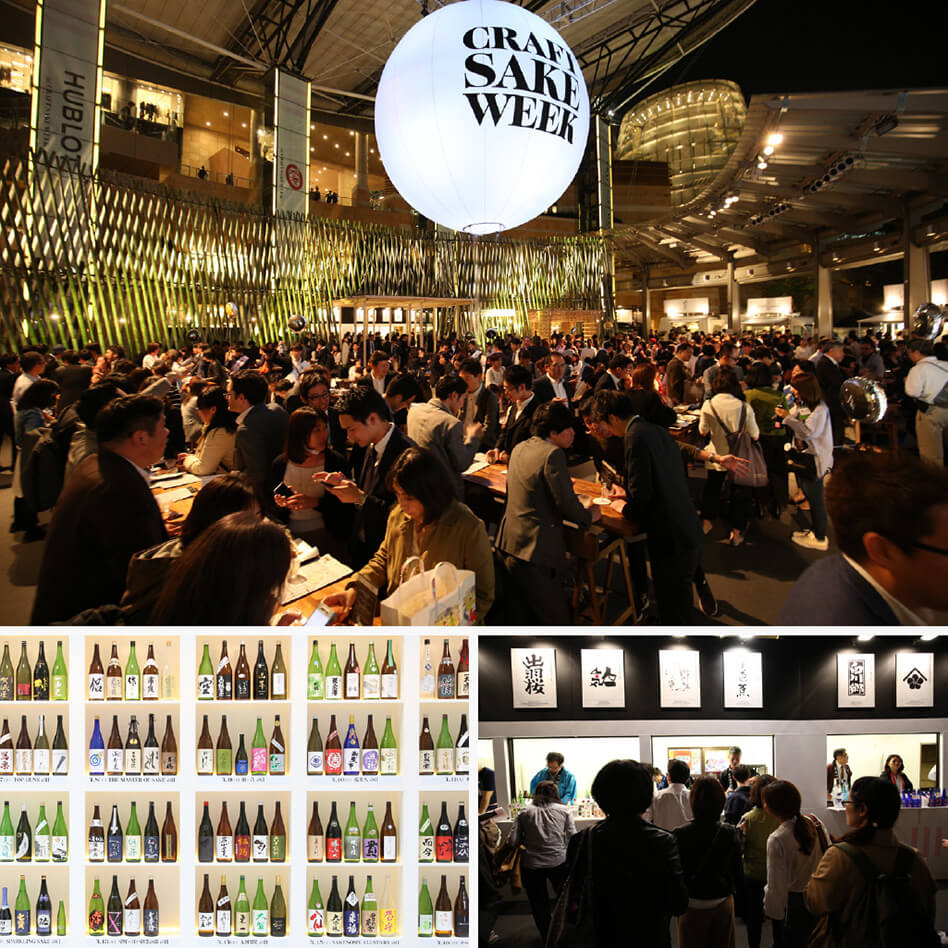 Already in its 4th year, the CRAFT SAKE WEEK made its first appearance in 2016 due to the efforts of noted sake connoisseur Hidetoshi Nakata who is a former Japanese football player. The 2019 edition will showcase 10 breweries on each day with special theme. Around 120,000 guests attended the event last year. This event will also feature live music.
More importantly, the CRAFT SAKE WEEK will give you a chance to consult with sake experts about which brand is best for you and which foods pair best with it. To help you with that, fifteen restaurants will provide gourmet appetizers and other dishes on site, allowing you to enjoy your favorite Japanese alcohol to the fullest.
This event starts at 12 noon and continues until 9 PM. 3,500 JPY will get you a craft sake starter set and a souvenir glass, plus eleven food and drink coins tokens. Additional tokens may be purchased at a later time. Is the price worth it? Well, just last year, the CRAFT SAKE WEEK won a Golden World Award - the most prestigious international PR award ever - so they must be doing something right. Visit the event yourself to find out what that is.
Contact: CRAFT SAKE WEEK PR Department (SUNNY SIDE UP Inc.) csw@ssu.co.jp
TOKYO in this Month
- THINGS TO DO -
A Crazy Day of Classical Music in Tokyo
Between May 3rd and 5th, the famed La Folle Journée music festival will once again visit the city of Tokyo for an unforgettable series of classical music concerts held throughout Tokyo International Forum, Marunouchi, Otemachi and Yurakucho area. Over 300 performances (including hundreds of free ones) are scheduled for the event.
Dubbed one of the world's largest classical music festival, La Folle Journée Tokyo ("the crazy day") originated from France in 1995 but has now spread to major cities all over the world. In 2019, it will celebrate its 15th time in Japan with a theme of carnet de voyage meaning a focus on music that has been inspired by travels, featuring some of Mozart's and Haydn's works. This year, the theme is "Carnets de voyage– Music inspired by travel".
There will be 124 paid performances held in Tokyo's concert halls, and about 200 free ones held out in the open. That seems like a lot of music to cram into three days, but the basic idea behind the Crazy Day was to introduce people to good music in short, easily digestible installments. That's why all the performances, ranging from classical music to Japanese taiko will only last about 45 minutes each. With this, you can experience many different styles of music in a short amount of time.
Ticket Information: https://www.lfj.jp/lfj_2019e/pdf/LFJ Tokyo program ver.0306.pdf
Contact: lfjtokyo2019@kajimotomusic.com
TOKYO in this Month
- THINGS TO DO -
Museum of Contemporary Art Tokyo to Reopen In March
Museum of Contemporary Art Tokyo (MOT) houses one of the largest collections of modern art in Japan and has been closed for major renovations since 2016. It will have its Grand Reopening Exhibition from March 29th to June 16th, 2019. During its closure, the museum acquired approximately 400 additional pieces that will be part of future exhibitions.
First opened in 1995, MOT is world-renowned for its curation of important works from both inside and outside Japan. Following the renovations, after the Grand Reopening Exhibition it will include three floors dedicated to a special exhibition called "Weavers of Worlds – A Century of Flux in Japanese Modern / Contemporary Art –".
The various pieces exhibited in the museum's "MOT Collection" come from its assemblage of over 5,400 works spreading across a myriad of artistic fields and styles. To mark its grand reopening, MOT will hold another exhibition, "MOT Collection: Pleased to meet you. New Acquisitions in recent years", featuring works created mainly from 2010 to the present day, including the collection's most recent additions.
Without a doubt, MOT is the best place in Japan to learn about important and inspiring post-war artists. With that in mind, no art enthusiast should miss this exciting reopening, where the remarkable creations of such influential talents will be available to the public.
Contact: kantyo@mot-art.jp
TOKYO in this Month
- THINGS TO DO -
Stop and Smell the Blossoms at Flower Festival 2019
One of the longest festivals in Japan, the Flower Festival is a two-month-long celebration of spring and nature for the whole family. From flower viewing to flower picking and a ton of other events, there's no better way to spend a relaxing day outside.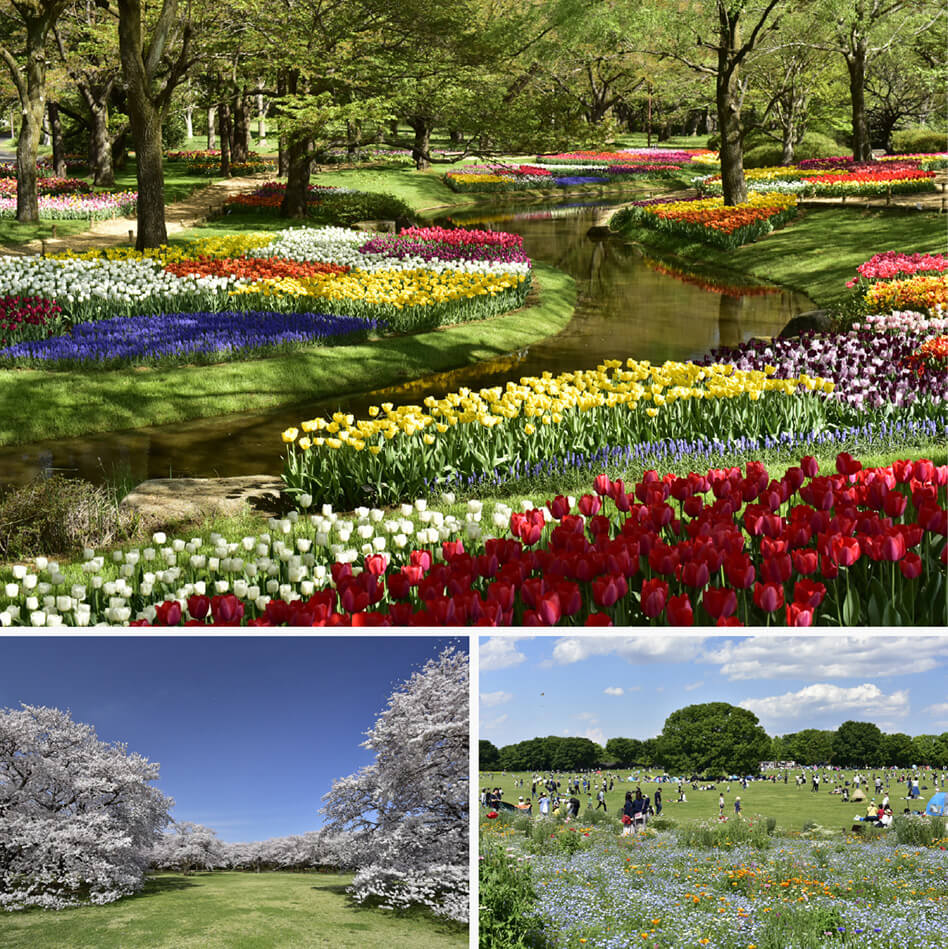 SHOWA KINEN PARK
In 2019, the festival will take place at the Showa Kinen Park from March 23th to May 26th, starting right around the time when cherry trees start to bloom. Many activities have been planned to greet this beautiful symbol of spring, such as guided tours of the park, flower exhibitions, workshops for both adults and children, and lots more. Even better, the fun won't end with the cherry blossoms.
As time passes, other flowers will come into bloom for all the festival guests to enjoy. In early April, you'll be able to admire over 240 varieties of tulips at the Tulip Garden, which will house over 220,000 individual flowers. More hands-on activities will also be available. On May 26th, between 1:30 PM and 3:30 PM, you'll be able to participate in poppy picking, and throughout the festival's entire run, there will also be musical events, classes on tea ceremony, and many different fitness challenges, all held amid a calming, beautiful sea of flowers.
Contact:showa-info@seibu-la.co.jp
http://www.showakinen-koen.jp/event/flowerfestival2019/ (Japanese)
TOKYO in this Month
- TRAVEL TIPS -
Matsuya Ginza - a Muslim-welcome hub
Making sure their Muslim clients have the best experience, Matsuya Ginza is adding yet another Muslim-welcome service - a prayer room, which will be available from March 14th 2019. This newest addition is one of several endeavors by Matsuya Ginza to provide the utmost convenience to their Muslim visitors. They also offer many more services, among which are Muslim-welcome menus, Muslim fashion videos, and information sessions for staff.
Matsuya Ginza is adding yet another Muslim-welcome service - a prayer room, which will be available from March 14th 2019. This unisex room can accommodate two people at a time and will be available from 10 am to 8 pm, however, it may change accordingly the store's opening hours. The prayer room is located on Matsuya Ginza's rooftop and is fitted with a washing facility and clear indications of the direction of worship. This newest addition is one of several endeavors by Matsuya Ginza to provide the utmost convenience to their Muslim visitors. Under their "Muslim Welcome Policy" they are striving to learn about Islam and pass that knowledge onto their staff and their customers, often holding in-house study sessions for employees. Matsuya Ginza also has a restaurant on the 8th floor, Tsunahachi, that doesn't use pork or alcohol, enabling guests to eat authentic Japanese food such as tempura. This restaurant provides guidance in English and Indonesian. Furthermore, the company's official YouTube account has Muslim fashion videos, showcasing sample outfits that can be bought in Matsuya Ginza, or even inspire your next fashion coordination.
Matsuya Ginza http://www.matsuya.com/visitor/en/m_ginza/
Movie https://www.youtube.com/watch?v=emJdK70-0jo
Movie https://www.youtube.com/watch?v=HgBtmxBWtkQ
TOKYO in this Month
- TRAVEL TIPS -
Natural Hot Springs Heiwajima Reopening on March 28th
No matter how seasoned a traveler may be, flights are tiring. Travelers to Tokyo will be relieved to hear that Natural Hot Springs Heiwajima will reopen this April. Aside from relaxation, Natural Hot Springs Heiwajima is the perfect place for travelers new to Japan to experience the famous Japanese hospitality culture omotenashi, and the perfect place to relax and reflect on the Japan experience for those heading home.
After a two-month hiatus, this 24-hour hot spring facility, Natural Hot Springs Heiwajima will reopen on March 28th, and once again provide their relaxation services for both inbound and outbound travelers. Natural Hot Springs Heiwajima is just a 15-minute bus ride away from Tokyo's Haneda Airport, and since hot baths are good for circulation, it's the perfect place for travelers to prepare for a trip or wash away the stress of a long flight.
The renewal Natural Hot Springs Heiwajima offers 12 different types of bath, a "ganban-yoku" stone sauna, and a restaurant. The renewal will include free Wi-Fi throughout the facility, "Free Lounge" equipped with device charging points while resting and complimentary suitcase locker service.
Contact:mikiko.kobayashi@keikyu-kaihatsu.co.jp
https://www.heiwajima-onsen.jp/ (Japanese)
TOKYO in this Month
- TRAVEL TIPS -
New Places to Stay this April
In a city with so many exciting neighborhoods, it can be difficult to decide where to stay. This month, three new hotels will be opening their doors to travelers in prime locations in Tokyo, and we're here to give a sneak peek.
Three new exciting accommodation options will become available to travelers this April. On April 1st, Hotel Resol will open a new hotel in Akihabara, the technology and pop culture hub of Tokyo. Located just a few minutes away from Akihabara Station, Hotel Resol Akihabara is the prime accommodation for those wanting to make one of Tokyo's most aesthetically intriguing neighborhoods their home base. Designed around the concepts of both "smooth" and "rough", Hotel Resol Akihabara is the perfect addition to the eye-catching Akihabara.
April 3rd will mark the grand opening of the latest remm Hotel, remm Tokyo Kyobashi. Just a seven-minute walk from Tokyo Station, this is a good choice for travelers who want to easily access and explore Tokyo on a wider scale. The interior of remm Tokyo Kyobashi was designed along the concept of "premium cool".
On April 18th, TSUKI hotel will open in Tsukiji. Built around the concept of "a hotel where you can become Nippon Savvy", this hotel offers not just wonderful rooms - many with their own Japan-style bath - but multilingual staff who will be only too happy to assist you in finding the perfect spots to visit. There's also a sake bar, and a private bath on the second floor which can be reserved for your own use when you come back after exploring the wonders of Tokyo!
Hotel Resol Akihabara


https://www.resol-akihabara.com/ (Japanese)
remm Tokyo Kyobashi


https://global.hankyu-hotel.com/remm-tokyo-kyobashi/
Contact: kyobashi@remm.jp
Editor's Pick
The Colors of Golden Week
Experience one of the most festive times of the year as people celebrate history, culture, nature and youth under the iconic colorful carp streamers during Japan's favorite holiday, "Golden Week". Anywhere you go in Tokyo during "Golden Week", you're sure to find excitement. Just let the koinobori lead the way and enjoy the extended holiday along with the joyful Japanese revelers!
As you could probably guess from its glamorous title, "Golden Week" is a very special time in Japan, stretching from the end of April to the beginning of May. This string of national holidays gives all Japanese people across the nation a great excuse to take a much-needed vacation during one of the most beautiful times of the year. The celebrations include Showa Day (April 29th), Constitution Memorial Day (May 3rd), Greenery Day (May 4th), and Children's Day (May 5th). Depending on what days of the week they land on the calendar, it's possible to be blessed with nearly a solid, unbroken week of holidays. "Golden Week" in 2019 is expected to be particularly gilded with the addition of May 1st being designated as a celebration for the new Japanese Emperor's ascension to the throne.
Many choose to spend the time traveling while others relax and enjoy the carefree atmosphere. Wherever you go, there are plenty of events each year that make "Golden Week" really shine. One of the hallmarks of the season are the colorful carp streamers, koinobori, fluttering against the crisp blue sky for Children's Day, like youthful schools of fish gliding through the water. The festive decorations represent the freedom and cheerful nature of children, and many events over the holidays use this symbol to bring that spirit to life, like the 333 carp streamers adorning Tokyo Tower for Children's Day. Enjoy a nice meal under the vibrant hues swirling above, or take in the view of the splashy carps from up high through the glass panels on the floor of Tokyo Tower's observation deck. Tokyo Tower will be held holding this event from March 29th to May 6th.
Not to be outdone, Tokyo Midtown has its own event called MIDTOWN OPEN THE PARK 2019, which welcomes holiday loungers to spend time soaking in the atmosphere and enjoy nature in the lush green outdoors. Between April 19th and May 6th, Tokyo Midtown will be swarming with koinobori - carp streamers, created by about 100 different artists and designers. From May 3rd to May 6th you can actually walk through a giant colorful carp, one of the most popular activities in previous years, drawing more than 40 thousand visitors just last year alone! For an even more hands-on experience, around that same time, from May 3rd to May 5th there will be make-your-own carp streamer workshops, four times a day. This unique personalized koinobori-making will cost 1,000 yen for a large and 700 yen for a small, and a reservation is required.
MOVIE of this Month
Accessing Tokyo
A City for Everyone
Removing Everyday Barriers
Accommodation and transportation are a given necessity of trip planning for most of us. This may seem like a simple step to check off the to-do list for some, but when the needs of individuals can vary greatly it can prove to be a daunting task. Through Accessible Japan, Josh Grisdale works to provide resources and clear information for those that have unique needs and may not be aware of how accommodating places in Japan can be. Here he tells us about his history with Japan and how comfortable even a bustling city like Tokyo is with its modern approaches to accessible barrier-free design.
Photo Download: Images can be downloaded here. All images are available for use in printed, online, and other distributed media.
Press Release: Click on the "PRESS RELEASE" button to access the original press release. * Note that Japanese press releases are included.