TOKYO with the Season
Views of Snow-Covered Tokyo
Although some areas of Japan see significant snowfall, Tokyo is different. Snow is very rare in the capital. However, whenever the fluffy white stuff does fall upon the metropolis, the entire city is temporarily transformed into something of a winter fairy tale, with one of the most magical sights being the world-renowned Imperial Palace in Chiyoda ward, the primary residence of His Majesty Akihito, Emperor of Japan.
The winner of the Tokyo Tokyo Photo Awards ©HIROTAKA INABA
Although some areas of Japan see significant snowfall, Tokyo is different. Snow is very rare in the capital. Winters in the metropolis are chilly at an average of 5℃ (41℉), the air is crisp, and the sky is blue and clear almost daily. While it does snow several times a year, the white blanket usually does not stick for long, which is why heavy snowfall is even more exciting, - and a time when people pour their creative ideas into impromptu snow sculptures, ranging from the traditional to the kawaii (cute), and even to pop-culture icons like Godzilla.
One time, after a heavy snow fall, the Imperial Palace in Tokyo's Chiyoda ward was undoubtedly one of the most magical snow-covered sights to behold. Whenever snow covers Tokyo, it's the perfect time to head to the Palace to marvel at the expansive parks, exquisite stone bridges and ancient moats touched by pure whiteness.
On the cusp of this year's historically unprecedented change of Emperors, with the abdication of His Majesty Akihito taking place at the end of April 2019, a visit to the Palace this particular winter feels more meaningful than ever before.
TOKYO in this Month
- THINGS TO DO -
Welcome Spring With The Spring Festival In Tokyo 2019
Spring is a time of joy and rebirth, and to celebrate it properly, the city of Tokyo is once again bringing you its annual Spring Festival: a series of concerts that will take place all around the Ueno area between March 15th and April 14th.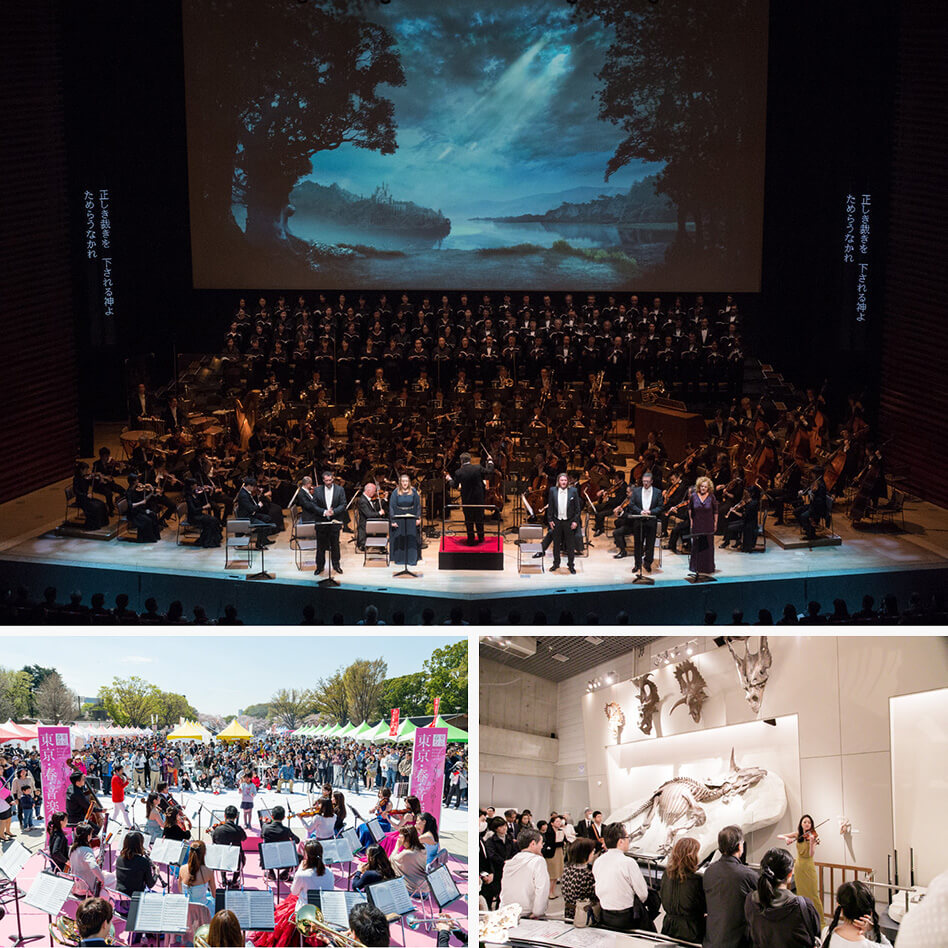 Top) Tokyo-HARUSAI Wagner Series ©Spring Festival in Tokyo / Koji Iida
Left) Conduct Us in Ueno Park ©Spring Festival in Tokyo / Koji Iida
Right) Night Museum Concert ©Spring Festival in Tokyo / Yusuke Masuda
Already in its 15th year, the 2019 edition of the music festival will kick off on March 15th at 7:00 PM at the Tokyo Bunka Kaikan Recital Hall. The opening concert will feature chamber music with members of the NHK Symphony Orchestra performing a musical history of the Viennese Waltz. Throughout the next month, the venues will also include Ueno Park, the Sogakudo Concert Hall at Tokyo University of the Arts, the Ishibashi Memorial Hall at the Ueno Gakuen, National Museum of Nature and Science, the National Museum, the Metropolitan Art Museum, the National Museum of Western Art, the Ueno Royal Museum, and many more.
The festival will feature classical and opera music performed by orchestras and performers from all over the world. The concerts will also cater to young adults, with five scheduled performances of "Richard Wagner for Kids." Tickets to individual concerts can be purchased through the official Spring Festival in Tokyo website (credit card only). Please note, however, that the program is subject to change.
Contact: press@tokyo-harusai.com
Spring Festival in Tokyo http://www.tokyo-harusai.com/index_e.html
TOKYO in this Month
- THINGS TO DO -
Discover The Treasures Of To-ji Temple At The Tokyo National Museum
From March 26th to June 2nd, the Tokyo National Museum Heiseikan will hold a special art exhibition entitled "National Treasures of To-ji Temple: Kukai and the Sculpture of Mandala." Anyone who's interested in Japanese art or history should definitely not miss it.
Kukai was an 8th - 9th century Japanese monk who studied esoteric Buddhism in China and later helped popularize it in Japan. For his efforts, he was awarded the control of To-ji temple in Kyoto, where he often performed esoteric rituals using mandalas (ritual symbols, charts, or geometric patterns meant to represent the cosmos.) The temple is also where Kukai constructed a rare three-dimensional mandala, consisting of twenty one statues set up in the temple's Lecture Hall. The 3D diagram was meant to symbolize the essence of Japanese esoteric Buddhism, and can now be found - at least, in part - on display at the Tokyo National Museum.
The special exhibition will feature fifteen of the original twenty one statues, which include  eleven National Treasures and four Important Cultural Properties, arranged in the shape of a brand-new mandala. Other To-ji treasures that will be available for viewing include 2D mandalas, statues of deities, paintings, letters, writings, and priceless cultural artifacts dating back more than a thousand years. It will be a fantastic opportunity to learn more about one of the most important schools of Japanese Buddhism right here in Tokyo.
TOKYO in this Month
- THINGS TO DO -
Hachijojima Island: A Riot of Colorful Flowers
The 53rd Freesia festival (Freesia Festa 2019) will take place from late March to early April on the beautiful subtropical island of Hachijojima. Enjoy flower-picking, or relax in an onsen while scanning the ocean from this island. Maybe you'll be lucky to see some humpback whales!
Hachijojima is a subtropical island accessible from Tokyo by plane, or an overnight boat trip. While such sights as Mt. Hachijo-Fuji and the pristine Pacific Ocean alone make this island worth a visit, special mention must be given to the Freesia Festa, when 350,000 freesias transform Hachijojima into a glorious blaze of yellow, white, purple and pink painting. Why not try on a traditional silk kimono (ki-hachijo), or pick some of the freesias to take back with you? You can also make infiorata (flower petal pictures on the floor) with the help of a trained artist at the end of the festival, or enjoy a taiko (Japanese drum) concert. Or why not take a walk - or even a drive–up Mt. Hachijo-Fuji and watch the cattle grazing peacefully on the rippling grass? Whatever you want to do, whether it's joining in with one of the most spectacular flower festivals in the area, or just kicking back and relaxing in the beautiful surroundings of this lovely island, Hachijojima and the Freesia Festival are definitely not to be missed.
Contact: info@hachijo.gr.jp
Freesia Festa https://www.freesiafesta.com/ (Japanese)
Hachijojima http://www.hachijo.gr.jp/ (Japanese)
TOKYO in this Month
- THINGS TO DO -
Remembering The 47 Loyal Samurai During The Ako Gishisai Festival
The real-life tale of the 47 ronin (leaderless samurai) banding together and avenging the death of their master has by now become known all over the world. Many fictional accounts of the story exist, but at the Sengakuji temple in Tokyo you can get closer to the truth itself.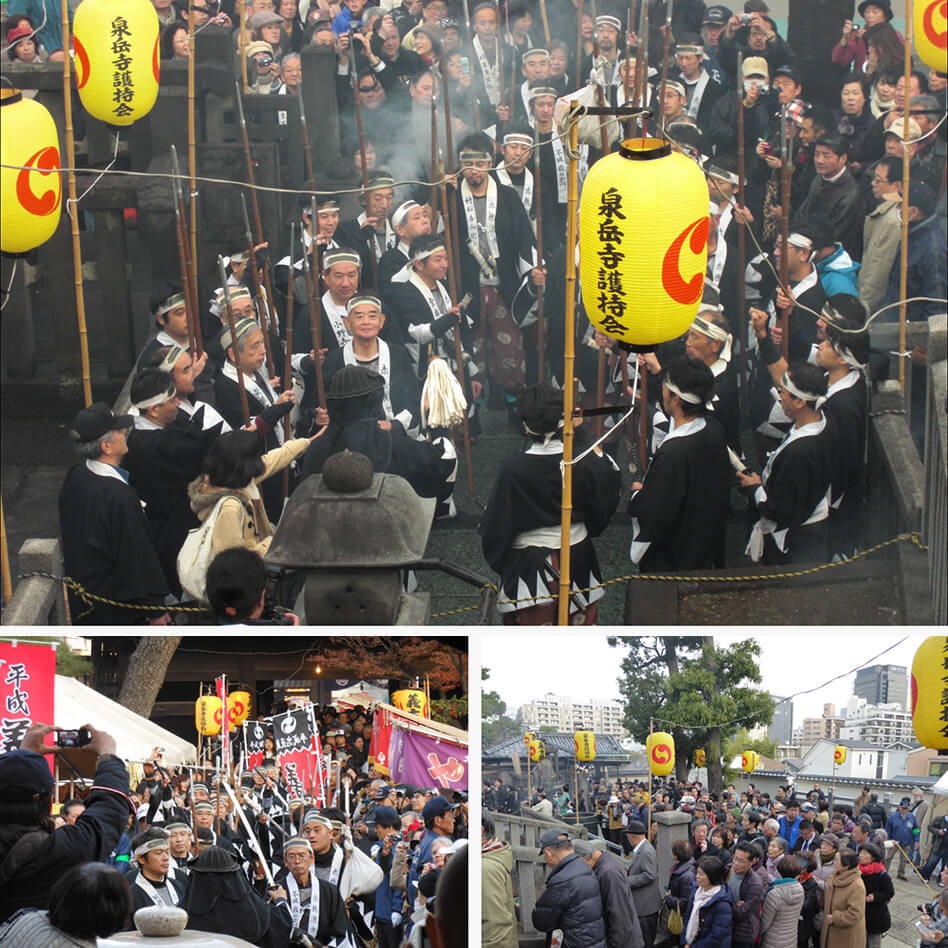 Dating back to the 18th century, the story of the 47 Samurai who had revenge on the man who forced to their feudal lord to commit suicide is known in Japanese history as the Ako Incident. In its aftermath, the samurai were forced commit ritual suicide (seppuku) themselves, after which their bodies were laid to rest on the grounds of Sengakuji in modern Takanawa, Tokyo. You can actually visit their graves all year round to pay your respects to the fallen warriors who came to represent the ideas of loyalty and honor. You can also visit Sengakuji in early April and on December 14th every year when the temple hosts a proper celebration of the 47 ronin, known as the Ako Gishisai festival.
It starts off with memorial services in the morning. Later, the Gishi-Gyoretsu (Gishi parade) starts with forty seven volunteers dressed as the famous samurai taking part in a quiet, dignified procession from Chuo City Office to Sengaku-ji. It's an experience like no other and should be witnessed by all fans of Japanese history and samurai culture.
TOKYO in this Month
- TRAVEL TIPS -
New Hotel Options this Month
With the 2020 Olympics and Paralympics just around the corner, there are some brand-new hotels due to open. Here are some fantastic new hotels offering a unique stay.
The Royal Park Canvas - Ginza 8


Situated in the heart of stylish Ginza, The Royal Park Canvas - Ginza 8 offers beautiful spacious rooms, and a lovely restaurant with a view on top of it all. They also have a cafe with a souvenir shop which run along the concept of "fill out your own colors." You can buy drinks, or snacks, or souvenirs to take home. Contact: Hiroko SEKI inquiry@canvas-ginza8.jp
https://www.canvas-ginza8.jp/en/
MANGA ART HOTEL, TOKYO


The culture of Japan is inextricably entwined with manga, and this capsule hotel takes it to a whole new level. With some 5,000 mangas to enjoy, this hotel is an absolute must for manga aficionados, and even lets you buy your favorite manga. https://mangaarthotel.com/index-en.html
HOTEL ORIENTAL EXPRESS TOKYO KAMATA


The Kamata area is a great representative of Tokyo craftsmanship. Those of you looking for a more traditional hotel with a unique twist, look no further than the HOTEL ORIENTAL EXPRESS TOKYO KAMATA. In the design and decoration of the lobby and the guest rooms one can feel the delicate touch of skilled craftsmen. Another great perk of this hotel is that you can pack your own bento-box by taking anything you like from breakfast buffet. Contact: inquiry@tokyokamata.hotelorientalexpress.com
https://tokyokamata.hotelorientalexpress.com/
Miyako City Tokyo Takanawa


JR East's new Takanawa Gateway Station is set to open in the spring of 2020, near Tokyo's Haneda airport. Miyako City Tokyo Takanawa, opening February 11, 2019, will be just front of this new station. Just a 7-minute walk from Shinagawa Station (JR, Keikyu Line). This hotel offers 199 guest rooms, and all king double bedrooms are equipped with a 180 cm wide beds. You can enjoy their speciality breakfast, featuring delightful sandwiches with carefully chosen ingredients. https://www.miyakohotels.ne.jp/takanawa/english/index.html/
Editor's Pick
How to Enjoy Kabuki-cho !
Shinjuku Kabuki-cho Area Changing and Transforming
On the east side of Shinjuku Station lies Kabuki-cho, probably the liveliest and brightest area of Tokyo at night. Kabuki-cho and Shinjuku in general are historically well-known for surviving and changing, adapting, and thus thriving. This year as well, Kabuki-cho emerges with many changes and novelties, such as the renovation of Seibu Shinjuku Station and...
Shinjuku Station is famous for being one of the biggest, busiest and chaotic station in Tokyo, but the not so well known adjacent Seibu-Shinjuku Station is a separate station and in fact much closer to the Kabuki-cho area. It has been undergoing renovations recently, adding the "SEIBU Tourist Information Center"- supporting foreign visitors from abroad, to one of its many facilities and overall making the station as easy to use as possible. The renovated Seibu-Shinjuku Station will be fully open in March 2019.
Kabuki-cho is one of the best nightlife and entertainment districts in Tokyo, with a wide array of choices for everyone. It's also home to novelties such as the VR ZONE for virtual reality experiences and TOKYO MYSTERY CIRCUS - a whole building of exciting games. These kinds of japan-originated games have grown in popularity over the last decade. At TOKYO MYSTERY CIRCUS one can play a lot of different "escape room" games, where players are locked somewhere and need to let themselves free by figuring out clues and solving problems. They also have projection mapping games, stealth/infiltration games and investigation games that take you through the streets of Kabuki-cho to search for clues. Many of the games can also be enjoyed in English since 2018. One can easily spend a whole day here. Due to its popularity making a reservation before you go is highly recommended.
The 4th CONNECT KABUKI-CHO; Japan's Pop-Rock music fes is scheduled for April 20th, 2019. This music festival is not just taking place in Kabuki-cho, it's also taking inspiration from this vibrant area of Tokyo. The gigs are spread between five locations and with one wristband visitors could hop between all of those, much like a night out in Kabuki-cho would normally look like. They have also selected the performers in a way to showcase a lot of edgy underground bands, along with popular superstars.
Don't take your eyes off the Kabuki-cho nightlife district this spring.
TOKYO MYSTERY CIRCUS


press@scrapmagazine.com
https://mysterycircus.jp/en/
Seibu-Shinjuku Station

CONNECT Kabukicho
Contact: connect.kabukicyo@gmail.com
http://www.connectkabukicho.tokyo/englishinfo.php
MOVIE of this Month
Kisaburo
Breaking Boundaries
A Modern Take on the Kimono
Though it remains a cultural constant in Japan, the kimono is generally seen as a traditional garment reserved for special occasions and ceremonies. Unlike yofuku (western clothing), kimono fashion tends to adhere to certain rules that have been in place for some time. KISABURO is a Tokyo based kimono designer who is working to challenge the ideas that are embedded in tradition. Using techniques, combinations and colors that defy set conventions he seeks to break down fashion boundaries.
Photo Download: Images can be downloaded here. All images are available for use in printed, online, and other distributed media.
Press Release: Click on the "PRESS RELEASE" button to access the original press release. * Note that Japanese press releases are included.