TOKYO with the Season
A Bridge Between Old and New: The Asakusa Hagoita-ichi Fair
This fair, with a centuries-old tradition, specializes in what some would consider to be a very peculiar item: hagoita, a kind of ornamental paddle. Believed to have the power to bounce away evil and lead people into an auspicious new year, the creative variety of these paddles' designs expands impressively with each passing year.
New Year is a time of countless wishes and resolutions precisely because it's a time of change from old to new. Marking the passing from one year to the next, the Asakusa Hagoita-ichi Fair in mid-December has showcased and sold ornamental paddles for over 200 years, but it grew into a major event at the start of the Meiji Period (1868-1912). You might wonder, why paddles? The answer is both simple and superstitious: The paddles were (and still are by some people) believed to be able to bounce away evil and bring in an auspicious new year, as easily as a table-tennis paddle can bounce back a ball. However, Tokyoites wouldn't be Tokyoites if they hadn't found yet another way to bridge the old and the new: This 'lucky paddle' fair is kept fresh, exciting and modern by adding paddles featuring both new and established celebrities every year.
TOKYO in this Month
- THINGS TO DO -
The New Year Grand Sumo Tournament in Tokyo
Sumo is one of the oldest sports in Japan, and therefore should be experienced live at least once by every fan of Japanese culture. However, that might be easier said than done because of how overwhelming the entire process looks to foreign visitors. Let's try to change that.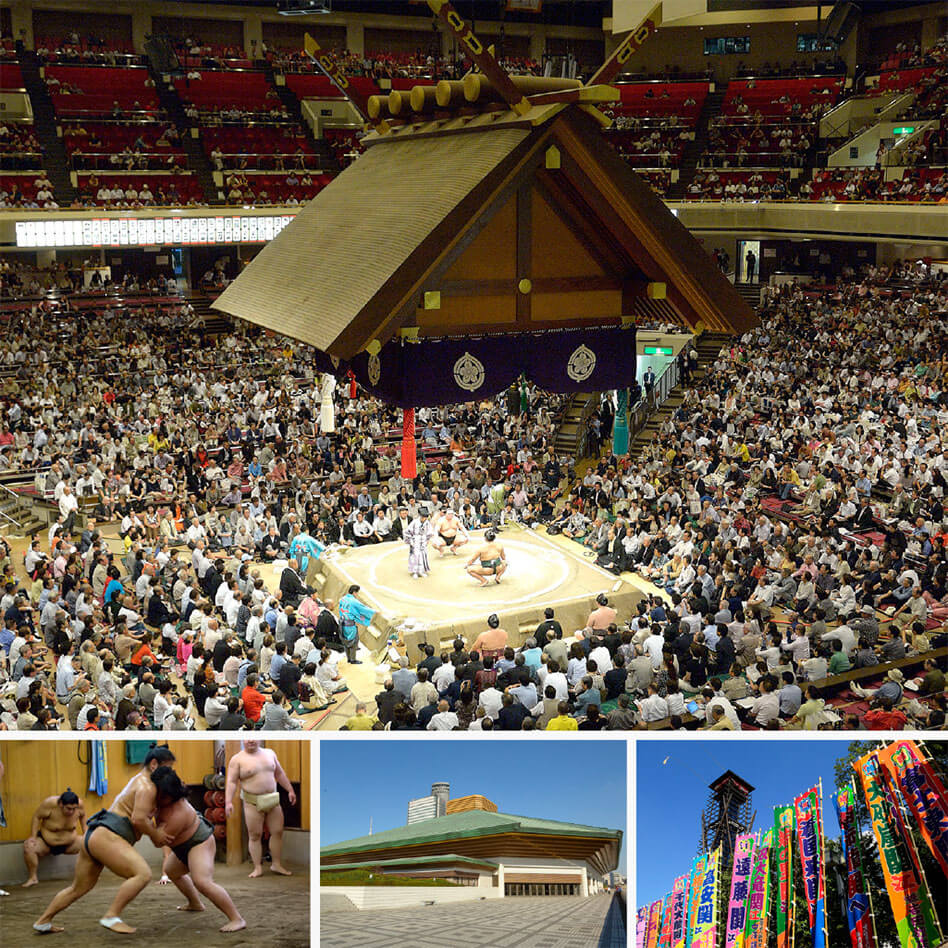 © Nihon Sumo Kyokai
An official professional sumo tournament (basho) is held 6 times a year in every other month with the venue changing between Tokyo, Osaka, Nagoya, and Fukuoka. The first sumo tournament, called the New Year sumo tournament (Hatsu-basho) is held every year in January in Tokyo. Tickets can be purchased through the Nihon Sumo Kyokai website (Available in English), and you can choose between three types of seats: arena (chairs) seats, box seats, and ringside seats. The Grand Sumo Wrestling Site will be held January 13th-27th 2019, at the Ryogoku Kokugikan in Tokyo. Advance tickets on WEB are sold from December 8th.
Arena (chairs) seats are the cheapest option, ranging between 4,000 and 9,000 yen. However, these seats are located far from the ring, so much so that people often bring binoculars with them.
Box seats, on the other hand, are group seatings furnished with Japanese-style cushions, which provide a much better view of the sumo ring. Unfortunately, you cannot buy an individual box seat – only the entire box, which can cost up to 40,000 yen.
Ringside floor seats are the most sought-after seats that bring you closest to the action but they're nearly impossible to get, due to their popularity.
To enjoy sumo outside of the official tournaments, you can always visit the Sumo Museum at the Ryogoku Kokugikan or a sumo stable (sumobeya) to observe their morning practice. Most of the Tokyo sumo stables can be found in the neighborhood of Ryogoku.
Nihon Sumo Kyokai (Ticket) http://www.sumo.or.jp/EnTicket/
Sumo Museum http://www.sumo.or.jp/EnSumoMuseum
TOKYO in this Month
- THINGS TO DO -
2019 Oshima Camellia Festival
Winter in Izu Oshima is a camellia paradise where the flowers bloom and the festival takes place from the end of January to the end of March. It is an inhabited volcanic island that belongs to the territory of Tokyo.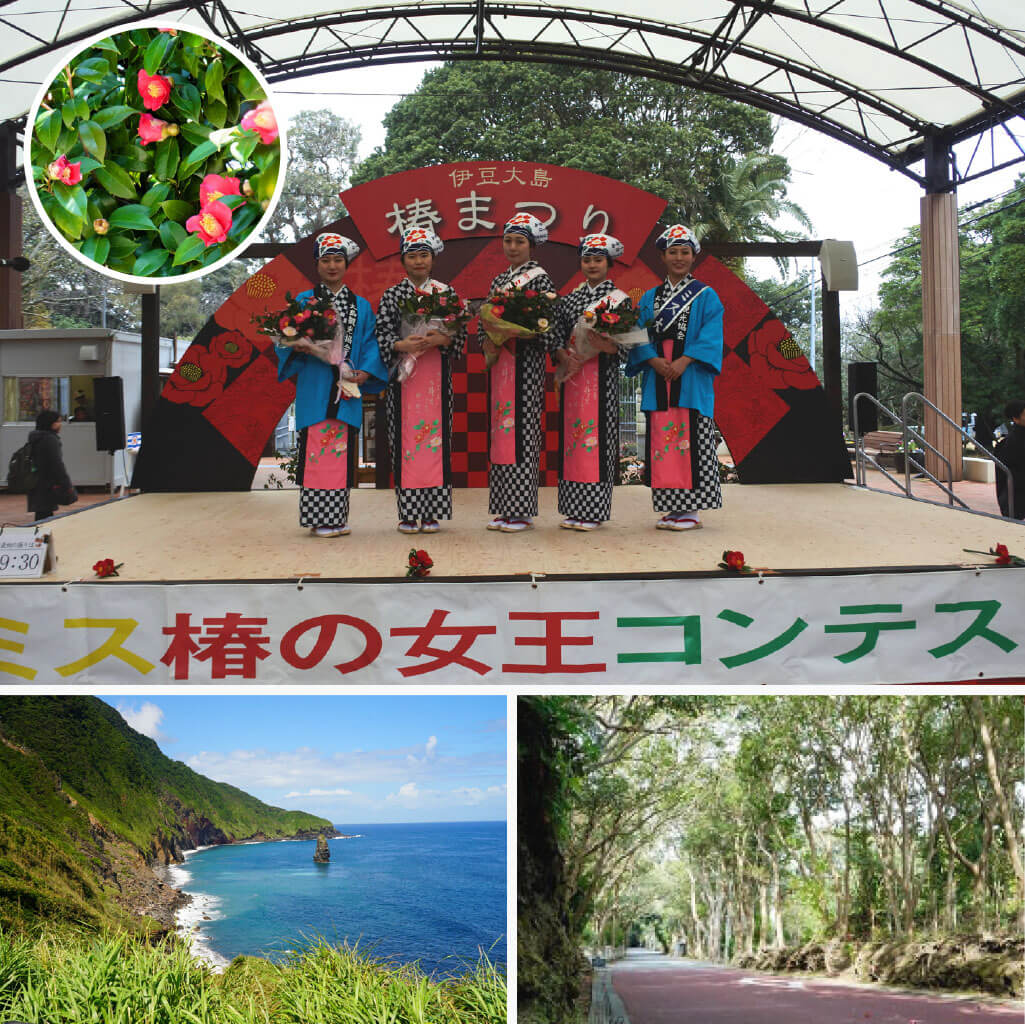 Izu Oshima, a volcanic island with a warm climate, is a getaway so close to Tokyo, yet so different as to make you feel like you've really traveled somewhere. Even in winter, Izu Oshima is nothing short of a paradise, as it starts the new year with a splendid Tsubaki Matsuri (camellia festival) that lasts for 2 months! These flowers are a famous part of Izu Oshima, and are in peak bloom during the festival from the end of January to the end of March. The whole island will be in a festive mood and there are many events, the center of which is the Camellia Plaza and its various stalls of all things camellia inspired. There are many gardens where you can admire the blooming camellias, as well as a 'Tsubaki Tunnel' - a 100m road lined with camellia trees.
http://www.tokaikisen-tsubaki.jp/ (Japanese)
TOKYO in this Month
- THINGS TO DO -
There' are Onsen in Metropolitan
It's estimated that there are over 3,000 onsen (hot springs) spread throughout Japan, some of which have been in use for centuries. Fortunately, there are some available alternatives right here in Tokyo, so thanks to some modern advances in technology, people can now locate hot springs further and dig deeper, these days you don't need to travel far to find an onsen.
Onsen (hot springs) is an integral part of the country's traditional culture, however, natural Japanese Onsen also tend to be all-day trips to places like Hakone, Atami, or Yugawara. Fortunately, there are some available alternatives right here in Tokyo. A characteristic of many Tokyo onsen is their dark brown water, because it is sourced from underground hot springs full of peat and volcanic ash. This type of water is said to be a great remedy for muscle stiffness and fatigue. Thanks to some modern advances in technology, these days you don't need to travel far to find an onsen.
Here are some Tokyo Onsen hot spots:
Toshimaen Niwa no Yu
Sourced from a hot spring nearly a mile deep, the waters of this onsen in Nerima can be enjoyed in both indoor and outdoor baths, the latter of which overlook a beautiful Japanese garden. Also available are a lying-down bath and a carbonated water bath.
※Be aware that tattoos are not allowed.
※No admittance for those under 13 years of age.
http://www.niwanoyu.jp/niwa/ (Japanese)
Akebono-yu
Akebono-yu is one of the oldest bathhouses in Tokyo, but what sets it apart from its competitors is that its waters come straight from a natural underground hot spring, filling 12 baths.
https://www.gotokyo.org/en/spot/163/
Keio Takaosan Onsen/Gokurakuyu
Despite being located in Hachioji and quite away from central Tokyo, this onsen is more than worth a visit thanks to its hot waters flowing straight from the foothills of the iconic Mt. Takao.
http://www.takaosan-onsen.jp/english/
Opening soon: ONSEN RYOKAN YUEN SHINJUKU
In 2019 be sure to check out the ONSEN RYOKAN YUEN SHINJUKU, a combination of a traditional Japanese inn and hot spring, set to open next spring in Shinjuku.


TOKYO in this Month
- THINGS TO DO -
A Guide to a Nontraditional Japanese New Year 2019
New Year in Japan is like Christmas in the West. It's a time for family and tradition, when people eat good food, relax in front of the TV and just take it easy. However, that's not everyone's cup of green tea, so if you want to welcome the New Year with a slight bang, you might want to consider:
Welcome to attend a countdown celebration in Tokyo!
Tokyo Tower First Sunrise
In 2019, welcome the New Year from the iconic Tokyo Tower's observation deck while watching the sun rise over Tokyo Bay. The tower opens at 6 AM, but get there early as you can and expect to queue.
https://www.tokyotower.co.jp/event/index.html (Japanese)
Oji Inari-Jinja Shrine Fox Parade
For a blend of a Western-style masquerade ball and a religious Japanese holiday, visit Oji Inari-Jinja Shrine where people wear fox masks and drink alcohol blessed by the fox god to welcome the New Year and worship local fox deities.
http://kitsune.tokyo-oji.jp/ (Japanese)
https://www.gotokyo.org/en/spot/EV107/
The Diamond and Flower Ferris Wheel New Year Countdown
The Diamond and Flower Ferris Wheel is Japan's second largest Ferris wheel and a great place to greet the New Year, especially when the wheel's lights go off at 11:55 PM and the countdown to 2019 begins.

ageHa COUNTDOWN to 2019 -YEAR OF PRIDE-
For NYE, party-goers will want to hit up the ageHa megaclub where they'll greet 2019 with electronic music and a little shrine set up on club premises.
Contact: MiMi Shimada press@ageha.com
http://www.ageha.com/schedule/event/?id=307719 (Japanese)
TOKYO in this Month
- EATING OUT -
Osechi Ryori: How to Eat Traditionally for the New Year
Food for New Year is no simple feat - 'osechi ryori" food consists of rare, traditional and difficult to make dishes that are believed to have auspicious symbolism. If you want to get into the Japanese New Year spirit, you can buy your osechi set at a department store or taste it in a restaurant.
Food for New Year's Eve is no simple feat - 'osechi ryori" food consists of a selection of rare, traditional and difficult to make dishes that are believed to have auspicious symbolism. So difficult in fact, that even Japanese people rarely prepare the full course of dishes and often opt for ordering osechi ryori set boxes months in advance. Hence proving almost impossible for an average traveler to partake in this Japanese culinary custom.
Luckily, there are still ways to buy osechi ryori food without prior reservation in several department stores only on December 31st. For instance, Keio Department Store will sell mini osechi ryori sets, a real lifesaver for last-minute shoppers. Eating out is another option, especially if you don't mind going out on the holidays. Hotel Ryumeikan Tokyo offers 31 kind of osechi ryori and a buffet option from 1st to 3rd of January 2019. Another well-known place is the Royal Park Hotel that offers various beautifully arranged sets of osechi ryori.
Keio Department Store, Shinjuku https://www.keionet.com/info/shinjuku/foreign/en/
Hotel Ryumeikan Tokyo
https://www.ryumeikan.co.jp/press_release/20181004_hana-1899.pdf (Japanese)
Contact: Public relations department Saori YAMAGUCHI p.r@ryumeikan.co.jp
Royal Park Hotel
https://www2.rph.co.jp/en/restaurants-bars/japanese-restaurant-genjikoh
https://www.rph.co.jp/event/hotel_osechi2019.html (Japanese)
TOKYO in this Month
- TRAVEL TIPS -
WANDER COMPASS Shibuya Set to Provide a Better Service to Foreign Visitors in Japan
The 2020 Tokyo Olympics will not only bring world-class athletes to Japan but also an increase in tourists is expected. While you may think this will require the creation of a service to better help foreigners navigate the famously complex capital of Japan, the truth is that service might already be here. If you're ever in the Shibuya area, check them out and see for yourself what they're all about.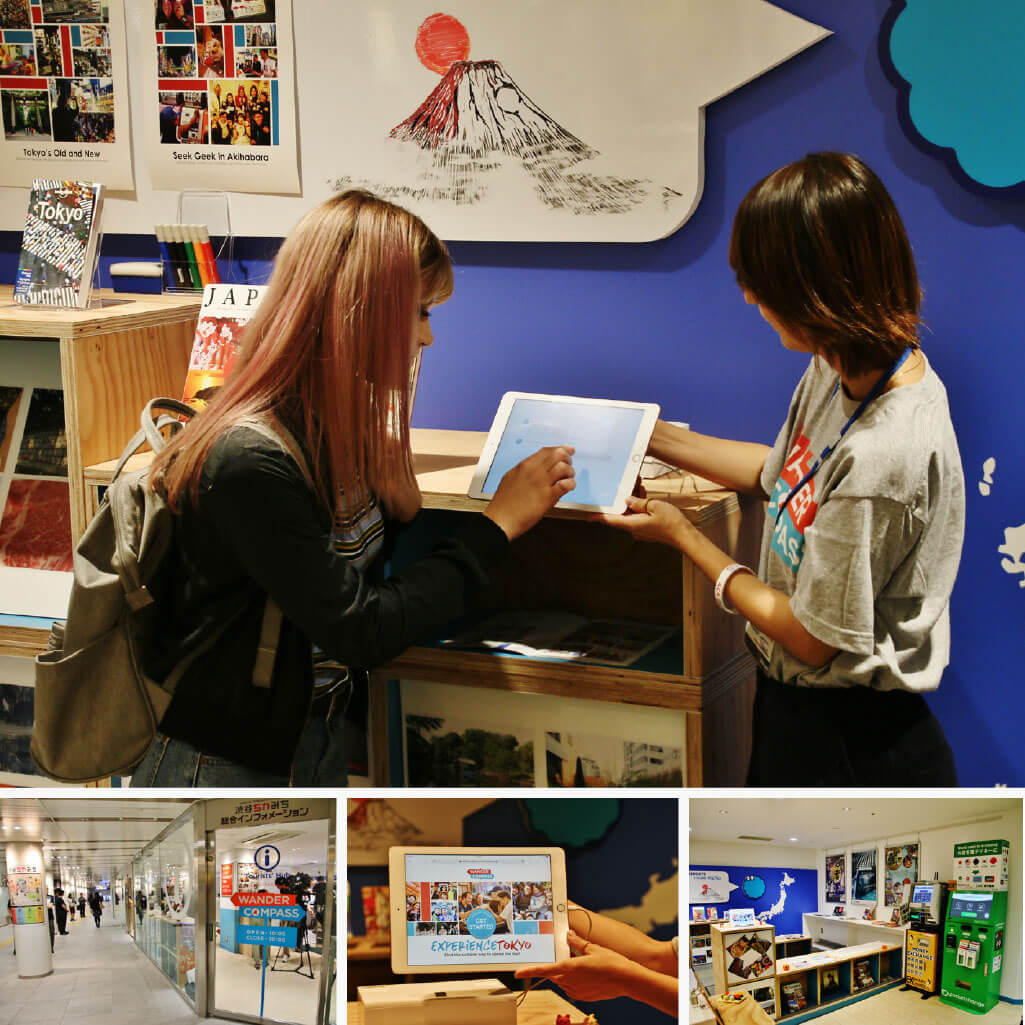 October 19th saw the launch of WANDER COMPASS, a new kind of tourist information center. Located in the underground passageway near Shibuya Station's exit 3A, near SHIBUYA 109, this place originally started out as a service counter, where a concierge provides information around Shibuya Station and domestic/foreign tours mainly to local residents. But now the service is so much more. WANDER COMPASS is not only a tourist information center.
Today it also helps match foreign tourists with local Japanese Huber.'s "Tomodachi Guide", promising to help you discover the real Japan. While these guides are showing you around Tokyo, you can go ahead and leave your luggage with WANDER COMPASS and travel unencumbered through the city's busy streets. The service will also help you make sense of the train system, buy package tours, and make hotel reservations, all in English. Finally, WANDER COMPASS also offers currency exchange for Japanese yen.
Editor's Pick
Starting the New Year with a Shopping Blast
The quiet Japanese New Year's Eve is followed by shopping sprees around the city due to the staggering discounts and sales. One particularly fun-filled shopping custom is the 'fukubukuro' or lucky bag'. It's a bag full of random items and it's a fun way to test your luck and treat yourself. Businesses prepare various lucky bags.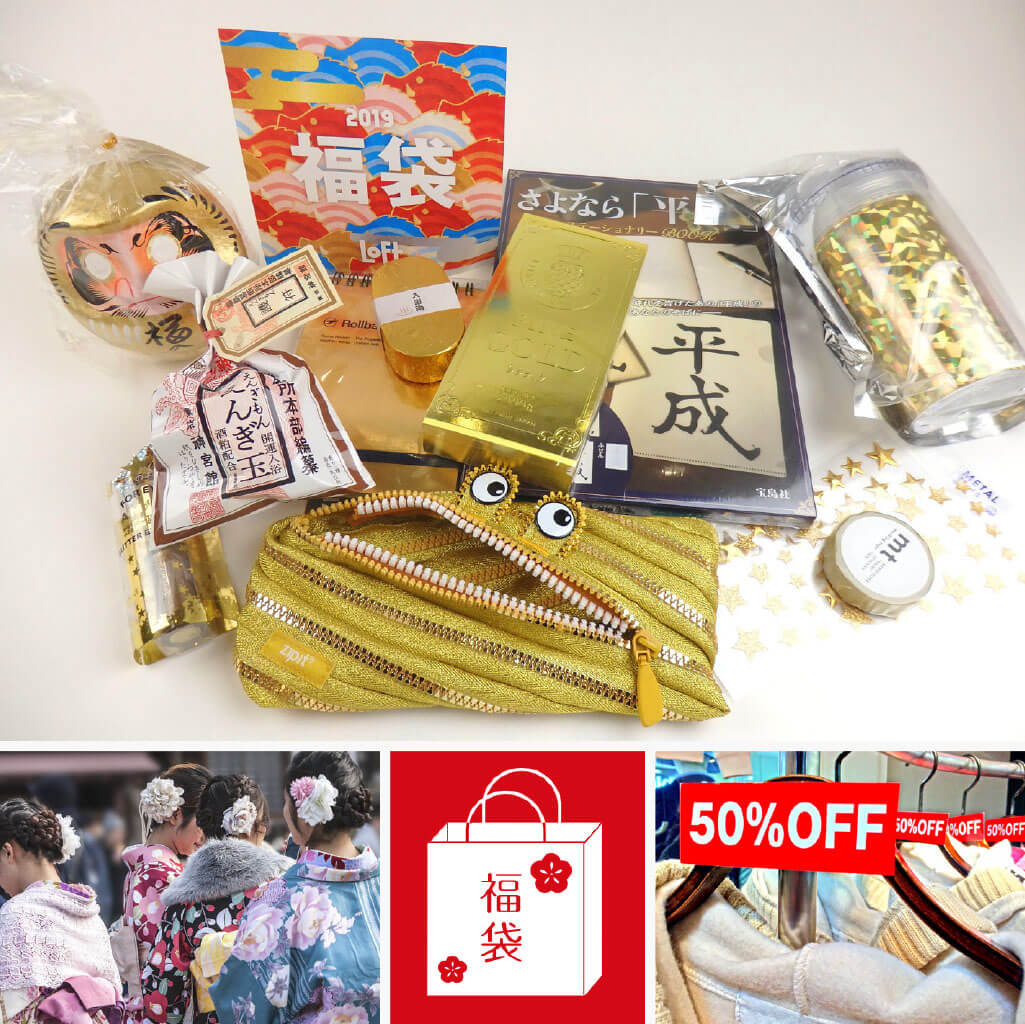 All of retailers in Japan celebrate "the first sale of the year". This old custom is called 'hatsu-uri' and although records are not very specific, it can be traced back to the Edo period. Now hunting for bargains has become an integral part of the holiday and it's the reason why some department stores like SEIBU and SOGO are open as early as the 1st of January. However, a lot of department stores actually open their "first sale" on the 3rd of January, whereas Nihombashi Mitsukoshi opens on the 2nd of January and celebrates the New Year with ceremonies like a traditional shishi-mai (lion dance), Ikebana (flower arrangement) and so on.
One particularly fun-filled shopping custom that has emerged is the 'fukubukuro' or lucky bag'. It's a bag full of random items for a set price. Stores pack lucky bags that vary in their contents, sizes and prices and the catch is - no one knows what they're buying. In recent years, the fukubukuro hunters has spread throughout Tokyo. People speculate online, and some businesses have recently started disclosing the contents in advance, but still the majority of lucky bags stay true to their original idea of surprising you. The important thing is that you're always getting a bargain! Popular shops have long lines and lucky bags seem to be bought up quickly. So, go as early as possible and remember - no peeking!
Isetan Shinjuku Store http://www.isetan.co.jp/int/
Ginza Mitsukoshi http://www.mitsukoshi.co.jp/g/int/
Nihombashi Mitsukoshi Main Store http://www.mitsukoshi.co.jp/int/
Seibu Ikebukuro https://www.sogo-seibu.jp/ikebukuro/
MOVIE of this Month
ISHIKAWA BREWERY
Tokyo Sake with History
Attraction at the Edge of The City
A centuries-old tradition, sake-making is an integral part of Japanese culture. Though its production is commonly associated with rural areas, Ishikawa Brewery has been brewing sake in the Tokyo area since 1863. Located near the Tama River, the brewery has remained a family run fixture spanning multiple generations. The current CEO, Yahachiro Ishikawa, sat down with us to talk about the rich history of this brewery and its relationship with the surrounding area.
Photo Download: Images can be downloaded here. All images are available for use in printed, online, and other distributed media.
Press Release: Click on the "PRESS RELEASE" button to access the original press release. * Note that Japanese press releases are included.