TOKYO with the Season
AUTUMN MOON-GAZING IN TOKYO
Gazing upon nature's magnificence has many forms: from hanami (cherry blossom viewing) in Spring to tsukimi (moon-gazing) in Autumn. In Japan, there are moon-gazing festivals where people gather to eat mochi and marvel at the night sky. Traditionally, it was only the moon, but nowadays in Tokyo, it shares the sky with the cityscape, allowing for some splendid views.
Gazing upon nature's magnificence has many forms: from hanami in Spring to tsukimi in Autumn, people love watching flowers, birds, autumn leaves and the moon and stars. In Japan, the practice of tsukimi or moon-gazing is an autumn activity, and there are moon-gazing festivals where people gather to eat mochi and marvel at the night sky. The view in the distant past used to be only the moon set against a star-strewn sky, but nowadays in Tokyo, the moon is hanging above the top layer of the cityscape, making modern moon-gazing a new experience. These moon-gazing events used to be in August during the harvest moon, but now the tsukimi date falls between the end of September and beginning of October. So what are Japanese people trying to see on the moon? Not a man, not a werewolf, but according to old legends - a rabbit! Try and spot it for yourself, in the moon !
TOKYO in this Month
- THINGS TO DO -
Sony Unveils Their New Ginza Park: Ginza Sony Park
The Ginza area of Tokyo is abundant in upscale shops and luxury goods, and now, thanks to the unveiling of the new Ginza Sony Park on August 9th - it will also be a home to new green spaces.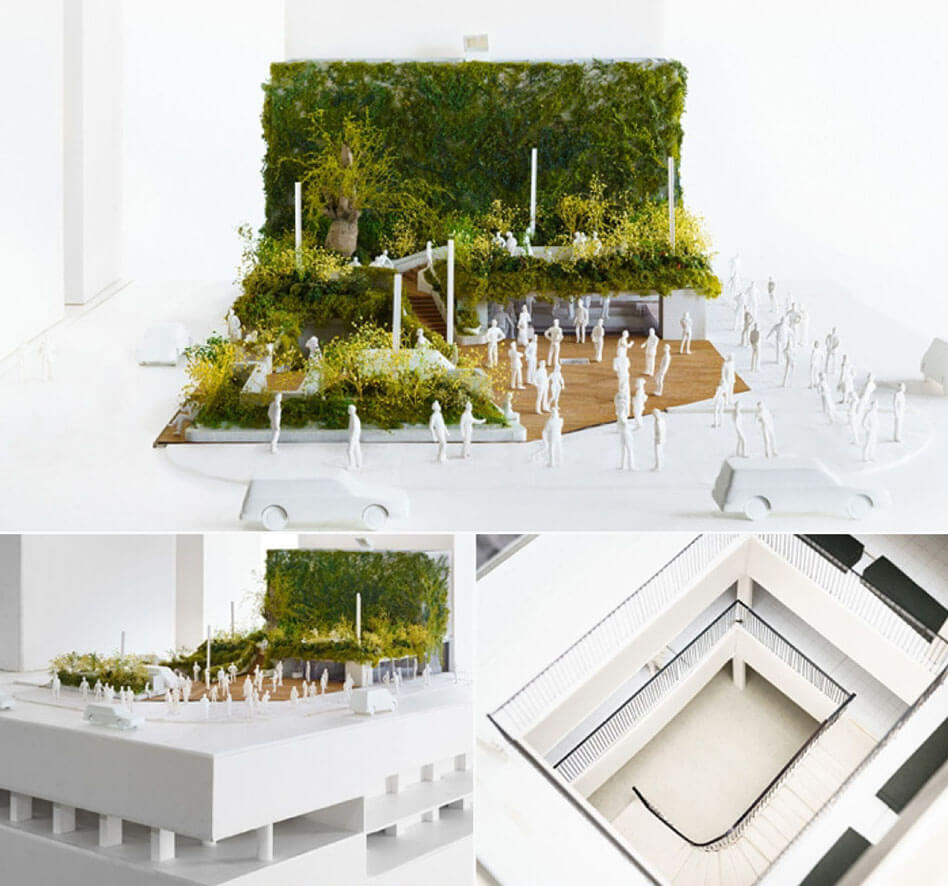 The park is located on the site of the old Sony Building, which was shut down last year. Although not the most expansive greenspace, it will offer some much needed breathing room for the denizens of Tokyo. The new recreational area will remain in place until 2022 when work on the brand new Sony Building is scheduled to be completed. But that doesn't mean the park will be completely gone by that time.
The original Sony Building was meant to make people feel like they were taking a relaxing, vertical stroll through Ginza, and it's predicted that its successor will take this concept and push it even further. To that end, the park will most likely be preserved in some form, be it above or below ground – a sort of 3D park if you will. However, if you're a fan of traditional parks, you still have a lot of time to check out this piece of green tranquility located in the middle of one of the busiest metropolises in the world.
TOKYO in this Month
- THINGS TO DO -
The Cultural Exchange Building Brings A Touch of Modernity to Kanda Myojin Shrine
Kanda Shrine, also known as "Kanda Myojin," is a Shinto shrine in Tokyo originally built more than a millennium ago in the year 730. It's one of the most historically significant places of worship in the entire capital, but it doesn't mean it's averse to progress.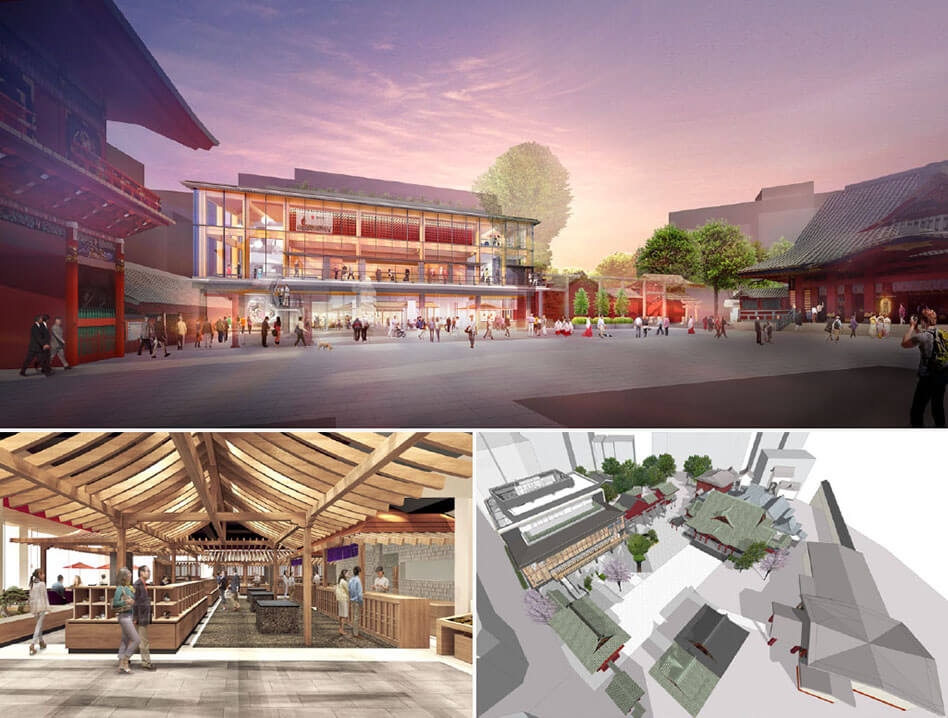 kandamyoujin
In December this year, the shrine will open their brand new cultural exchange building. The complex will consist of five stories both below and above ground, and feature a café, a theatrical stage, and a hall capable of sitting 400 people with an additional 700 places in the standing section. Although no exhibitions or performances have been announced yet, we can assume that they will seamlessly mix tradition with modernity. After all, that's what Kanda Myojin Shrine has been doing for centuries.
The shrine was originally very popular with samurai and warriors going into battle but nowadays it's more frequently visited by technology and pop culture enthusiasts spilling over from the neighboring Akihabara area. However, it really is a place for everyone, as evidenced by the popularity of the Kanda Matsuri festival held on the shrine grounds. Every odd-numbered year, the festival draws in thousands of people wanting to take part in the huge parade and to try some Japanese festival food. Starting next year, they'll also be able to pop in for a coffee at the cultural exchange building.
http://www.kandamyoujin.or.jp/what/
https://www.kandamyoujin.or.jp/bunka/detail/?id=63 (Japanese)
TOKYO in this Month
- THINGS TO DO -
animate girls festival 2018
One of the things Japan is most famous for is its anime. If you're a fan of Japanese animation and a girl (although guys are welcome too!) you won't want to miss "animate girls festival", held every year in Ikebukuro!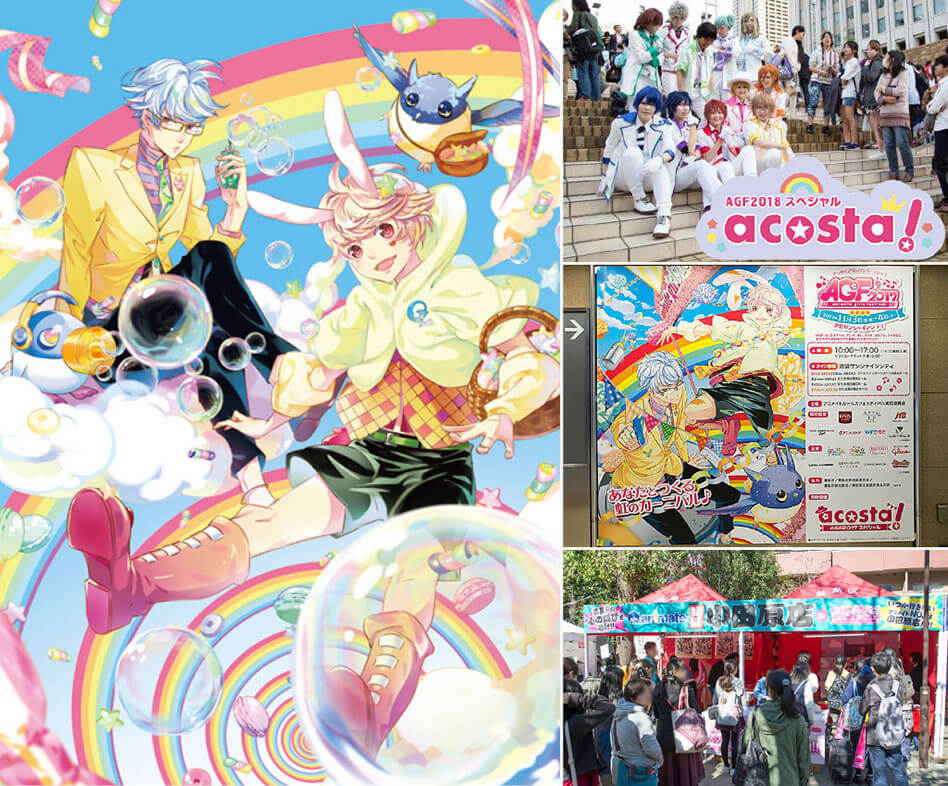 ©yura ©AGF2018
"animate girls festival 2018" will be held in Ikebukuro Sunshine City on the 10th and 11th of November. If you're a fan of Japanese animation and a girl (although guys are welcome too!) you won't want to miss "animate girls festival", held every year in Ikebukuro! This festival is dedicated to female anime fans, and it's a place where you can see your favourite voice actors on stage, pick up some exclusive, limited edition goods - there are over 100 booths to choose from - and soak in the anime atmosphere! Over 86,000 people visited this event last year. Whole day tickets and afternoon tickets are available via event homepage. A photo ID is required when you enter the festival. Same-day passes are not available.
Contact: animate https://www.animate.co.jp/company/interview/
https://www.animate.co.jp/ex/agf/ (Japanese)
TOKYO in this Month
- EATING OUT -
Thanking Japanese Farmers and Fishermen At TOKYO HARVEST 2018
One of the best ways to get to know a culture is through their food, especially in Japan. Food features prominently in all things Japanese. And at the center of it, you have farmers and fishermen who help keep Japan fed and happy. TOKYO HARVEST is a way to thank them.
The festival first began in 2013 and has since continued to attract tens of thousands of people. In 2018, Tokyo Harvest will be held around the Shintoradori area near Shinbashi Station on the 11th, 12th, and 13th of October from 4 PM to 8 PM-except the last day when the festivities will start as early as 11 AM.
During TOKYO HARVEST, every region of Japan will have a chance to present their regional crops and dishes. While this is happening, event-goers will also be able to browse art stalls, play games, and enjoy music. Or, for those wanting a more agricultural experience at the event, you can also pay to harvest some genuine Japanese crops on your own. In previous years, guests could dig up Hokkaido potatoes.
Previous incarnations of TOKYO HARVEST also included various support and aid drives to help those parts of Japan that were hit by earthquakes or typhoons, and the same will most likely happen this year. So if you want to take a culinary tour of Japan while also helping the country heal, then TOKYO HARVEST sounds just like the place for you.
TOKYO in this Month
- WHERE TO STAY -
New Hotels Shaking up Tokyo's Hospitality Scene
This autumn will see the opening of not just one, but five new hotels in Tokyo. One look at our list and we're sure you can find the ideal place to stay.
MIMARU TOKYO UENO INARICHO (opening on September 13th) is great for those on a budget or who want a vacation that feels as though you're really living in Japan. The rooms come with a mini-kitchen, and takeout from the online "demae" site can be delivered to your room if you don't feel like cooking.
https://mimaruhotels.com/en-us/ueno-inaricho/


nine hours Asakusa (opening on September 21st) is a capsule hotel which welcomes both men and women. After storing your luggage securely in a locker, you can change into your complimentary ninehours clothing and freshen up with a shower. Toiletries are all provided, so there's no need to bring anything with you. This hotel also offers options such as a quick nap or shower without staying overnight.
https://ninehours.co.jp/en/asakusa/


MUSTARD HOTEL SHIBUYA (opening in October) is close to Shibuya station and the beating heart of Tokyo's metropolis. Actually, this hotel is part of "SHIBUYA BRIDGE", a new large-scale commercial facility. Designed as a place not just to stay, but to enable all visitors to enjoy their trip to the fullest, the Mustard Hotel offers dormitory rooms as well as standard hotel rooms.
https://mustardhotel.com/
THE GATE HOTEL TOKYO by HULIC (opening on December 14th) is conveniently located near three large stations: Ginza, Hibiya and Yurakucho. It offers delicious food in a relaxing space for you to unwind after a busy day of sightseeing and exploring. For the shopaholics, there are stores inside the hotel building, so you won't have far to travel!
https://www.gate-hotel.jp/en/tokyo/


VIA INN Iidabashi Korakuen (opening on September 5th) is very close to Budoukan, Tokyo Dome, and around 5-minute walk from Iidabashi Station-The area is connected to five separate train lines making this hotel an excellent base for those who want to explore Tokyo quickly and easily.
https://www.viainn.com/en/iidabashi-k/
TOKYO in this Month
- TRAVEL TIPS -
Stay Connected through TOKYO's FREE WI-FI Spots !
Staying connected to the internet is often a major concern for travelers these days. Fortunately, Tokyo has you covered (literally!) There are more free Wi-Fi spots in Tokyo than ever before.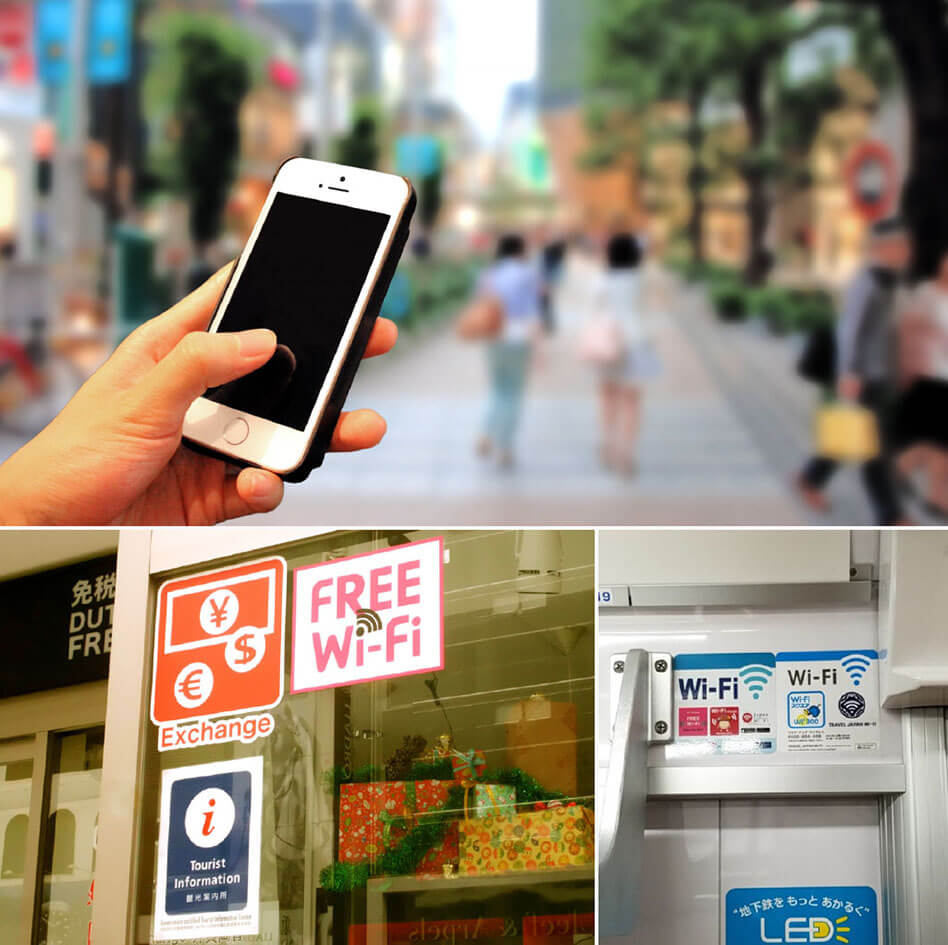 Editor's Pick
Japanese Cooking Classes For Foreigners
Washoku (traditional Japanese cuisine) isn't just food you can get in Japan. It's a piece of their culture that you can taste, and over time it has been perfected to such a degree that washoku is now featured on UNESCO's Intangible Cultural Heritage list. Places where you can learn to cook Washoku, in English are spreading across Tokyo and growing in popularity.
Here's how foreigners can learn more about Washoku firsthand:
WASHOCOOK
Organized by the Japan Association of Cooking for Foreigners, this course teaches you Japanese home-style cooking completely in English. Not only that, you'll also get a detailed explanation of all the ingredients and cooking methods. The best part is that every dish you learn takes no longer than 20 minutes to prepare.
https://washocook.com/ja/
CHAGOHAN TOKYO
Located in Kappabashi Kitchen Town near Asakusa, CHAGOHAN doesn't just offer traditional or casual Japanese cooking classes but also a green tea course and sake tastings. The draw of this course is that it mixes modern cooking methods with traditional ambience achieved through antique Japanese furnishings and the like, all to make this experience a day you won't forget anytime soon.
https://www.chagohan.tokyo/
Kujo Tokyo
This cooking class boasts mostly organic ingredients and the ability to make the art of cooking fun. Whether you want to learn how to prepare tofu and soybean dishes, Japanese-style curry, fish, or sushi, Kujo Tokyo claims it can guide you on your culinary journey.
There's also the "Japanese Cooking & Culture School Salon de Hifumi-an" in Shinjuku or "Cooking with Mari" in Bunkyo. Most courses only last a few hours, so give them a try if you're ever in Tokyo.
https://kujo.tokyo/
https://www.youtube.com/watch?time_continue=17&v=b5muClAQZ8k


MOVIE of this Month
"MORE THAN MATCHA"
Danton Stephane is a qualified sommelier, hailing from France, who came to Japan in 1992. Inspired by Japan's tea culture and realizing wine-making and tea-making are not as different as one might think, he opened his tea store Ocharaka in 2005. At first, he learned a lot about Japanese tea so that he could open it up to more possibilities of flavor. Using his sommelier knowledge he gives tea a finesse and sometimes surprising flavors. Today, one can say that Stephane knows more about Japanese tea than Japanese themselves and his Ocharaka store has become a true treasure in Nihombashi, an attractive shopping area in the heart of Tokyo.
Photo Download: Images can be downloaded here. All images are available for use in printed, online, and other distributed media.
Press Release: Click on the "PRESS RELEASE" button to access the original press release. * Note that Japanese press releases are included.