TOKYO with the Season
The Beautiful Cosmos Flowers - Sakura of the Fall
Cosmos is a pink field flower that looks like a cherry blossom and blooms during the Fall. Tiny, but numerous, they dot the fields and gardens like stars across the cosmos. Their beauty lies in their abundance, and there are several places in Tokyo, such as the Showa Kinen Park, where you can enjoy the endless waves of cosmos flowers.
Cosmos is a pink field flower and blooms throughout September, sometimes starting from mid-August. This timing is precisely why, in Japan, it got the nickname "Aki-zakura (Cherry blossom in Fall)". They mostly come in shades of pink, but there are also white and yellow varieties along with others. There are several places in Tokyo one can enjoy, such as the Showa Kinen Park in Tachikawa, where you can see ocean waves of cosmos flowers. Another place for cosmos-viewing in Western Tokyo is the Koganei Park, which is free admission and always open. On the other side of the city, Hama-Rikyu Gardens also offers endless waves of cosmos flowers juxtaposed with skyscrapers in the background.
TOKYO in this Month
- THINGS TO DO -
46 th Oedo-kakki Parade Nihonbashi-Kyobashi Festival - Where All Roads Lead
October 28th, 2018 (Sunday) - mark your calendars and go enjoy traditional Japan in the heart of Tokyo. The Nihonbashi-Kyobashi Festival will take place for the 46th time this year, showcasing different traditional dances and music from all across Japan every year. All roads lead to Nihonbashi!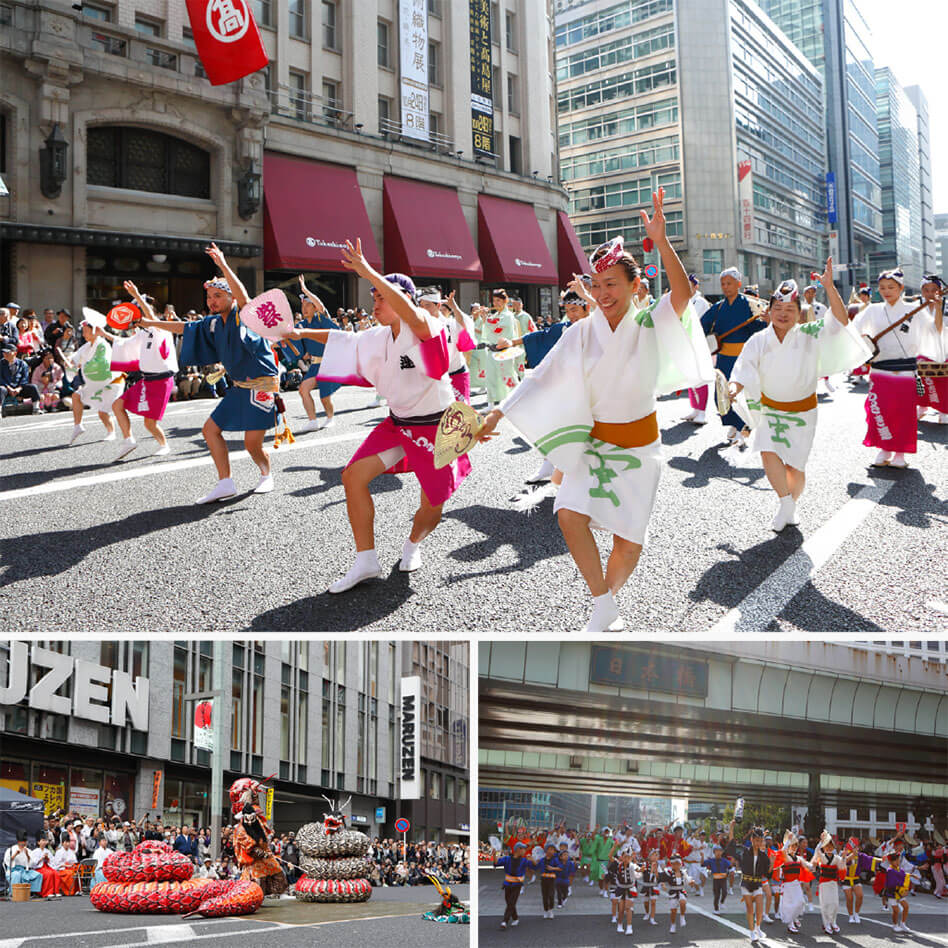 In the past, many roads led to and from Nihonbashi, connecting the city of Edo (old Tokyo) to the rest of Japan. In October, there's the Nihonbashi-Kyobashi festival to preserve and celebrate this convergence of roads. It features dances and various performances by associations invited from all across Japan. Some of the dances from previous years include the Awa Odori dance, the Sendai Suzume Odori (Sendai Sparrow Dance), the Edo Kappore Sakuragawa style performance, and the Dragon Dance from Nagasaki. This year, mark your calendars for October 28 th (Sunday) and go enjoy traditional Japan in the heart of Tokyo. This year will be the 46 th Oedo-Kakki Parade Nihonbashi-Kyobashi festival, so look forward and stay tuned for more information to this year's program!
TOKYO in this Month
- THINGS TO DO -
The Toyosu Market Prepares To Open For Business
After nearly two years of waiting, the Tsukiji Inner Market will be moving to its new location in Toyosu on October 11th. Known for being the big fish wholesale market that handles the largest volume of marine products in the world and home to the famous tuna auctions, Tsukiji has been a Tokyo landmark for over 80 years. Fortunately, it isn't going that far away.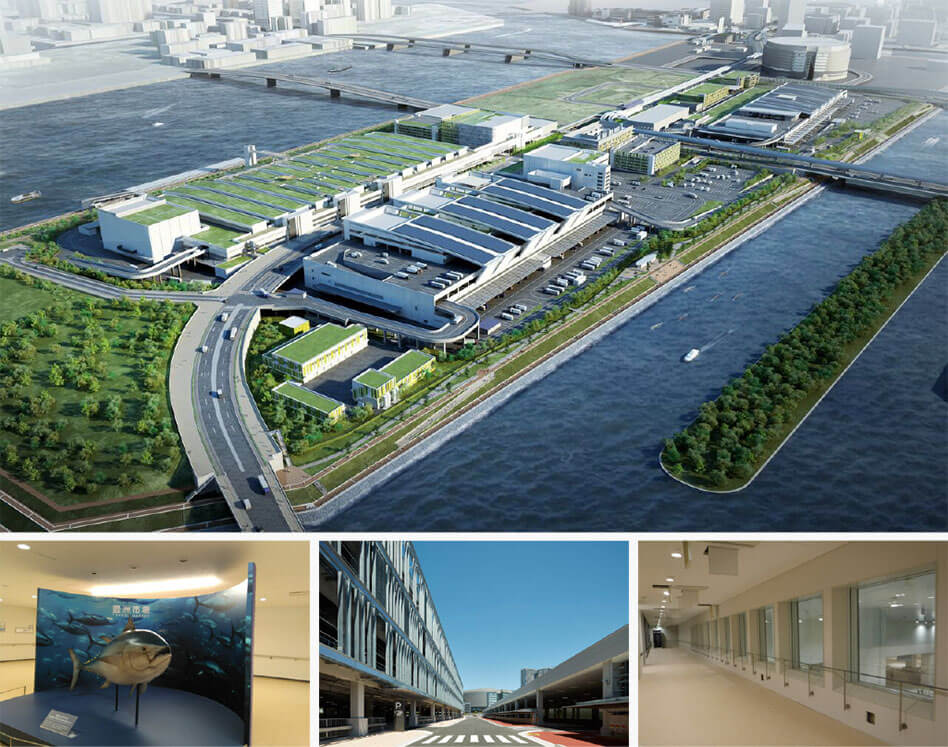 © Metropolitan Central Wholesale Market
The upcoming Toyosu Market is located a little more than a mile away from Tsukij near Odaiba. The new market will consist of three buildings, all equipped with viewing decks for tourists wanting to peek at industry professionals bidding hundreds of thousands of dollars on tuna. This will be a change from the old market where only a very select number of tourists could get up and close to the action right there on the auction floor. This way, more people will be able to witness the sales without having to stand in line.
Also moving to Toyosu will be most of the famous Tsukiji Inner Market restaurants, so while the location of the market might change, it will continue to serve great, fresh seafood to all of its visitors. Future plans for the next door at Toyosu Market include a hotel and a hot spring resort, but those won't be ready before the grand opening this fall. But first, visit Toyosu for its delicious food!
TOKYO in this Month
- THINGS TO DO -
Momijigari - Where To Experience Japan's Autumn Foliage
"Momijigari" is the Japanese tradition of visiting scenic areas in fall where maple tree leaves have turned red. Luckily, you don't have to leave the capital to experience it yourself, as there's plenty of momijigari fun waiting for you in Tokyo.
Mitake Gorge is known as one of the best autumn-color viewing spots in Tokyo. Held from late October to late November along the banks of the Tamagawa River, The Mitake Gorge Autumn Colors Festival offers a look at some of the most spectacular maple tree leaves in all of Japan. With the added bonus of hiking tours, street stalls, and beautiful illumination, the Mitake Gorge is an unmissable momijigari destination.
The Tenku Autumn Leaves Festival is also not to be missed. Starting around mid-October on Mt. Mitake, this Festival is a fantastic place for families to celebrate the hunt for the red October leaves. Besides breathtaking autumn colors, the festival also includes a violin concert, geisha performances, and a ninja experience and training event as well!
The Mount Takao Autumn Leaves Festival
In November, Tokyo's Mount Takao comes alive with the sounds of taiko drums, dances, and orchestras. The annual momijigari festival brings hundreds of people to the mountain by offering them a chance to experience traditional Japanese Autumn viewing while surrounded by the colorful beauty of nature.
The Koyo Autumn Leaves Festival
Held in Showa Memorial Park, the Koyo festival is a quiet event where visitors can stroll through the park's Japanese Garden enjoying the yellow gingko trees and red maples and topping the day off by attending a genuine tea ceremony.
The Tenku Autumn Leaves Festival http://momiji.tenku-geisha.com/tenku-ninjya-yashiki.html
The Mount Takao Autumn Leaves Festival https://www.hkc.or.jp/momiji_fes/ (Japanese)
TOKYO in this Month
- THINGS TO DO -
A Guide to Tokyo's 2018 Halloween Parties
Every year, there are so many big Halloween celebrations in Tokyo. It's worth heading down to Roppongi, Shibuya, Shinjuku, Odaiba or Ikebukuro to laugh at the outlandish costumes on show.
As the nation that perfected the art of cosplay, it's no surprise that Japan has fully embraced Halloween. Every year, there are so many big Halloween celebrations all across the country, it's hard to decide which one you should attend. If you happen to be in Tokyo, here are some that you might want to consider:
Harajuku, Omotesando Halloween Pumpkin Parade
Held in late October around Omotesando area, the Halloween party is a child-oriented event full of fun, activities. As a bonus, children under 12 can also go trick-or-treating during the event.
http://omotesando.or.jp/halloween/ (Japanese)
Shibuya Halloween
Although not an officially organized party, every year, close to 100,000 people gather at the iconic Shibuya scramble crossing in full Halloween get-up to celebrate in the wildest and most chaotic way possible. This year, the event will be held on October 31st.
Odaiba Art Fireworks & Halloween Beach Festival
If you want to greet Halloween with a bang (of over 10,000 colorful firework explosions in the night sky) then the Odaiba Seaside Park party is just the thing for you. Last year, the party was held on October 21st and cost 5,800 yen to enter.
https://www.sagaswhat.com/odaibafireworks/
Sunshine City FUN! FUN! HALLOWEEN!
Sunshine City, an entertainment shopping mall located in Ikebukuro offers various HALLOWEEN events from September 27th to October 31st.
https://www.sunshinecity-global.com/en/
TOKYO in this Month
- EATING OUT -
Tokyo Ramen Show 2018 - The Biggest Noodle Event In Japan
Ramen, is one of modern Japan's staple foods. Tokyo Ramen Show 2018 - The Biggest Noodle Event In Japan Ramen noodles are a staple of a modern Japanese diet, possibly because there are hundreds of different ways you can prepare the dish. If you want to sample them all in one convenient location, then simply stop by the Tokyo Ramen Show.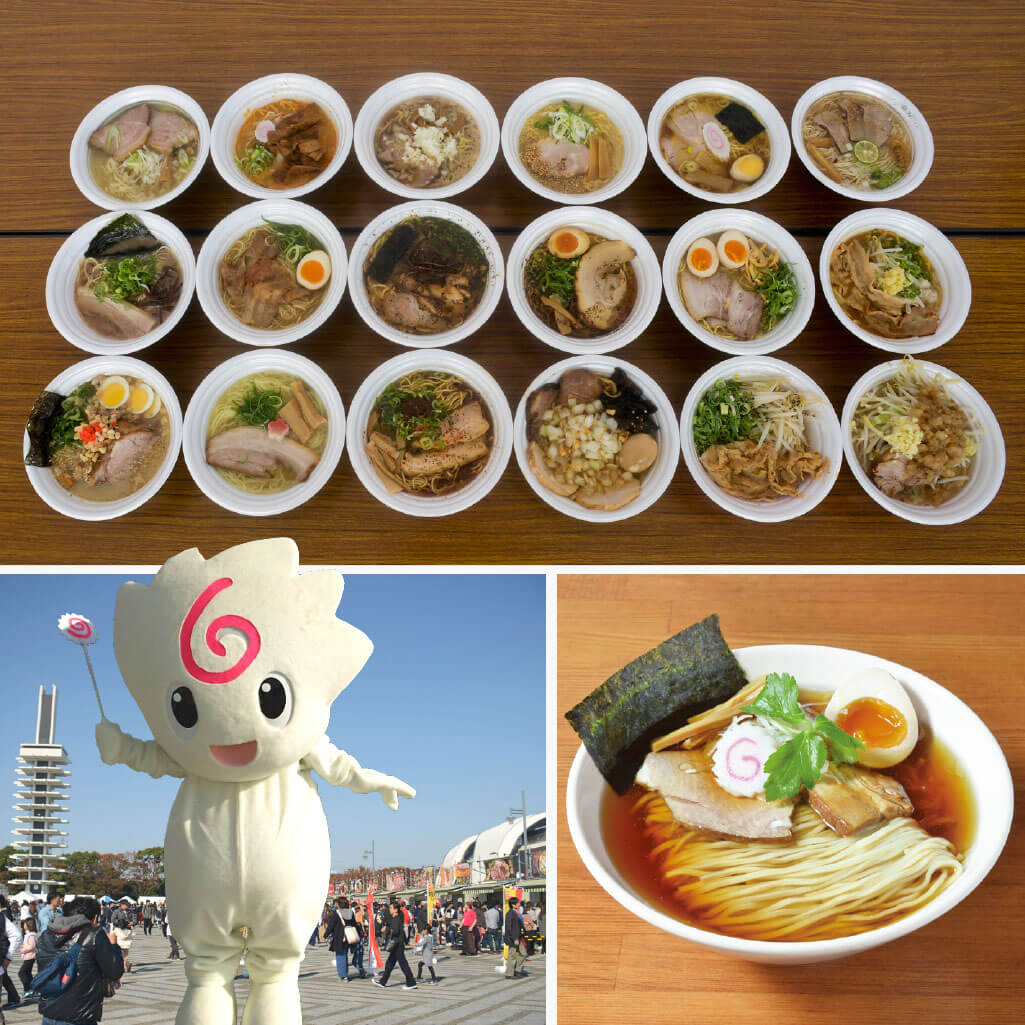 The show, labeled the biggest noodle event in all of Japan, will be held in Komazawa Olympic Park where ramen masters from all over the country will sell their specialty dishes from individual booths. Sample new and exciting variations of miso or tonkotsu (pork bone) broth ramen and many more, you'll need to first buy a pile of food tickets, one of which (good for one bowl) costs 850 yen. ※Take note, though, as the booths do not accept cash. The 2018 edition of the Tokyo Ramen Show will be held from October 25 to November 4, between the hours of 10 AM and 9 PM (Closes at 6 PM on October 30 and November 4.) Expect the same popularity as its previous years, it will be a good idea to get there early if you don't want to miss out some of the best Ramen you'll ever taste.
http://www.ramenshow.com/ (Japanese)
TOKYO in this Month
- WHERE TO STAY -
A Quick Look At Tokyo's Newest Hotels
New accommodation facilities are opening every month in Tokyo. We have picked up 5 new hotels to recommend that might fit your taste from the amount of option available.
Japan is famous for its "OMOTENASHI" hospitality. To fully understand it, one must really stay at a hotel in Japan, and for all those willing to pay a little extra for the experience, we have a few recent recommendations that you might want to try out.
HOTEL FELICE AKASAKA
Opened in Akasaka on March 29 th, the Hotel Felice in seamlessly blends traditional Japanese charm with all the comforts of modern life. Its most unique feature are the bright red corridors, specifically designed to resemble a row of torii. (gates most often found at entrances to Shinto shrines)
https://www.489pro.com/asp/489/menu.asp?id=13000066&ty=ser&lan=ENG


NOHGA HOTEL
Located in the middle of Ueno, NOHGA HOTEL fully embraces the area's shitamachi vibe, which is historically associated with less affluent but more "authentic" parts of Tokyo. Its grand opening is set on November 1st.
https://nohgahotel.com/en/ueno/


PLAYSIS EAST TOKYO
Opened recently in this August, this hostel is already making a name for itself thanks to its cool design and use of the latest gadgets. Not only does it offer rental of free portable translator that is able to communicate in 63 languages, a portion of PLAYSIS EAST TOKYO's beds are even equipped with virtual reality technology.
https://www.playsis-easttokyo.com/enhome


HOTEL GRACERY ASAKUSA and Mitsui Garden Hotel Nihonbashi Premier
These two hotels are opening on October 4 and September 13, respectively. Both offer the best amenities possible and easy access to some of the most famous Tokyo attractions.
HOTEL GRACERY ASAKUSA http://asakusa.gracery.com/
Mitsui Garden Hotel Nihonbashi Premier https://www.gardenhotels.co.jp/nihonbashi-premier/eng/
Editor's Pick
A Night Out in Tokyo - A Date with Japanese Tradition
The nightlife in Tokyo is vibrant and offers something for everyone, even those in love with tradition. For a unique night out that's a bit out of the ordinary, you can have dinner in Tokyo while watching a kyogen play, learn to play the taiko drums, or ever enjoy the rare chance to play traditional games with geishas.
MOVIE of this Month
DIPPING INTO Sento Culture: Community & Bonding in Tokyo
When Stephanie's friends invited her to experience a Japanese public bath, or 'sento', one day, she took them up on the offer and was charmed by the effects that a sento has on a person's mind and body by providing wellness and a feeling of community.
Stephanie Crohin is an official 'sento ambassador', spreading sento culture, promoting little-known sento places, documenting the uniqueness and coziness of each one and publishing it all in a book.
Stephanie Crohin
Sento author, journalist/official sento ambassador since 2015.
Sento news & daily life in Tokyo dokodemosento.com
IG: _stephaniemelanie_
"Sento Wa Chiisana Bijutsukan" (Sentos are small museums)
Keibunsha-shobo
"France Joshi No Tokyo Seno Meguri" (Tokyo sento guide by a french girl)
GB
Photo Download: Images can be downloaded here. All images are available for use in printed, online, and other distributed media.
Press Release: Click on the "PRESS RELEASE" button to access the original press release. * Note that Japanese press releases are included.