TOKYO with the Season
OBON AND LOTUSES - Soulful Summertime
Obon is a festival in Japan that honors the souls of one's ancestors. Observed in August throughout most of Japan, in Tokyo and several other regions it takes place in July due to calendar differences. Another prominent feature of July and August is the blossoming of lotuses. These flowers are usually associated with Buddhist symbols of enlightenment of the soul. An iconic Tokyo spot for lotus-viewing is the Shinobazu Pond in Ueno.
There is a comforting belief that the souls of our dearly departed can come back for a short while. In Japan, this takes the form of the Obon festival that honors the dead for 3-4 days during the summer. However, the country is split between regions that observe Obon in August, and regions that observe it in July, among which Tokyo Falls into the latter category. This stems from switching from the Lunar calendar to the Gregorian calendar in the Meiji era, when some regions decided to change the date of Obon while others kept the old dates. Today, most businesses decide to take Obon holiday in August, and people who have families from different parts of Japan head back to their hometown to celebrate Obon twice a year. Aside from the family Obon rituals, there are big Obon festivals with Bonodori dancing that anyone can join.
This Buddhist practice overlaps with the blossoming of lotuses, a flower that symbolizes reaching nirvana. Lotuses rise from muddy ponds all the way to the surface and open to show all their splendour. An iconic spot for lotus-viewing in Tokyo is the Shinobazu Pond in Ueno. There you can rent a boat to enjoy the beauty of the lotuses and then head over to Bentendo temple to say a prayer.
TOKYO in this Month
- THINGS TO DO -
Experience Traditional Japanese Theater by Firelight
For more than a thousand years, the people of Japan have enjoyed night performances of Noh theater illuminated by bonfires and torches or under the moonlight. Even today, this tradition of Takigi Noh (Noh by firelight) is very much alive and you can experience it for yourself in Tokyo from early spring through late October.
Noh is a form of classic Japanese musical drama characterized by its flowery language, slow pacing, and actors adorned in elaborate costumes and masks representing demons and other fantastical creatures. The art developed around the 14 th century, but its roots go back even further to bonfire-lit religious ceremonies performed at the Kofuku-ji temple in Nara, located in central Japan, over 10 centuries ago. And what's even more amazing is that these Takigi Noh performances are still ongoing in Kofuku-ji every year in May. This classic Japanese musical drama can also be seen in Tokyo!
To experience Noh by firelight a little closer to the capital, look no further than the Takigi Noh shows held at the Zojo-ji temple in Tokyo. The 2018 performance will be held in late September, with ticket prices starting at 2,000 yen. Although seeing traditional Japanese art performed by firelight is more than worth the price itself, ticket-holders will also be able to attend special lectures prior to the show to better understand the intricacies of Noh theater.
Other places hosting Takigi Noh shows include Meiji Jingu and Shinjuku Gyoen.
Zojo-ji temple Late September
http://www.zojoji.or.jp/en/index.html#top
http://www.zojoji.or.jp/event/ev_takiginou.html (Japanese)
Shinjuku Gyoen Mori no Takigi Noh http://www.kanko-shinjuku.jp/takiginoh/-/index.html (Japanese)
TOKYO in this Month
- THINGS TO DO -
Shinagawa Shukuba Matsuri: Remembering History
On the 29th and 30 th of September, 2018, Shinagawa holds a festival to remember and celebrate the time in history when it was the first stop on the Tokaido road connecting Edo and Kyoto. Diving straight into the Edo period means you will see a lot of locals parading in costumes from those bygone days.
Today, Shinagawa is an important Shinkansen stop, but this is nothing new for them. Shinagawa was formerly the first stop on the Tokaido road from Edo to Kyoto. This road was an important link between the two cities during the Edo period and even today there are still old shops and inns built during that time that acted as rest-stops on the Tokaido. To remember this history, Shinagawa holds an annual festival, this year falling on the 29 th and 30 th of September, will be near Aomono Yokocho station on a street that used to be part of the Tokaido road. Diving into the Edo period means you will see a lot of locals parading in costumes from those times. One of the most popular parades is the oiran parade, which features actors portraying oiran (high-class courtesans) as they no longer exist today. Although the oiran parade is held on Saturday, Sunday is also full of fun festivities like the Edo costume procession, Honsenji Temple fire walk ritual, live performances and local products fairs. This event is free of charge and it takes place from 10am to 8pm.
TOKYO in this Month
- THINGS TO DO -
International City of Arts and Culture - Toshima
From 1st September through 9 th December 2018, six different cultural programs will take place in Toshima city as part of its cultural festival. Toshima City is home to the vibrant Ikebukuro as its center. This festival aims to turn Toshima into an International City of Arts and Culture.
Under the motto, "Everyone's a star. Everywhere is a stage," the city of Toshima calls on everyone to take part in its cultural festival, either as visitors or International Arts and Culture Toshima Special Ambassadors. The heart of Toshima ward is Ikebukuro and most of the activities will be centered there. In hopes of raising interest in Toshima, Toshima city turned to the arts as a way to forge a stronger bond between the city and its people. However, this is not completely new for Toshima (Ikebukuro) as it has been known as a theatre city for a long time and it has been organizing various art festivals since the 1980s. This year, in addition to the outdoor performance Daidengaku Ikebukuro Emaki (Scroll) that will take place in the city, there will be five other different cultural programs including theater, dance and traditional performing arts. These programs will take place over the course of several months – from 1st September to 9th December 2018. This performance is part of TOKYO FESTIVAL 2018.
More details will be released as the festival approaches, so be sure to check out the Toshima cultural festival and all it has to offer!
International City of Arts and Culture - Toshima https://www.city.toshima.lg.jp/artculture_en/index.html
TOKYO FESTIVAL
http://tokyo-festival.jp/ (2018 official site will be open 29th August)
TOKYO in this Month
- THINGS TO DO -
Laugh and Learn at the Japan Traditional Culture Festa
Japan has a rich and complex culture that goes back thousands of years and differs from region to region. Sometimes, it can feel a little bit overwhelming, but at the Japan Traditional Culture Festa, you can learn all about Japanese art, food, and music in a fun and relaxing atmosphere.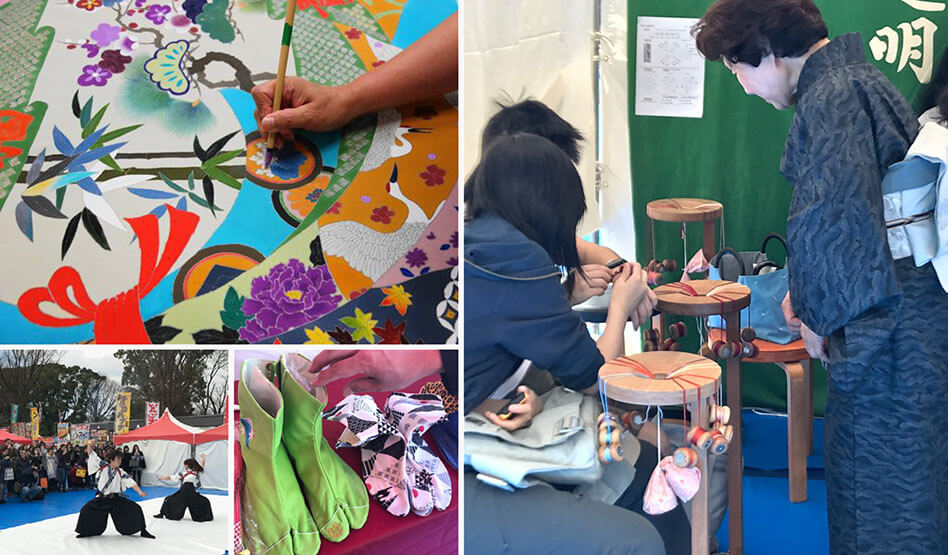 This year, the event will be held at Ueno Park from 14 th (Fri) to 17 th (Mon) September, between 10am and 6pm. Although this year's program has yet to be announced, previous installments of the JTCF included a wide variety of activities for the whole family. Adults were able to enjoy painting courses and tasting of authentic Japanese sake while children had all sorts of fun games to choose: from shooting galleries to koma, classic Japanese spinning top toys. Kimono booths were also available where you could try on traditional Japanese clothing.
Then of course there is the Ninja Experience. Last year, JTCF guests were able to impersonate ninja warriors by playing with fukiya blow-dart weapons or by throwing star-shaped shuriken.
All in all, there's enough to do at the event to really build up an appetite. Luckily, the JTCF also offers all sorts of Japanese festival food at very affordable prices. With no entrance fee, the Japan Traditional Culture Festa will be a great place to spend a day taking in all that Japan has to offer.
http://jtc-festa.com/ (Japanese)
TOKYO in this Month
- EATING OUT -
TASTE OF FALL: Sanma (Pacific Saury) and Matsutake (Pine mushroom)
Fall is abundant with food that reaches the zenith of taste. Persimmons, chestnuts, sweet potatoes, and especially matsutake mushrooms and sanma (Pacific saury fish) are all fall delicacies in Japan. You can try grilled Pacific saury at the Sanma Festival in Meguro, and there are many delightful individual places in Tokyo like Wakuta(Ginza) and RIHGA Royal Hotel Tokyo that provide matsutake mushroom (pine mushroom) dishes.
The cyclical changing of the seasons brings with it new weather and alters the landscape, but the flavors of the season which the Japanese are particularly in-tune to. It's common wisdom that produce in season tastes the richest and fall has always been the most abundant harvest season. In Tokyo, everyone is looking forward to eating sanma or pacific saury, a silver fish that looks like a shiny sword and tastes the best in fall. If you visit Tokyo in September you're in luck, because you can taste grilled saury for free at the Sanma Festival in Meguro. The festival gives away about 7,000 grilled Pacific saury to visitors, and though that might seem like a lot, numbers are limited, so be sure to line up early. It is no coincidence that this generous event is in Meguro. A long time ago, as the shogun Tokugawa Iemitsu was enjoying a day of falconry, he became very hungry. The nearest food establishment bravely served him sanma, despite it being considered a cheap, lowly fish at the time. Despite any predilections he may have had, he thoroughly enjoyed the meal! Eventually, sanma became a famous food in Meguro. How true it is, we will leave it up to your imagination.
The matsutake or pine mushroom grows under pine trees and is a rare and expensive delicacy, much like truffles. You can try it prepared in several ways in restaurants specializing in high-end Japanese cuisine. Just to name a few, Wakuta in Ginza is a restaurant that uses only the best seasonal ingredients, and the RIHGA Royal Hotel Tokyo in Shinjuku that is known for its lavishness and distinct choice of delicacies provides matsutake special course during the season from 1st September to 31st October.
Ginza Wakuta http://www.wakuta.com/
RIHGA Royal Hotel Tokyo https://www.rihga.com/tokyo/restaurant
TOKYO in this Month
- TRAVEL TIPS -
A Guide to Tokyo's FREE Buses
Tokyo has one of the most advanced train systems in the world, which can make getting around the capital an expensive activity. So why not take advantage of the free bus services in Tokyo?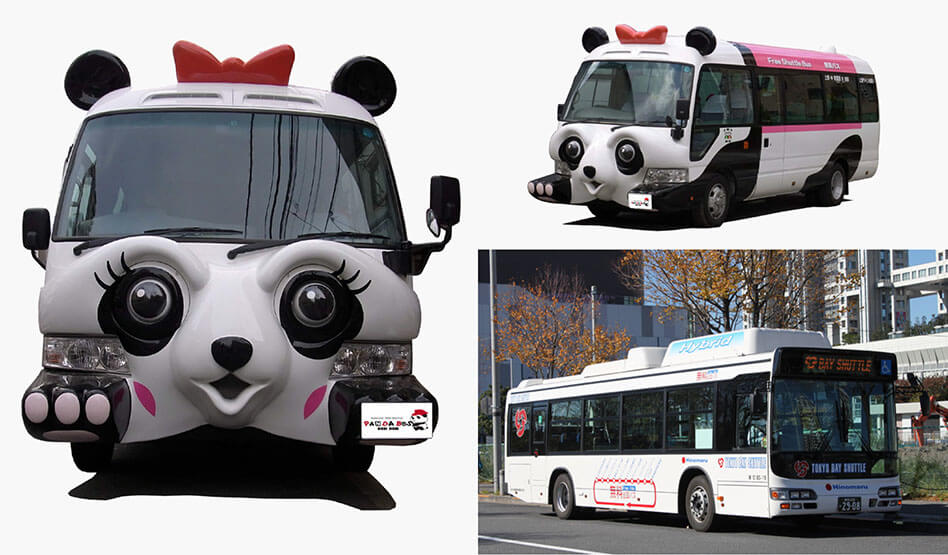 The Metro Link Nihonbashi is one of the major free bus lines available today in Tokyo. It operates between 10am and 8pm, departing from Tokyo Station (Yaesu Exit) and, as the name suggests, covering the Nihonbashi area and all its attractions like the Tokyo Stock Exchange and Mitsukoshi, Japan's oldest department store. There is also a Metro Link Nihonbashi E Line, which runs from 8am to 6pm (runs from 10am on weekends) and covers a larger portion of the Nihonbashi area.
Tokyo Bay Shuttle bus, on the other hand, operates in the Odaiba area, travelling around Tokyo Bay's 19 th century man-made islands. The bus runs from 11:30am to 7:30pm, connecting various Odaiba hotels and tourist spots like the Palette Town shopping complex and theme park. Access to more business-oriented areas like Otemachi, Marunouchi, and Yurakucho is provided by the Marunouchi Shuttle bus, which runs from 8am to 8pm (runs from 10am on weekends).
Panda Bus is arguably the most distinctive of all the free Tokyo buses due to its three dimensional adorable panda appearance. The line runs around the Asakusa area from 10am to about 5:15pm, with a short break between 1pm and 2pm. It's a great way to travel between the famous Senso-ji temple and Tokyo Skytree, the tallest structure in Japan.
Tokyo Bay Shuttle Bus http://www.hinomaru.co.jp/metrolink/index.html (Japanese)
Panda Bus https://www.city-cost.com/blogs/Saitama/z36OM-living_transportation_tokyo_chiyoda-ku_minato-ku_taito-ku
Editor's Pick
The Soul Food of Japan's "Connection Day"
Japan holds many festivals during the summer, but they don't just fall on any random day. Most celebrations are held on "ennichi" ("connection days"), so called because of the dates' association with various deities in Shinto or Buddhism. However, most modern Japanese festivals have lost their religious significance, instead becoming focused on one thing: delicious and inexpensive food.
Nowadays, ennichi celebrations are known for the large number of stalls set up on the festival grounds that sell a variety of traditional fried and sweet foods. The former category tends to include such favorites as yakisoba, takoyaki, okonomiyaki, and many more.
Yakisoba is a stir-fry dish made from noodles fried with vegetables and meat and flavored with a variety of condiments. Takoyaki, on the other hand, are ball-shaped bits of octopus fried in batter, while okonomiyaki are savory Japanese-style pancakes whose ingredients differ from region to region but often include cabbage, meat, and a special okonomiyaki sauce.
When it comes to sweets, the undisputed kings of festival food are cotton candy (wata-ame/wata-gashi) and taiyaki. Taiyaki may be shaped like fish, but they're actually a kind of grilled pancake with delicious fillings. Anko (red bean paste) is the most traditional choice but taiyaki also come in custard, chocolate, and other flavors. Another traditional sweet you will usually find among an ennichi spread are chocolate bananas.
And to wash it all down, there is of course ramune. The name of this carbonated sweet drink comes from the English word "lemonade," but today it comes in many different flavors and is a Japanese festival food mainstay.
You can enjoy every month here!
Zoshigaya Kishimojindo Temple
https://www.gotokyo.org/en/travel-directory/temples-and-shrines
Three times a month: 8th, 18th, and 28th of each month
Kouganji Temple in Sugamo
https://www.gotokyo.org/en/destinations/northern-tokyo/sugamo/
Three times a month: 4th, 14th, and 24th of each month
Fukagawa Fudoudou temple/Tomioka Hachimangu Shrine
https://www.gotokyo.org/en/destinations/eastern-tokyo/fukagawa/
Three times a month: 1st, 15th, and 28th of each month
MOVIE of this Month
Allan West, Nihonga Master
Inspired by nature
Nihonga is a term used to designate Japanese paintings that follow particular techniques, conventions and materials; it emerged as a term during the Meiji period, to differentiate it from Western paintings. Nihonga pigments are notably made from natural ingredients such as animal protein and minerals. The subjects also often represent plant and flowers and are deeply connected to the changing seasons. The American artist Allan West has spent years mastering the art of Nihonga, adding his unique vision and point of view as a foreign artist residing in Japan. West has an open atelier in the traditional neighborhood of Yanaka, where not only does he exhibit his artwork to anyone interested in admiring it, but also paints and answers the questions of anyone interested in this art, in the hope that the dying art of Nihonga thrives once more.
Tokyo Omiyage Project "Tokyo Souvenir"
In June, Tokyo Omiyage Project's third collection of "Tokyo souvenirs" has released its first batch of 4 new products. These additions have an elegant blend Tokyo past and present which are perfect summer items. Click here to see them https://tokyotokyo.jp/topics/omiyage.html