TOKYO with the Season
Seasons of Tokyo: Rain and Hydrangeas
The rainy season in Tokyo lasts from June through July. This doesn't mean it rains every day, but it's always best to be prepared. The summer rains are steady yet warm, so you can still go out and admire the shimmering mirror-like streets and the heightened aroma of summer flowers. One such seasonal flower is the hydrangea or "ajisai" in Japanese. Whether in a beautiful garden or growing along a local alleyway, their pastel petals are a joy to behold.
Tokyoites love the bittersweet feeling of the changing seasons. One of the best ways to appreciate their passing is viewing the different flowers that bloom. During the rainy season from June through July, hydrangeas or ajisai blossom everywhere – from temples and gardens to local alleys and along train tracks. Railway companies in Tokyo have taken up planting these flowers along their train lines, giving commuters on the Seibu Shinjuku and Keio Inokashira lines a beautiful little treat to look forward to while on the train or walking to and from the platform.
Hydrangeas' pastel petals come in light blue or rose-pink, but you can never seem to find two of the exact same shade. Their color is said to be determined by the acidity of the soil and the showers help to magnify their brilliance the more it rains. Hydrangeas are a beloved symbol of summer and feature prominently in painting, prints and literature.
Here's a haiku to set the mood for the hydrangea season:
紫陽花や帷子時の薄浅黄
ajisai ya
katabira doki no
usu asagi

Hydrangeas - pale blue
like the hemp cloth
of summer kimono
- Written by Matsuo Basho , circa 1684
- Translated by David Lanoue
TOKYO in this Month
- THINGS TO DO -
"Wa no Akari" - The Aesthetics of Japanese Illumination at the Legendary Hotel Gajoen Tokyo
The famous Hotel Gajoen Tokyo in Meguro hosts the "Wa no Akari" festival, or Japanese Harmony of Light and Color Festival from July 7th through September 2nd where over 1,000 works of traditional arts and crafts will be on display, aesthetically tweaked through their lighting design. The hotel itself, nicknamed "Palace of the Dragon God" in the Showa period (1926-1989), is a beautiful place to visit and is also renowned as a famous luxury wedding venue. The festival will take place in the "Hyakudan kaidan" area of Gajoen, an old wooden building that has been dubbed a tangible cultural asset of Tokyo.
The legendary Hotel Gajoen Tokyo in Meguro hosts the "Wa no Akari" festival, or Japanese Harmony of Light and Color Festival from July 7th through September 2nd. Since 1928, the hotel has continued to amaze its guests with its awe-inspiring design, especially those who are fond of traditional Japanese aesthetics. The hotel is full of exquisite pieces on display, including lacquer-work, wood carvings, and paintings, proving it worthy of the nickname "Palace of the Dragon God."
The "Wa no Akari" illumination festival will take place in the "Hyakudan kaidan" area of Hotel Gajoen Tokyo, the only remaining building on its grounds constructed out of wood, a building designated a tangible cultural asset by the Tokyo Metropolitan Government in 2009. "Hyakudan kaidan" in Japanese means one hundred steps despite the building only having a total of ninety-nine. The event will display over 1,000 works of art including Japanese washi paper, flora, dyed textiles, porcelain and other pieces hailing from all over Japan.
The primary motifs of the festival are traditional arts, crafts and illumination with a large portion of the event focused on famous traditional summer festivals in Japan. This event combines fine Japanese craftsmanship with artistic lighting, resulting in exquisite installations.
Japan in Architecture: Exhibition at the Mori Art Museum
From April 25th through September 17th, this large scale exhibition at the Mori Art Museum in Roppongi will examine the foundations of Japanese architecture and its effects on style from antiquity through the current day as well as present a vision of the past, present, and future of architectural pursuits featuring displays of important materials, models, and hands-on installations. It will feature 100 projects and over 400 displays by famous, influential Japanese architects as well as recent projects by up-and-coming designers.
Japan has long been an open air wonderland for architecture enthusiasts marveling at Japanese construction and how the country's cityscapes manifest themselves. This summer, the exhibition "Japan in Architecture: Genealogies of Its Transformation" at the Mori Art Museum will set out to present how the nation's rich culture of wooden construction has matured over time.The exhibit is divided into nine sections and showcases 100 projects and over 400 items including materials, interior design pieces, interactive installations and models.
The exhibit will feature works by influential Japanese architects such as Kenzo Tange, Tadao Ando, Yoshio Taniguchi, Kengo Kuma along with young, up-and-coming architects who have received international recognition and served as inspirations to many. The exhibit provides an historical overview, tracing Japanese architectural traditions up through the present day. Here, you'll be privy to the story behind famous architectural masterworks as well as get a look at the latest projects by Japanese architects, both at home and abroad.
https://www.mori.art.museum/en/exhibitions/japaninarchitecture/index.html

TOKYO in this Month
- EATING OUT -
Enjoy Japanese Sake in a Garden Restaurant Overlooking Tama River
Mitake Valley is a 90 minute train ride from Shinjuku on the JR line. The stream that flows through this gorgeous valley is listed as one of the 100 most excellent sources of water by the Japanese Ministry of Environment. Here you can appreciate the natural scenery as well as give your taste buds a real treat with Japanese sake and tofu cuisine made using crystal clear stream water. Summer in Tokyo doesn't get better any than this!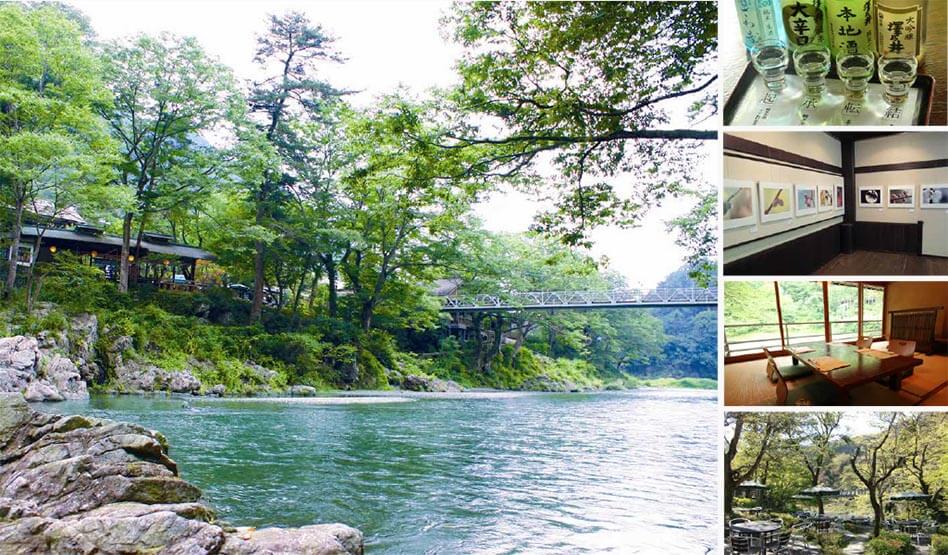 Located in a town of Ome in western Tokyo, Mitake Valley is known as a mecca for all kinds of water activities, ranging from a pleasant stroll along the stream to exciting rafting tours. It's also worth mentioning that the water from Tama River is clear and of excellent quality.
"Ozawa Shuzo" is a local brewery that has been making Japanese sake using this water for three hundred years. The brewery is home to a spectacular garden called "Sawanoien" where you can enjoy a light snack or visit "Mamagotoya", a traditional Japanese restaurant that offers an excellent view of the burbling stream flowing past while you dine. Their exquisite tofu cuisine is made using the same clear water used to brew sake. The seasonal tasting sampler features a variety of different sakes (Kikizake set) to try and is recommended for first timers. To get closer to Tama River, you can buy some finger food from the garden and order a cup of Japanese sake at Azumaya.
The four-kilometer walking path winding through Mitake Valley includes a small museum and an art gallery along its path, making for great additions to your itinerary.
Sawanoien http://www.sawanoi-sake.com/en
Mitake Valley http://www.omekanko.gr.jp/us/us.php?m=sd&k=20
TOKYO in this Month
- EATING OUT -
SUIGIAN restaurant: A Blend of Quintessential Japanese Experiences
A beautifully designed, elegant restaurant in the heart of Nihonbashi at the foot of Fukutoku Shrine. The most unique aspect of this restaurant is successfully combining performing arts and a sampling of gourmet cuisine. After enjoying traditional Japanese performing arts from your seat, here you can eat the finest sushi and order from a curated selection of beverages. Pamper yourself and experience the finer things at Suigian.
"Focusing on the traditional performing arts, craftwork and an appreciation for fine food" is the motto of "Suigian" restaurant, one that perfectly encapsulates the experience of dining there. Recently opened and elegantly designed, this restaurant in Nihonbashi is located at the foot of Fukutoku shrine. Just as the shrine and the red torii gate stand out among the modern skyscrapers, Suigian is a delicate gem providing a taste of the finest that Japanese culture has to offer.
This restaurant is perfect for people who want to see traditional performing arts, like Noh (ancient dramas), Kyogen (ancient comedic plays), and Nihonbuyo (traditional dance) but don't have the time to see a full play or experience difficulty finding tickets to shows.
After enjoying the entertainment from your seat, you will be served the finest Japanese tea along with various types of gourmet sushi. All the food, sake wine, Japanese tea, and sweets are provided by long-established, trusted suppliers and presented in a manner befitting the culinary and aesthetic sensibilities of the Edo, Meiji, and Taisho periods. Both the food and the performance are included in the price which varies depending on seat location and time of day. For more information about prices and performance schedules, please check their official website.
Information: info@suigian.jp
TOKYO in this Month
- TRAVEL TIPS -
New Tourist Information Center Opens in Shinagawa Station, Your Gateway to Haneda Airport
Just 11 minutes away from Haneda Airport on the Keikyu Line, Shinagawa Station is considered an important entry point to central Tokyo and beyond. With the rise of inbound travellers, a new tourist information center dedicated to serving foreign visitors has been set up offering a wide range of services including multilingual travel information, train ticket booking and luggage shipping.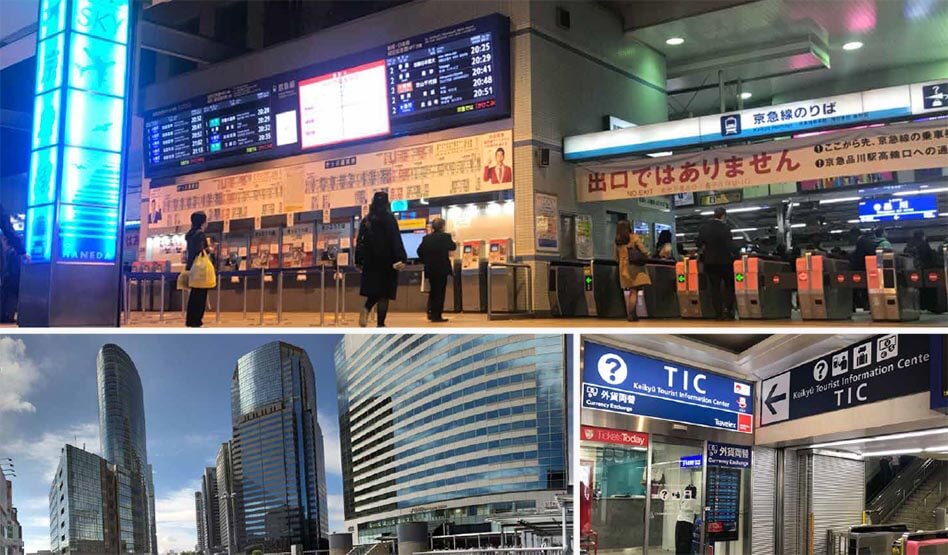 Shinagawa Station is a major hub linking Haneda Airport with much of central Tokyo and beyond. You can access the JR Yamanote Line, a circular rail service that encompasses central Tokyo, or hop on the Tokaido Shinkasen bound for Osaka and western Japan. You can even take the Keikyu Airport Express train straight to Narita Airport in just 80 minutes.
The new information center is located right next to the ticket gate of JR Shinagawa Station's Keikyu Takanawa exit. Besides offering travel information and ticket booking services, the center also ships luggage and sells tickets to traditional Japanese art performances.
Service details
1. Passenger ticket purchases
The center sells special deal tickets, PASMO transit passes, and other types of passenger tickets.
2. Travel and tourist information
3. Luggage shipping
Luggage can be shipped to destinations in the Kanto Area (Ibaraki Prefecture, Tochigi Prefecture, Gunma Prefecture, Saitama Prefecture, Chiba Prefecture, Tokyo, Kanagawa Prefecture, and Yamanashi Prefecture). Luggage shipping is available 8:30 am - 10:30 am* Hours are subject to change.
4. Accommodation and tourism facility reservations, etc. * Excluding package deals.
5. MICE support service
6. Currency exchange
Currency exchange services are provided by Travelex Keikyu Shinagawa.
Hours: 8:30 am - 8:00 pm weekdays, 8:30 am - 6:00 pm weekends and holidays
7. Tickets Today service
Customers can use the "Tickets Today" service that sells tickets for around 50 performances for traditional Japanese arts, anime-related events, and more.
*Sales hours are from 10:00 am - 8:00 pm, and purchases must be made with a credit card.
'Tis the season for the great outdoors!
Reconnect with nature while glamping in Okutama
When camping, nature is only as far away as the flap to your tent. But did you know that a getaway to the great outdoors and a night under the stars is just a 2-hour ride from central Tokyo by car, train or bus? Completely enveloped in nature and equipped with luxurious facilities to keep city dwellers entertained, a recently opened glamping spot in Okutama will give you a whole new perspective on Tokyo. Come and enjoy premium cuisine prepared by chefs who have worked in high-end hotel restaurants!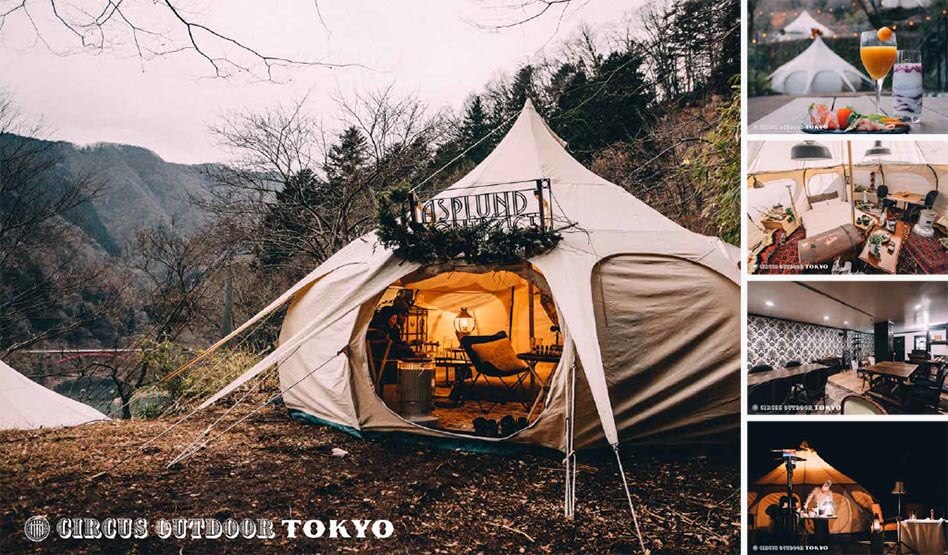 Tokyo's Mount Takao became famous overnight after it was mentioned in the Michelin Green Guide, but it's not the only natural attraction Tokyo has to offer. This metropolis is full of awe-inspiring verdure and natural beauty. Just head two hours west of central Tokyo and you will find Lake Okutama and Akigawa Valley. Steep mountains, clear streams flowing down into the valley, magnificent cedar trees and deciduous forests form a picturesque sight you won't find anywhere else.
A few glamping facilities close to Lake Okutama recently opened this spring with an aim to bring nature back to the city. Offering luxurious facilities and premium service, "Circus Outdoor TOKYO" prides itself on providing a glamping experience that will leave a lasting impression.
A peep into a tent at Circus Outdoor TOKYO in Okutama will change the way you think about camping, complete with a cozy queen size bed covered in white sheets, a sofa with fluffy pillows, luxurious wooden furniture and other chic furnishings. One night's stay comes with a multi-course meal prepared by exquisite chefs served with an unrivalled view of Lake Okutama. Book your tent fast as getaway retreats like this are in high demand!
Editor's Pick
Explorer the Hidden Islands of Tokyo
The great Tokyo metropolis has many faces, including some surprisingly pastoral ones. Tokyo's Izu Islands, a group of volcanic islands stretching out into the Pacific Ocean, are a nature lover's paradise. They can be reached by either plane or boat from Tokyo proper. Within just a few hours, you will be transported to a region where tradition, culture and cuisine have been fastidiously preserved.
Just hours away by plane or boat from Tokyo, the Izu Islands promise breathtaking natural beauty untouched by man. Among the hundreds of islands and islets, there are nine major populated islands including Oshima, Toshima, Niijima, Shikinejima, Mikurajima, Hachijojima, Kozushima, Miyakejima and Aogashima. Each has its own unique terrain, flora and traditions, kept alive up into the present day thanks to their isolated location from the Japanese mainland. Shimazushi for example is a traditional cuisine developed on the islands consisting of rice balls topped with slices of raw fish marinated in spicy soy sauce.
Located about 120 kilometers away from Tokyo Bay, Oshima is a well-known attraction for its volcanic landscape and beautiful camellia flowers. Mihara Shrine has become one of the most popular spots on the island after having survived a volcanic eruption back in the 1980s. Meanwhile, the other islands are each charming in their own way: Kozushima is associated with legendary stories, Miyakejima is characterized by a coast full of unique rocks formations created by lave deposits and Hachijojima is home to Mt. Hachijo Fuji, the Izu Islands' highest peak; Hachijo taiko drum performances; Kihachijo, a textile dyed with locally grow herbs; and the Japanese liquor shochu. Explore the wonders of the Izu Islands by taking a boat from Takeshiba Passenger Ship Terminal or board a plane departing from either Haneda or Chofu Airports.
MOVIE of this Month
The People Behind Sanja Matsuri
Dedication & Community Bonds
In 2012, British photographer Michael Feather, known for his visceral portraits undertook a three-year-long project taking photos of the members of the Senwa neighborhood association as they celebrated Sanja Matsuri in Asakusa, Tokyo — a festival held every year over the third weekend in May and one of the most popular in all Japan. This year we joined the nearly two million visitors coming to witness the processions of Mikoshi, or portable shrines, and get to know the Nishi Asakusa San Kita neighborhood association, who opened us their doors and let us document the extensive festival preparations while witnessing the strength of their communal spirit that keeps the festival thriving generation after generation.
Photo Wanted
Welcome to Asia Photo Contest: Calling All Tokyo Shutterbugs
The Council for Promotion of Tourism in Asia has announced a photo contest hoping to spurn on tourism and promote exchange. Spanning ten cities within the Asian region with Tokyo as Japan's locale, participants are tasked with the theme of photographing "My favorite morning scenes of Asian Cities." For more details, see the contest's website at http://welcomeasia.jp/photo-contest