TOKYO with the Season
Irises Heralding Summer - Elegance and Strength Going Hand in Hand
Iris or "shoubu" in Japan are much more than just pretty flowers. In both literature and daily life, they signal the coming of summer. They start to blossom in May, right on time for Children's Day or "Tango no Sekku" in Japan, where they symbolize growth, strength and warrior spirit.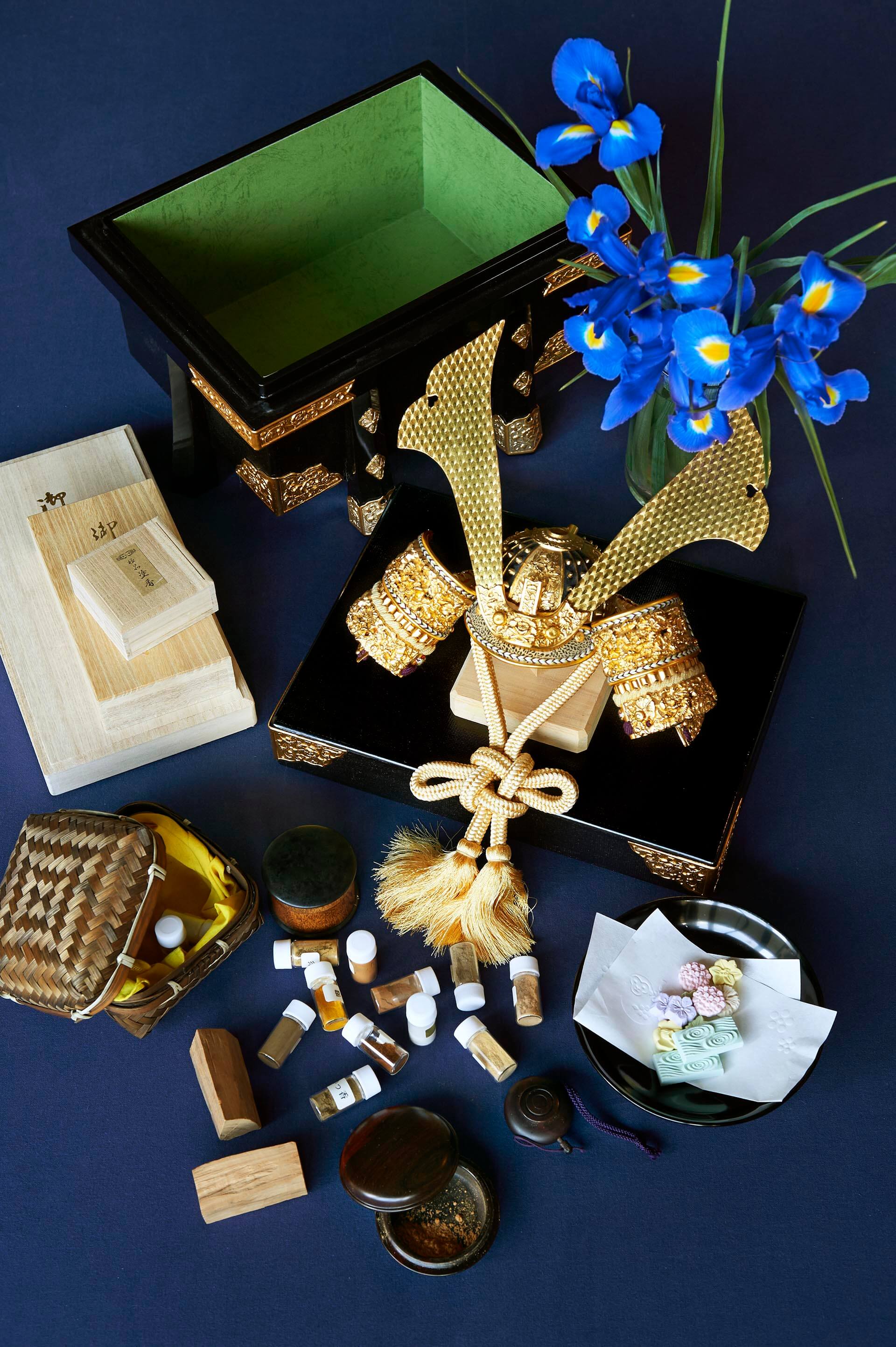 Irises in Japan start blooming from May to early July signalling the coming of summer. These elegant purple flowers are also one of the items that symbolize "Tango no Sekku", or Children's Day. Some people may be surprised to learn that irises have a place among the samurai symbols like the 'kabuto' (samurai headgear), warrior, and arrows etc. The reason for this lies in the kanji used to write the word. The characters for 'iris' (菖蒲) are read exactly the same as those for 'warrior spirit' (尚武) - 'shoubu'. Love of puns and wordplay aside, some people also liken the iris's straight pointy leaves to sharp swords or spears ready for battle. The leaves of the iris grow long and straight up, taller than the iris flower. This can symbolize growth and strength as being an equal counterpart to beauty and elegance. Iris is loved among Japanese people with the representative flower of the samurai spirit. At the same time, they are considered elegant flowers and there are many haiku poems written about irises.

Try and truly feel the seasons through this haiku:

乙鳥もしようぶ葺く日に逢りけり(tsubakura mo shoobu fuku hi ni aeri keri)

swallows too
the day eaves are thatched with irises
show up
- wrote by Kobayashi Issa, 1809
- translated by: David Lanoue
TOKYO in this Month
- THINGS TO DO -
Hozuki Bazaar in Senso-ji and Asagao (Morning Glory) Flower Festival in Shingen-ji
The hozuki is a symbol of early summer and the morning glory a symbol of midsummer. Both plants have festivals dedicated to them: the Hozuki Bazaar around Senso-ji in Asakusa held on July 9th and 10th and the Asagao Matsuri or Morning Glory Flower Festival in Shingen-ji, around Iriya, Kishimonjin held on July 6th, 7th and 8th. These two summer markets with their long histories are excellent ways to enjoy the season.
The hozuki plant is most commonly referred to as a "ground cherry" or "Chinese lantern" and in Japan it signifies the coming of summer. During the Hozuki Bazaar on July 9th and 10th, you can come and pray at the Senso-ji temple in Asakusa, when praying during the bazaar is believed to be worth the same as 46,000 days of prayer! The stalls in the bazaar sell everything you would expect, plus the seasonal hozuki grown especially for this occasion. The outer part of the hozuki is almost like paper, hiding an orange fruit within that was both used as medicine and eaten in the past. The bazaar is open from 10 am to 10 pm.
The Iriya Morning Glory Flower Festival is held from July 6th through 8th in the Shingen-ji, Kishibojin area, right around the time of the Tanabata Festival and just before the Hozuki Bazaar. The festival is open from 5 am to 11 pm, but – as the name of the flower suggests – going in the morning is recommended. This is an enormous market for morning glories, and despite being lost to history for a time, it was fortunately revived in 1948. It has an abundance of different varieties of morning glory flowers available. As with any festival, you can also find plenty of food stalls and buy morning glory themed goods.
Above all, it's a great way to enjoy summer and experience Japanese tradition in downtown Tokyo.

Hozuki Bazaar http://www.gotokyo.org/en/spot/EV055/
Asagao Matsuri http://www.asagao-maturi.com/ (Japanese)
BORDERLESS ART - DIGITAL ART MUSEUM by MORI Building and teamLab
The art collective teamLab and the urban developer MORI Building are teaming up this summer to open a Digital Art Museum in Odaiba. This museum's first permanent exhibitions will be provided by teamLab. The exhibition is aimed at bridging the boundaries and encouraging interaction between art and its audience. As digital technologies continue to provide artists with more and more freedom, art itself is becoming borderless.
teamLab creates art installations which are best described as tangible dreams. They create experiences that answer whimsical "What if" questions like, "What if I could walk through a world of mirrors, reflecting infinitely?" or, "What if I could walk through a Tokyo made only of light?" Here, visitors are not just spectators; they have an active role in the installations, either through their physical presence or by using technology to interact with the art itself.

teamLab's art events are hugely popular, having set up installations across the world. And now, teaming up with MORI Building, they will open a Digital Art Museum on June 21st 2018 at the Palette Town complex in Odaiba. The museum will use 520 computers and 470 projectors spread over 10,000 square meters! The urban developer MORI Building is a known supporter of art and culture, and hopes to create a unique and cutting-edge experience with this collaboration that will blur the borders between the art and audience. Moreover, this will be teamLab's first permanent installation in Tokyo and their flagship facility. After all the long lines for long awaited events, digital art fans can now look forward to permanent exhibitions at the new Digital Art Museum!

MORI Building DIGITAL ART MUSEUM https://www.teamlab.art/e/borderless/
TOKYO in this Month
- THINGS TO DO -
TOKYO EDO WEEK 2018 – Traditional Culture Today
From July 26th through 29th, the Ueno Park Fountain Square will be transformed into old Edo for the third year in a row. Tokyo Edo Week is an event celebrating traditional Japanese culture, focusing on kimonos. In addition, visitors can enjoy various other traditional arts and crafts.
The mission of Tokyo Edo Week is to celebrate Japanese traditional aesthetics and craftsmanship.
Wearing kimono - a traditional garment unique to Japan - is a custom that is still in vogue today, both donned for special occasions like weddings, graduations and festivals, or increasingly as a fashion statement, sometimes mixed with modern clothing. At this event you can come in your own kimono or you can also rent one and learn the rules of traditional kimono dressing schools.
Strolling around in your kimono, you can enjoy traditional performances and admire crafts with a long tradition behind them. Last year, the event had a kimono exhibition, sword displays, tea ceremony, Edo-style food, sake and much more, and this year promises a similar variety of entertainment. So come visit Tokyo Edo Week and immerse yourself in an authentic Edo period traditional experience in present-day Tokyo.

TOKYO EDO WEEK https://edoweek.com/about/ (Japanese)
TOKYO in this Month
- THINGS TO DO -
Great Buddha in Tokyo! A Daibutsu Larger than the Great Buddha of Kamakura
A gigantic Buddha made its way to the mountains of western Tokyo on April 11th. Measuring 18 meters tall, this seated Buddha is bigger than the Great Buddha of Kamakura and, according to whom you ask, is even more handsome. The Japanese media has already given a lot of attention to this new tourist attraction.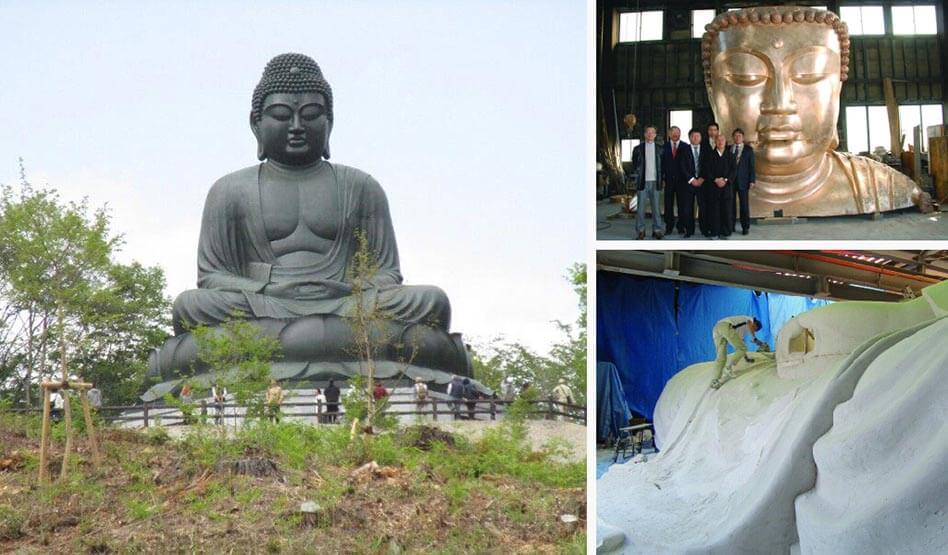 Japan is home to several giant Buddha (Daibutsu) statutes, including one in Nara's Todaiji Temple and the one in Kamakura, a town popular with foreign tourists due to its close proximity to Tokyo. In April, a bronze Buddha larger than the one in Kamakura debuted in Tokyo, and its handsome features have caused quite a stir among local media.
Situated in Hinode-machi, a town about 1 hour 30 minutes west of Central Tokyo by car, "Rokuya Daibutsu" was commissioned by Hokoji, a temple belonging to the Soto sect of Zen Buddism with a history going back more than 500 years. The late chief priests of the temple initiated the construction of the statue to demonstrate their respect for the Buddha and prayed that it would watch over the locals. Forty years later, the great Buddha has finally been completed and now sits on the mountainside, overlooking the valley with its beautiful glowing smile.

Rokuya Daibutsu in Hinode machi http://www.town.hinode.tokyo.jp/0000001603.html (Japanese)
"Metro and Grutto" Pass 2018
For those who want to visit as many museums in Tokyo as possible in a short space of time, this is a great and convenient pass to have. The "Metro and Grutto" pass 2018 comes with two 24-hour unlimited ride Tokyo Metro tickets and free or discounted admission to museums in Tokyo. Satisfy your curiosity and discover what Tokyo's museums have to offer with this pass!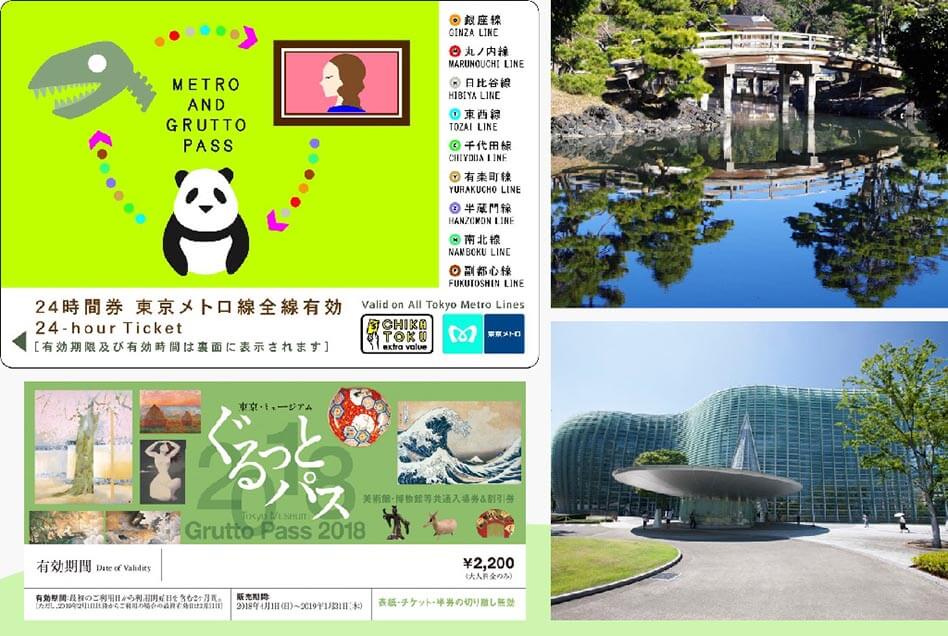 If you plan to hit lots of museums and attractions while in Tokyo, the "Metro and Grutto" pass 2018 is a must-have. Available from April 1st, 2018 through January 31st, 2019, the pass includes a "Tokyo Museum Grutto Pass" that gives you free or discounted admission to several museums in Tokyo, and two 24-hour unlimited ride tickets for the Tokyo Metro, a 530 yen value compared to buying them separately.
This year, "Tokyo Museum Grutto Pass 2018" has added 12 new spots to the list of attractions it covers. Along with 86 national and private museums in Tokyo, you can also use the pass to get into 6 attractions in Kanagawa, Chiba and Saitama Prefectures. This means that you can get free or discounted admission to a total of 92 galleries, museums, zoos, aquariums and botanical gardens just by showing your pass at the entrance!

Tokyo Museum Grutto Pass 2018 https://www.rekibun.or.jp/en/grutto/
TOKYO in this Month
- THINGS TO DO -
Summer Fireworks: Painting Tokyo's Night Sky in Dazzling Colors
Since the Edo period, Tokyoites have been enthralled by the beautiful lights of fireworks in summer. One of the largest displays of fireworks in the nation takes place along the Sumida River with more than a million spectators attending on the last Saturday of July. However, Tokyo offers plenty more spots where visitors can see this unique summer treat. Read on to find out more.
Sumida River Fireworks Festival
The Sumida River Fireworks Festival was started back in 1732 to honor the souls of those who had perished during the starvation and plague that had befallen Tokyo, then called Edo. Since the beginning, a fierce competition ensued between two major fireworks makers, giving birth to the tradition of shouting "Kagiya" or "Tamaya" in support of either group, one that remains to this day. More than a million spectators gather around the Asakusa station area, making it difficult to secure a good viewing spot unless you arrive quite early. For this reason, some visitors prefer to pay a hefty price for rooftop-viewing events in the surrounding buildings or wait patiently for their turn to cross the Azuma-bashi bridge to get a 5-minute view of the fireworks up close.
However, during July and August there are lots of other places in Tokyo where you can admire spectacular fireworks, such as the Edogawa Fireworks Festival, which takes place on the banks of the Edo river and offers ample seating space. For an even less crowded and a more local experience, you might want to attend Hachioji Fireworks Festival, which consists of 3,500 fireworks. These festivals are also a great opportunity to dress up in a yukata, the traditional Japanese summer robe.

Sumida River Fireworks Festival https://www.gotokyo.org/en/spot/EV100/
Editor's Pick
Yukata Shopping in Tokyo & Tanabata Festival
Summer in Japan runs from June to August. During this time, Tokyo's department stores, malls and supermarkets are filled with yukatas, a casual kimono-like garment worn in summer. The latest yukata trend is always a popular topic among Tokyoites, who love to wear yukata when going out, regardless of gender or age. Are you surprised that something as traditional as yukata can be so trendy and chic even today?
Although the yukata originated as a bathrobe, it was given a new life at the end of the Edo period, when people in Tokyo interpreted it as fashionable, casual summer wear. Their passion for yukatas can be seen in the endless variety of styles and fabric patterns available and the fad continues to thrive today. Every June, a wide array of yukatas takes the spotlight in Tokyo's department stores, malls and supermarkets. Yukatas become one of the hottest topics around town as everyone wants to look their best at festivals. The "Yukata Garden" of Ginza Mitsukoshi, a Tokyo department store, offers many great options this summer. ""Cool Ginza"" is the theme for this year's yukata collection, that which features Ginza's sophisticated and metropolitan look. If you want to know more about Tokyo's yukatas, Nihombashi Mitsukoshi Main Store also has a special yukata display corner. The staff are always happy to give you advice on fashion coordination.

Asagaya Tanabata Festival is the best occasion to show off your yukata. Tanabata Festival, also known as the "Star Festival," originates from a Chinese legend about two star crossed lovers only being able to meet once a year on the seventh day of the seventh month of the lunar calendar. As Japan's three largest Tanabata Festivals, the shopping streets in Asagaya are always decorated with colorful paper streamers and ribbons.

Yukata Garden 2018 http://www.miguide.jp/ginza/yukata/
Ginza Mitsukoshi http://www.mitsukoshi.co.jp/g/int
Nihombashi Mitsukoshi Main Store http://www.mitsukoshi.co.jp/int
Asagaya Tanabata Festival http://www.gotokyo.org/en/spot/EV097/
Feature of this Month
KUNIO KOBAYASHI
Bonsai Master
Individuality, harmony & elegance
Kunio Kobayashi has refined the art of making Bonsai for more than four decades. He is known for his unique "Aji no aru Bonsai" (good taste Bonsai) style, which favors harsh lines suggesting the influence of natural elements on the tree, such as the rain, the wind or the snow . Mr. Kobayashi runs the SHUNKAEN Bonsai Museum in Edogawa-ku, Tokyo, a place that not only offers an exquisite exhibition of his acclaimed Bonsai, he also offers all sorts of unique experiences for international visitors wishing to get in touch with Japanese culture, as well as formal training in the art of Bonsai.
SHUNKAEN BONSAI MUSEUM http://www.kunio-kobayashi.com/en/index.html