TOKYO with the Season
BREATHE IN THE APRIL WISTERIAS
A famous artwork comes to life every spring at Kameido Tenjin Shrine, close to Asakusa. Late April and early May is a time of wisterias blossoming. Hanging from above like waterfalls, fragrant blossoms create a magical scene similar to that of the ukiyo-e prints by master Utagawa Hiroshige.
In Tokyo, everything moves in sync with the seasons. Spring has a gentle and fragile beginning with the cherry blossoms, but peaks in late April with flowering wisterias. Kameido Tenjin Shrine is famous for its beautiful wisterias hanging from above, and combined with the arched red bridges and ponds they create a picture-perfect scene. Here you can see what the great master Hiroshige saw as he included the view of wisterias in Kameido Tenjin Shrine in his series "One Hundred Famous Views of Edo". It's like walking into a piece of art in this shrine dedicated to a poet. The shrine has a Wisteria Festival from April 15th to May 6, the perfect time and place to enjoy this part of the season. During this period there are food stalls and events and the wisterias will be illuminated for a new view of Tokyo in spring that even Hiroshige wouldn't have seen. Shining in the distance behind the illuminated wisteria blossoms is Tokyo Skytree, all combining to create a signature view of modern Tokyo.
TOKYO in this Month
- THINGS TO DO -
SANJA MATSURI: the biggest downtown Asakusa festival
Sanja matsuri means the coming together of one of the biggest traditional Shinto festivals in Tokyo and the oldest and one of the most beautiful temples in Tokyo, the Senso-ji Temple in Asakusa. Every May, history and tradition come alive at this 3-day festival.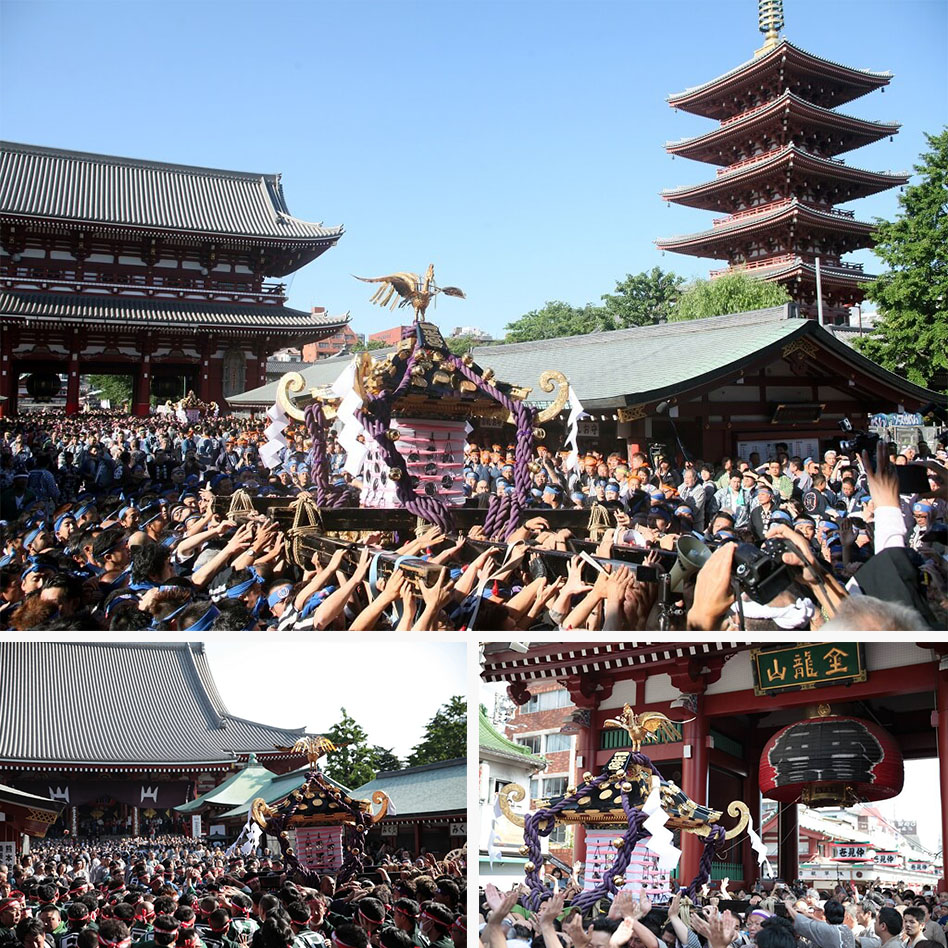 © Sensouji
The Sanja festival in Senso-ji Temple in Asakusa, or downtown Edo, is all about the number 3. The name "sanja" literally means "3 shrines" and the event revolves around 3 main mikoshi (little portable shrines) and the 3 men who founded the temple and are enshrined as deities in it. Moreover, this event always takes place on the third weekend of May and lasts for three days, from Friday to Sunday. This year it falls on May 18th till May 20th (2018). Sanja matsuri is one of the three biggest traditional Shinto festivals in Tokyo taking place in the oldest temple in Tokyo, Senso-ji, which is enough to attract numerous visitors every year. This lively event features a lot of performances, delicious street food stalls and very popular street processions of geisha, priests, city officials, musicians, dancers and so on, dressed in traditional Edo-period costumes which fit very well with the old-style streets and shops in Asakusa. Going to this festival is just like stepping back in time to the Edo period.

http://www.sanjasama.jp/ (Japanese)
http://www.asakusajinja.jp/english/
EDO TOKYO MUSEUM RE-OPENED
The Edo-Tokyo museum in Sumida is a treasure trove of history and traditional art, located next to the sumo wrestling arena. After a half-year renovation period, it reopened in April 2018, offering new exhibitions and experience workshops for visitors.
The Edo-Tokyo museum is a great place to learn about the history and development of Tokyo from the 1600s until today, and it's just reopened in April 2018 following 6 months renovation period. The building itself is a unique piece of architecture, located right next to the equally unique sumo wrestling arena or Ryogoku Kokugikan. To celebrate the reopening, the museum will exhibit ukiyo-e print masterpieces selected from "Ichikawa Ebizo" by Toshusai Sharaku, and "Reflective Love" by Kitagawa Utamaro in the permanent exhibition room. The museum will organize various events, one of the most eye-catching being "Traditional culture experience program for foreign visitors" which is free and will take place every Saturday from April 14, 2018 to March 30, 2019 (except for December 29). Another perk for foreign visitors is that they can get a volunteer guide who speaks a foreign language, completely free of charge.

https://www.edo-tokyo-museum.or.jp/en/
TOKYO in this Month
- EATING OUT -
'Tis the Season: Taste the Fine Flavor of Sayama Tea in Tokyo
Despite being a sprawling metropolis, Tokyo is also home to tea plantations that produce a high-quality product and the first harvest in early May brings an enchanting aroma. Although the production is small, Sayama tea farmers make earnest efforts to produce a tea with both intense flavor and a beautiful color.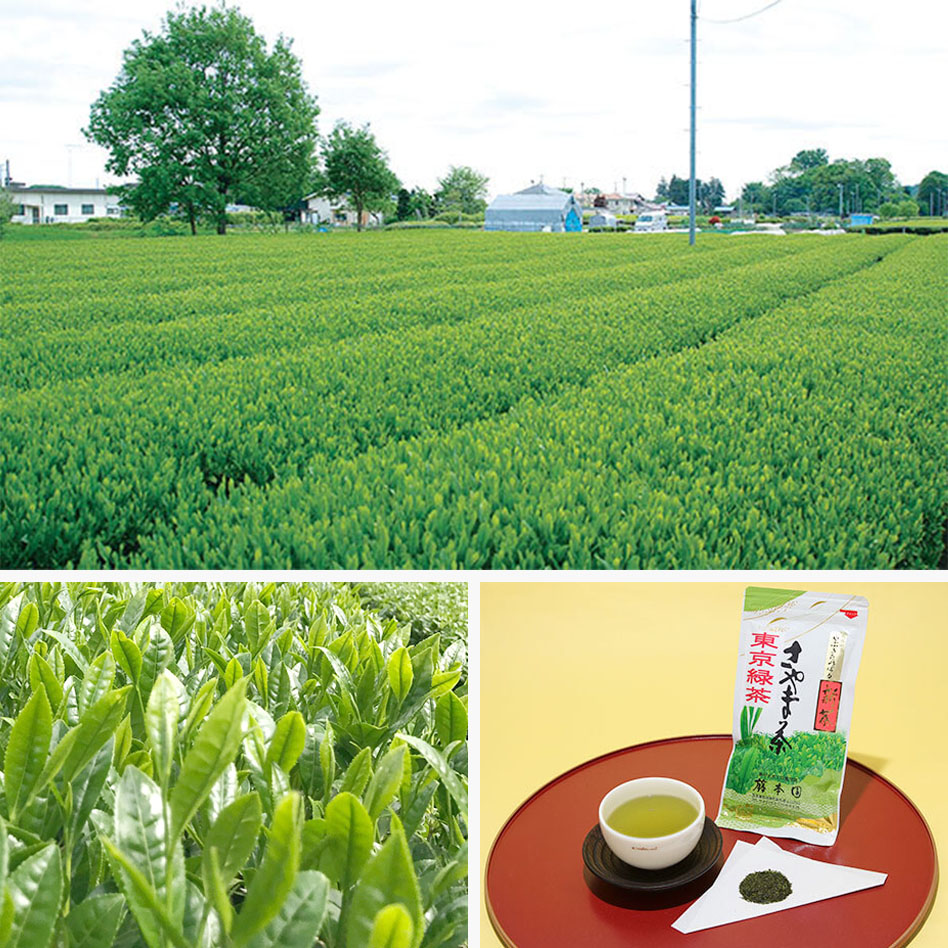 © 2017 Tokyo Development Foundation for Agriculture, Forestry, and Fisheries
When most people think of Japanese green tea, Uji is the first word that comes to mind. However, Tokyo also boasts a long history of tea growing, especially Sayama tea leaves. For Japanese people, the saying "The color of Uji, the fragrance of Shizuoka and the taste of Sayama" best describes the desired quality of green tea. Every year in early May when the tea picking season starts, the enchanting fragrance from steeping the first harvest would waft around for miles. Although the volume of Sayama tea production is small, the farmers are very committed to producing tea leaves with an intense flavor and gorgeous deep color. Sayama tea can be bought at tea farms located in the outskirts of Tokyo, such as Musashimurayama-shi and Higashiyamato-shi.

TOKYO GROWNTOKYO GROWN http://translate.tokyogrown.jp/LUCTG/cdata/luctg_spcl_sasn_17_summer0_jaen.html
For purchase: KOUEMON CHA-HO
http://kouemon.jp/index.html (Japanese)
http://cafedekouemon.com/ (Japanese)
TOKYO in this Month
- EATING OUT -
Enjoy the season of fresh green at the terraces of these restaurants
Cherry blossom season gets a lot of attention both in Japan and abroad. However, the changing seasons offer unique sights of their own for people to enjoy throughout the year. In May, the green spring leaves take over the city and Tokyoites like to go out to enjoy the nice, warm weather and the fresh greenery. Read on to find out our picks for the best places.
"After the cherry blossoms have fallen, the green spring leaves are a sight to behold. In Japan, enjoying the beauty of budding new leaves is called "Hazakura." In Tokyo, you can savor this scenery in restaurants located in gardens which used to be owned by feudal lords in the Edo period. Two such examples are Happoen's Thrush Café, which overlooks a garden that measures 50,000 square meters, and International House of Japan's Restaurant Sakura.
Other great spots for green leaves viewing include Hilton Tokyo Odaiba Hotel's Sakura Japanese Restaurant and Palace Hotel Tokyo's Grand Kitchen. The former overlooks Tokyo's landmark Rainbow Bridge and the latter faces the Imperial Palace, otherwise known as the former Edo Castle. If you want to behold the charm of a Japanese garden from a Japanese style veranda, "Tofuya Ukai Owada," a restaurant in the outskirts of Tokyo, offers a great experience.

Restaurant Sakura at International House of Japan http://www.i-house.or.jp/eng/facilities/restaurant/
Thrush Café at Happoen http://www.happo-en.com/restaurant/thrushcafe/
Sakura Japanese Restaurant at Hilton Tokyo Odaiba Hotel http://www3.hilton.com/en/hotels/japan/hilton-tokyo-odaiba-TYOTOHI/dining/index.html
Grand Kitchen at Palace Hotel Tokyo https://en.palacehoteltokyo.com/restaurant/grand-kitchen/
Tofuya Ukai Owada http://www.ukai.co.jp/english/owada/

TOKYO in this Month
- THINGS TO DO -
GEMS OF TRADITIONAL JAPANESE CULTURE:
AZUMA-ODORI
"Tokyo Art & Live City" is an initiative that collectively promotes Tokyo's varied culture and arts. Joining the list of planned activities is the traditional Azuma-Odori, a four-day event that lets you peek into the elegant world of geisha. With 10 shows and gourmet bentos provided by nearby ryotei restaurants, it's a unique chance to experience traditional culture.
The Azuma-odori event in Shimbashi Enbujo Theater takes place each May, and this year it will be held from May 24th to May 27th. There are 10 shows featuring elegant dance performances by geisha, and you can try meals especially prepared by nearby ryotei restaurants. From elegant kimonos and live shamisen playing, to games and tea ceremonies with the geisha, this is a meticulously organized event. Azuma-odori is something very traditional that lives on in the modern Tokyo Art City. It offers you a rare chance to glimpse the world of geisha and enjoy shows in style.
"Tokyo Art & Live City" gathers a great number of cultural institutions that aim to strengthen the cultural and artistic life of Tokyo. Remember, art makes a city and every city is a piece of art.
Special Event: A tour packed with art to enjoy "Azuma Odori" and "GINZA ART NIGHT"
- Experience cool and modern Japan
"Tokyo Art & Live City" brings you a one-day tour as an opening special event, which lets you enjoy "Azuma Odori", the annual festival at the Geisha quarter known as Shinbashi Karyukai, which brings joy to the early summer days of Ginza and allows you to experience Japanese culture. This special event also includes the "GINZA ART NIGHT", to visit art galleries in the area.
Start by savoring a Shokado bento lunch at the Shinbashi Enbujo theatre, then watch the "Azuma Odori", performed by the elegant and charming Shinbashi Geisha. After that, join a guided night tour to Ginza's art galleries, where you will be able to attend a flute concert. Enjoy a day filled with tradition, modernity, beauty, knowledge, food, and fun.
This special event gives priority to foreigners.
Meeting time: Friday, May 25 14:20 at Shinbashi Enbujo theater
- Exquisite pottery box Shokado-bento prepared by a Ryotei, a refined Japanese-style restaurant
"Azuma Odori" performance by Shimbashi Geisha
"GINZA ART NIGHT" tour + flute performance by Ai Takeyama
(Tokyo City Philharmonic Orchestra Principal Flute Player)
Cost: 13, 500 JPY. For tickets, contact Confetti

Tokyo Art & Live City project (Azuma Odori Dance Festival)
https://www.artandlive.net/en/topics/azuma-odori-2018
Confetti (Azuma Odori Dance Festival)
https://www.confetti-web.com/azuma-odori-en
Tokyo Metro Launches New Services for Foreign Visitors
Despite its wide reach and efficient nature, Tokyo transportation system usually proves a challenge for international visitors trying to find their way around the city. In order to be friendlier towards foreign travelers, Tokyo Metro launched new services to make their stay a more pleasant one, from a multi-language website and a mobile application, to discount tickets especially designed for tourists.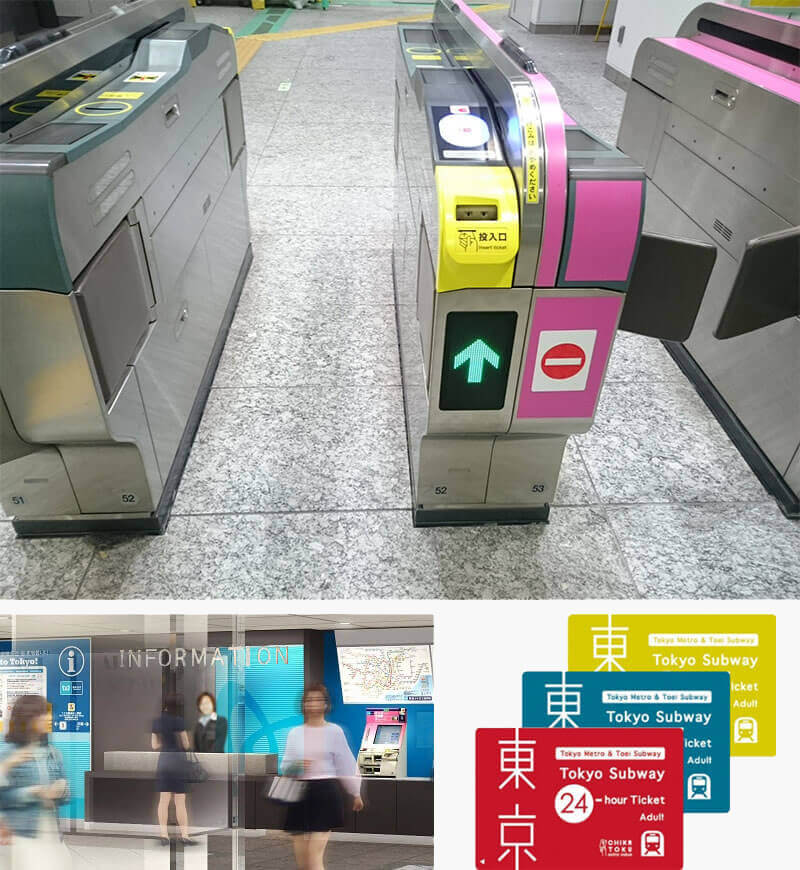 With Tokyo's transportation arteries laid out like a spider's web, you can easily get anywhere using Tokyo Metro. Recently, Tokyo Metro launched several new services to make traveling more convenient and enjoyable for visitors to Japan.
As of March 29 this year, its revamped website will be available in six foreign languages: English, French, Spanish, Chinese, Korean and Thai. Whether you're planning a trip to Tokyo for business or pleasure, the latest travel information and updates can be found here. As you would expect, the website can be accessed from your smartphone, tablet and many other mobile devices.
French and Spanish have also been newly added as language options in the Tokyo Subway Navigation for Tourists, a travel application that enables users to search for transfer information and routes to your destination in the Tokyo area.
Enjoy the best Tokyo has to offer with a Tokyo Subway Ticket, a ticket that offers unlimited rides on trains on 13 lines (nine on Tokyo Metro and four on Toei Subway) for foreigners visiting Japan. The ticket can be purchased at the ticket counter of 14 Tokyo Metro stations and 15 other places in town.

Official website(renewed) http://www.tokyometro.jp/en/
Editor's Pick
More than just a bed for the night, these unique hotels let you enjoy every bit of your stay
New, innovative hotels are popping up everywhere in Tokyo, like Hoshino Resorts OMO5 Tokyo Otsuka – which aims to immerse you in the local culture by offering an affordable urban-oriented hotel while introducing you to the city hotspots – or Hotel 1899 Tokyo, an oasis of relaxation offering a green tea-themed stay, while hotel koé tokyo promises art, fashion and music as part of your visit.
Some of the characteristics that the new, innovative hotels opening their doors in Tokyo have in common are sleek interiors, open spaces and design philosophies inspired by century-old Japanese principles. Set to open this spring, new Hoshino Resorts OMO5 Tokyo Otsuka advertises itself as an urban-oriented hotel, offering guests an affordable stay right in the middle of the action. Unlike other hotels located in city centers targeting business travelers, this hotel focuses exclusively on tourists looking for an authentic feel for local life. The large open spaces are reminiscent of communal living, where guests can interact and have fun. They also offer a wide variety of city tours by knowledgeable staff that offer travelers an insight into local life and help them immerse. On the other hand, Hotel 1899 Tokyo – set to open in December this year – will strive to create a space removed from the hustle and bustle of the city, allowing guests to unwind in a retreat-like environment and learn about Japanese green tea culture, complete with an in-house tea sommelier. Art lovers might feel more at home at hotel koé tokyo, a recently opened stylish hotel in Shibuya that boasts a modern interior in both the open lounges and bedrooms, as well as an apparel shop offering original lifestyle goods, and a restaurant/bakery and events space which can all be found on the first floor.

Hoshino Resorts OMO5 Tokyo Otsuka


Official website https://www.hoshinoresorts.com/en/sp/omo/
Hotel 1899 Tokyo http://1899.jp/hotels/tokyo/en/
Hotel koé tokyo http://hotelkoe.com/en/
Feature of this Month
"Kataoka Folding Screens
Furniture, Decorations & canvases"
Founded in 1946 and located right below TOKYO SKYTREE®, Kataoka is the only specialty shop selling traditional folding screens in Tokyo. Although the shop takes great pride in the craftsmanship that has been passed down for three generations, it also strives to bring new possibilities to folding screens by seeking inspiration from Katsushika Hokusai, an ukiyo-e painter in the Edo period.
http://www.byoubu.co.jp/hokusai/en/