vol.86 March 2018
News & Announcements
More "Henna Hotels" in Tokyo!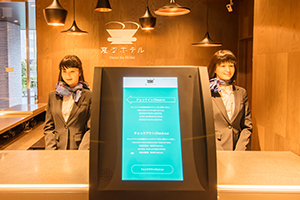 It got its Guinness World Record® mention for being the first place using robots as staff. We're talking of course about the "Henna Hotel" which after opening in Ginza on February 1, will be expanding to Hamamatsucho near Tokyo Tower, Akasaka, Asakusabashi and Haneda from April to September this year. Combining easy access and the latest robots, it's a great place to spend a few enjoyable nights while in Tokyo.

https://www.hennnahotel.com/ginza/
Art and Cherry Blossoms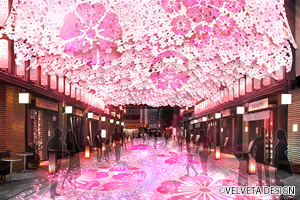 We're in the final stretch before the cherry blossom season and if you want to experience them together with some culture going back to the Edo period, head down to Nihonbashi for "Sakura Festival" between March 16 and April 15. Lighting up of buildings, a music festival, exhibitions, "limited edition" food that has a motif of cherry blossoms, and "Sakura Tunnel" evoking memories of "kirie" (Edo Period papercut art) allows you to enjoy a unique hanami (blossom viewing) experience.

http://www.nihonbashi-tokyo.jp/en/

A New Landmark in Hibiya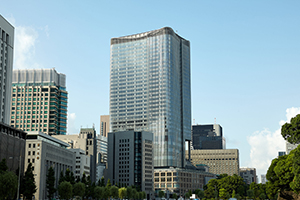 On March 29, a new, stylish business and pleasure complex facility opens in Hibiya. It is called "Tokyo Midtown Hibiya" and will be housing offices and 60 retail and dining businesses including "Restaurant TOYO Tokyo" that combines French and classic Japanese cuisine. Another venue worth mentioning is "LEXUS MEETS ...HIBIYA" by Lexus featuring car exhibitions, test drive opportunities, a café and boutique. Hibiya is known for its theaters and the new complex promises to make it a new cultural hub!

https://www.hibiya.tokyo-midtown.com/ (English version available from Feb. 28)
The 150th Anniversary of His Birth: Yokoyama Taikan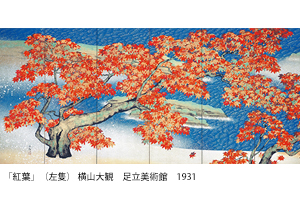 Yokoyama Taikan (1868-1958) was a top artist of modern Japanese painting, known for pioneering Western-style painting as well as incorporating some Western techniques into the traditional Nihonga style. The National Museum of Modern Art, Tokyo hosts a major retrospective commemorating the 150th anniversary of his birth from April 13 through May 27, featuring his masterpieces that include Japan's longest scroll painting, over 40 meters in length and depicting water's life-story, which is classified as an Important Cultural Property. "Cherry Blossoms at Night" and "Autumn Leaves" are gorgeous works and this is indeed a rare occurrence to see both at once.

http://taikan2018.exhn.jp/en/index.html
Special Feature
Cherry Blossom Viewing Spots in Tokyo. Prelude of Spring!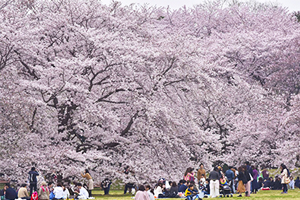 There are plenty of cherry blossom viewing spots in Tokyo and the best period to see the very popular Someiyoshino cherry trees in the metropolis is from late March to early April. You can enjoy your hanami (flower appreciation) walking under the trees or from a boat floating down a river, but most Japanese will agree that the best way is with a drink in hand! In this article, we will introduce some of Tokyo's best sakura (cherry blossom) spots according to some of the non-Japanese who live here.
Showa Kinen Park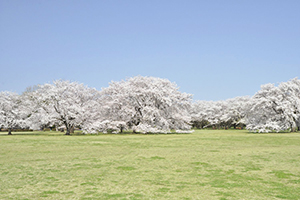 Separated somewhat from the heart of Tokyo, this park features 1,500 cherry trees that blossom a little later allowing you to do your hanami even if you come to Japan after the main sakura season. If you love taking pictures, this park will satisfy you in several ways since besides the cherry trees, it also features many different flowers that bloom at that time. A cycling path is also available, so you can enjoy the spring breeze while riding under the cherry trees.

Our recommendation!
Particularly good for photography lovers. Tulips are in bloom in mid-April and they are also worth seeing.
Shinjuku Gyoen National Garden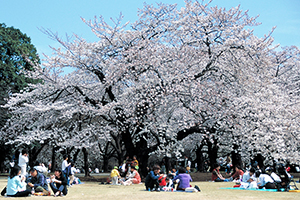 A wide area with many spots to lay down your picnic sheet and enjoy the sakura. The park has many different varieties of cherry trees, so even if you visit early you will certainly find some in bloom. Despite being in the heart of Tokyo, the park's size allows you to enjoy your hanami peacefully.

Our recommendation!
You can still see cherry trees blossoming after the peak season! You can't bring alcohol in the park so it's a good opportunity to enjoy the flowers with your family.
*No alcohol or any playground equipment inside the park
Nakameguro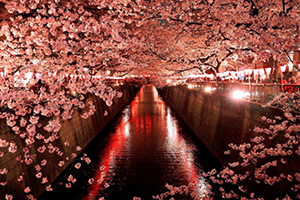 When in full bloom, the cherry trees along the Meguro River create a beautiful tunnel. When night falls, the trees are lit up and even after the full bloom is over, the fallen petals painting the river pink is an unforgettable sight.

Our recommendation!
In the evening with the lights, the cherry trees become like a scene from a fairy-tale and you can really feel the atmosphere of a spring festival. They can also be seen from the nearby restaurants, which makes the place great for dates.
Yanaka Reien Cemetery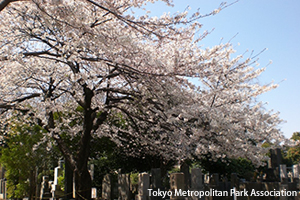 A cemetery right behind Ueno Park, much quieter than its neighbor and ideal for hanami. It hosts about 7,000 graves, including that of the 15th Tokugawa shogun. Its "Sakura-dori" cherry trees-lined street is about 100 meters long and you can have a leisurely walk and appreciate the flowers.

Our recommendation!
A real hanami hole-in-the-wall. Few people know about this spot, so you can enjoy the cherry blossoms undisturbed. And, since it is at a walking distance from Ueno Park, it is very accessible too.
Chidori-ga-fuchi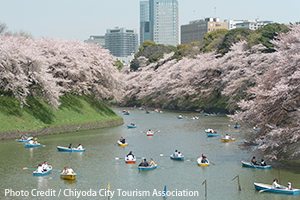 The moat of the Imperial Palace is one of the best known spots for hanami, and at Chidori-ga-fuchi there is a 700-m stretch of trees including about 260 Someiyoshino and Oshima cherry trees that every spring come into full bloom. Together with the moat and the palace wall, they create a very Japanese image that you can enjoy either on foot or from the water by rental boat. (Rental boat 800 yen/30 min)

Our recommendation!
The best time to visit is during the day. The contrast of the cherry blossoms' pink with the trees' green is beautiful!
Sumida Park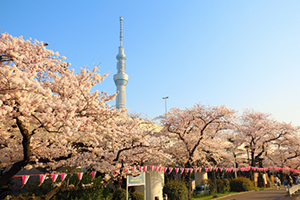 A hanami spot beloved by many since the Edo period (1603-1868). Someiyoshino and other varieties of cherry trees line up along the river for hundreds of meters and you can also enjoy the way the blossoms contrast with TOKYO SKYTREE®. Another way to experience hanami is by doing a river cruise; especially in the evening, the lights from TOKYO SKYTREE® and the yakatabune (houseboats) make the scenery with the trees at the river banks even more beautiful.

Our recommendation!
Cruising the river, you can see the cherry trees on both sides together with TOKYO SKYTREE®. Do your hanami in luxury!
Information
Go to our website & find more exciting events and festivals.

http://www.gotokyo.org/eventlist/en/list
Notification from Tokyo Metropolitan Government
Tokyo Tokyo official Website
Tokyo Tokyo official Website revamped and new promotional videos have now been released! We will deliver the "now" of Tokyo where tradition and innovation intersect.
https://tokyotokyo.jp/


Editor's note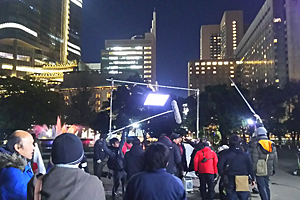 People gather around the fountain in Hibiya Park near the Imperial Palace even though it is dark in the evening. This is a scene of a shooting managed by Tokyo Location Box, one of projects of the TCVB to support filming locations. They (TLB) apply for location permision for a shooting and also help communicate the film-maker's requests to the facility to be filmed, and so on. In this way, shooting in Tokyo goes smoothly.

TOKYO LOCATION BOX

http://www.locationbox.metro.tokyo.jp/english/
We would like to hear from you! (Questionnaire)
If questionnaire is not displayed properly, please click
here.
---
To subscribe to Tokyo Monthly, click
here.
To access the previous edition Tokyo Monthly, please visit:
back number.
Issued by: Tokyo Convention & Visitors Bureau
Supported by: Tourism Division, Bureau of Industrial and Labor Affairs, Tokyo Metropolitan Government

If you want to reprint the articles, please contact us.
E-mail: news@tcvb.or.jp